"When my grandmother and I started weaving together, I wasn't thinking about family heritage," says fashion designer Emily Ridings, BFA Fashion Design '18. "But the more we shared the practice, I realized how special it is to continue a creative tradition."
When she was working toward her BFA at Pratt in 2017, the then rising senior found inspiration in her grandmother's baskets. The practice that had surrounded her since childhood added a new dimension to her approach to fashion and she began incorporating basket weaving into her designs.
With the help of her grandmother, she learned to push the boundaries of her materials and techniques, working with natural fibers like seagrass, bamboo cane, and reed to make objects, including baskets, vases, and jewelry. For her thesis collection, she created her most dramatic design yet: an oversize hoopskirt.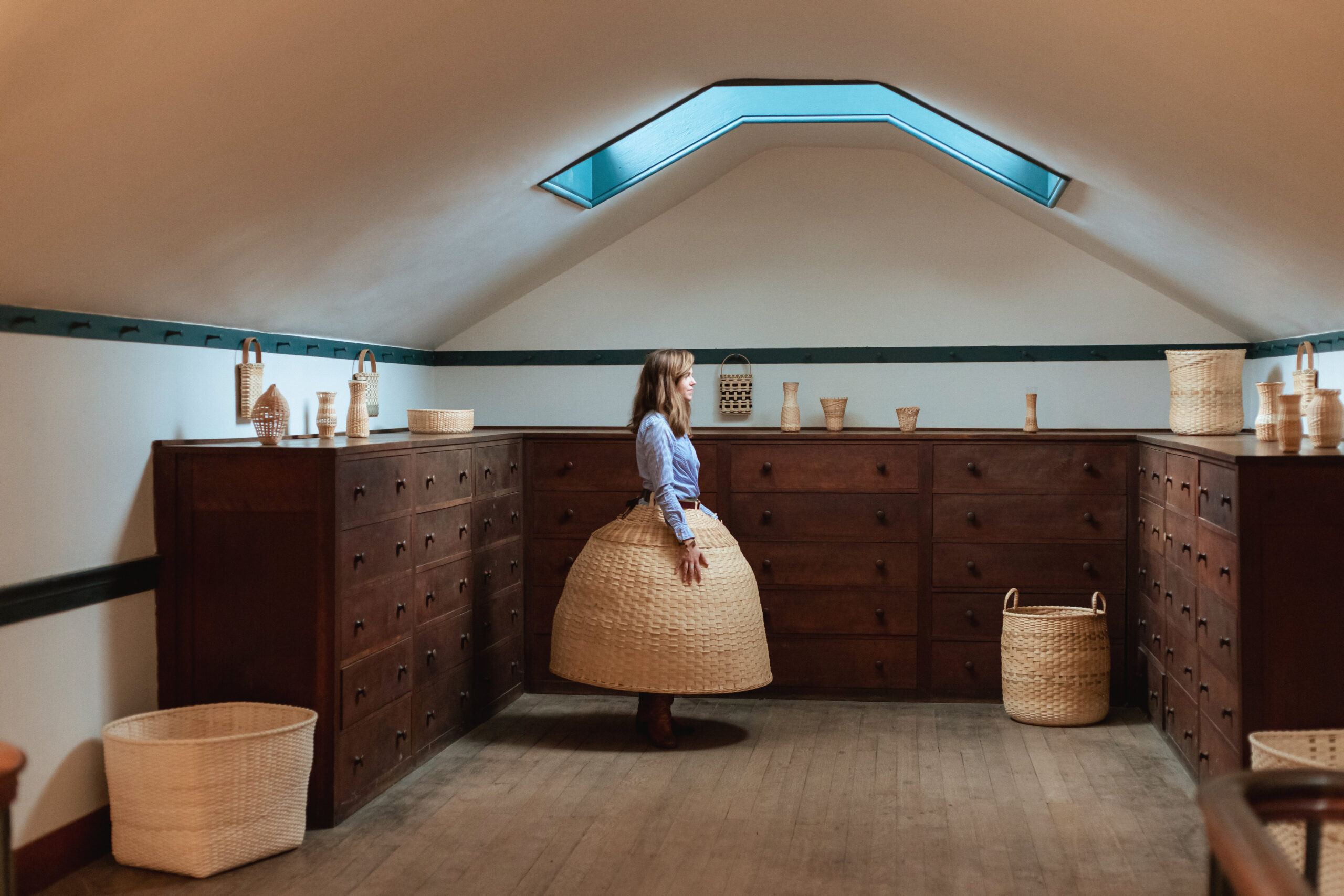 With her grandmother's guidance, she wove the piece from bamboo reed, using unexpected items like a mini trampoline, a trash can lid, and chicken wire to hold the heavy materials during the process. The piece landed her a commission to work with fashion brand Brother Vellies on a woven, nature-inspired Met Gala outfit for its founder, Aurora James, a year after graduating, and she has gone on to build her weaving practice full time at her Lexington, Kentucky, studio.
Ridings's story is a reminder that the traditions around us can provide inspiration at any point.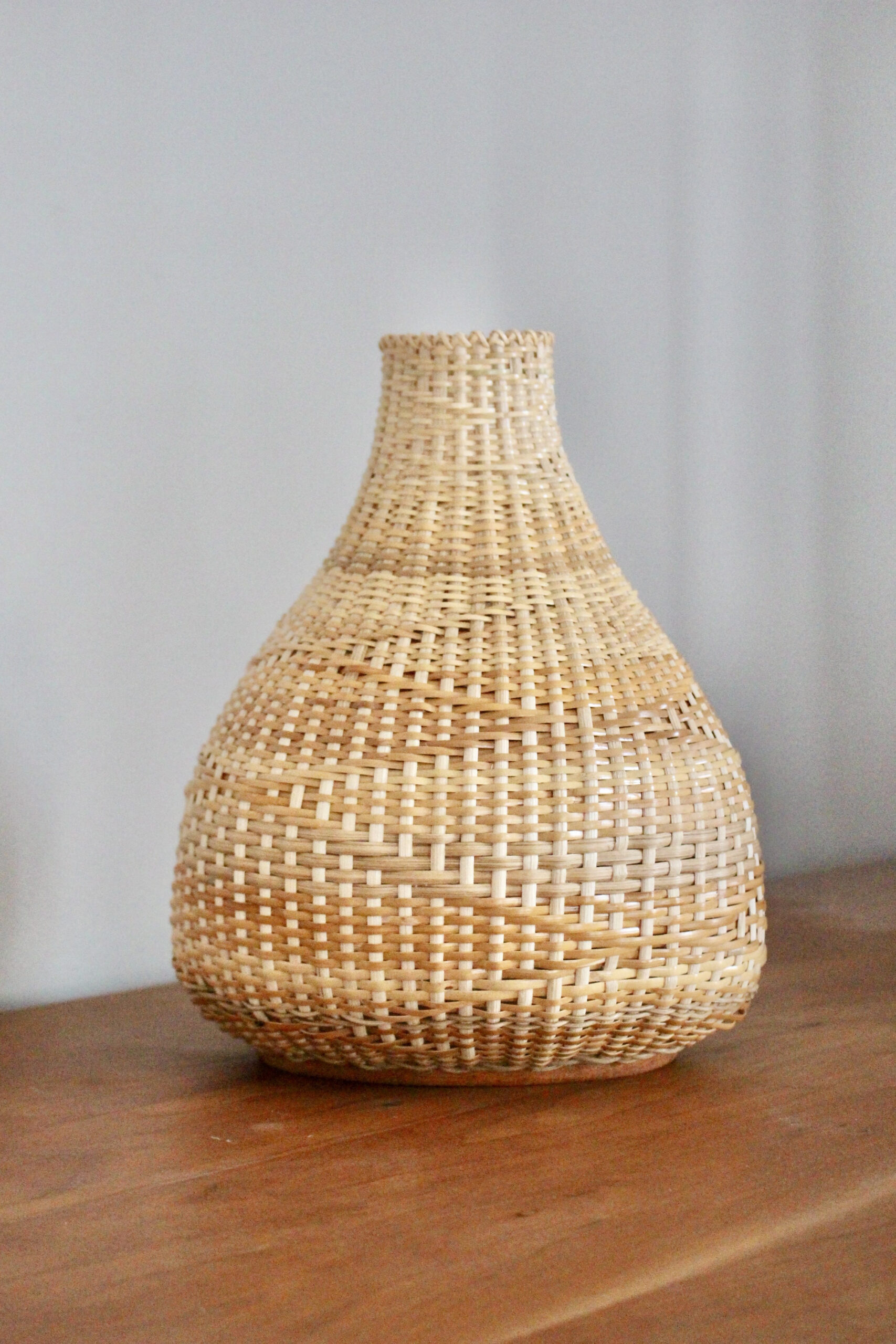 While she was a student, Ridings found the space to explore her grandmother's influence and personal history with a new perspective outside her home in Kentucky. "I spent a lot of time at Pratt exploring my roots, forming a new appreciation for the crafts that I grew up around, but with the curious and innovative approach that the institution fostered," she says. "My work is a combination of southern and city influences, rooted in tradition while always thinking about how I can reinterpret the discipline."
Ridings's experience is one example of how Pratt artists and designers in fields from fashion to art education are drawing on historical and familial sources to inform their work and innovate, with weaving, in its relationship with traditions and its symbolism, representing connections to personal and collective stories.
Isa Rodrigues, visiting assistant professor of fashion design, has been working with textiles and weaving for over a decade. "I had been making with fibers and textiles since I was five, mostly embroidery, crochet, and knitting, taught by my grandmothers as a way of spending time 'being busy,'" Rodrigues says. "But I only had an abstract idea of weaving and how woven fabrics were made. I connected with the process while I was in college, and I was immediately interested in how my body interacted with the loom and the motion of weaving, and how I could connect with those who practiced weaving before me."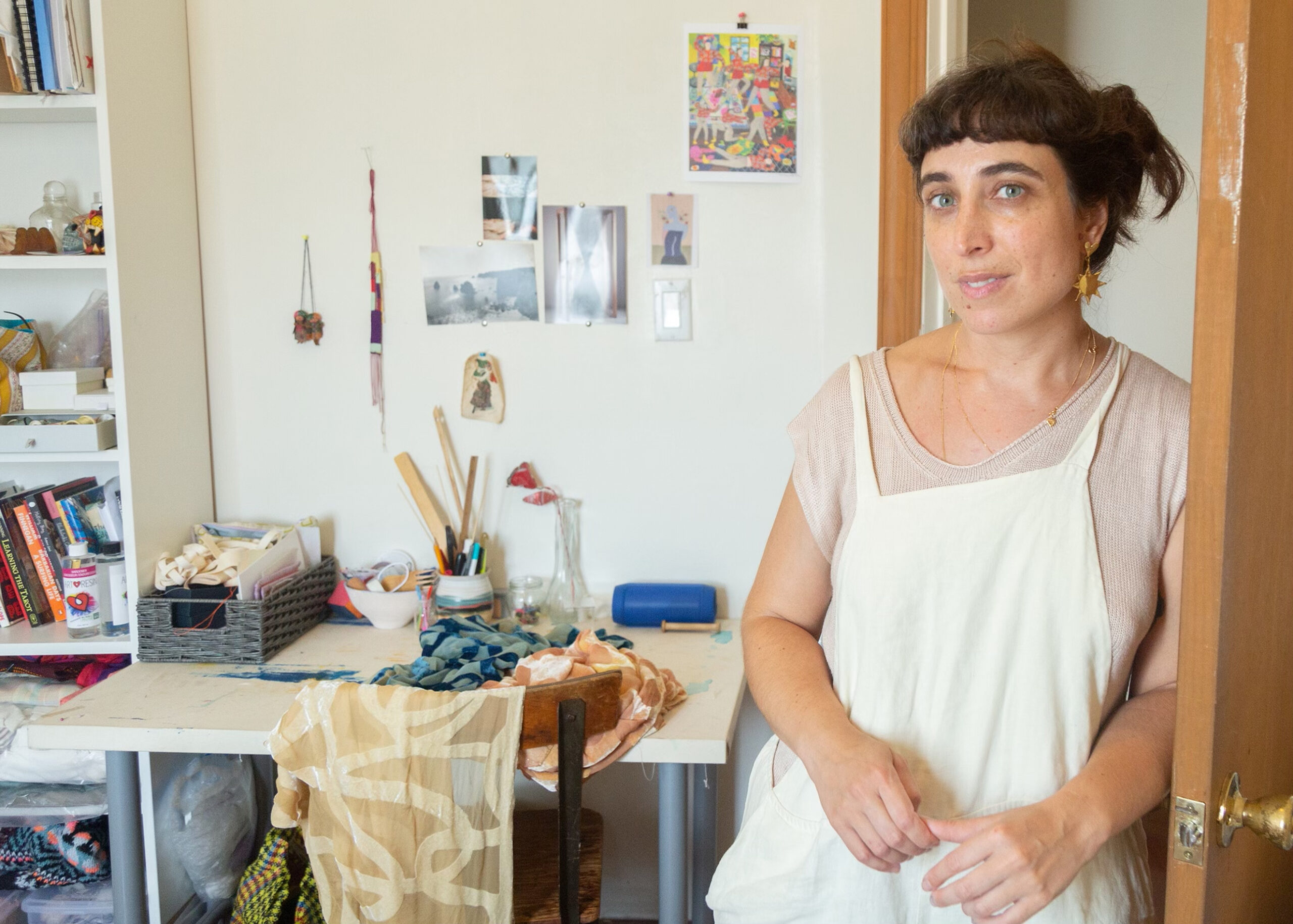 The act of weaving created a bond with people and place, a throughline even as culture shifted. Rodrigues's family is from southern Portugal, an area with a rich tradition of linen weaving though the practice has waned in recent generations. Her grandmother, she says, recalls a large loom in her own grandmother's home. "No one in the family picked up weaving after her. In fact, there are very few weavers still practicing in that region. It makes me happy that I'm carrying on the craft," says Rodrigues.
Those early seeds of creativity led Rodrigues to study textile conservation in college and provided the foundations of her career as an artist and educator with a focus on weaving and dyeing. Alongside her art practice and teaching, Rodrigues is also a founding member of the Textile Arts Center in Gowanus, Brooklyn; director of textile fabricator 505 Textiles; and a consultant on Pratt's Textile Dye Garden.
Rodrigues is interested in ancestral textile techniques and materials, as well as their intimate connection with the history of humanity and our relationship with the natural world. Recent projects have centered on water both as a subject and a creator, with works that include a hand-pleated, indigo-dyed silk garment exposed to the elements of the sea in Portugal and a silk, cotton, and linen piece woven with "pools" that evoke light on water and its accompanying sensations of home and belonging.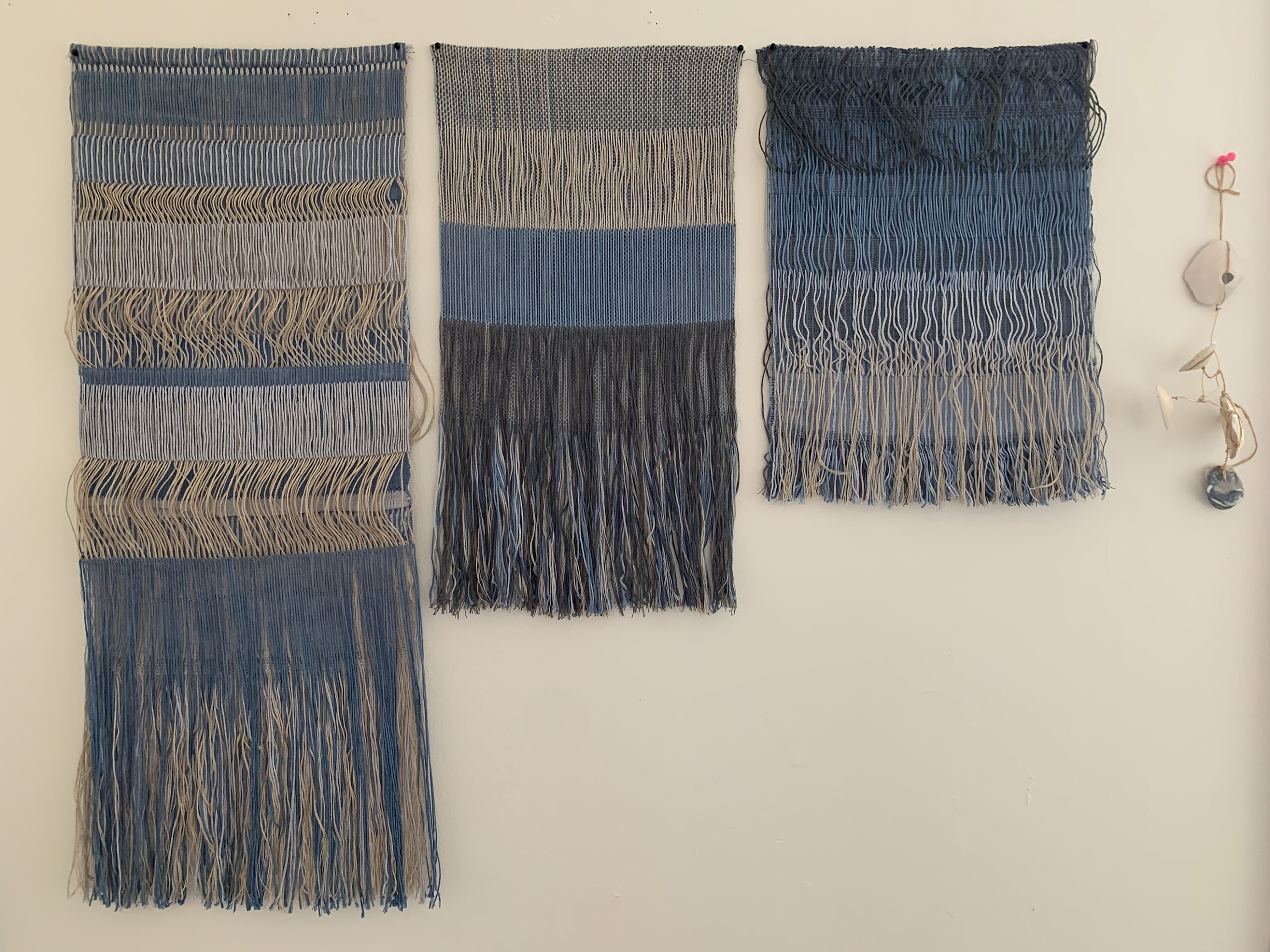 In the classroom, Rodrigues approaches teaching as a way to provide designers with the tools to connect more deeply with their heritage and better understand the world around them, viewing art education as a form of empowerment.
"Textile objects can be archives," she explains. "They store histories and memories in the materials, colors, motifs, and techniques. Textiles contain information about culture and society, as well as personal, emotional information. I also think of art education through making as a means of preserving material culture. Being trained as an art conservator, I believe in the importance of preserving and displaying objects so we can continue learning from them. Some of these stories are only accessible when you know more about the process, about the material."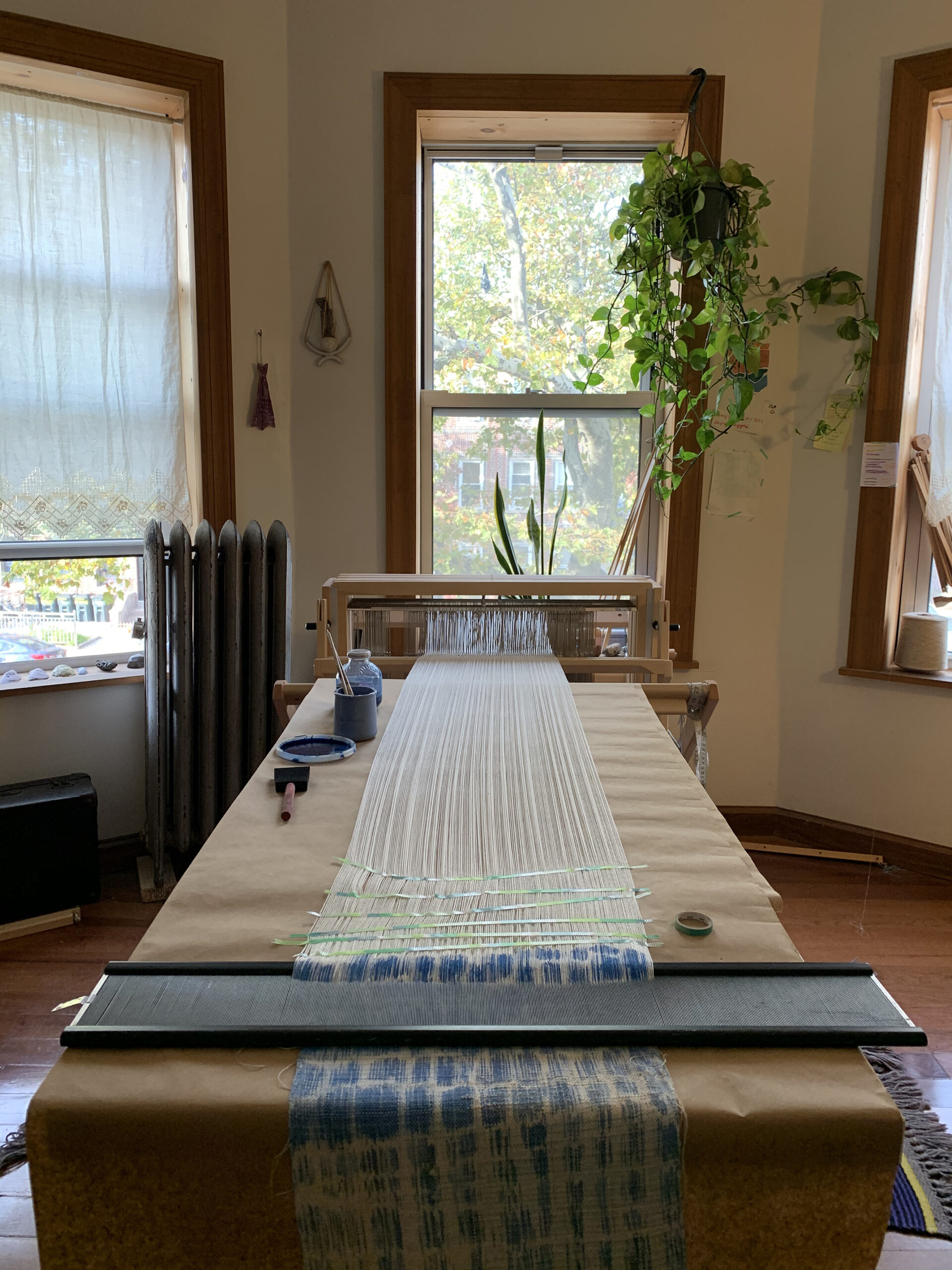 Like Rodrigues and Ridings, Tessa Kramer, MA Art and Design Education '22, began working with textiles when she was young. She learned weaving from her mother and sewing from her grandmother. Kramer's formal education in weaving came later in life, when she was in college. As she continued to explore the practice, Kramer drew a connection between weaving and community-building, which became the subject of her master's thesis at Pratt.
She notes how common phrases like "the fabric of our community" link the two ideas: "When explaining weaving and community to young people, the idea that everyone plays a part and that together we can become stronger is something that clicks. We support each other, just like the warp and weft in weaving."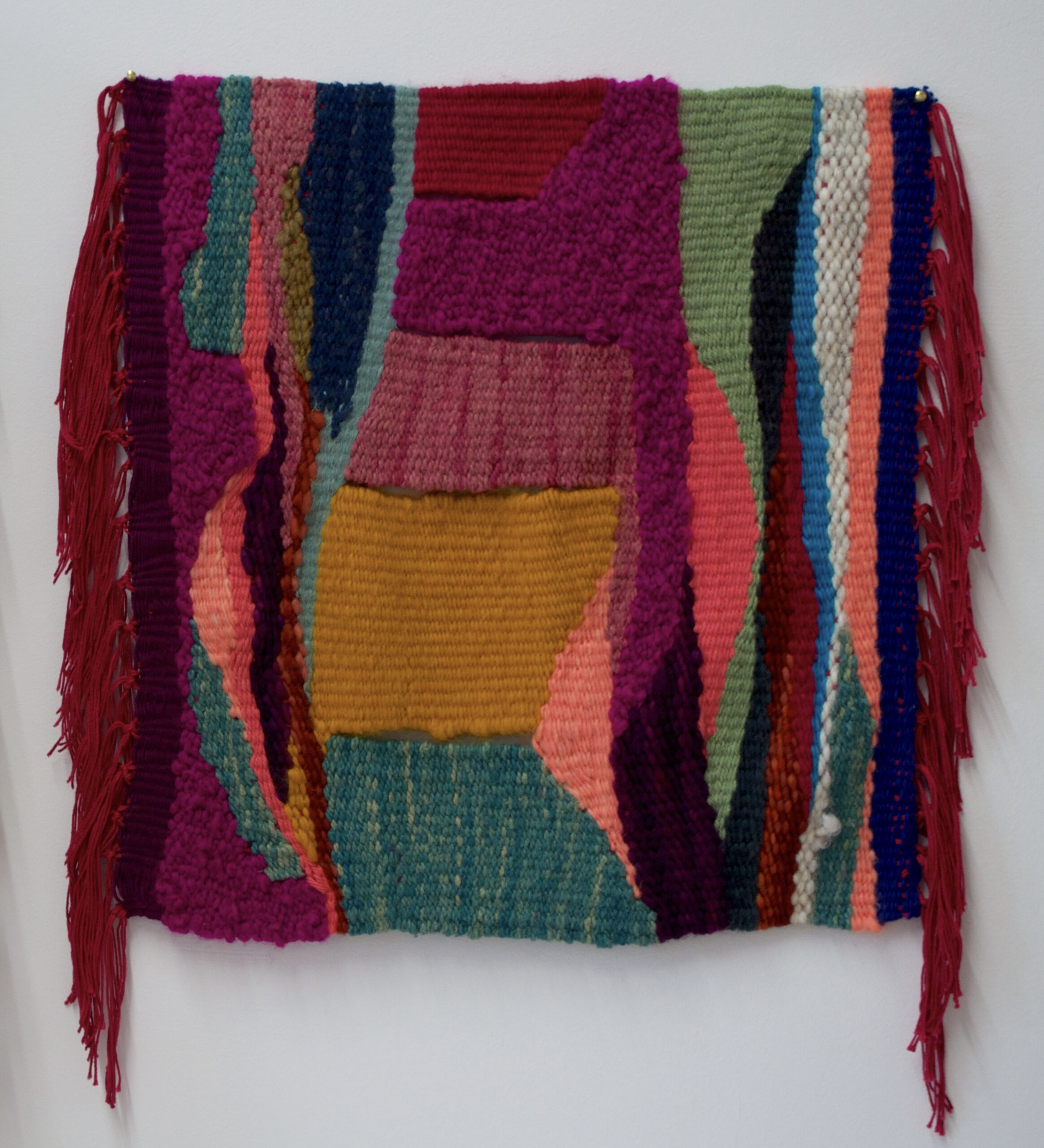 Through her studies at Pratt, Kramer taught a local fourth grade class. As part of her lessons, students worked together on a collective project that resulted in a vibrant three-foot-tall weaving. Students chose from a variety of colorful materials, including yarn, ribbon, feathers, and tulle, to weave using a cardboard loom.
The materials and the artifact were embedded with the individual and collective expressions of the nearly 60 students who contributed to its creation. "Objects, items, and fabric carry meaning and associations, which can stand in for a larger idea or place. Weaving is a way of storytelling," says Kramer.
Ana Codorean, MA Art and Design Education '22, also explored these ideas in a project she developed involving Pratt-area elementary school students. Called Weaving Threads: Natural Dyes at the Intersection of Art and Science, the five-lesson unit included students from PS270 in Clinton Hill, who visited Pratt's Textile Dye Garden to learn about elements of weaving and textile creation, including cultivating plants for natural dyes and exploring the motifs, colors, and techniques used by different Indigenous communities. Codorean worked with Rodrigues on various lessons for the project.
Codorean's family is from Romania, and the country's tradition of weaving and embroidery—used to create clothing and for decorative purposes—has influenced her creative practice from early on. She was drawn to textiles for their ability to hold encoded stories, something she passed on to the students who participated in Weaving Threads.
One lesson, planned with Rodrigues, explored facets of weaving's history as a tool for communication. The class looked at quipu, a pre-Columbian record-keeping system that uses knots to convey information, and the symbolism of colored stripes in Indigenous textiles. (Codorean's project also delved into the origins of those colors, highlighting native plants and natural dye processes in lessons that related material and place.)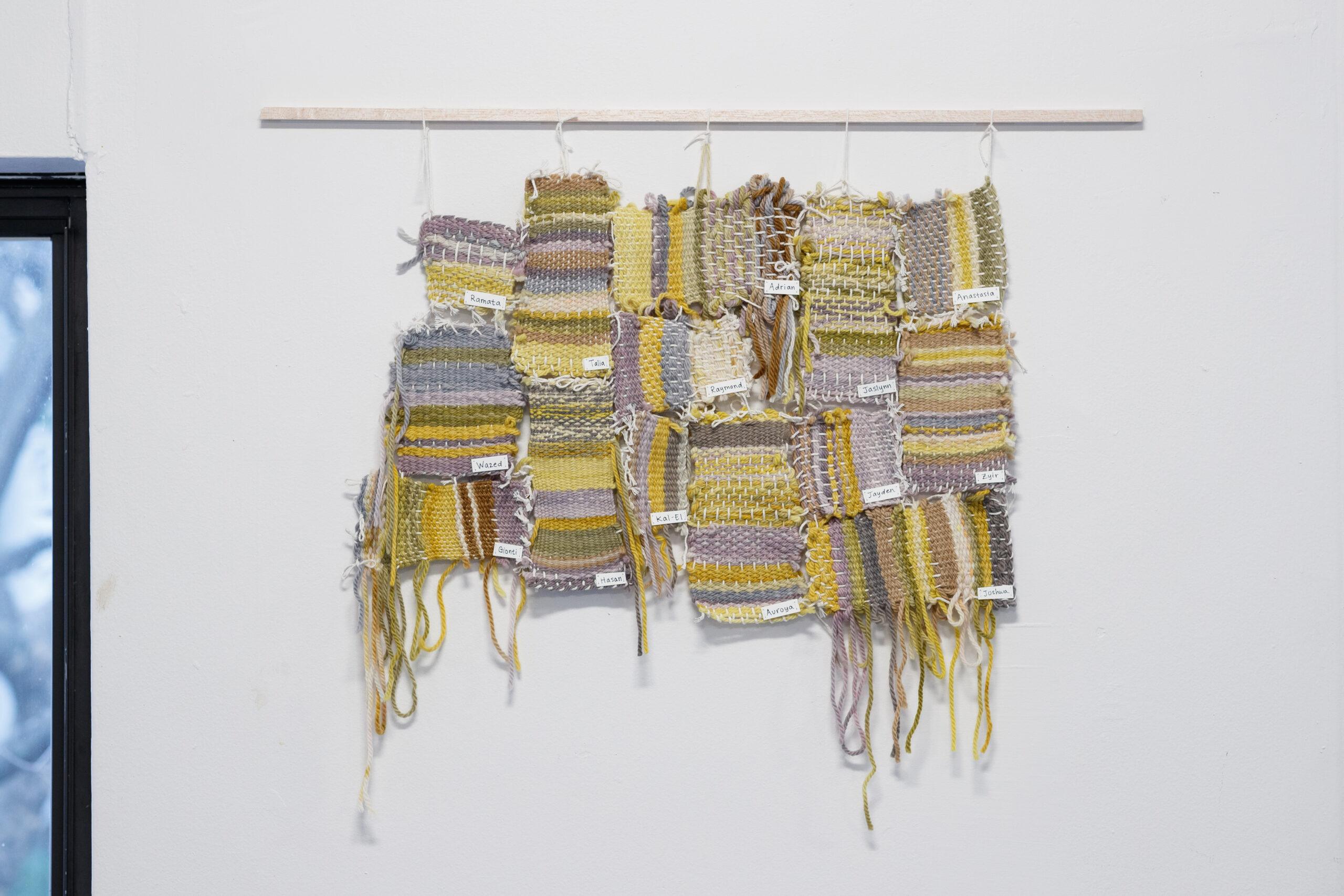 From Codorean's own culture, abstracted motifs of trees, animals, and flowers are common and hold various meanings. Trees represent life, for example, and wheat represents the bounty of harvest.
"Because of the structural nature and technical limitations of weaving, images and ideas are translated into simplified symbols. I love seeing the repeated motifs that different cultures used to tell stories. In my own work, I incorporate symbols from my culture, as well as abstracted interpretations of nature," says Codorean. "I think it's interesting that cultures have similar symbols for similar stories or ideas, showing a larger connection or common interest among people around the world."
With weaving as part of their practices, these Pratt artists and designers show how a technique with a rich history can reveal connections to distinct but linked aspects of material culture, offering a new lens through which to understand the stories that shape us personally and collectively, and inspire us to shape our work. They share connecting threads to a network of weavers across generations and cultures, including the future creators they have helped to encourage.