For the Fall/Winter 2020 digital issue of the magazine, produced during this time of physical distancing, Prattfolio collaborated with faculty members on virtual tours of the places where they are working now. In this third installment of the issue, we spotlight artist and designer Ari Melenciano, visiting assistant professor in Pratt's Undergraduate Communications Design Department. This fall, in addition to teaching Integrated Visual Communications and the vis-com section on new forms—in which students explore novel media and platforms for developing their work—Melenciano also began her studies in the Master of Architecture program at Pratt.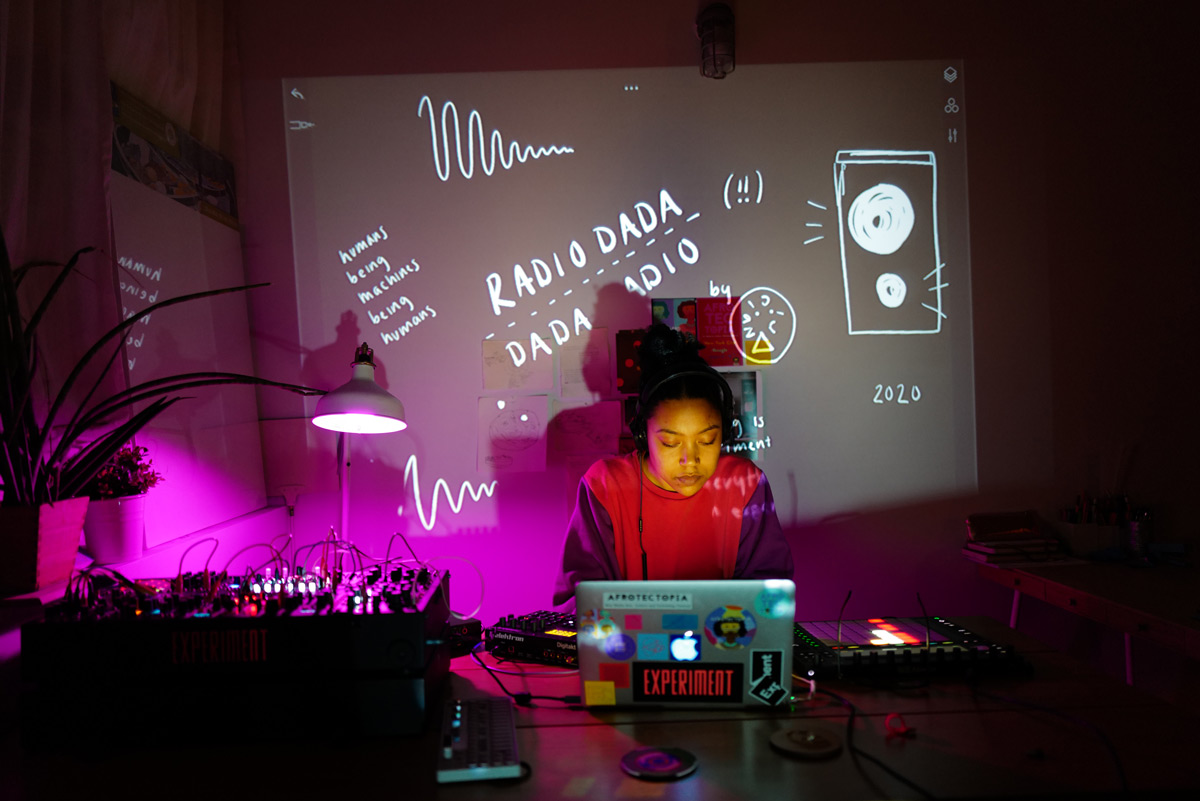 On the space
"In this time of quarantine, I've really loved being able to stay in and live within this world I've created in my home," Melenciano says. "My practice consists of a lot of synthesizing, both figuratively, in interweaving a variety of different research areas, and also literally, with sound design and my modular synthesizer." For her project Radio Dada | Dada Radio, for example, Melenciano experiments with audio, digital media, and the internet to investigate how technology can enhance experiences for multimedia creators and their audiences.
The artist's airy Brooklyn loft is free-flowing and open but organized into distinct zones for experimentation, making, and research—with stacks of reference texts, spreads of tactile materials, and an audio equipment setup. "My space allows for me to bounce around between different projects and books easily, keeping them always in view," she says.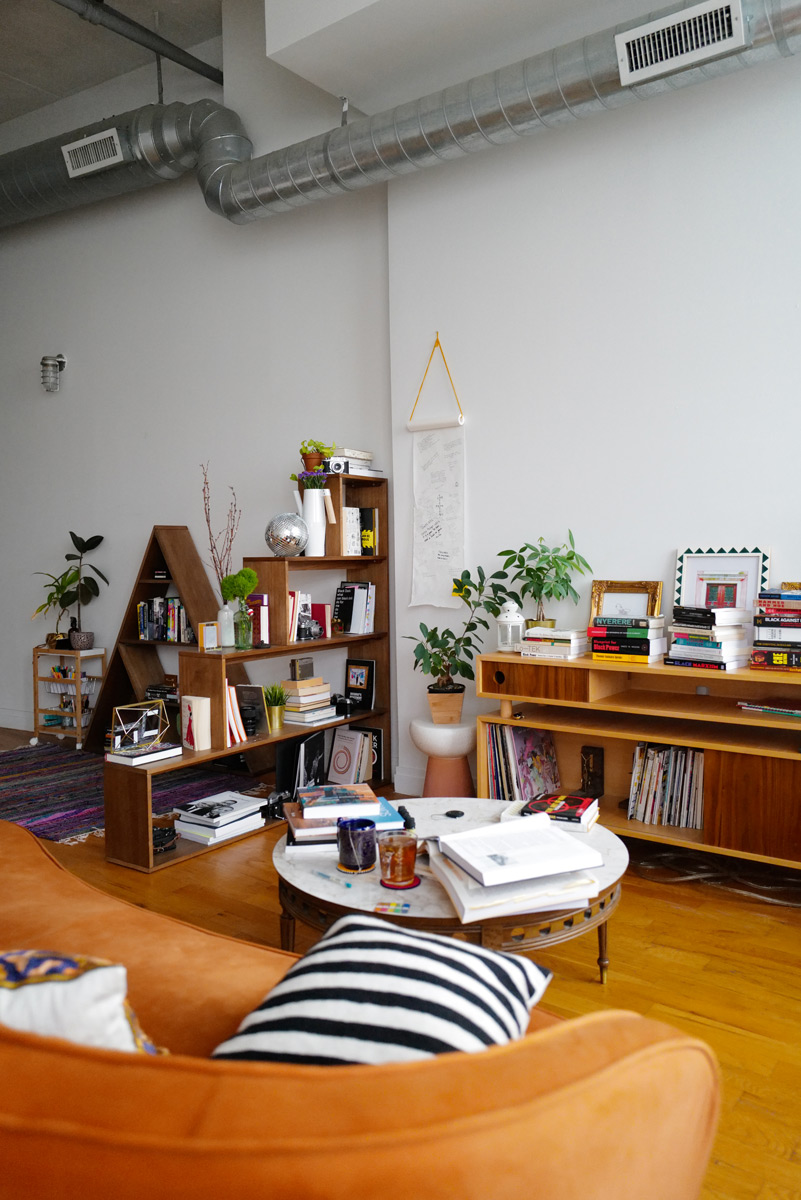 Melenciano's work moves among the realms of interactive technology, design that orients toward the speculative and creates experiences across the senses, and racial activism—with projects such as Afrotectopia, an interdisciplinary community-driven forum for empowering Black innovators. This summer, Melenciano was selected as a fellow of Eyebeam's Rapid Response for a Better Digital Future fellowship, launched by the artist organization as the pandemic and social justice actions intensified around the world, to support artists in developing transformational ideas aimed at improving the human experience. Her project centers on imagining, via an interactive platform, a more humane future, via a simulated "utopian society rooted in natural intelligence."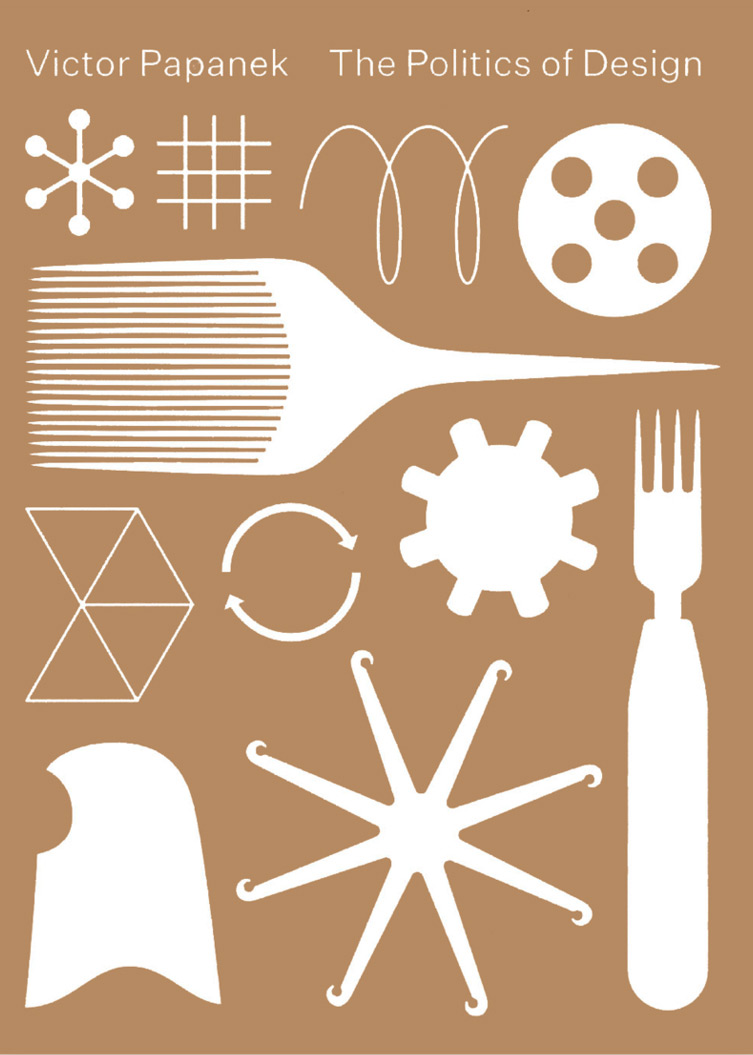 Three significant objects
Melenciano's space is lined in, divided by, and peppered with books, "some of my favorite items to collect and be surrounded by," she remarks, highlighting a few of her go-tos. "One is The Politics of Design by the Vitra Design Museum, on the work of Victor Papanek," who opened up conversations around design's role in addressing social and ecological dilemmas. "I really appreciate many of Papanek's philosophies on design and I usually introduce his work to my design students at Pratt."
A second essential is African Fractals: Modern Computing and Indigenous Design, by Ron Eglash, a mathematics and cultural scholar. "I'm often wary about anthropological work about African societies and cultures done by white anthropologists," says Melenciano. "But Ron Eglash does an incredible job highlighting the historical, rarely acknowledged, and deeply internationally influential innovation and ingenuity of African practices rooted in math and science. As someone studying architecture, an area of study most often taught in an extremely Eurocentric form, it is very inspiring to learn of examples outside of that canon."
The collage at top shows a graphic—"a sketch of a sort of futuristic architectural design," in Melenciano's words—from inside a third important volume. Night Fever: Designing Club Culture 1960–Today was also published by Vitra Design Museum, in conjunction with the 2018 exhibition of the same name. "I loved this book so much, I created a course built off of its archive," Melenciano says. "In the course," which she has taught at New York University, "we study the variety of cultures and elements of club culture, from counterculture, to experimental electromedia, to architecture." And in her work toward the MArch at Pratt, she adds, "this book has been a go-to in looking for structural inspiration."