On a sundrenched Saturday in July, the windows and doors of Building 11 at Governors Island's Nolan Park were flung open, rooms humming with activity. One artist assembled a wood-and-metal dome in a space near the entryway; another, who paints using soil and other media sourced from nature, prepared to unravel a massive scroll from the porch across the front lawn; and weekend visitors to the island examined geological maps of New York City, responded to prompts on woodblock-printed cards (I will save, Yo extraño, I wish for), and peeked at the beginnings of a clock that, once completed, will report the speed of glacial melting.

The building is home to Swale Lab, part of artist and Fine Arts Civic Engagement Fellow Mary Mattingly's ongoing project Swale and a site for explorations around ecology and environmental justice. Swale began as a "floating food forest," a landscape of edible vegetation and fruit-bearing plants sited on a barge docked at public piers in New York City, welcoming city dwellers to forage for free. As the project seeks a permanent home, Mattingly and her collaborators, among them the artist's students at Pratt, are laying the groundwork for a redesign informed by participatory research in the community.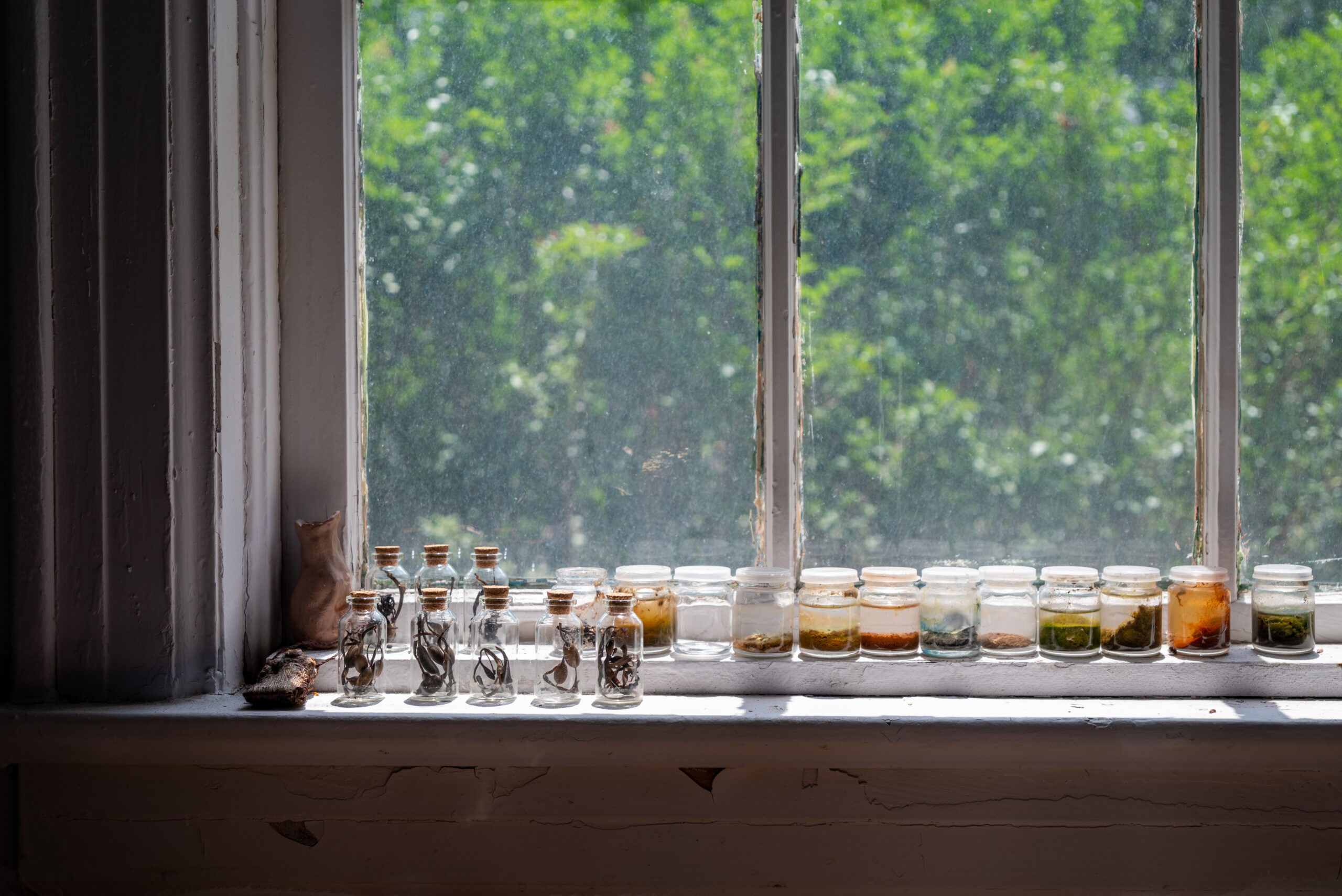 Swale Lab hosts resident artists and visitors in its investigatory spaces, each with a distinct focus: river regeneration, soils, food farming, and visionary futures, within the Ecotopian Library (top). Launched in 2020, the Ecotopian Library project is conceived as a lending library, organized fluidly as people interact with the collection, which includes soil specimens, objects uncovered from waterways, fragrant plants, and other materials of ecological resonance. At Swale Lab, these pieces are arranged among work from Mattingly's studio.
Muslin garments folded in a stack represent Mattingly's revisitation, during the pandemic, of an earlier body of work, Wearable Homes, that imagined personal domestic environments in an age of scarcity and isolation. Bundles of found and donated items are arranged around the space—a continuation of work Mattingly started in the early 2010s, in which she assembled her possessions into monumental boulders, then hauled them through the streets and photographed them in significant locations.
At the time of this writing, Pratt students participating in Mattingly's Functional Utopias workshop will be the next group of resident artists engaging with the library. She will also teach The Ecological Turn, a studio centered on environmental justice and the climate crisis. During her time at the Institute, Mattingly is bringing the library collection and other exploratory tools used at Swale Lab to connect Pratt students to practices that combine ecological thinking, art and design, and community engagement.