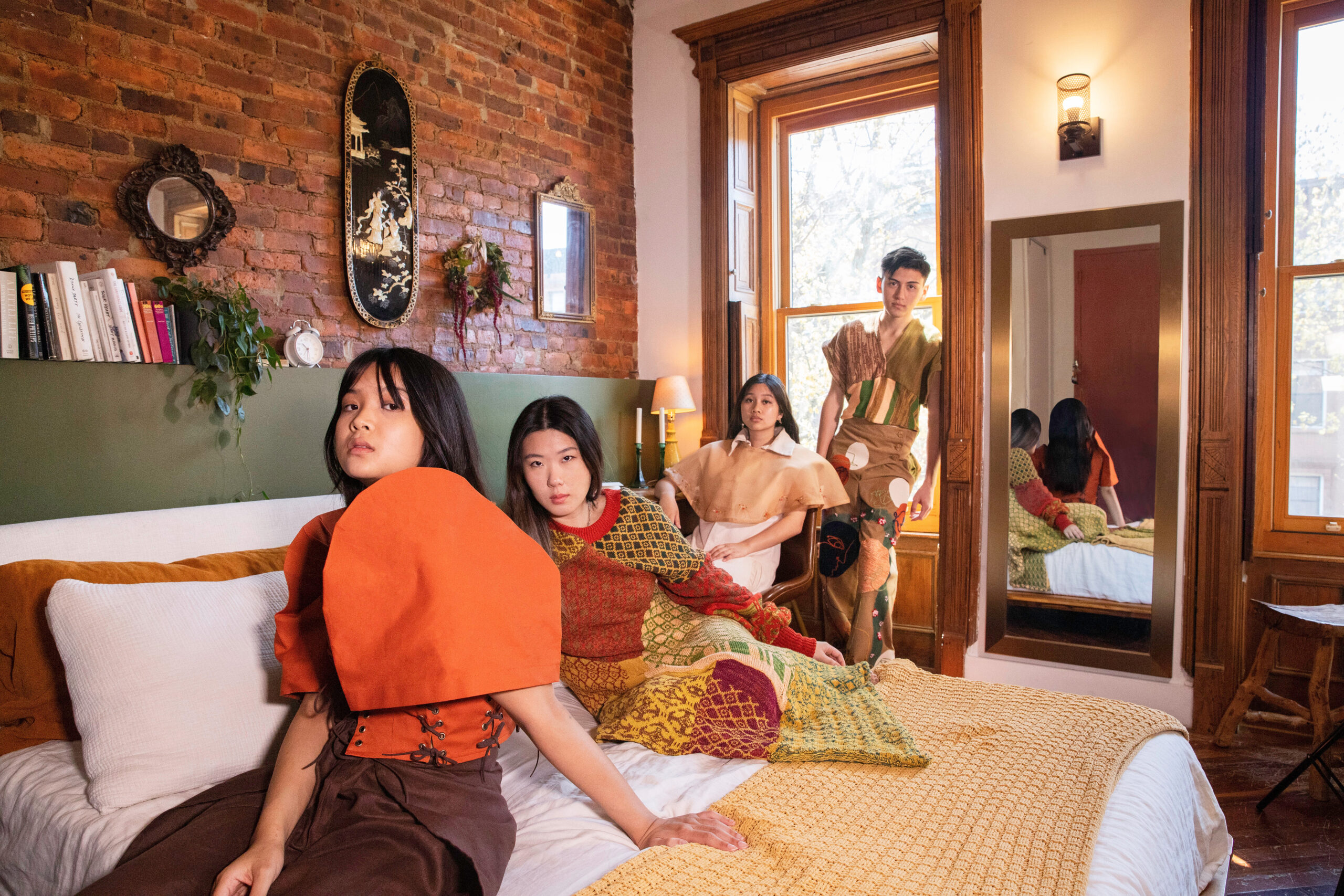 To create her thesis collection, Lost in Translation, Lyric Caramto, BFA Fashion Design '22, delved into the images, stories, and language of her family, with roots in the Philippines, to investigate questions of identity and understanding across generations and cultures. In this Q&A with Prattfolio, which featured documentation of looks from the collection on the cover of the Spring/Summer 2023 issue, she shared some of the background on her creative process and how she hopes the collection could inspire understanding.
What inspired you to create this collection around the theme Lost in Translation?
The name "Lost in Translation" comes from the loss of meaning in words and stories when translating between two languages. I grew up speaking both Ilocano (a Filipino dialect) and English at home, but I lost my fluency for Ilocano by the time I was in third grade. When my parents would ask me a question in Ilocano, I would be able to understand them, but I would only be able to answer in English. Speaking broken Ilocano was most frustrating when trying to understand the stories my great-grandma would retell, because someone would always have to translate—and I was never sure if I was getting the full story or just a summarized version of a summary.
In the beginning stages of my collection, I remember finding a photograph of my maternal grandfather, who passed away before I was born, and wanting to know more about him. I began asking my family for photographs and stories they had from their upbringing, looking for sentiments that I could translate into textiles. I juxtaposed traditional Filipino silhouettes with American fashion construction elements from the late '60s, which was the time period my reference photos were taken in the Philippines. By putting these two references together, I was embracing what it means to keep ancestral power alive while in pursuit of the American dream.
What are some of the stories you were thinking about when coming up with the pieces for the collection? What do those stories represent to you?
I took a lot of inspiration from photographs that were shared with me by my parents and my extended family from their childhood. I also referenced a lot of wedding photos and stories from my parents and their parents. To me, these photographs represent love, sacrifice, and familial protection—all things that were gifted to me by my family that have shaped me into the person I am today.
What do you hope people who view (or wear) the looks in this collection will take away from the work?
As many children of immigrants have experienced, I was never really able to learn about my own culture in school. But the deeper I dove into exploring Filipino culture, the more purpose I felt as a designer and a storyteller. Making this collection was the closest I had ever felt to my family, and the closest I had ever felt to myself. I hope that people will see how the power of language influences everything around us—our clothes, our actions, our sentiments. We are all just trying to understand each other.
What did you learn in the process of creating this collection that you'll carry forward into future work?
I wanted to go into this collection with the intention of being as sustainable as possible. Though it's virtually impossible to be 100 percent sustainable, there were many ways to be eco-conscious that I explored in the making of Lost in Translation. Aside from sourcing dead stock, vintage fabrics, and piña cloth (Filipino fabric made from pineapples) my favorite technique was dyeing some of my fabrics with flowers that I helped to grow in the Pratt Textile Dye Garden. I would love to explore more sustainable dyeing techniques in my future work.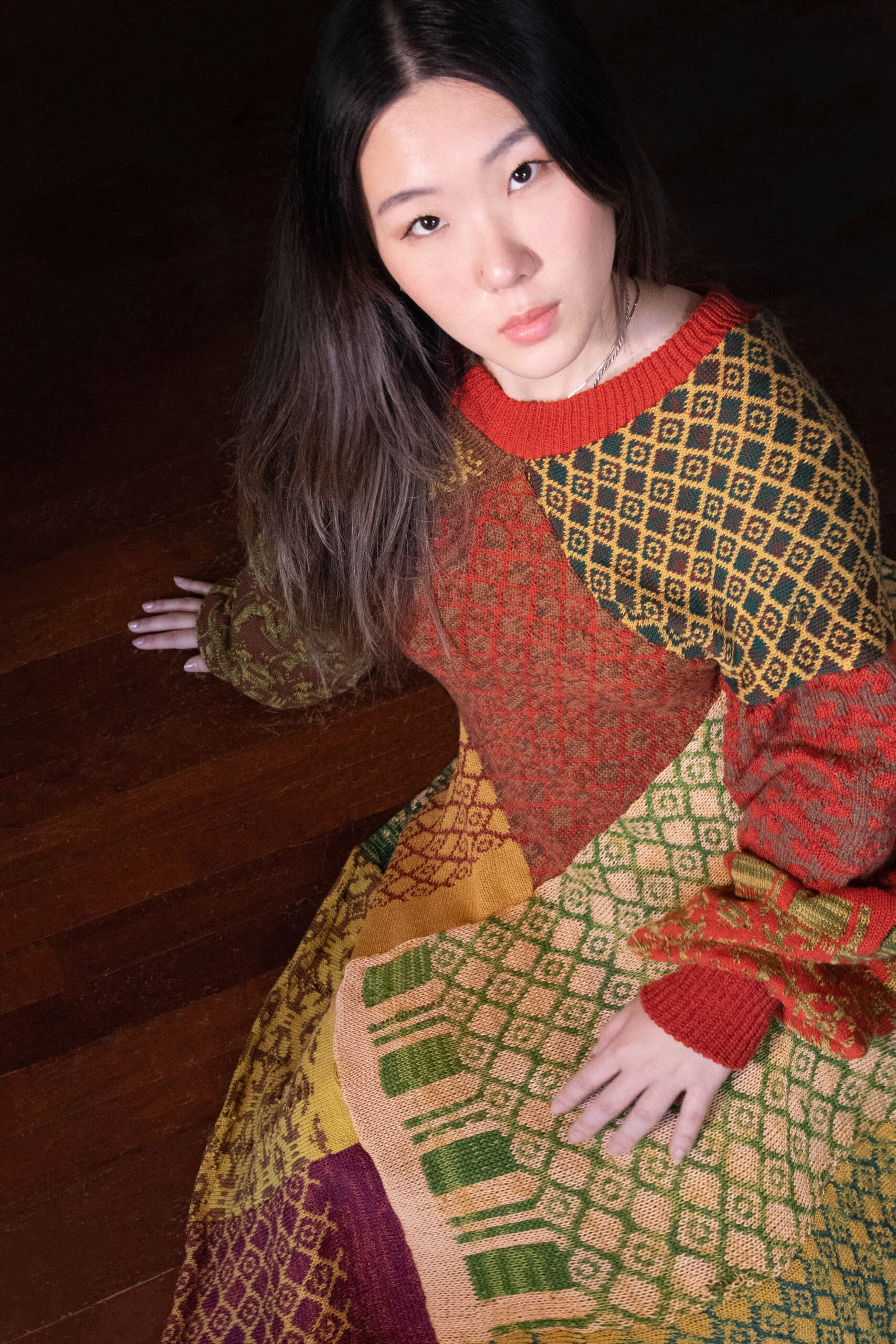 On the knit dress specifically (above): Would you like to share a little about the process behind this knit? Where did you find inspiration for the motifs on the dress?
This is a Fair Isle knit that I created a pattern for and knit on the flatbed-knitting machine. The motifs and symbols in the patterns come from traditional Filipino tattoos, which all represent a different meaning. The symbols I chose loosely translate to "your ancestors are protecting you" and "the stars will guide you on your journey."
There were a lot of labor-intensive textiles in this collection that took me months to complete. Because of the nature of my collection, each look is representative of a person in my family. By spending time with each garment, it felt like I was spending time with the family member it represented.