Group Highlights
Alumnus and longtime professor Tony Di Spigna, BFA Advertising Design and Visual Communication '67, who retired last fall, as well as Karen Schoenfeld, BFA Photography '90; Rayneese Primrose, BFA Fashion Design '10; Dasol Hong, MFA Fine Arts '20; and Jacqueline Johnsson, BFA Communications Design '20, had their work selected for the Flag Project at Rockefeller Center this summer. Their designs appeared on flags that were among the 193 flown above the Rink at Rockefeller Center this past August, a temporary installation "to celebrate the diverse culture, vibrant energy, and strength of New York City." Other artists featured included Sanford Biggers, Carmen Herrera, Jenny Holzer, Jeff Koons, Faith Ringgold, and Hank Willis Thomas, along with individuals from New York City and around the world who submitted pieces expressing their connection to and hopes for the city.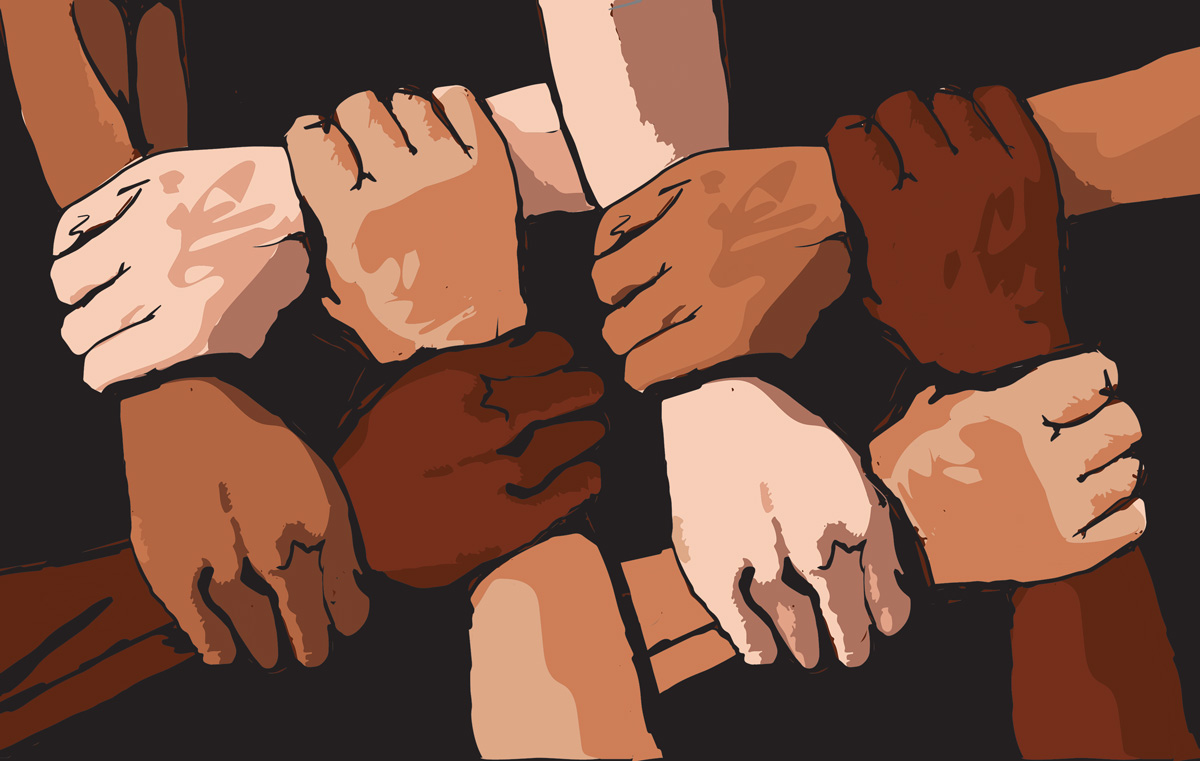 Chris (Chia-Ling) Lee, MFA Fine Arts '01, a visual artist, curator, researcher, and writer who also holds a doctorate in education in art and art education from Columbia University, has launched a new group project, An Artist a Day. On Zoom and YouTube, An Artist a Day presents a daily 15-minute show highlighting a presenting artist from the global An Artist a Day community and invites viewers to participate in a Q&A. On September 12, Cyrilla Mozenter, BFA Art Education '70; MFA '72, joined Philip Perkis, Pratt Professor Emeritus of Fine Arts, for a "special guests" program to talk about their recent collaboration on an artist book project, Octave. Lee is inviting artist participation in An Artist a Day, with visual artists, writers, dancers, musicians, performance artists, architects, and designers alike all welcome to join. More information and sign-up details are available on the project website, anartistaday.org, and the community is also on Twitter at @AnArtistaDay1.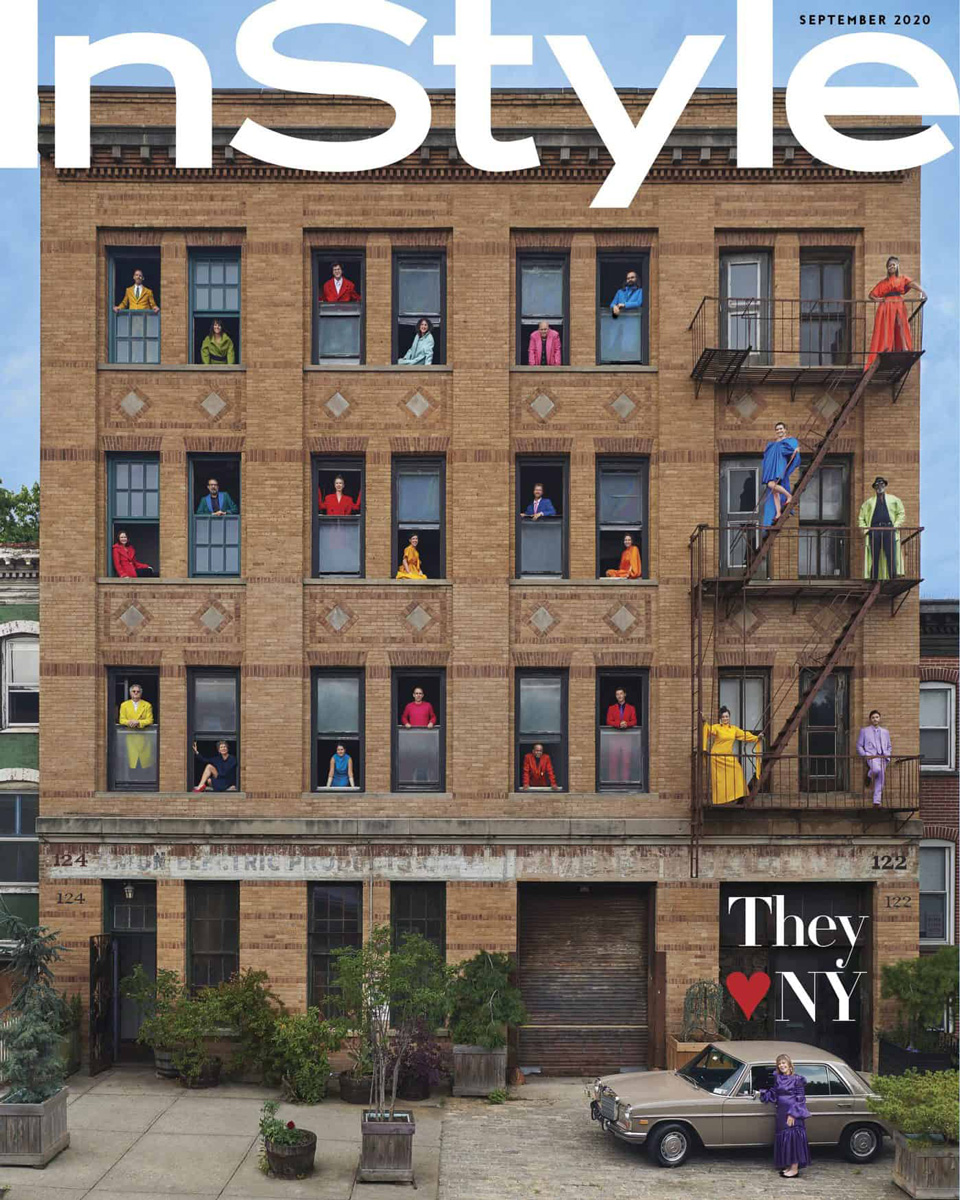 Chrissy Angliker, BID '06, and Eileen Murphy, MFA '06, had their Brooklyn studio building, a former candy factory just blocks from Pratt on Washington Avenue, highlighted in an InStyle magazine cover story. The story highlighted the solidarity of artists, cultivated under one roof by a visionary building owner, especially during this challenging and isolating time. On the cover, photographed by Jason Schmidt to re-create an iconic 1960 photograph by Ormond Gigli, Angliker is on the fire escape at right, second from top, in a blue gown; Murphy is in the center row of windows, fourth from left, in marigold.
Collin Lewis, BFA Communications Design '08, and Austin Robey, BArch '11, founded the web platform Ampled, which was recently accepted into Start.coop, an accelerator program for scalable cooperatively owned businesses. Ampled is an artist-owned, cooperative platform that allows music artists to receive support from their communities via direct, recurring payments, with the aim of "creating a permanent vehicle for artist prosperity—not an acquisition or exit." Robey and Lewis are also members of NEW INC, the New Museum's cultural incubator program, in the Equitable Platforms track. Start.coop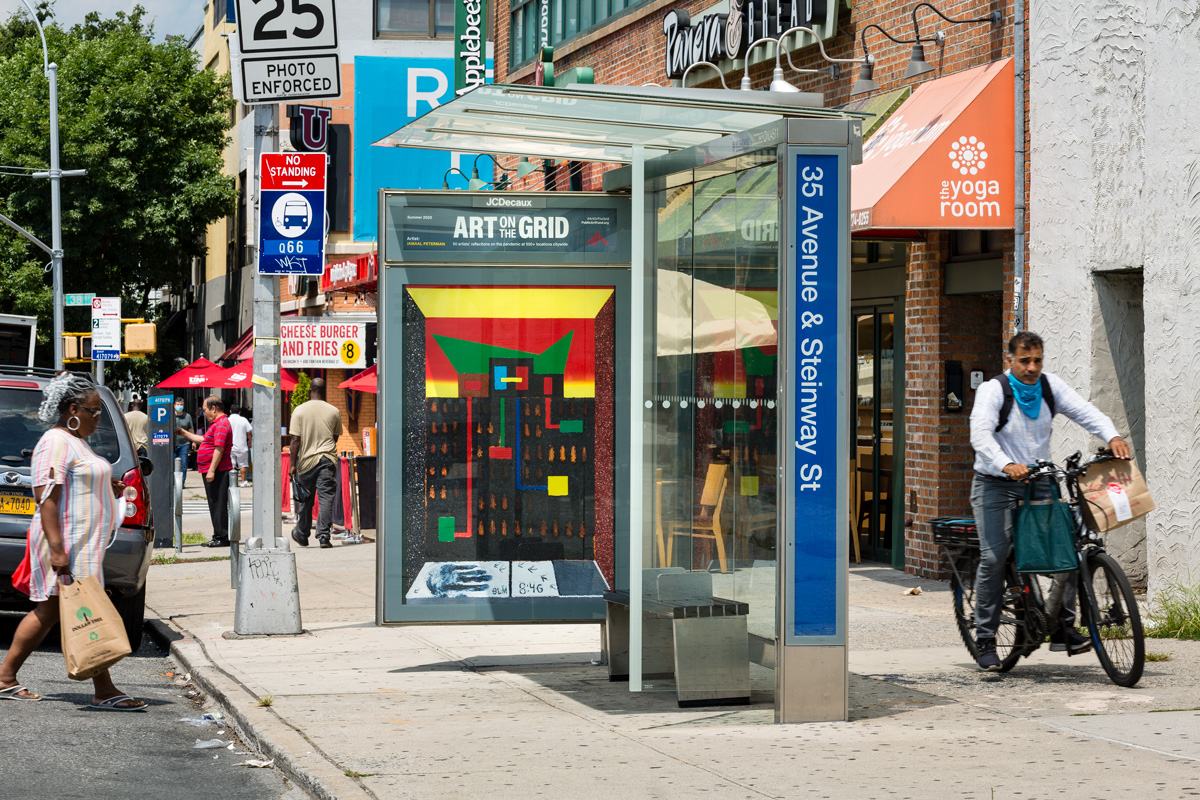 Work by a number of Pratt alumni could be viewed across New York City this summer as part of the Public Art Fund's Art on the Grid project. Works by Salman Toor, MFA Fine Arts '09; Jamaal Peterman, MFA Fine Arts '19; and Anna Park, who studied illustration and fine arts at Pratt, were among 50 New York–based artists' responses to this transformational moment in history, shaped by the global pandemic and the amplification of the movement for social justice. Works were presented on LinkNYC kiosks, which provide access to free wi-fi, phone calls, and local information, and on bus shelters, with the aim "to help our communities process the challenges we face together." To view the works and artists' statements on their pieces, visit the Public Art Fund website.

1950s
Ronald H. Beckman, BID '53; MID '85, emeritus professor, Syracuse University, was director of the Research and Design Institute and REDE Corporation, Providence, Rhode Island (1966–1983), where of primary concern were demonstration projects: non-polluting solar- and wind-power generation, historic preservation, innovative medical and educational facilities, and exhibition design. Beckman designed, with Pratt's then chair of Industrial Design Alexander Kostellow, the 1954 General Motors "Kitchen of Tomorrow." After architecture studies at Yale University, Beckman joined George Nelson Associates (1956) as design director, Herman Miller accounts (1962–1966). Beckman taught industrial design at Pratt (1958–1962), RISD (1959), Cornell College of Human Ecology (1983–1993), and Syracuse University (1993–2001). His archives are in the Special Collection Research Center, SCRC, at Syracuse University.
Marilyn Church, BFA Graphic Design '59, has work on view at Karyn Mannix Contemporary, in the digital exhibition I Love the Abstract. This marks the eighth show Church has appeared in since the start of summer. Her works can be viewed at marilynchurch.com.
LTC Augustus R. Schrowang, BArch '59, is retired in Naples, Florida, and had his first public showing of his paintings in February 2020. His thesis at Pratt, the Ulster County Office in New York, was constructed in 1962. Schrowang is listed in Who's Who in America.
1960s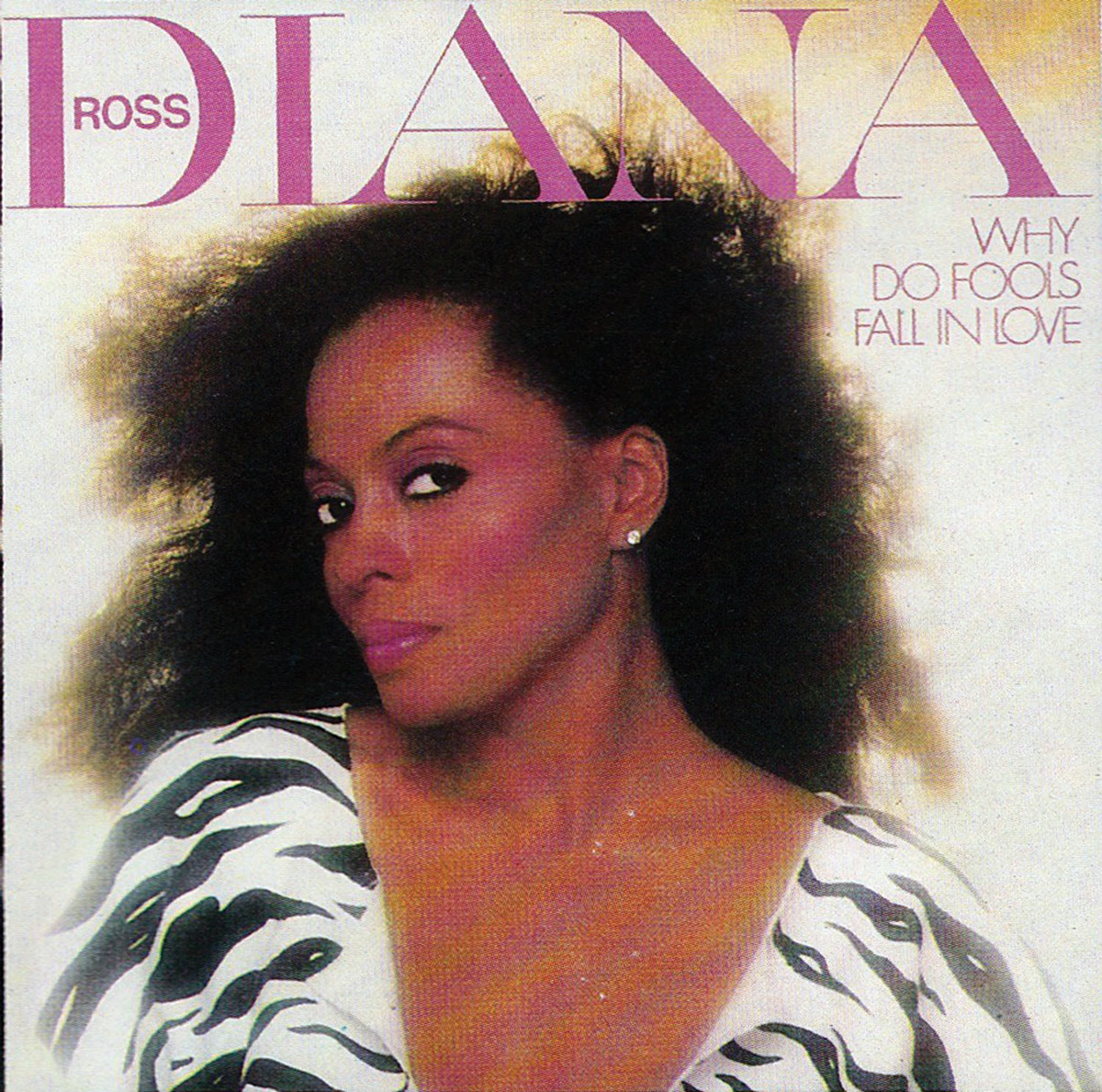 Vincent DiGerlando, BFA Advertising Design and Visual Communication '65, who has retired, shared some of his achievements since graduating from Pratt: Prominent design accomplishments while employed at Howard Marks Agency NYC, including independent projects, were the "Kiss Army" logo, Kiss album covers for Double Platinum and Kiss Unmasked, Diana Ross's Why Do Fools Fall In Love album cover, and Paul McCartney's "Wings over the World" Times Square billboard. DiGerlando also designed the Silver Mint silver ingot series pieces "George Washington" and "The American Patriots." He exhibited in Amsterdam, New York, and New Jersey, and published several books: Mind Visions (Grafis, 1979), Collective Portraiture (2013), Conceptual Realities (2015), and Art Is My Life (2018).
Robert (Bob) Kaplan, BArch '65, is retired from his 40-year residential practice of Robert Kaplan Architects, PA, formerly in Columbia and Silver Spring, Maryland. Prior to that, he was employed by the Rouse Company, responsible for the urban planning of the new city of Columbia, Maryland, and later as design manager for large multi-use city projects in Canada. He now enjoys the beach at his homes in Rehoboth Beach, Delaware, and Fort Lauderdale, Florida.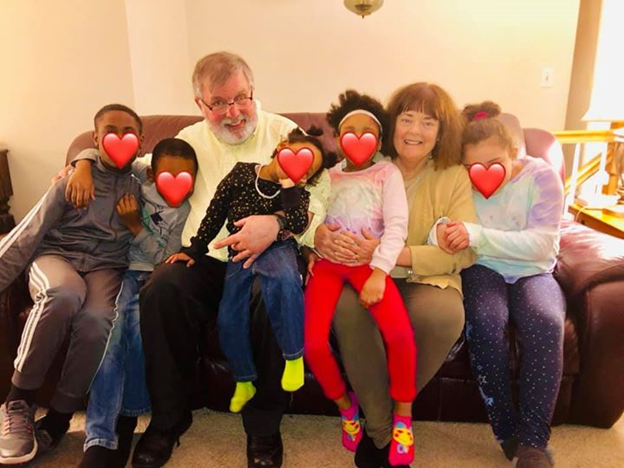 Michael Borghese, BEE '68, and his wife, Nancy, have retired from fostering children following a 35-year commitment. More than 100 children have come into their home, with many of them still considering them Mom and Dad. Here, the Borgheses are pictured with the last group of children who lived with them. Four have returned to their biological families and one child moved into an adopted home.
Vivian Conan, MSLIS '68, is publishing a memoir on September 29, 2020. Losing the Atmosphere: A Baffling Disorder, a Search for Help, and the Therapist Who Understood (Greenpoint Press) delves into Conan's mental health journey, which she explored in a New York Times opinion piece in 2015. Joy Behar, cohost of the television program The View, called Conan's book "a compelling story of a woman struggling to find her identity as she battles a baffling psychological condition that has plagued her since childhood," adding, "Losing the Atmosphere will haunt you well after the last page has been turned."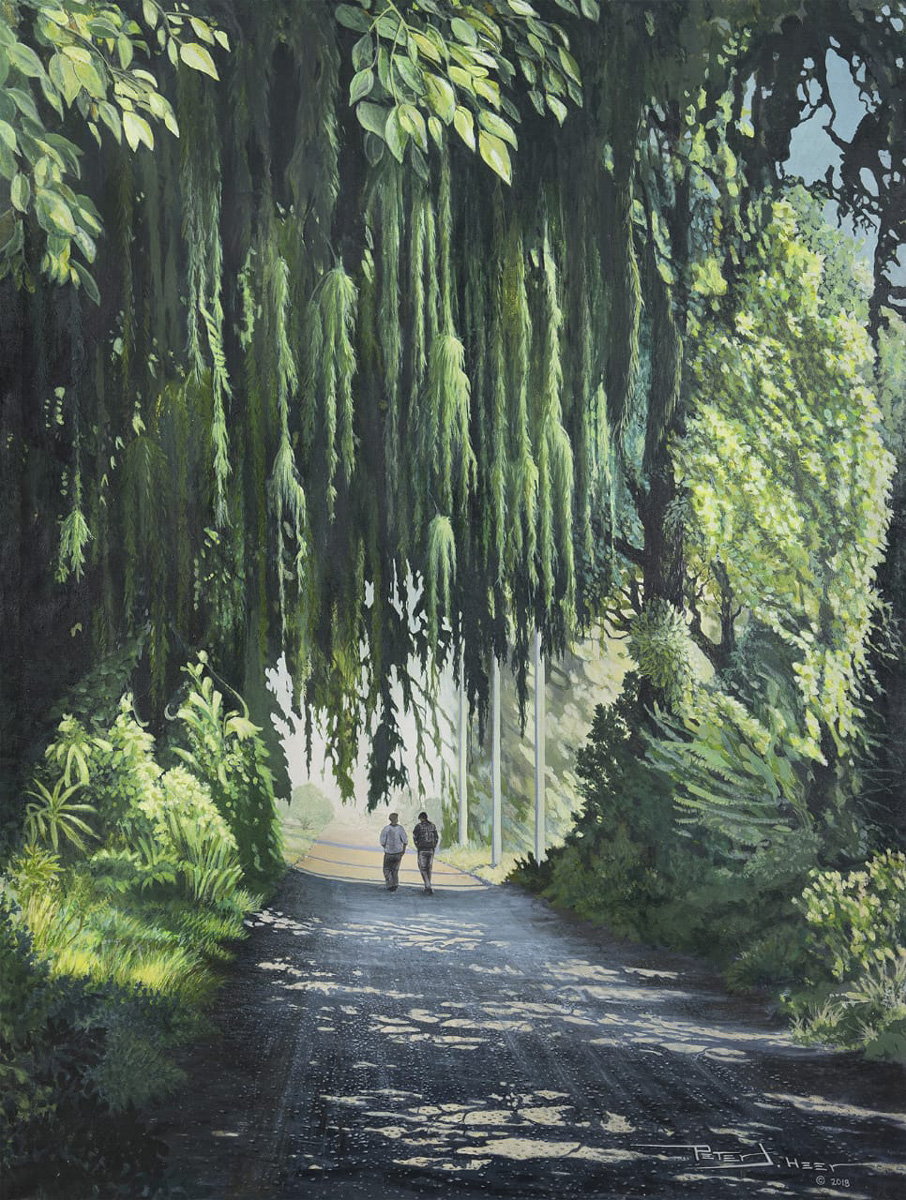 Peter Heer, BArch '68, earlier this year submitted this recent painting from his neighborhood in Argentina.
Harry Roseman, BFA '68, will have a show of his drawings, both recent and older works, at the Lehman Loeb Art Center at Vassar College, from July 17 to October 10, 2021 (postponed from summer 2020). This past February, Hyperallergic published a feature on Roseman's work, "Can an Artist Be Compulsive and Deliberate?" by John Yau. Roseman's online portfolio can be viewed at harryroseman.com, and his other website, harryroseman-achronicle.com, is an ongoing web work. His serial, China 1987, has just reached the 10th installment and can be seen on YouTube. From September 3 to October 4, 2021, there will be an exhibition of his work at the Pamela Salisbury Gallery in Hudson, New York.
Patricia Dedula Stokes, MFA Painting '68, recently published Using Paired Constraints to Solve the Innovation Problem (Springer). Her highly successful early math program, called Only theNUMBERS Count, was based on the problem-solving model presented in the book.
Lorna Ritz, BFA Painting '69, sent an update to Prattfolio in June: "What is the story beneath ordinary everyday life things, expressing on canvas much of what people feel when they get religious? As a painter, I am used to a life of solitude. No one visits; I don't go out. I would tell myself: 'I think I am getting better.' That was why I still paint. By April, many more people were dying. Both sadness and beauty of the spring came into the painting. The nonpolitical virus would teach us to become more compassionate, more loving, uplifting each other. Leading an inspired, driven life kept me emotionally strong, in action, especially when listening to a neighbor telling me she is afraid."
1970s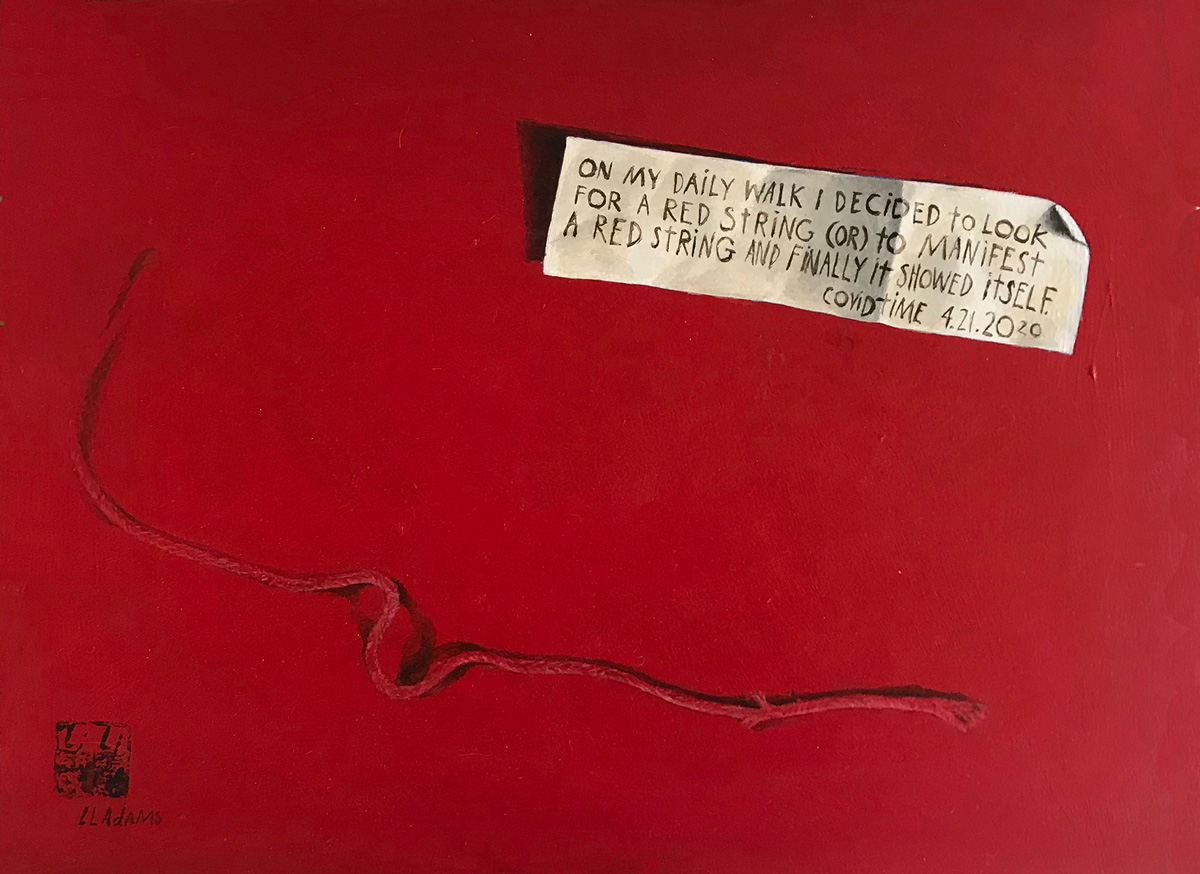 Lisa Lyman Adams, BFA Painting '73, recently was awarded the Contemporary Award for her painting, Red String, in the 2020 Annual Juried Exhibition at the Connecticut Academy of Fine Arts. The exhibition was on view virtually at ctacademy.org through September 5. This acrylic painting was part of a series titled CovidTime using trompe l'oeil, describing Adams's searches for found pieces on daily walks at the onset of the pandemic. Adams's current practice includes fine art commissions and adult drawing instruction at Mystic Museum of Art, Mystic, Connecticut. She is represented for her illustration at Morgan Gaynin Inc. (president, Gail Gaynin, BFA Painting '68). Adams's work may be viewed at lisaadamsart.com.
Philip Gefter, BFA Fine Arts '73, has written a biography of Richard Avedon, due out in October 2020 from Harper, an imprint of HarperCollins. The book, What Becomes a Legend Most, is the first definitive biography of the renowned 20th-century photographer. Gefter is also the author of Wagstaff: Before and After Mapplethorpe (Liveright), which won the 2014 Marfield Prize, a national award for arts writing, and Photography After Frank (Aperture), a collection of essays. His website is philipgefter.com.
Robin Bernstein Kantor, BFA Communications Design '74, just finished the first year of a two- year term as the president of the New Jersey Advertising Club. The AdClub has five annual signature events: the Innovation Summit showcasing new technologies; the State of the Advertising Industry panel discussion; Jersey's Best Marcom Professionals under 40; the Jersey Awards, celebrating the best in design and advertising; and the NJ Advertising Hall of Fame, along with numerous networking and education seminars. She is a design specialist and does business development for Newark Trade Digital Graphics.
Philomena Marano, BFA '74, had a solo show, The Razor's Edge / cut paper works, in March and April 2020, at Art Center Sarasota in Florida. Subjects ranged from Brooklyn's urban landscape to Coney Island and circus thrill shows. Marano was also invited by the Museum of Fine Arts, Saint Petersburg, Florida, to give four lectures, titled "The Cutting Edge," sharing her experience working with Robert Indiana to create cut-paper maquettes for costume and set designs for The Mother of Us All at the Santa Fe Opera in 1976. The lectures were in conjunction with the museum's exhibition Art of the Stage: Picasso to Hockney, which ran from January 25 to May 10, 2020.
Maritza Dávila, BFA Fine Arts '77, shared some activities from the summer and early fall. Dávila gave the lecture "For the Passion of Art and Learning" via Zoom for Dixon Gallery and Gardens in Memphis, Tennessee; had a solo exhibition, Journey, at Dixon Gallery and Gardens; and was interviewed as a featured artist at the Latino Festival in Memphis. Dávila also received a project grant from the UrbanArt Commission in Memphis for Bridging the Distance, a book and video made in collaboration with Jon W. Sparks.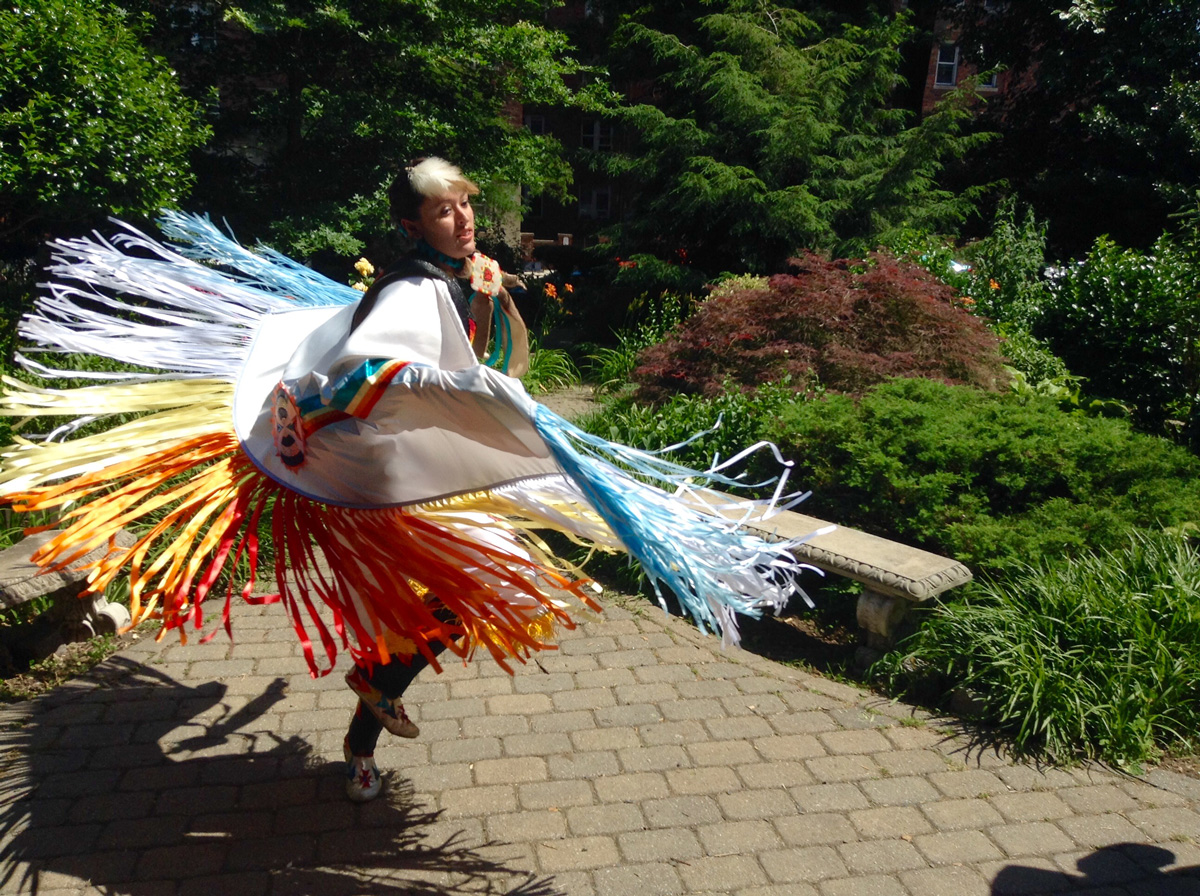 Phoebe Farris, MPS Art Therapy '77, had work featured in a group exhibition at the Jerusalem Fund Gallery Al-Quds in Washington, DC, this past winter. Farris chose this recent work for the exhibition, titled Art Is Not Optional, because "for Native Americans, dance and music are not luxuries but essential aspects of life linked with spirituality and healing."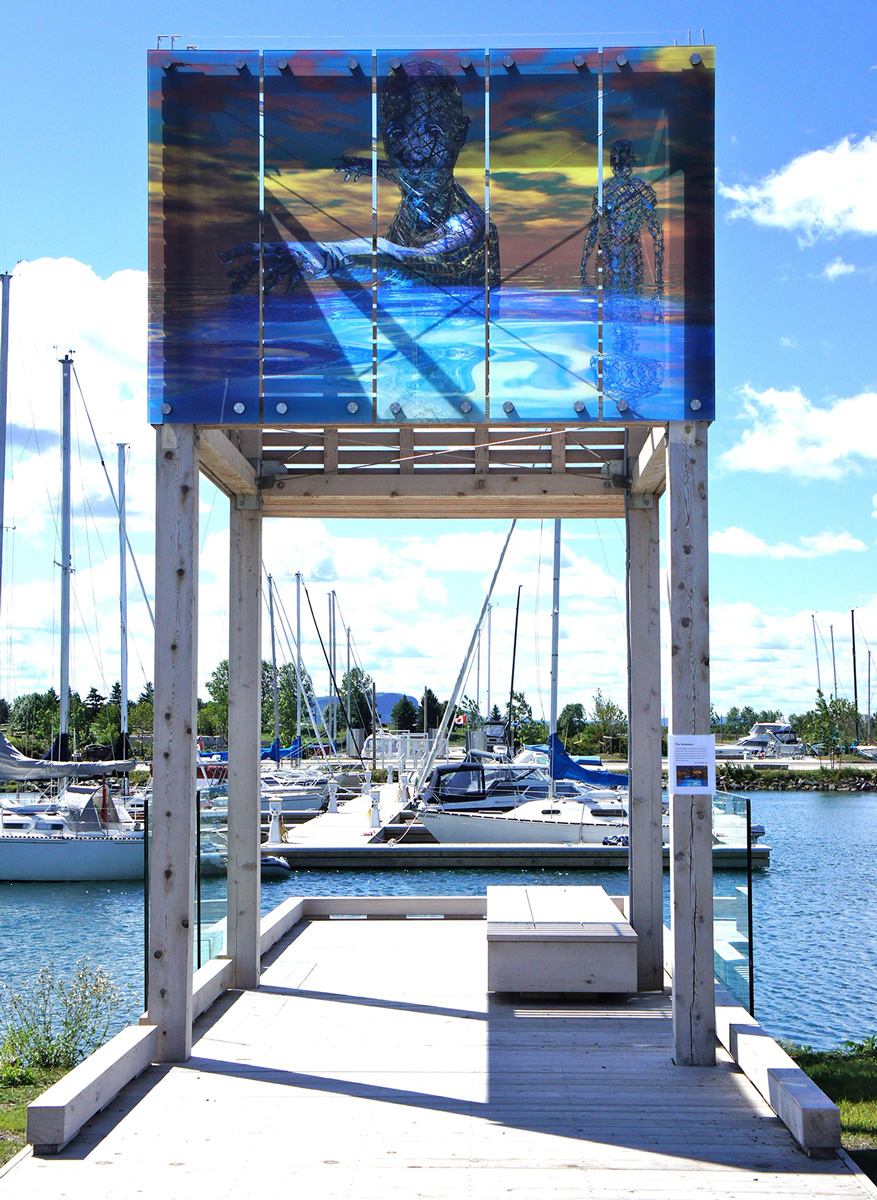 Mark Nisenholt, MFA Visual Arts, Printmaking '77, won a 2019 Lifetime Achievement Award from City of Thunder Bay Arts and Heritage for 40 years as an educator/administrator, professional artist, and community volunteer. In 2015, Nisenholt retired from Lakehead University as professor emeritus, after 36 years. He mentored and encouraged many students to successful careers in the visual arts. His digital images Animate the Journey to the Water were the first selected in a national juried competition to be rendered in glass, as facades for three wooden picnic lanterns, for a public art installation at the Thunder Bay Waterfront Development project Prince Arthur's Landing, in 2011. He currently serves on the board of the Thunder Bay Art Gallery (or TBAG) and their New Building Committee. Nisenholt's website is mnisenho.myportfolio.com.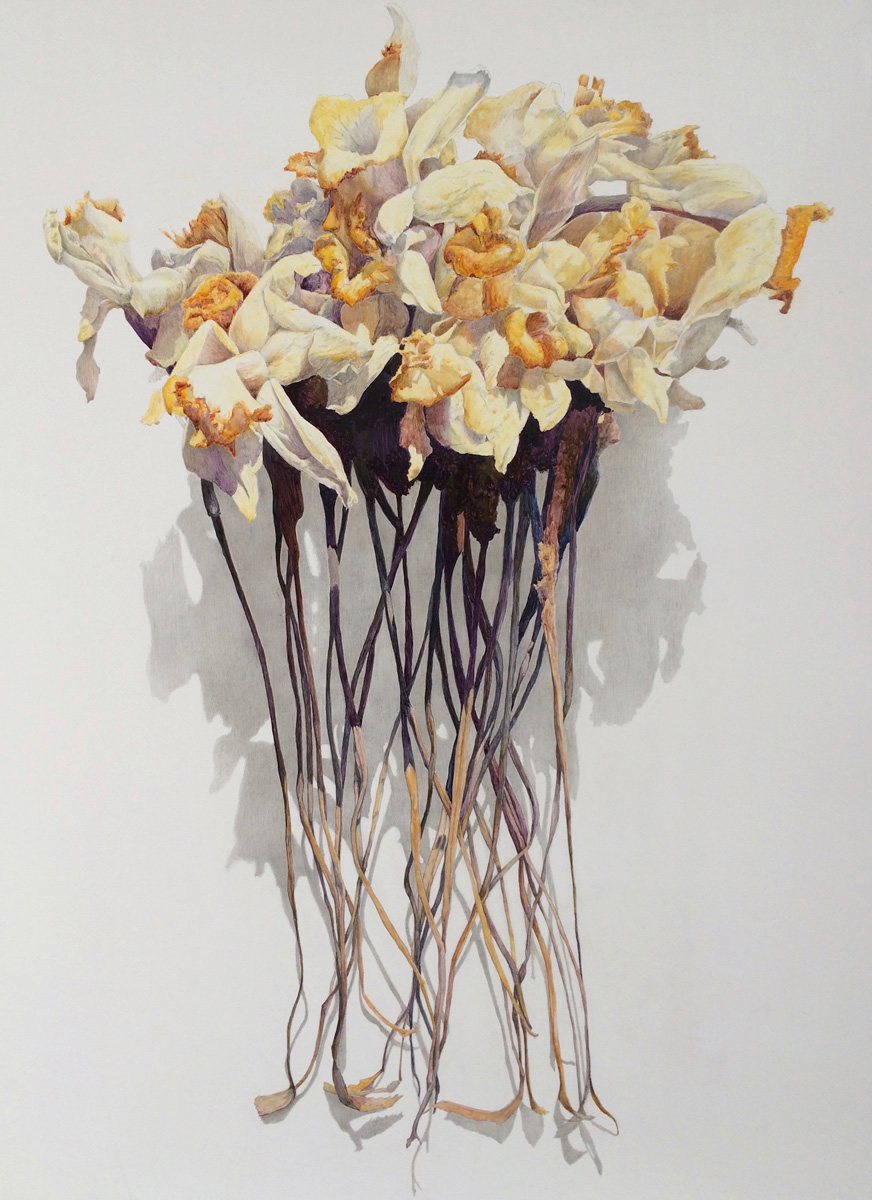 Marjorie Williams-Smith, MFA '77, and Aj Smith were named by the Arkansas Governor's Mansion (AGM) as AGM Artists in Residence from July 1 through August 31, 2020. This honor included an exhibition at the Mansion, titled A Path Forward. The exhibition had a combined total of nearly 30 works between the two artists. It included silverpoint drawings, graphite pencil drawings, and watercolors from each artist. Marjorie Williams-Smith is a nationally recognized silverpoint artist whose artwork is in the collections of the Arkansas Arts Center in Little Rock and the Evansville Museum of Arts, History, and Science in Indiana.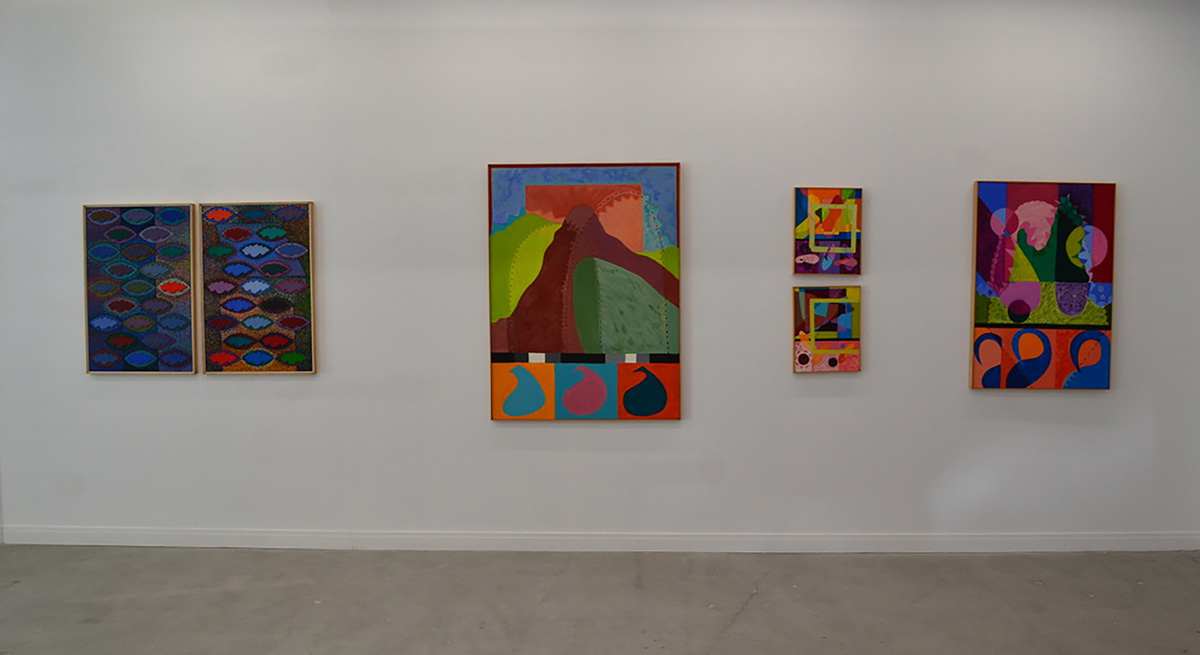 Beatrice M. Mady, MFA Painting '78, has a two-person exhibition with her late husband, David W. Cummings, at the Dvora Galley, Jersey City, New Jersey. The show runs through September. Hands and Other Symbols: The Work of David W. Cummings and Beatrice M. Mady originated at Drawing Rooms in Jersey City this past spring as a celebration of the life and work of Cummings, a life lived together with Mady. Their work is full of shapes and symbols, and their message is in living color. The exhibition catalog is available online and work can also be seen at beatricemady.com and davidwcummings.net.
Mary Rieser Heintjes, BFA '79; MFA '85, who studied painting, drawing, welding, and glasswork at Pratt, had her painting River in the Adirondacks included in Carter Burden Gallery's online-exclusive exhibition On the Wall this spring. In response to COVID-19 shutdowns, the gallery's assistant director created a virtual exhibit on the gallery walls sourcing photos from the artists of their work.
1980s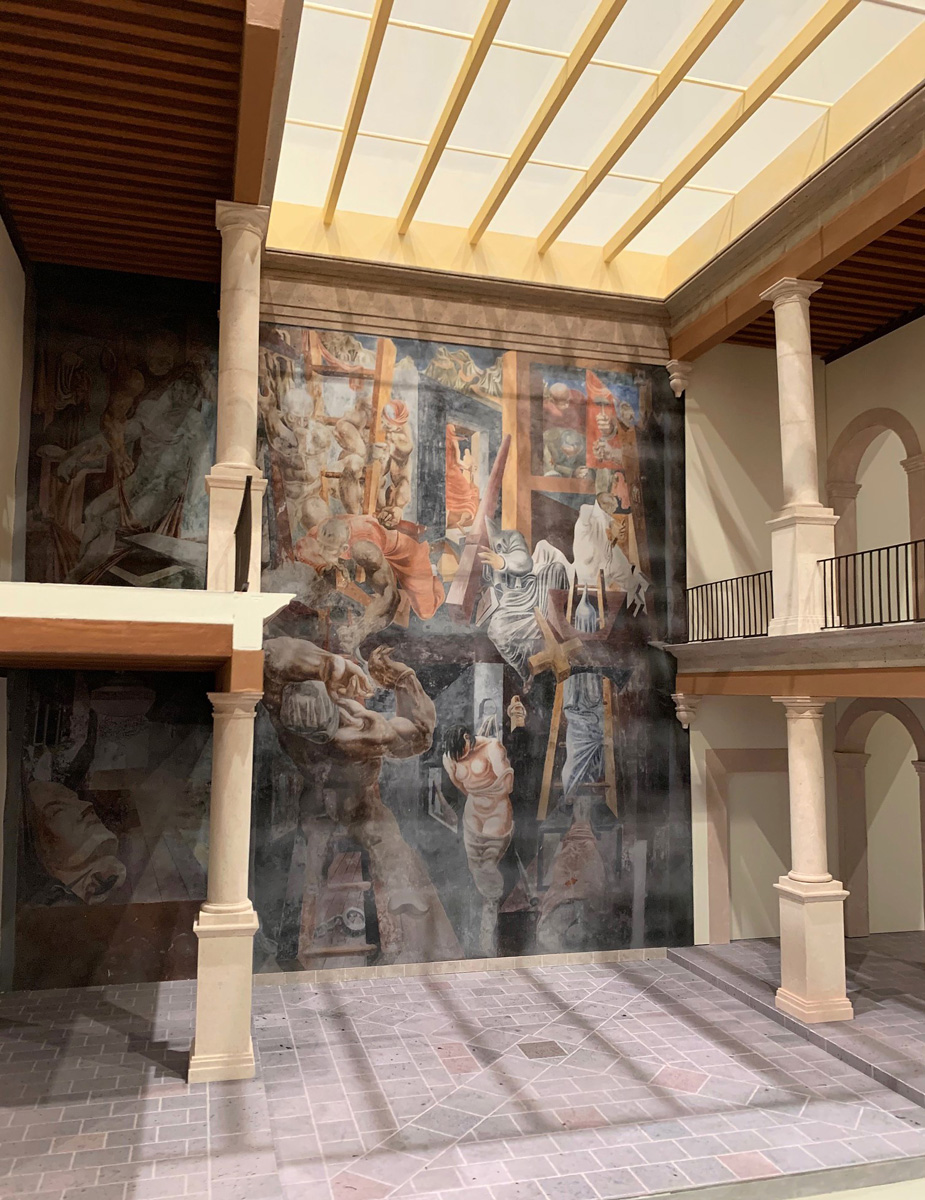 Michael DelPriore, BArch '80, president of Ryerson Studio, an architectural modelmaking firm in business since 1985, and former Pratt faculty member who built the campus model of Pratt in Myrtle Hall, created the architectural model for the Vida Americana exhibition at the Whitney Museum (running through January 31, 2021). The model for Vida Americana: Mexican Muralists Remake American Art, 1925–1945 was built using photographs of the interior at Mexico's Museo Regional de Michoacán in Morelia, where the American artists Philip Guston, Reuben Kadish, and Jules Langser painted a mural titled The Struggle Against Terrorism, completed in 1935, hidden from view in the early 1940s, and rediscovered in 1974. An architectural model was created to give a sense of the space in which the artwork resides in Morelia.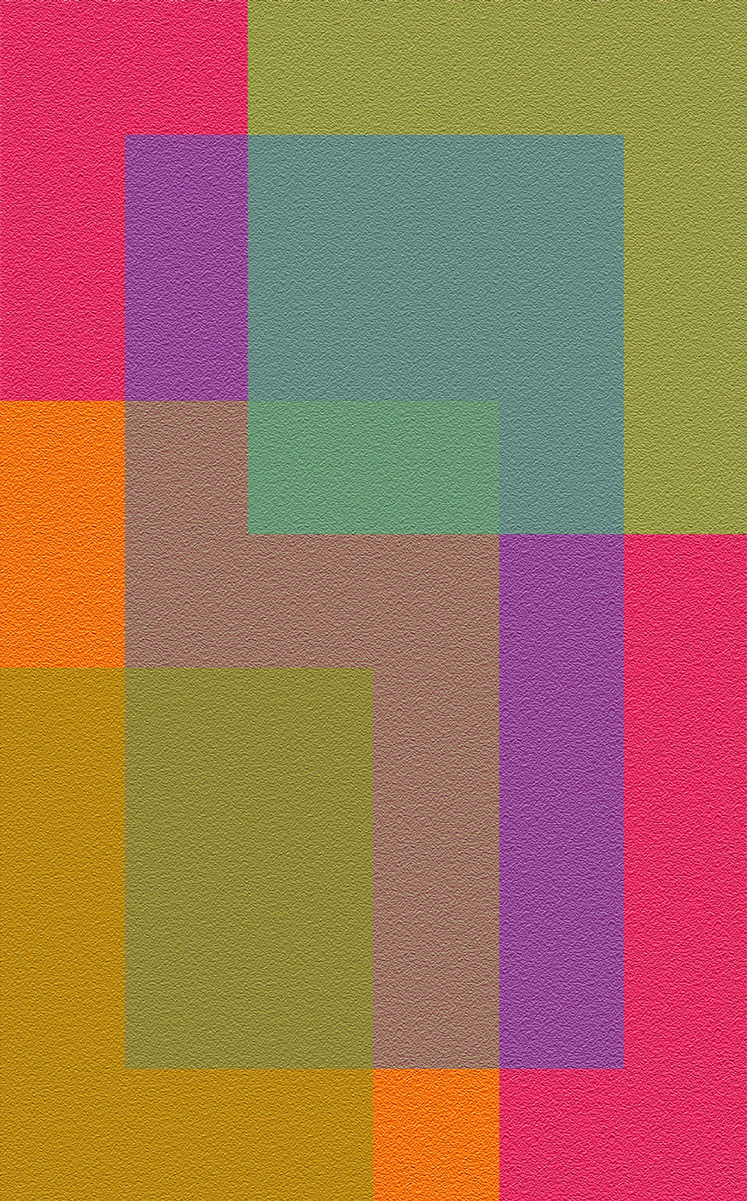 Ted Gutswa, MFA '80, shared this recent work, a digital piece that can appear in any size.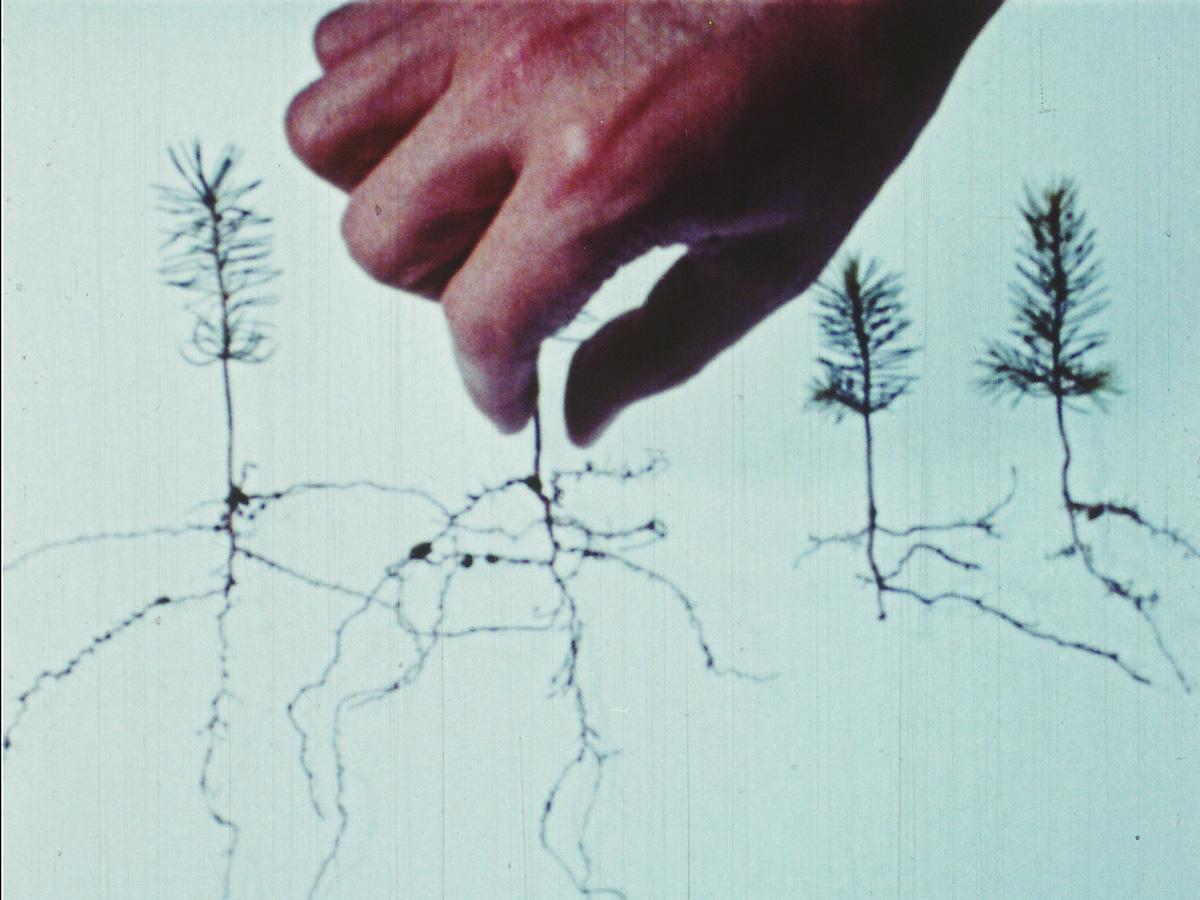 Laura J. Padgett, BFA Fine Arts '80, participated in an online edition of the San Francisco Cinematheque's Crossroads film festival this past August. Three of Padgett's films, Fragment, Solitaire, and Einige Orte Dazwischen ("A Few Spaces In Between"), live-streamed as part of the event showcasing artist-made film and video.
Monica Kane, BFA Fine Arts '81, had two sculptures included in Artblog's virtual exhibition this spring, Artists in the Time of Coronavirus, part 26.
Robert Beach, BArch '82, designed the Turning Point Suffragist Memorial, to commemorate the 100th anniversary of the 19th Amendment this year. The memorial, whose August 26, 2020, dedication was postponed in the wake of the pandemic, will be located in Northern Virginia's Occoquan Regional Park. The memorial's groundbreaking last fall was covered by NPR.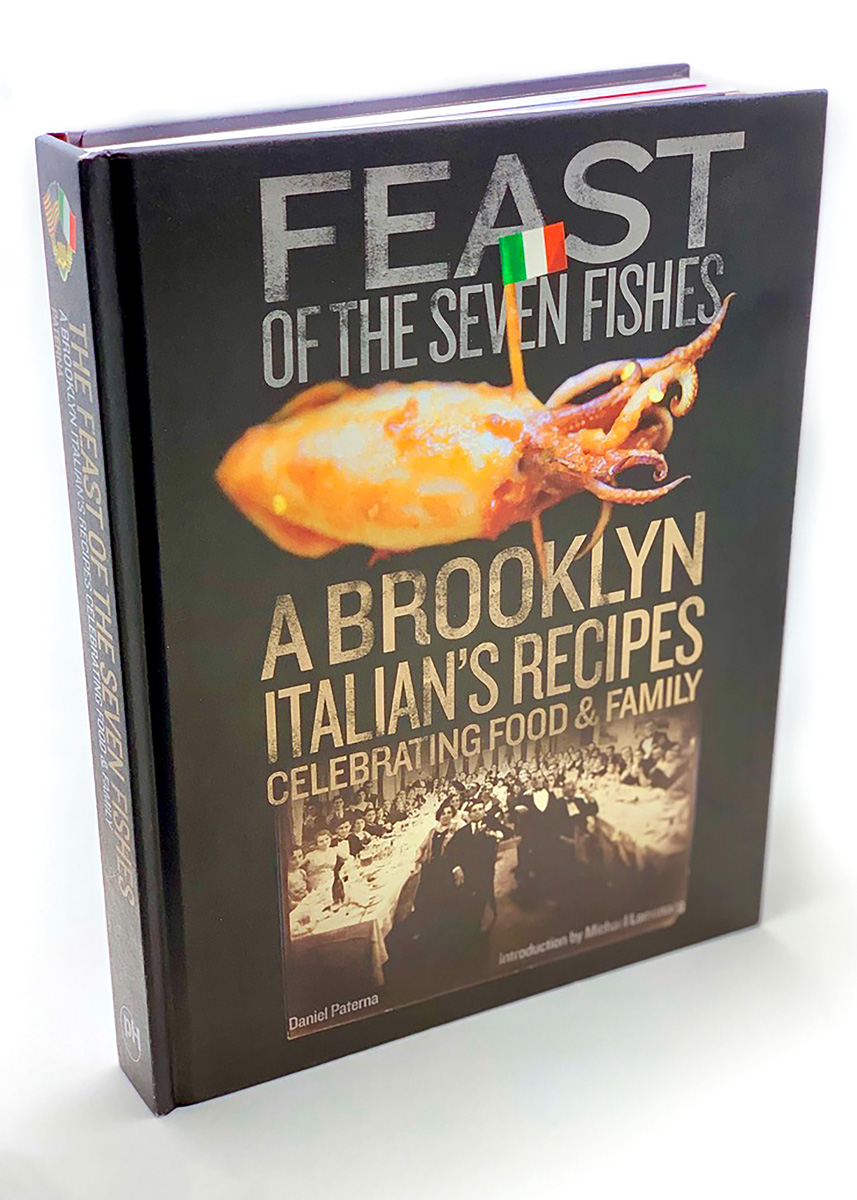 Daniel Paterna, BFA Graphic Design and Photography '82, published the memoir and cookbook Feast of the Seven Fishes: A Brooklyn-Italian's Recipes Celebrating Food and Family (powerHouse Books). Paterna writes, "My book celebrates the rich culinary bounty Italian immigrants brought to Brooklyn. A powerful meditative reflection in photographs and interviews on the emotional connections—food, family, neighborhood—between Italy and America, it illuminates a cultural bond between our immigrant elders and their children. Our immigrant inheritance is expressed in the details—the importance of the neighborhood, the multigenerational visits to the shops—and in the carefully curated family stories and recipes, and unique portrayal, heartfelt pride of place and family, especially of my mom. Her recipes are a timely reminder that a shared memory of food draws upon and enriches our souls."
Tracey Landworth and Santino Zafarana, both MFA Photography '83, shared that after a few years of running his own photography studio in Manhattan, Zafarana went on to represent Fujifilm on the West Coast, using his experience to introduce and improve other photographers' work using Fuji products. Right out of Pratt, Landworth started teaching photography at the Barnsdall Art Park in Los Angeles while working on developing her photography business, primarily photographing architecture and events. Now 25-plus years into their careers as working photographers, and realizing that many people want to get in touch with their own creative photography process and improve their skills, Landworth and Zafarana opened Creative Photography Workshops in Los Angeles. They teach mostly adults and report that they've created a vibrant, engaging, supportive, creative photo community sharing knowledge that started at Pratt.
Moses Ros, BArch '83, participated in a number of exhibitions over the past year, and forthcoming in 2020, work from his printmaking collective Dominican York Proyecto GRAFICA will be part of the Smithsonian American Art Museum's ¡Printing the Revolution! The Rise and Impact of Chicano Graphics, 1965 to Now. Among his recent personal work, Ros created Drawings for a New Reality, a series made in the wake of the COVID-19 crisis. He chose black paper and red pencil to symbolize the dark current moment and his emotional response to it. Ros's website is mosesros.com, and his work can be viewed on Instagram at @moses_ros.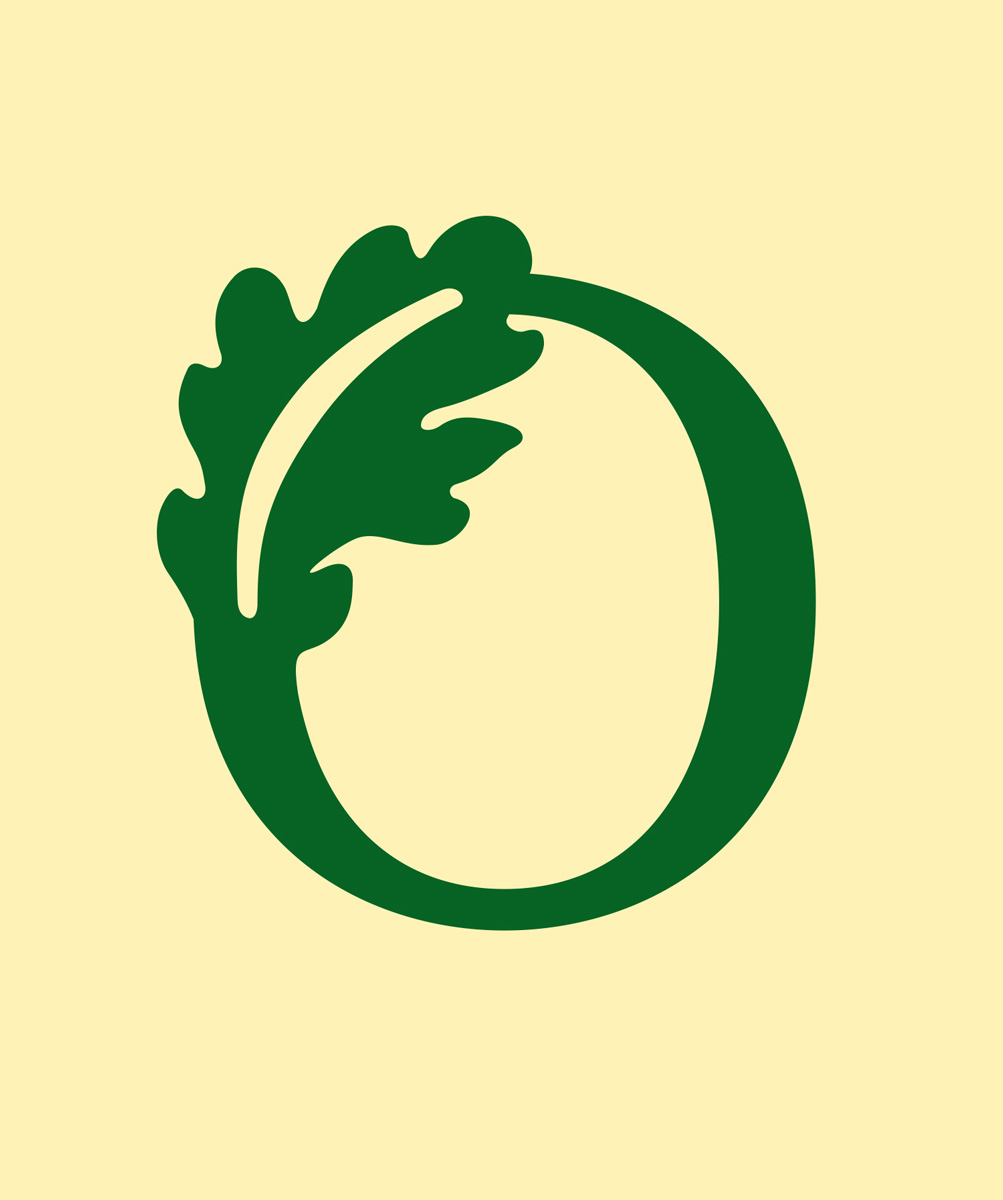 Adrienne DiGiovine, BFA Communication Design '84, is an independent designer specializing in design strategy and visual identity. She is, and enjoys being, a design partner, educator, and problem solver. Her clients are private schools and other nonprofits, and small businesses. By working with a network of professional partners, she can offer broad expertise on projects large and small. She recently won a Brilliance Award for the logo of Oakwood School in Morgan Hill, California. DiGiovine lives in Bucks County with husband Jim McAuliffe, BArch '83. They have two sons, Cal, BArch '21, and Ethan, Tyler School of Art and Architecture at Temple University, BFA '22. View her work at digiovinedesign.com.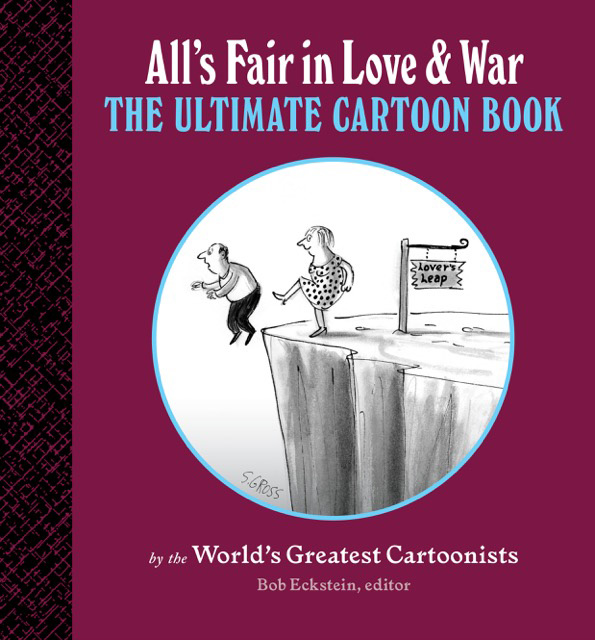 Bob Eckstein, BFA Communications Design '85, has two books coming out in October 2020. The Elements of Stress and the Pursuit of Happy-ish in This Current Shtstorm, coauthored by New Yorker cartoonist Michael Shaw, is being released by Humorist Books, and All's Fair in Love & War: The Ultimate Cartoon Book by the World's Greatest Cartoonists*, which Eckstein edited, is being published by Princeton Architectural Press.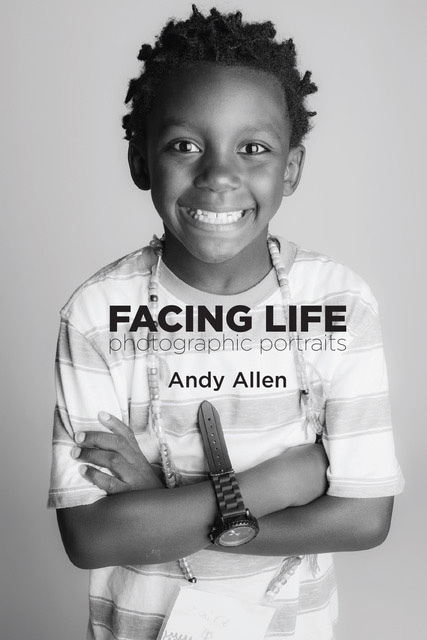 Andrew Allen, MFA Photography '86, had an exhibition of photographic portraits, Facing Life, at CCPL Saul Alexander Gallery in Charleston, South Carolina, in July. The portraits on display were of cancer patients. Allen, himself a survivor of cancer, photographs his subjects with minimal props and in neutral backgrounds, wishing to show the happiness of life through photographic images, capturing smiles and forever preserving images of courage, beauty, and dignity. Over the years, Andy has connected with charitable organizations, offering his skills and service, as a way of giving back after his own experience battling cancer. His website is drewdesign.net.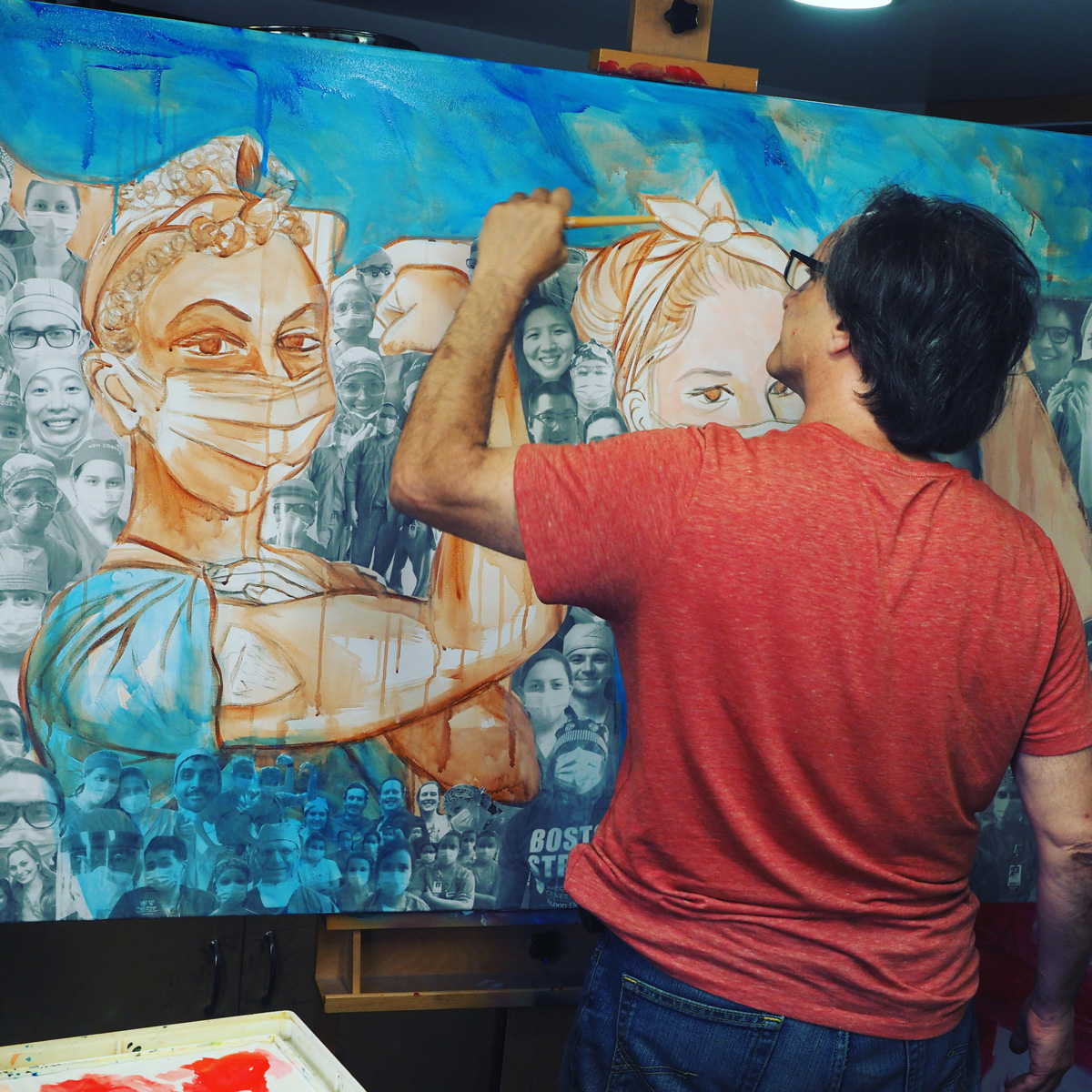 Antonio Reonegro, BFA Illustration '87, created a painting for Massachusetts General Hospital, donated for front-line responders during COVID-19. The artwork was installed on July 28, 2020, at MassGeneral, and The Boston Globe highlighted the event. Reonegro, who was looking for a way to contribute during the public health crisis, was offered an opportunity by his friend Peter Masiakos, MD, a MassGeneral trauma surgeon, who shared photos of surgical residents posed as Rosie the Riveter. Reonegro's painting took its title, We Can Do It Together!, from the original tagline for that iconic image, "We Can Do It!" His final work drew from some 75 portraits of clinicians.
1990s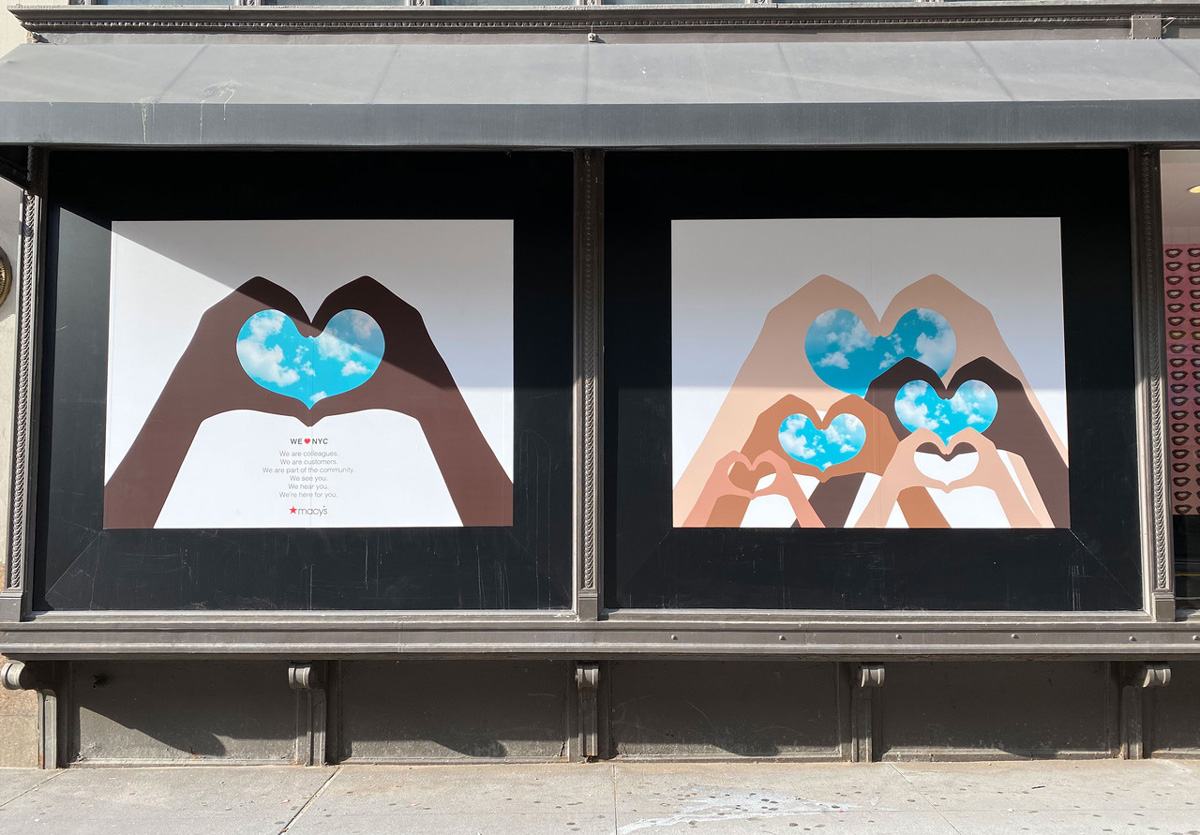 Tracey Woods, MFA Photography '91, created the artwork for the store windows of Macy's, unveiled this past June at their New York Herald Square headquarters and flagship store. This was after three months of quarantine and lockdown due to the global pandemic and also the Black Lives Matter worldwide protests. At the time of this writing, the work was also slated to appear in the San Francisco and Chicago flagship stores. (Woods notes that the person who brought her onto the project is also a Pratt grad, Roya Sullivan, MFA Painting and Photography '91, of Harlequin Design.) Woods was also recently highlighted by the Luupe, which spoke with her about her career as a photo director, producer, and editor and her 15-plus years at Essence.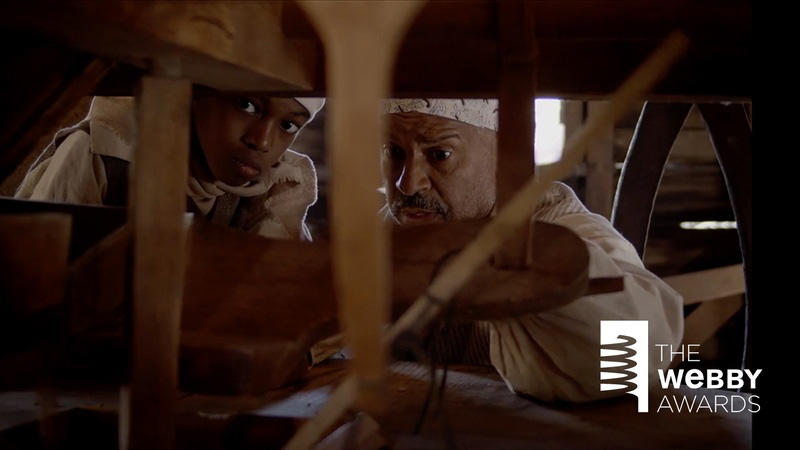 Maya Kopytman, MFA Computer Graphics '95, is a partner at C&G Partners. She and her team won a Webby award for People Not Property, an interactive video project that sheds light on the often-overlooked history of slavery in the colonial North. Funded by the National Endowment for the Humanities, the project has been successfully used in physical and virtual classrooms, offering an extensive collection of short videos with scholars, reenactments, and animations featuring the stories of enslaved individuals—and interactive features highlighting the unique stories of the enslaved in the colonial North.
Kenny Eicher, BFA Communications Design '98, has accepted the position of creative director for the global healthcare technology company Becton Dickinson (BD), headquartered in Franklin Lakes, New Jersey. Eicher will have the opportunity to invent and execute innovative digital experiences for BD's clients, using his expertise and understanding of the omni-channel communications ecosystem, and specifically exploring how digital can play an important role. He will lead a team of art directors, designers, and copywriters, supporting the account services and operations teams in managing senior client relationships, creating workflow efficiencies, and providing full-service support to BD's clients. Prior to joining BD, Eicher was the executive vice president, creative director for the CSI Group, a creative marketing agency based in Montvale, New Jersey, for the last 16-plus years. He is also an artist-illustrator active on Instagram at @Sketchy_McGee.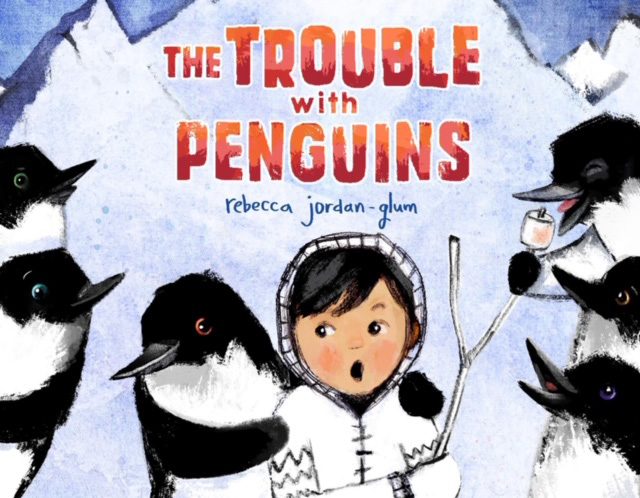 Rebecca Jordan-Glum, BFA Communications Design '99, will have her debut book The Trouble with Penguins published on November 3 ("Election Day— during a pandemic. I like to keep things exciting," she writes). The picture book, which she both authored and illustrated, was chosen as a Staff Pick by the director of schools and library at Macmillan, the publisher. Jordan-Glum also recently sold her second book, Kitty, to Macmillan, and that title is due out in fall 2022. Her website is rebeccajordanglum.com.
2000s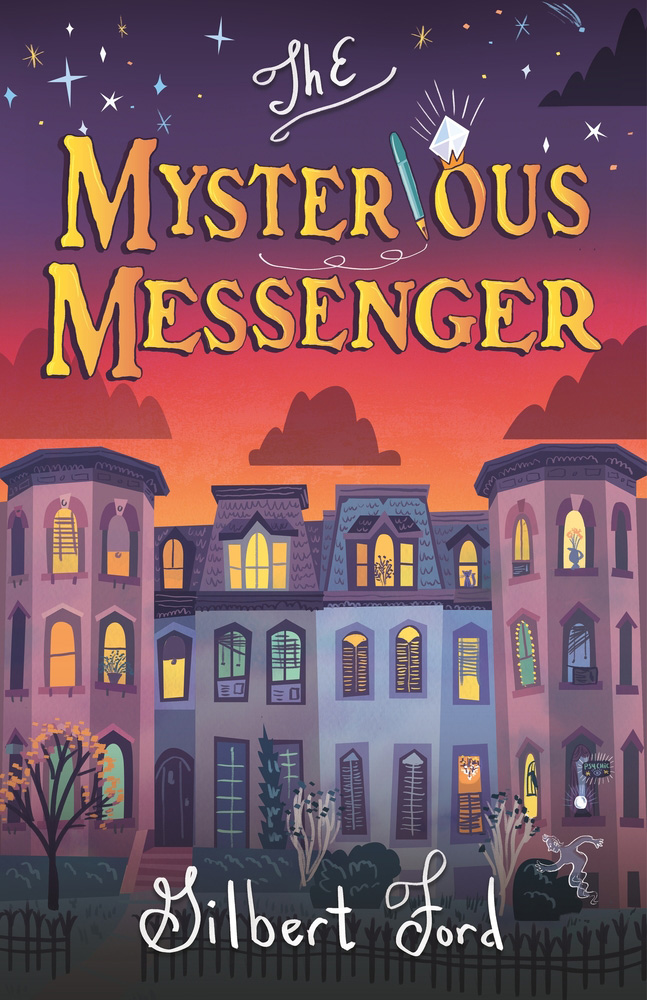 Gilbert Ford, BFA Communications Design '00, published his debut middle-grade novel, The Mysterious Messenger (Henry Holt and Co.), this past summer. Previously, he has written and illustrated How the Cookie Crumbled and The Marvelous Thing That Came from a Spring, named a Best STEM Book of the year. He has illustrated a number of New York Times–bestselling middle-grade book jackets and the award-winning picture book Mr. Ferris and His Wheel. Ford's website is gilbertford.com.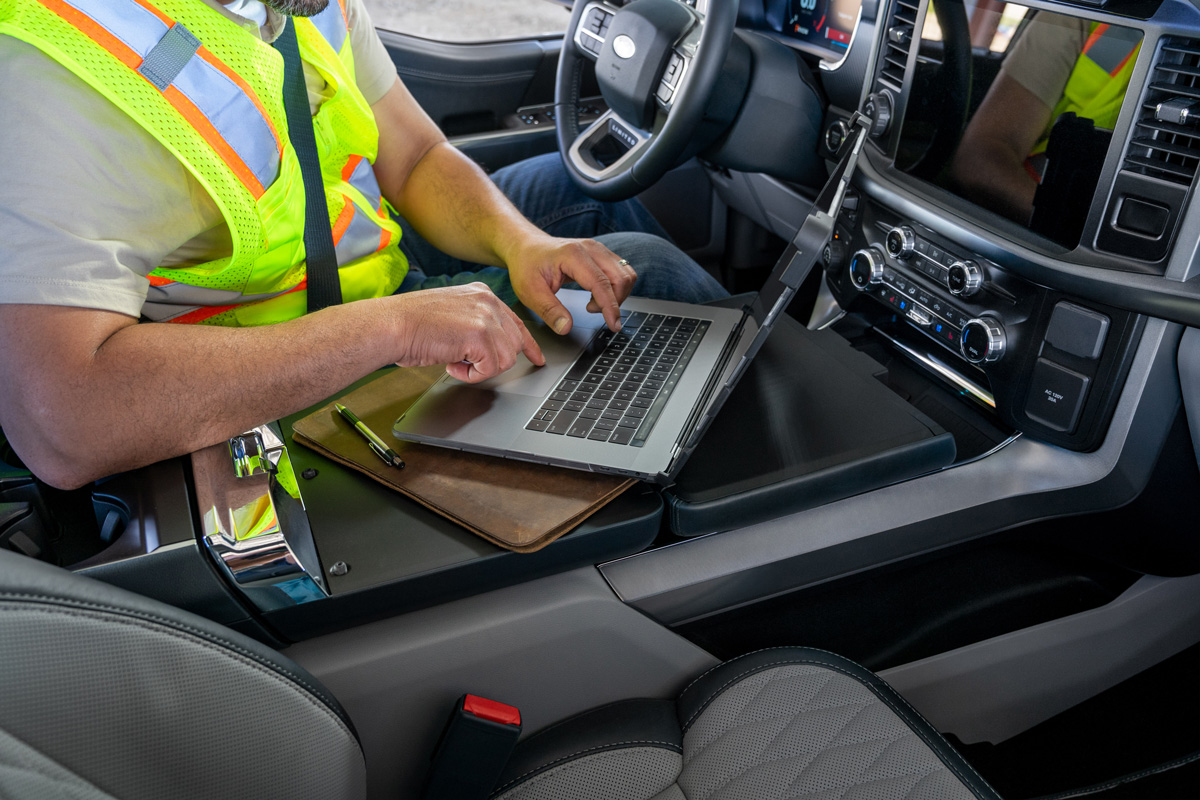 Jason Keenan, BID '00, was awarded a patent on July 14, 2020, for the design of a transmission shifter that folds flat allowing the armrest to unfold into a completely flat work surface. The gear-select lever stows away into the center console at the push of a button. The user can then fold a portion of the armrest forward creating a work surface large enough for a laptop or signing documents while parked. This design is featured on the interior of the all-new 2021 Ford F-150 as the "Interior Work Surface" option.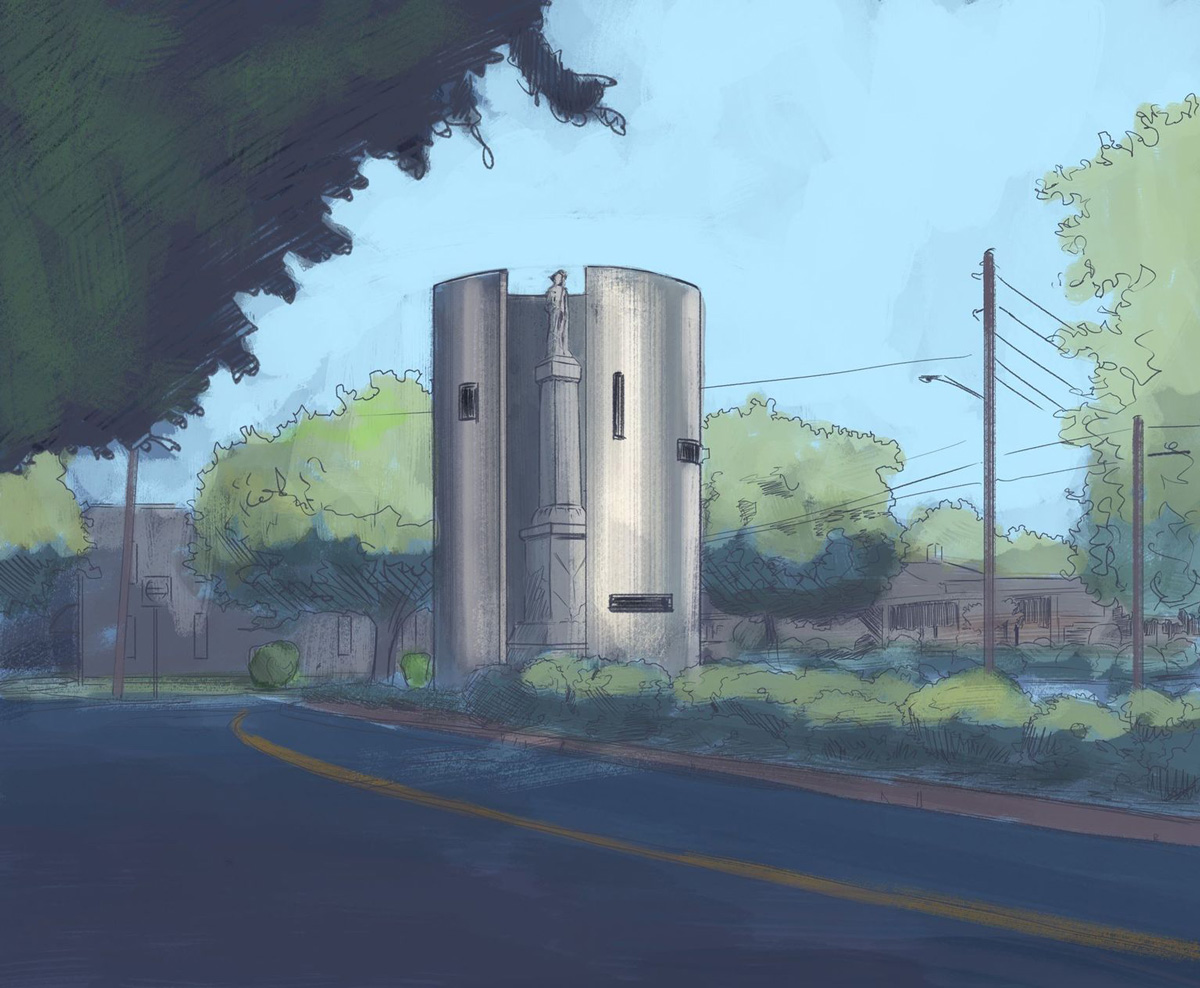 Rondall Reynoso, BFA Painting '01; MFA/MS Painting and Art History '06, assistant professor of art at Lee University in Cleveland, Tennessee, proposed an anti-racist monument to respond to a local Confederate monument in the city. Community members have organized actions calling for its removal since June, but have met with resistance and legal barriers. So Reynoso developed an alternative, a stainless-steel monument that would form arcs around the existing structure and would be etched with quotes selected to illuminate the racist and racialized history of the US and the hopeful promise of equal rights. The proposal was highlighted by The Cleveland Daily Banner.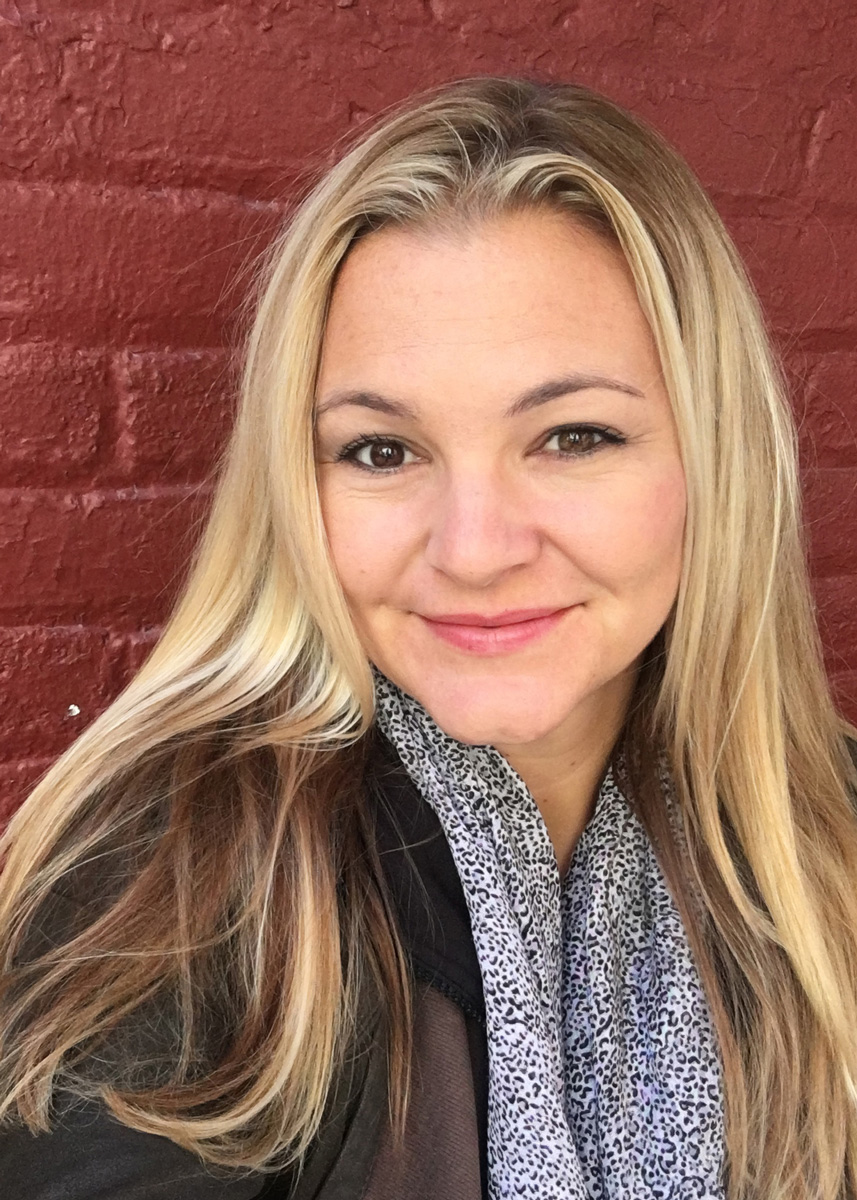 Camille Murphy, MS Communication Design '02, earned tenure and promotion to the rank of associate professor at Moravian College in Bethlehem, Pennsylvania. She also serves as the head of the graphic and interactive design track at Moravian. In addition to teaching, Murphy works as a designer at Pushpin Inc, with the legendary designer and illustrator Seymour Chwast in New York City, and maintains her own studio, Sky Blue Pink, based in Brooklyn. Prior to accepting her position at Moravian, Murphy worked as a designer and art director for various companies, including Penguin Books, Marvel Comics, Sony, HBO, Guitar World, and Revolver. She also previously taught as an adjunct at Parsons School of Design at the New School; Pratt; and NYU in New York and Point Loma Nazarene and San Diego City College in California.
Josh Yavelberg, PhD, BFA Fine Arts and MS History of Art '02, has left as director of professional development for NRPA, where he provided professional development and advocacy for the park and recreation industry, to begin Flying Cloud Solutions, LLC, an education innovation consulting company focused on instructional systems design and research. He is currently investigating the power of games and gamification for learning and engagement, especially in the area of art history instruction. Information about Yavelberg's new company and research on the scholarship of teaching and learning in art history is available at flyingcloudsolutions.com and arthistorysurvey.com.
Laurel DeWitt, BFA Fashion Design '05, created seven sculptural works for Beyoncé's most recent visual album, Black Is King. DeWitt's bold headpieces, glittering collars, and a towering pearl crown completed the recording artist's opulent looks, which also showcased work by designers from the Black diaspora. DeWitt previously created the flower crown worn by Beyoncé in "Hymn for the Weekend," her 2016 video collaboration with Coldplay, and DeWitt's work has been commissioned by Shakira, Lenny Kravitz, and Jennifer Lopez and others for performances and red-carpet appearances. DeWitt also has a handbag line, which incorporates the artistry of her elaborate wearable work. DeWitt posted on Instagram: "Pratt gave me the skills in fashion and freedom to think outside of the box, and my senior thesis was my first metal collection. For that, I thank you!"
Matthew Kaplowitz, BFA Communications Design '06, released a documentary film, Nothing Changes: Art for Hank's Sake, accessible on Amazon Prime. Kaplowitz highlights the story of his late uncle Hank Virgona, an artist who was active through his 80s. While primarily self-taught, Virgona had taken night classes at Pratt after leaving the army in the 1950s, and he later briefly taught drawing at the Manhattan campus. Before its 2019 release, the film was an official selection at 14 international festivals, and Kaplowitz received the Hector Leonardo Art & Inspiration Award at the Hamptons Doc Fest and was nominated for best director at the Queens World Film Festival, where the film won best documentary.
Laura Blau, MFA Printmaking and Advanced Certificate in Art and Design Education '09, was one of 19 educators honored as Big Apple Teacher of the Year for 2020. Blau was the sole recipient of the Arts and Music award, funded by Lincoln Center. During this school year, Blau will serve on an advisory board with New York City Department of Education Chancellor Richard A. Carranza, representing the arts.
Mike Carsten, BFA Communications Design '09, was appointed to the Board of Directors of the Society of Commercial Archeology (SCA). He will serve a three-year term as part of the leadership of the 41-year-old national organization. The SCA is the oldest national organization devoted to the signs, structures, and experiences of the 20th-century American roadscape.
2010's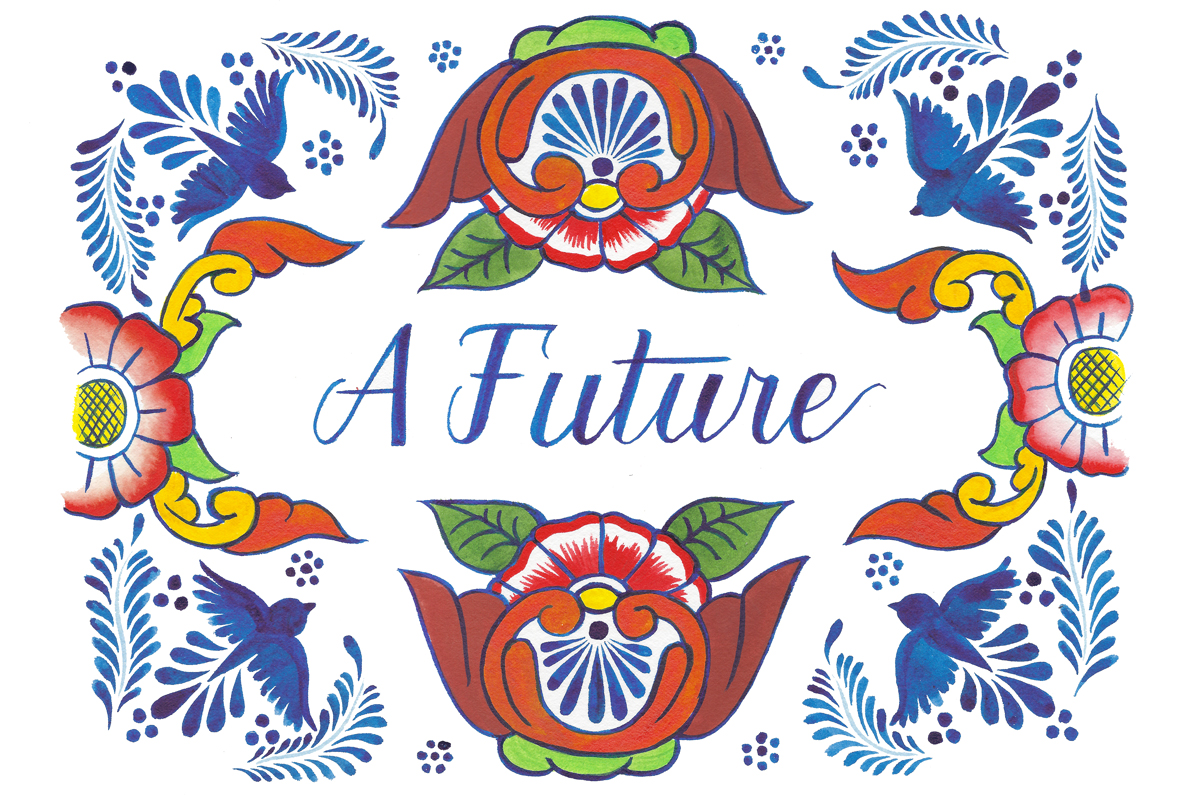 Tamara Santibañez, BFA Fine Arts-Printmaking '10, was commissioned to create a piece for Flags of Resilience, an artist-run project with form & concept and Zane Bennett Contemporary Art that responds to our current moment. Santibañez's flag—produced in an edition of 100 with sales benefiting her chosen charity, F2L Relief Fund—drew inspiration from the Mexican design style Talavera. "My personal association with Talavera [design], as part of a Mexican family, is its ubiquity in home spaces," she said in a statement on the work. "It can be a welcome sign, or a place marker . . . and they usually have some sort of clever phrasing or witticism." She chose the phrase "a future" for her flag "because of this moment of uncertainty that we're in . . . and how we are all so desperate to have a sense of future, and to have a sense of place."
Ali Shrago-Spechler, BFA Fine Arts-Painting '11, received a Fulbright US Student Program award for the 2020–2021 academic year from the US Department of State and the J. William Fulbright Foreign Scholarship Board. She will travel to Karlsruhe Institute of Technology and Hochschule für Gestaltung Karlsruhe in Germany to conduct research on the German Landscapes of Memory and Erinnerungskultur ("Remembrance Culture"). To read more, check out the recent News article on pratt.edu, which includes information on how Pratt alumni can learn more about this year's Fulbright application.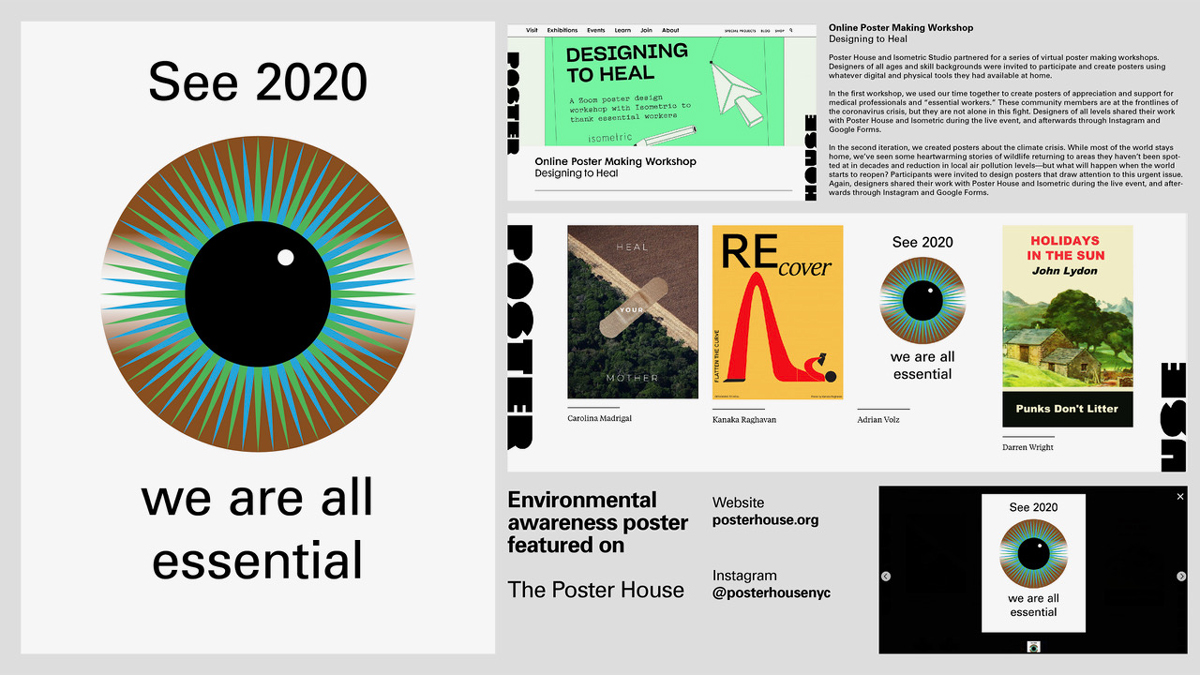 Adrian Volz, BFA Communications Design '11, had an environmental-awareness poster featured on the Poster House website this summer. The work, which carries the message "See 2020 / we are all essential," was made as part of a workshop addressing the climate change crisis, an installment of Poster House's Designing to Heal virtual poster-making series.
Alaa Balkhy, MPS Design Management '15, launched the Arab Creatives Directory highlighting creative professionals, both emerging and established, from the Arab community living around the world. A month out from the project's launch, Balkhy reported more than 4,000 entries to the directory, from designers, writers, musicians, podcasters, and more. Balkhy's initiative received attention from outlets such as Cosmopolitan Middle East, Mille, and Savoir Flair. Submission information and a link to the directory are posted on Balkhy's Instagram account, @alaa.
Alyssa Phillips, BFA Communications Design '15, currently owns a graphic design business, Amp'd Designs, in Asheville, North Carolina, and acts as founding vice president of the city's new AIGA chapter.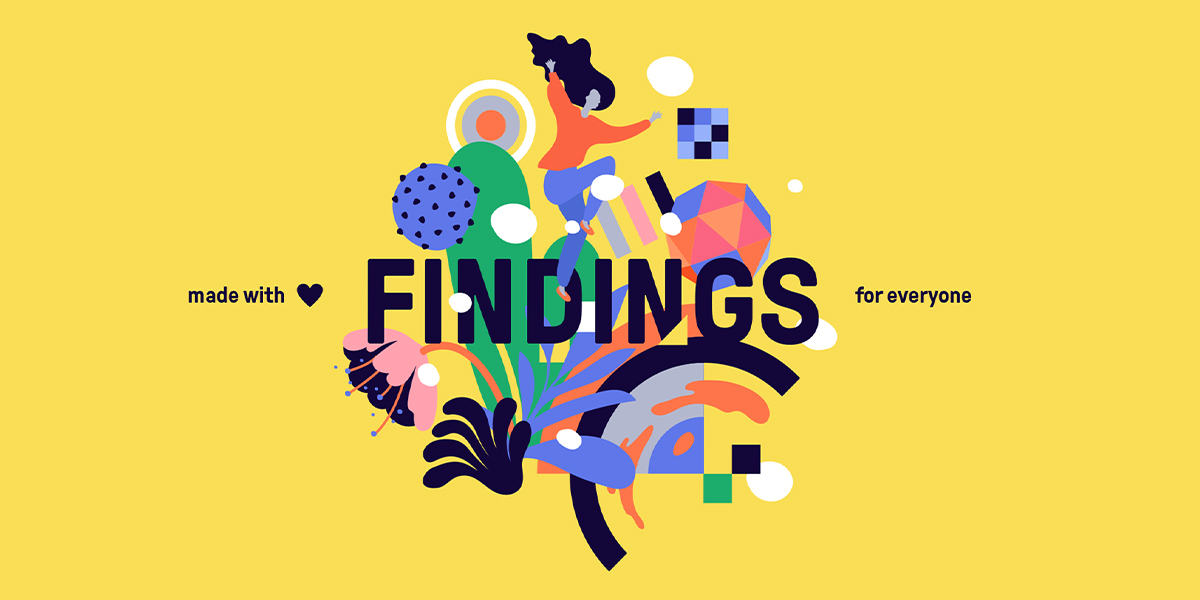 Amanda Phingbodhipakkiya, MFA Communications Design '15, launched FINDINGS, a national mural project celebrating women in science. Phingbodhipakkiya will be partnering with scientists at institutions across the US, along with youth organizations who will collaborate on the murals' creation, to illuminate topics from dark matter to climate change through public artworks. The project will include an augmented reality app to help lend scientific context to the imagery and make the murals accessible to those who cannot visit in person. The project website is findingsproject.com. Phingbodhipakkiya was also announced as this year's artist in residence at NYC Commission on Human Rights, part of New York City Department of Cultural Affairs' artists-in-residence program, which pairs artists with public agencies to address civic issues through creative practice.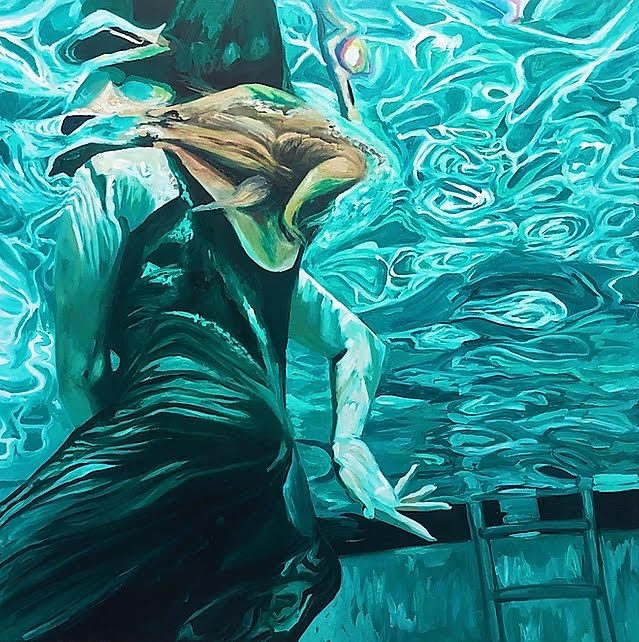 Lauren Paulina Smith, BFA Fine Arts '17, showed six paintings at the New York Art Fair at New York Art Center in March. Smith credits professors Chris Wright, Greg Drasler, Mimi Kim, Scott Williams, and Dennis Masback "for their guidance and unwavering support from the beginning." The artist's work can be viewed at laurenpaulina.com.
Maya Rose Weiss, BFA Fine Arts-Jewelry '18, had work accepted into several shows this fall: the Smithsonian Craft Show, the Philadelphia Museum of Art Craft Show, and the Peters Valley Craft Show. All three craft shows will be virtual this year due to COVID-19. Weiss's work can also be viewed at yayaand.com.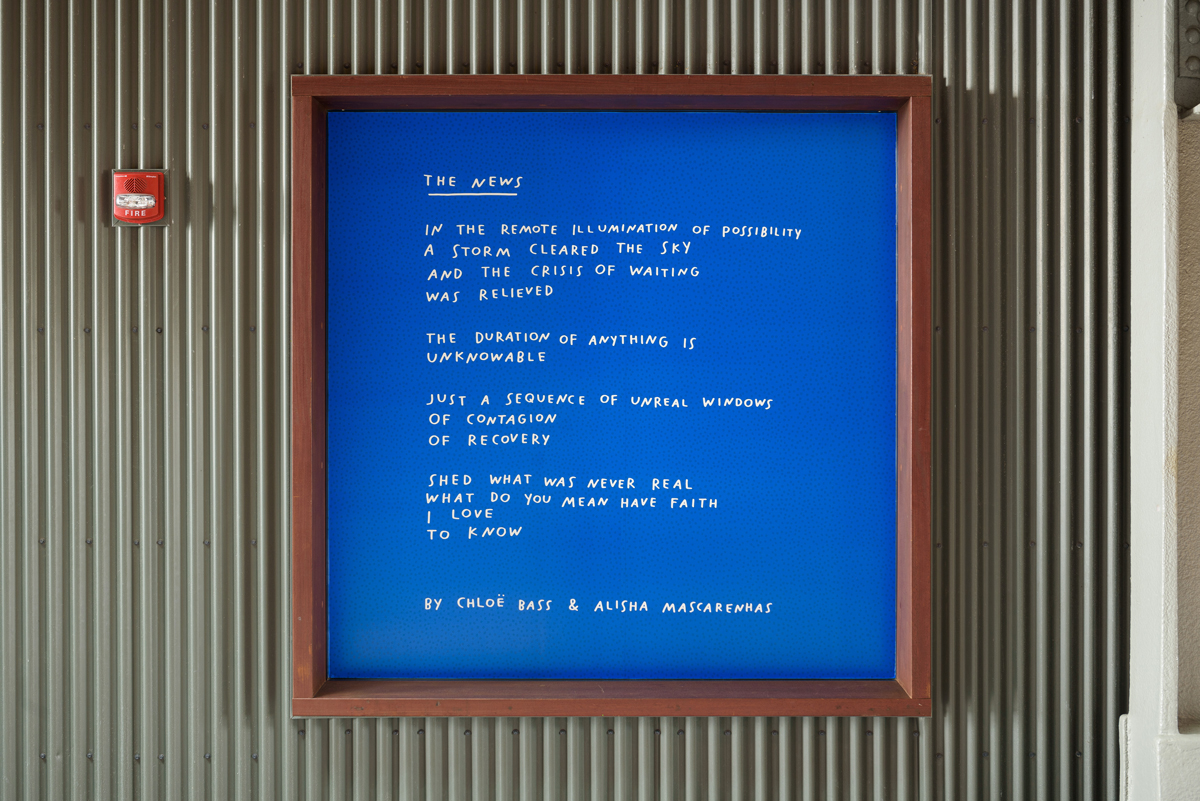 Alisha Mascarenhas, MFA Writing '19, was one of seven poets who contributed to the poetry project ECHO EXHIBIT, presented outdoors in the Seaport District and Pier 17 in Manhattan this summer as part of River to River 2020: Four Voices. The pieces were written from phone conversations between the poets and other individuals during quarantine, and designed, by artist Shannon Finnegan, to appear in large scale on storefront windows and other spaces for public signage. To read Mascarenhas's poems, visit the Echo Exhibit website.
2020s
Ry Arne, BFA Fashion Design '20; Georgia Baltay, BFA Fashion Design '20; Xiaowei Hua, BFA Jewelry '20; Stefan Maier, BFA Fashion Design '20; Qian (Hyly) Wang, BFA Jewelry '20; and Shelly Xu, BFA Jewelry '20, were featured in the Council of Fashion Designers of America (CFDA) FFGS20 Digital Showcase, a directory of 100 recent design graduates. Each was selected based on the strength of their portfolios and "having strong potential to be design advocates and future change champions—within climate action, social justice, diversity and equitable fashion systems."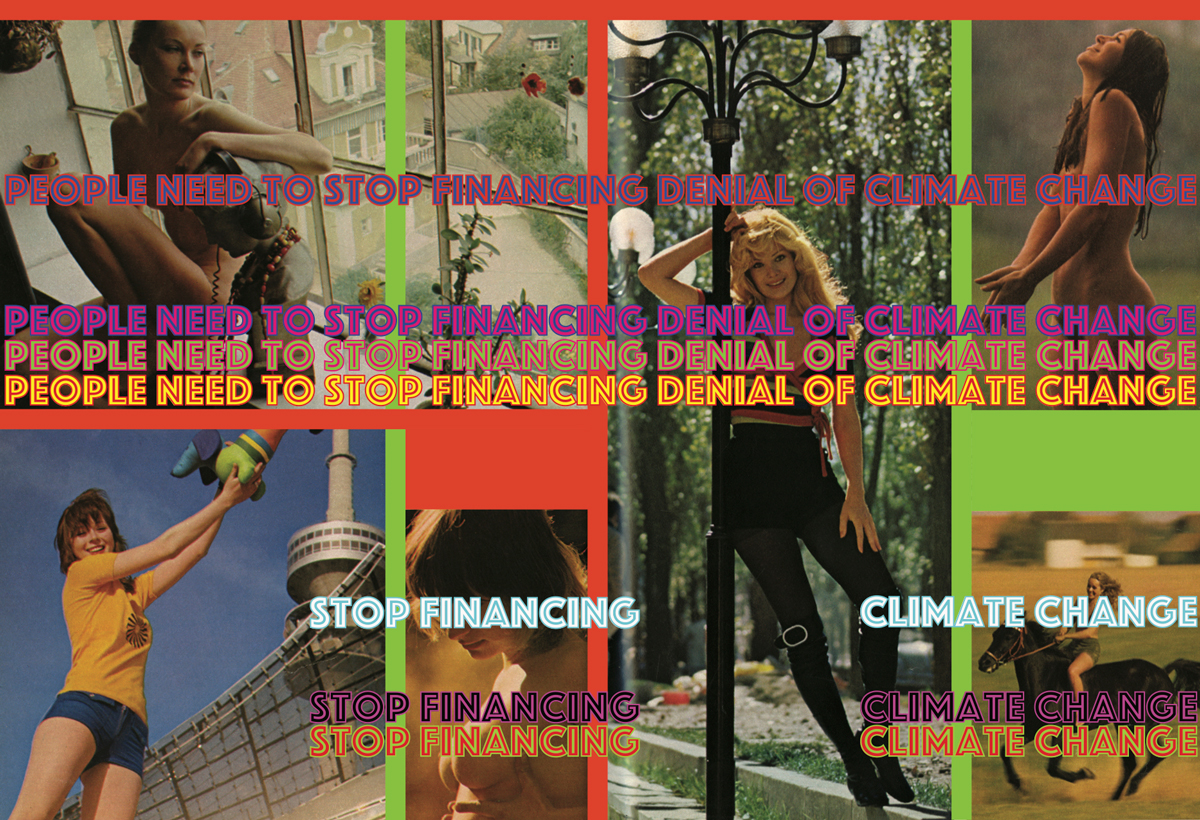 Mayssam Attie, MFA Communications Design '20, had designs selected to appear in the AD ART SHOW 2020 at the Oculus at Westfield World Trade Center in New York City this September. Attie's work, a collection of posters that juxtapose vintage Playboy imagery and climate change messages, will also appear on the show's online Artsy gallery.