Outdoor space has been central to the vitality of New York City through these past two challenging years, from car-free streets to parklets to swaths of public green space that form city dwellers' big back yard across the five boroughs.
Last summer, as the city blossomed into new life, an imaginative, inclusive new space joined those ranks—what New York Times architecture critic Michael Kimmelman called "a charmer. With killer views," and a gift to all New Yorkers at a critical moment.
Little Island, a free public park at Pier 55, within Hudson River Park, transports visitors with not only its inventive form but also its lush and varied plant life, the vision of Pratt Institute professor Signe Nielsen. Nielsen is Little Island's landscape architect, founding partner of Mathews Nielsen Landscape Architects, the firm that collaborated with UK-based Heatherwick Studio to design the park. She is also a faculty member of Pratt's new Master of Landscape Architecture program, which will launch in fall 2022.
This past fall, Pratt Presents produced a virtual event in which Nielsen joined a panel of fellow experts involved in bringing Little Island to life for a conversation about the design of this dynamic new public space—a park that welcomes people from across the city to escape, connect, and dream above the Hudson River. Along with Nielsen, Pratt Presents Little Island featured Mat Cash of Heatherwick Studio; Robert Hammond, cofounder and executive director of the High Line; and Trish Santini, executive director of Little Island, with Kimmelman moderating. The program was co-presented by Pratt's School of Architecture.
These are just a few highlights from their discussion. (Remarks have been condensed and edited for clarity.)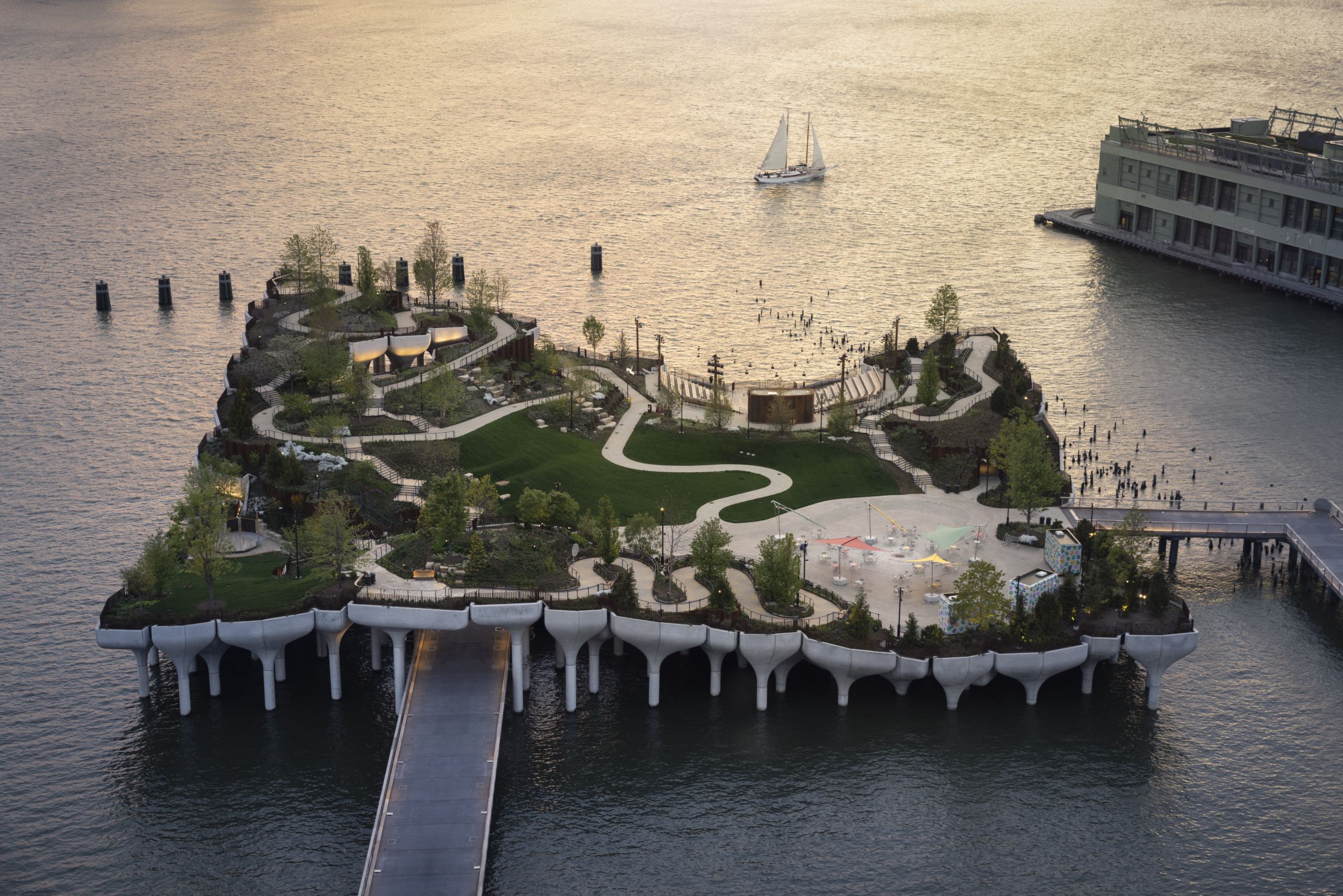 Reimagining public space
Michael Kimmelman: Trish, maybe you can begin by describing to us how this happened and what the circumstances were that we needed Little Island in the first place.
Trish Santini: Little Island is part of Hudson River Park, and the conversation was initiated by them with Barry Diller* about the restoration of Pier 54. Because he is a visionary and a wildly ambitious human, he came back and said, "I would love to do something, but I would like to reimagine what public space could be, and create something new as opposed to simply restore what was already there."
[*Media executive Barry Diller, whose Diller–von Furstenberg Family Foundation took on the project, as Santini later notes.]
MK: The west side had been a bustling seaport and then declined in the postwar era, in the '60s and '70s. What was the pier that was there and how had it functioned?
TS: Pier 54 was there. It was a long, rectangular pier that had a bandshell at the end, so there had been concerts there in the past. But it had fallen into disrepair, and Hurricane Sandy also took it to another level in terms of what its needs were.
The initial request to Mr. Diller was about being a first gift, basically launching a capital campaign, in order to support the restoration of Pier 54. What transpired over the next handful of months was that he wanted to take the project on as an initiative of the Family Foundation and fund the entire project, the creation of it as well as the maintenance and programming.
The intention from the beginning was that art would be integrated into it in such a way that there [would be] this sort of seamlessness of experience between a connection to nature and access to art. The way this project was approached was more robust than simply a structure that allowed for programming from time to time.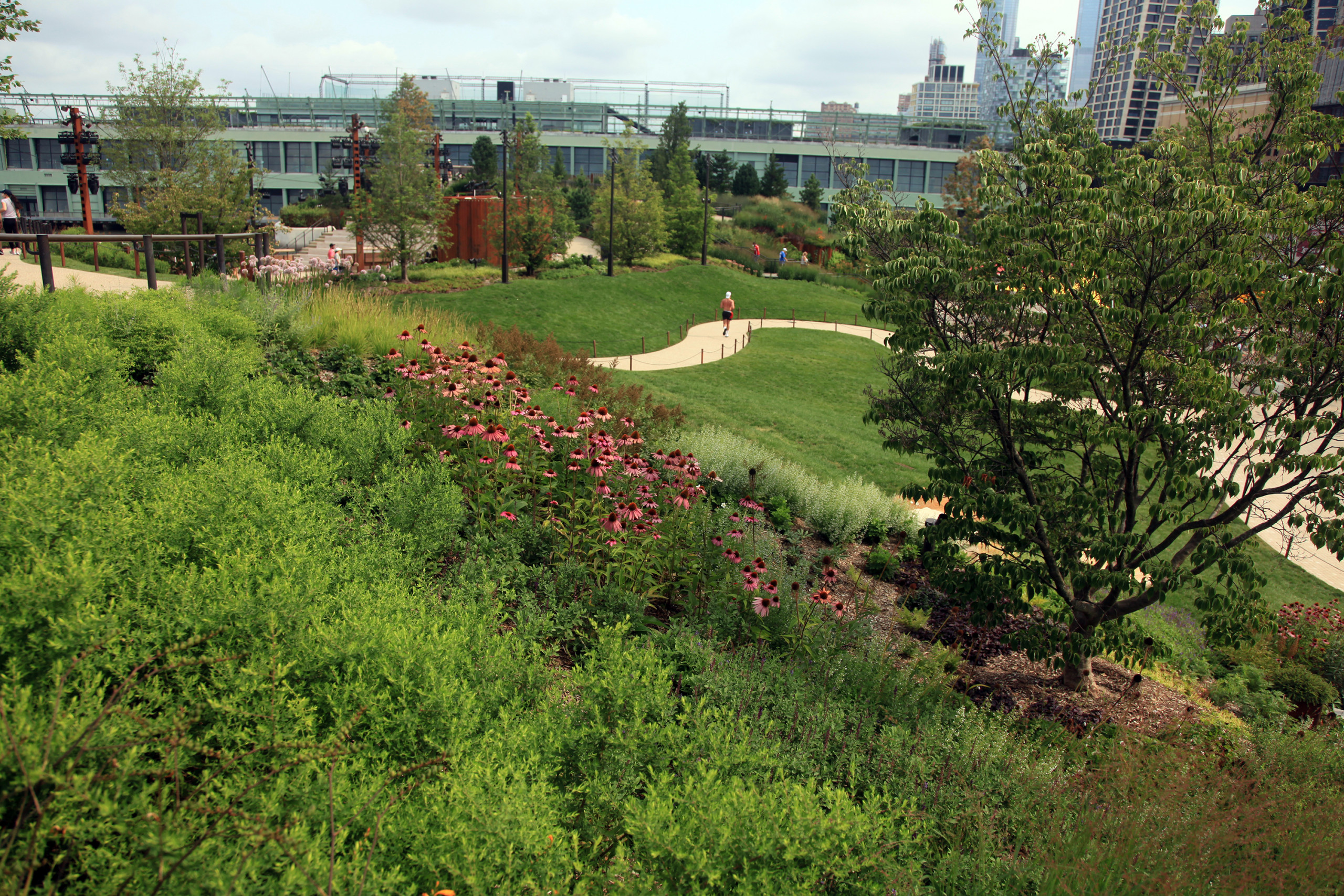 An exciting experience over the water
Mat Cash: This project has been a kind of incredible journey for the studio [Heatherwick Studio], and its birth goes back to 2012, when we were invited to a competition to design a new pavilion for a new pier. The idea behind that was to design a bandshell, or something that would fit on top of a new pier in the location of Pier 54.
We were intrigued by that, but also as a studio process, we're always very interested in what's underneath—like what's the actual brief. Is it for a pavilion, or is it something else?
Barry wanted to do something for New York, something interesting, that would reposition and explore what was possible to regenerate that area. Now, where I'm from, the UK, we have loads of piers which are thrilling to be on. Being on a pier is exciting. You don't need to make an exciting thing on top of an exciting thing—[we thought,] why don't we just make an exciting experience over the water, and not add another thing on top of it.
New York has always been a place of incredible energy, Manhattan in particular. The High Line had recently been completed, which was thrilling, and with Central Park and the pocket parks—there's just extraordinary green spaces in this city. [We wanted] to do another one on a lineage of what had gone before. So we did something quite different and provocative and, ultimately, we won the competition.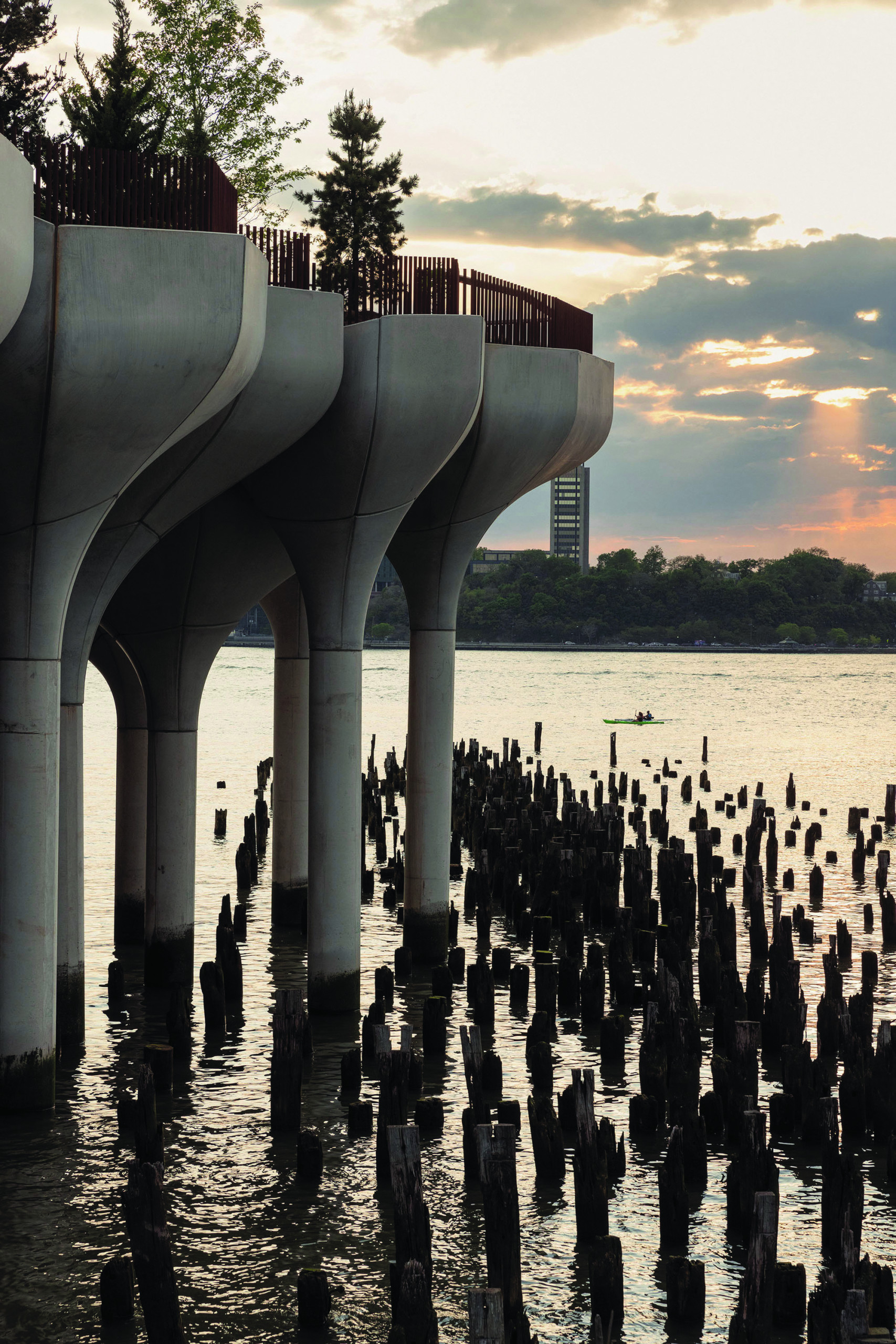 An asset for the whole city
MK: Robbie, my impression is that, as one of the founders of the High Line, not only was the High Line in Diller's mind . . . but that you were a voice in Diller's ear. I'm just curious at what point you entered the picture, and what were the kinds of things that you were talking about that were important for the park, not just in terms of its design, but in terms of its social function?
Robert Hammond: Well, I told him not to do it. I told him it was a bad idea. He shouldn't do it here; it should be in a different neighborhood that probably needed it more.
Now that it's open, I feel so wrong. Because, really the test of it is, people just love it. And the visitorship is really diverse. I think it's more diverse than the neighborhood that we're in.
MK: What was the response to "you should be doing this in another neighborhood"?
RH: Hudson River Park is an asset for the whole city. I think the answer to the argument is what's happening here, people are coming from all over the city to visit—which is part of how New York works. There's so much in Manhattan and it's not just people in Manhattan that use our cultural assets, our civic assets. So the best answer is just that it's working so well.
"When people feel invested in a place, when they feel ownership of it, when communities are engaged and people come to love a place, that is a form of resilience and investment that you can't buy."

Michael Kimmelman
A conversation between performance and landscape
MK: [to Signe] How set was the program [when you came on board]?
Signe Nielsen: Ostensibly I was brought on to be, and this is a quote, "the plantsman." So I operated within that lane for a little while, but then slowly I got the trust of the studio, and we embarked on a three, four year journey of just incredible exploration.
While the studio was the design driver, sometimes as you begin to work through a problem, you need some different ways to approach it. And so, as a team, we started to look at it as, may the best idea percolate to the surface, in terms of working out some of the details and complexities.
MC: As a studio, we had all these presentations about it being a park first, because there was a lot of conversation about it being a performance venue, as Pier 54 was a performance venue before.
It's a bit of sleight of hand programmatically, so it can shift to those two modes without feeling like one's a compromise on the other, and that's always been the wrestle.
And then there was the thing about, well, planting. We can do the geometry, where we want hardscape and planting beds—that doesn't mean it's going to survive. How do we add the richness to that, so we can have that conversation between performance and landscape, and it'd be, hopefully, a balance between those two.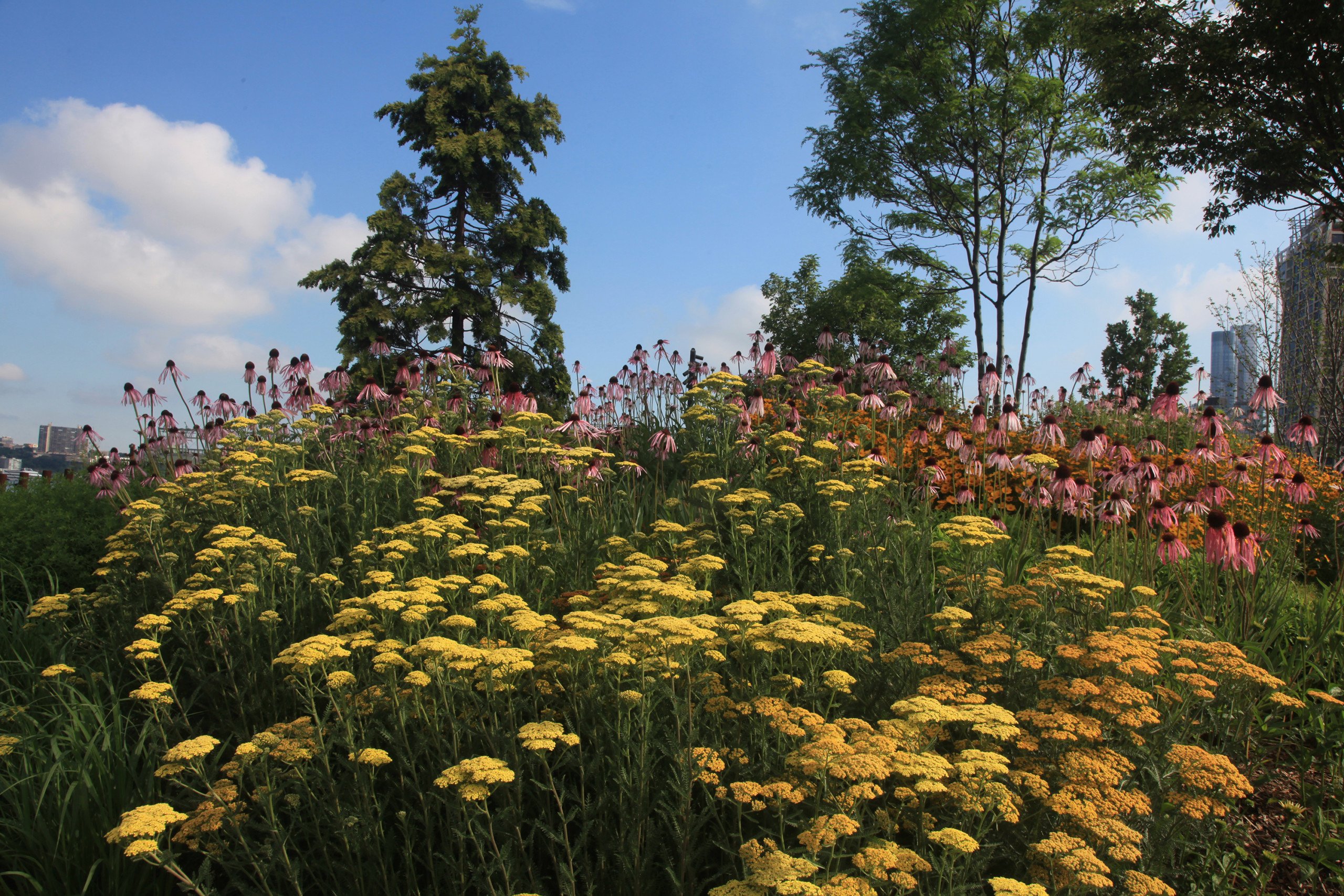 The landscape brings the magic
MK: [to Robert] The High Line sort of set the gold standard for this kind of imaginary landscape, and I know that [maintenance has] been very costly for you and that it's essential to the magic of the High Line.
RH: Yeah, that was always one of my obsessions . . . is that Barry understood that [Little Island] was an expensive park to build and it was going to be expensive to maintain. But one of the things I was so excited about is Barry's partnership with Signe.
I love architects, but I feel like so many times people think of these projects as architectural projects, where the High Line and Little Island are landscape projects. The landscape is what brings the magic to both of these projects.
MK: You do have the architecture and the landscape, which I think work beautifully together, but they also serve very different functions in the way people experience the place. The architecture of Little Island is sort of the logo and the icon, it's the thing that people see from the water, or from Manhattan. It's something that obviously gives Little Island its distinction, but once you're on Little Island, you do see the piers and there are these wonderful sort of peek-a-boo views of the tulip shapes, but you are really in Signe-land.
RH: When you're on Little Island, most of the time you don't see that signature, but it's playing an incredible role. The topography and the landscape are so connected.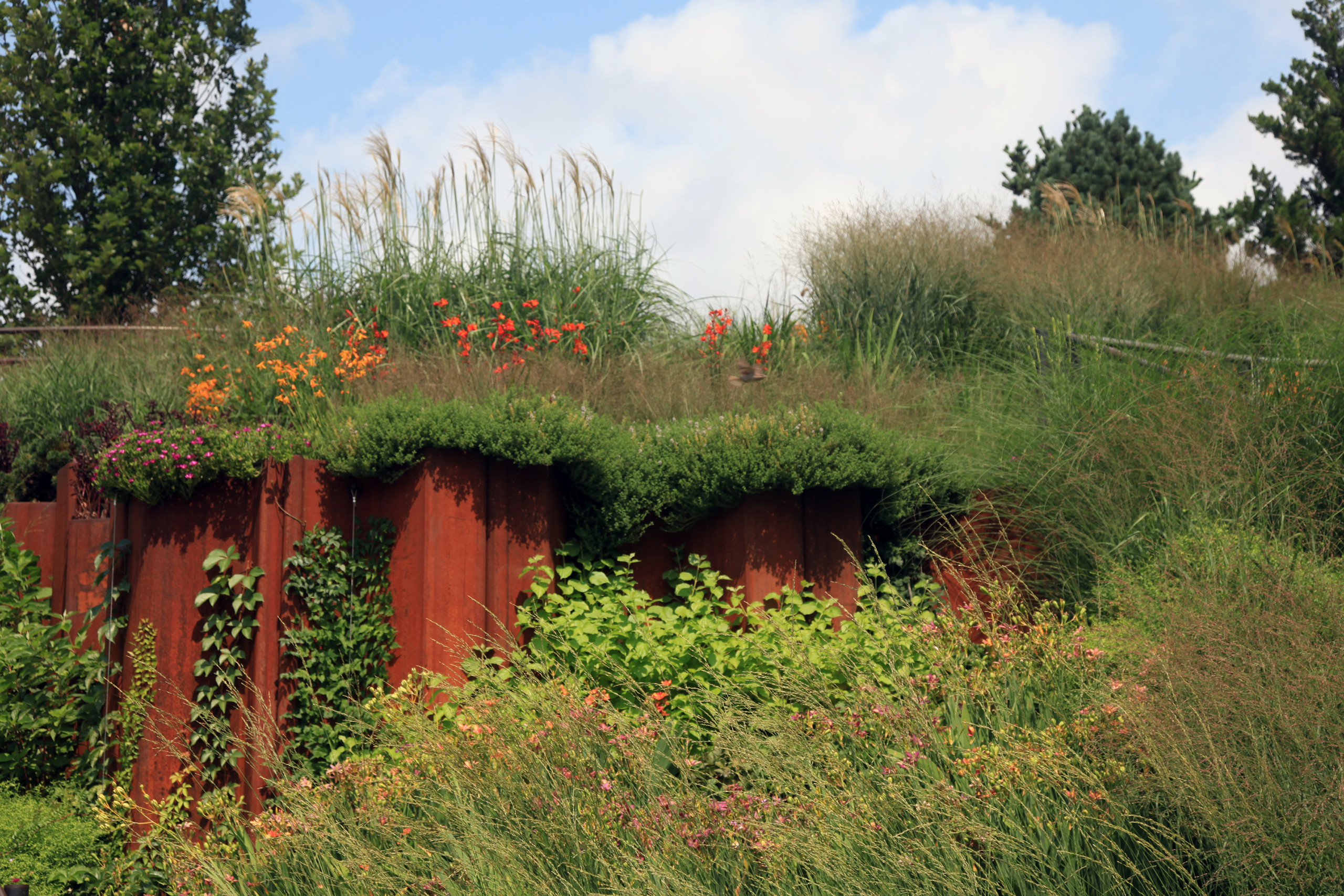 MC: One of the key observations when we first went to New York and walked around all the piers: quite logically, how flat they were. They're not topographic. And we knew the pier was actually quite small. And when you read the list of the brief of what it needed to do, we were like, this is a Swiss army knife, it's not a park.
The whole geometry of the pier was predicated on being able to hold 2,000 people like that [gestures], 600 people view that, 200 people do that.
SN: And do one other thing, and that is, because of the topography and the placement, as Mat was just gesticulating, have two things going simultaneously without disturbing each other.
MK: You had something of a similar task—how to create different sorts of natural ecosystems on this extremely small space that would create variety and make you experience the movement through this small space differently. Maybe you could speak to that too.
SN: Right at the beginning, Mat talked about "park first." We did an analysis of well-known parks, and what was the proportion of hardscape to turf to planting and presented that to the team. Because of the topography, we really needed to retain that soil with something other than turf. And so, it turned out to be a higher proportion of non-occupiable, if you will, landscape than is present in most parks, and we made sure that the whole team, including Hudson River Park Trust, bought into this.
So then . . . the big idea was a maritime palette because of the salt and wind, but then the other real driver was solar orientation. And then I got a little goofy, when Mr. Diller didn't like my plant color palette. And then I began thinking about color combinations and seasonality, and that's how it got to be so complicated.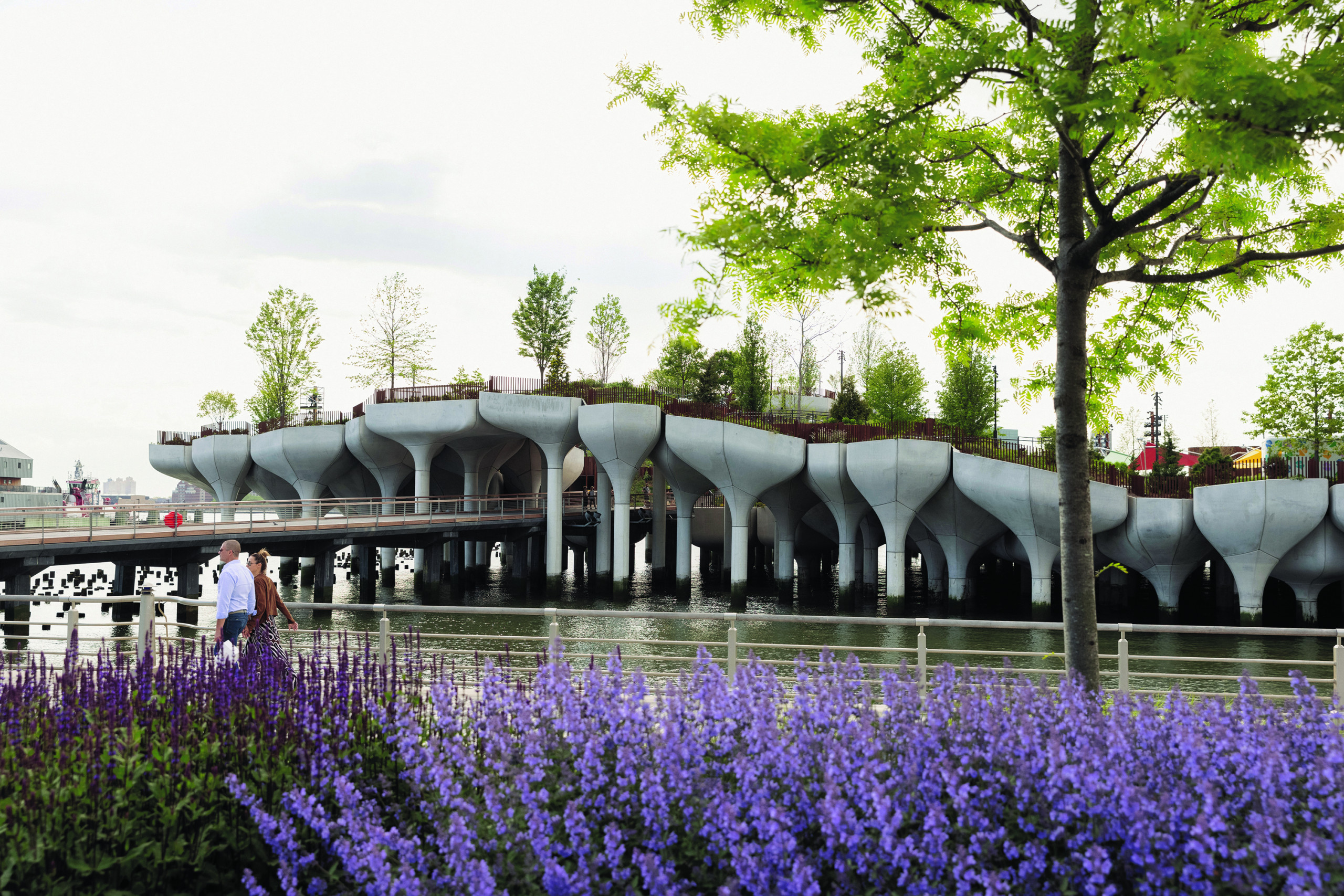 Resilience you can't buy
SN: I have thought a lot about what to do in the future. Let's just say that we're coming on 20 years* and we're going to transition to more capacity of, say, the Trust, I would begin to slowly weed out some of the complexity of the planting and let some of the more robust grasses take over.
It's a design that is intended to be as low maintenance as possible. It just has a lot of species. And we can let some of that species diversity go, even though it's great for habitat. We can let it go for simplicity of maintenance, that's no problem. I don't think that experience would be diminished.
[*Nielsen noted earlier that Diller had agreed to endow maintenance for 20 years.]
MK: Trish, I assume this was part of your thinking as well. Obviously, the hope of the Trust is that you can maintain the park at the same level and that people step up and contribute to it, but things do change in 20 years and longer, and, as Mat said, nothing's more costly or complicated to maintain than piers and river. So what is the thinking of the Trust about that?
TS: Those conversations are in the very early stages. So much right now has just been completely immersed in what it means to operate it every day, and how all these elements coexist with one another—the balance.
I expect that's going to be a multi-year process before we can responsively, actually anticipate what real long-view planning looks like.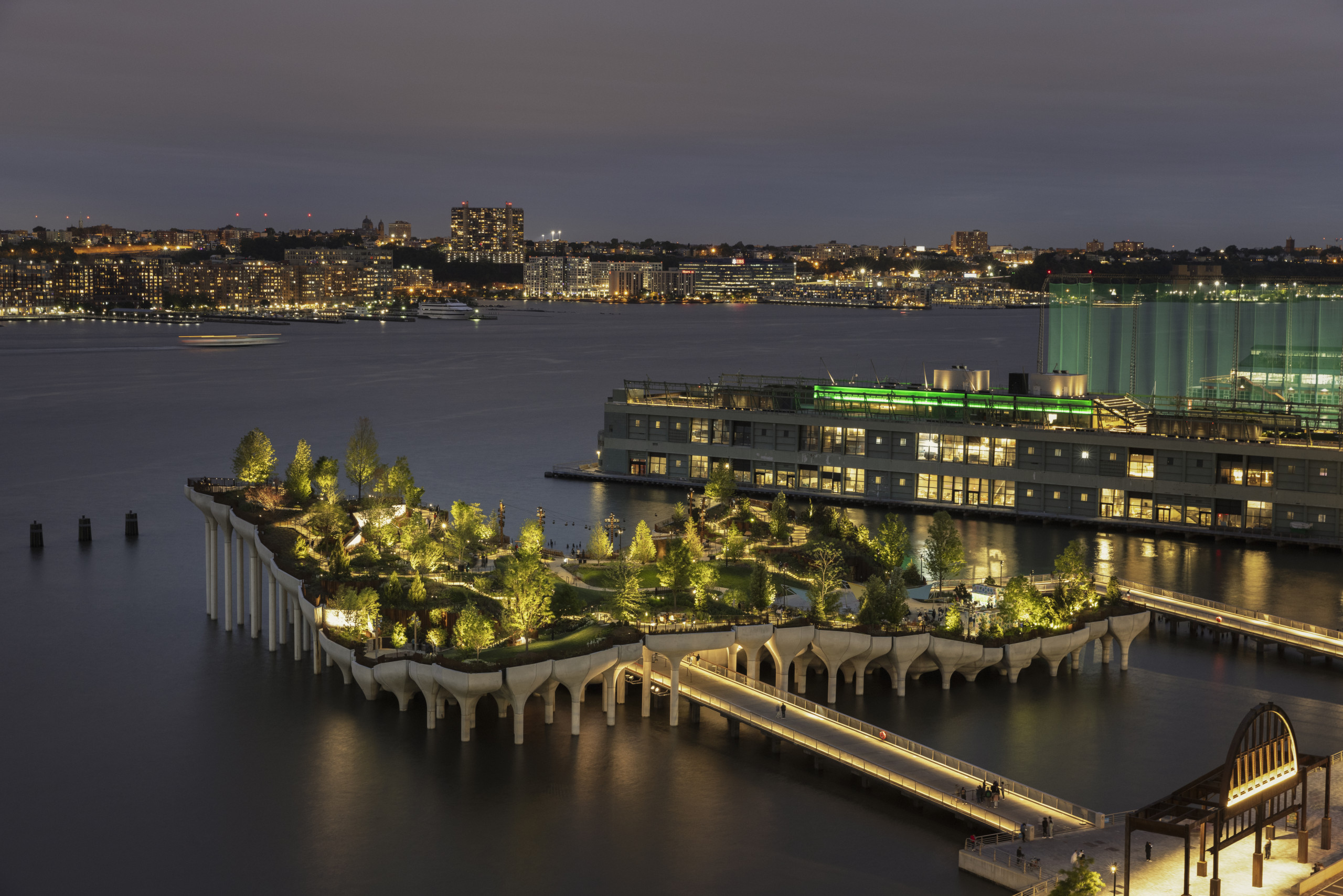 MK: Two things in closing, related to that. One is that—[Hurricane] Ida was an interesting case—we're finally thinking about rising seas and forgetting that water also comes from the sky, and it's very hard to anticipate what the city will be like, what's going to be needed in coming years, because clearly the pace of change is accelerating.
The other thing we know about what works in the city is that when people feel invested in a place, when they feel ownership of it, when communities are engaged and people come to love a place, that is a form of resilience and investment that you can't buy, and which does tend to create the circumstances for longer life. Trish, do you have any idea on the numbers of people?
TS: I think we've been able to strike a balance between welcoming as many people as possible and still protecting it being a positive experience. We did cross a million visitors a couple weeks ago.
At the end of the day, my job is to be a good steward of the experience, this balance between how we protect the natural aspect, how we bring art into the space, and how we foster community.
So, I feel like I have few complaints from this summer, which I think is extraordinary, given what this project is and how complicated and sophisticated and dynamic it is, and the nature of what's been going on in the city for the past almost two years. We've seen every human emotion, because people are pent up, so to be in a space like that is a relief. That's where the success has been.
MK: It's obviously been a gift to New York at a moment when New York could use it, and we still need it.