As we enter the last stretch of summer, it's time to explore, spend time outside, and enjoy the vibrancy of long days and warm nights. Across New York City, members of the Pratt community have designed and created inspiring projects engaging with the city. Here are a few to check out: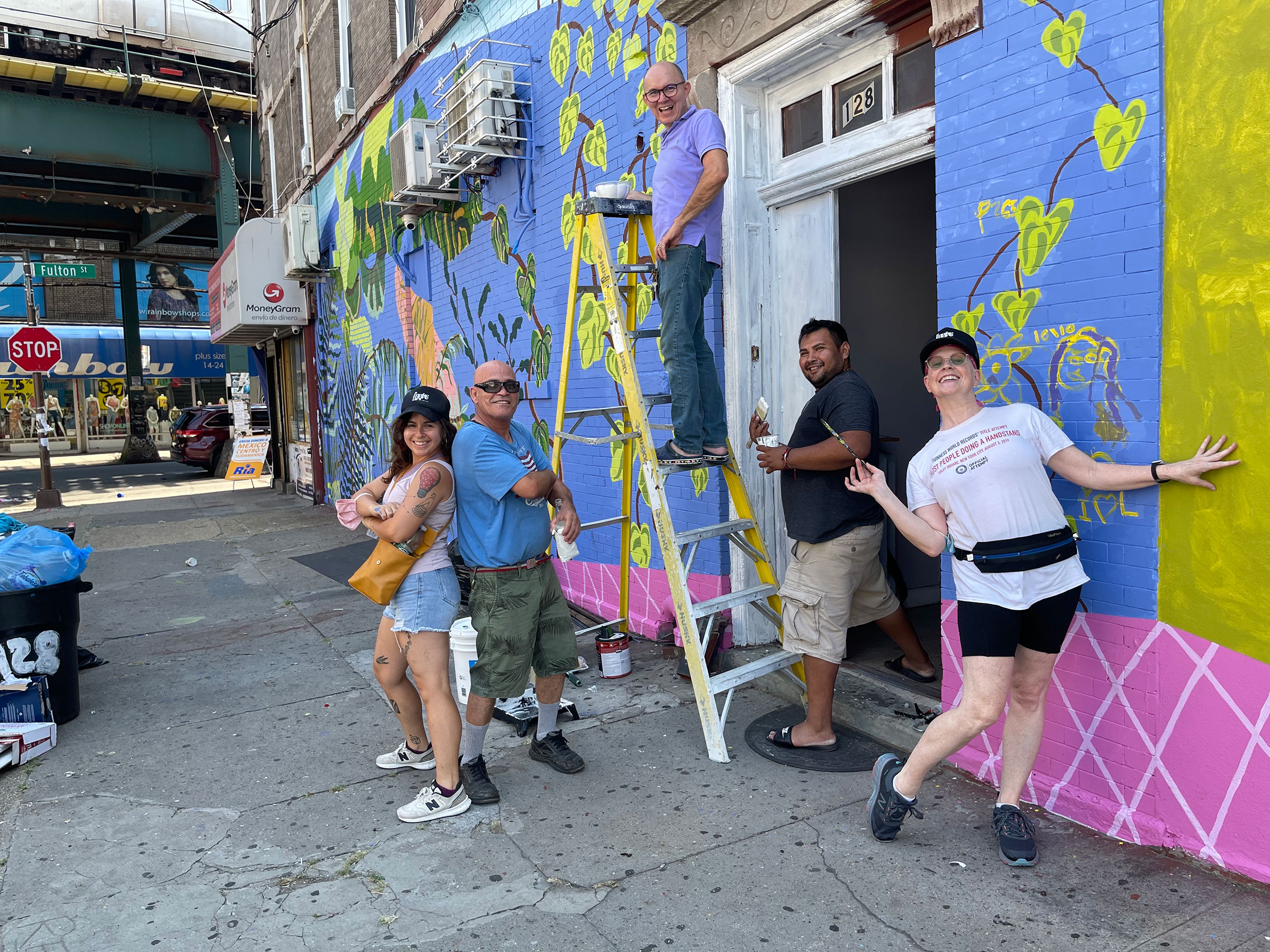 In Brooklyn's Cypress Hills neighborhood, Estefania Velez Rodriguez, visiting assistant professor of fine arts, led the creation of a mural to enliven the walls. The design for the predominantly Puerto Rican area was based on the flora in her cousins' backyard in Yauco, Puerto Rico, as well as a waterfall she visited in Cuernavaca, Mexico.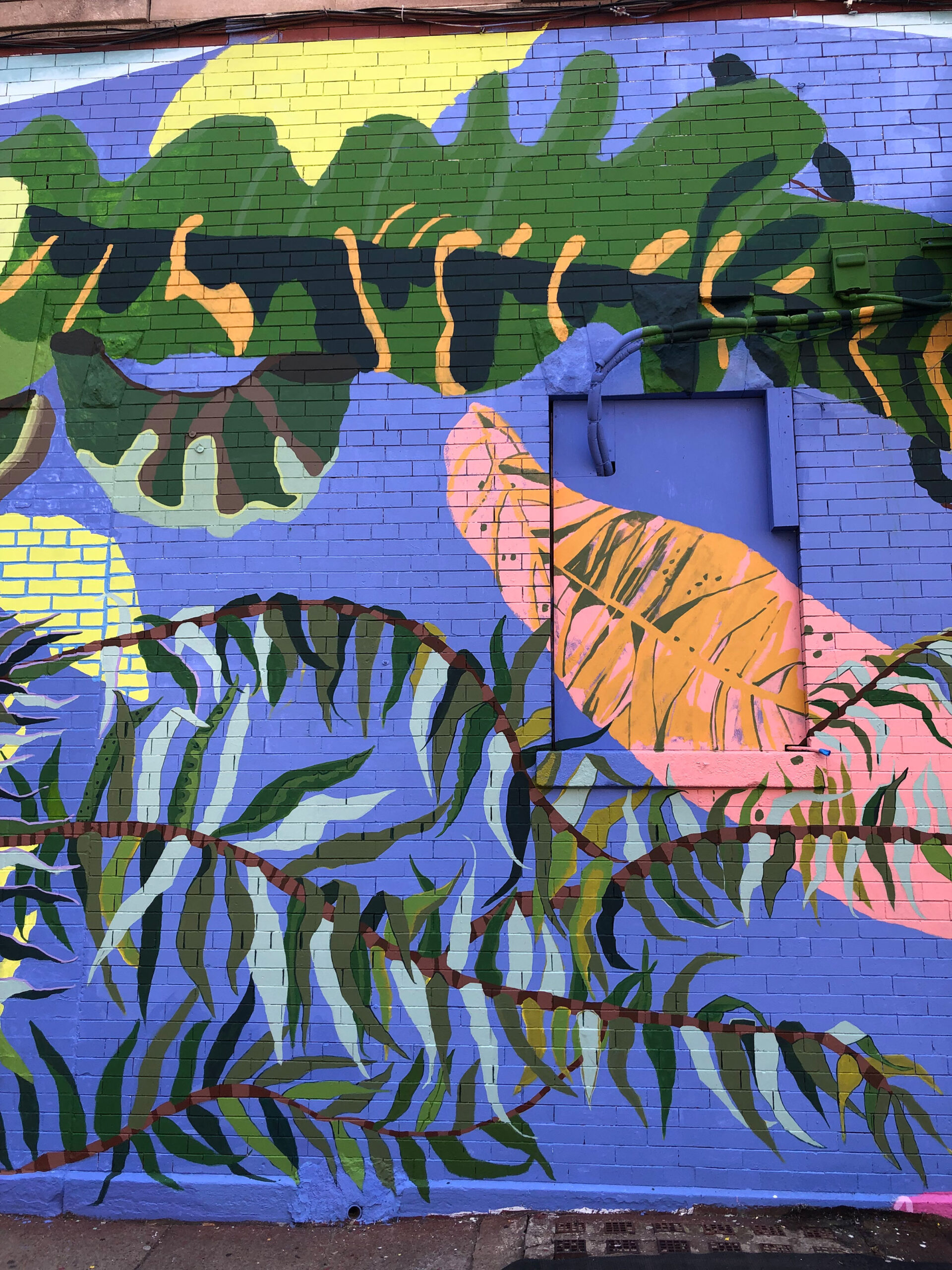 The mural project was funded by a New York City Cultural Grant and supported by commissioner Dharma Diaz, with the local arts organization Norte Maar helping to realize its creation. Her student Cole Bespalko and artists Kiana Vega, Elisabeth Condon, and Paula Pino worked with Rodriguez on the piece located on Crescent Street right off the J train.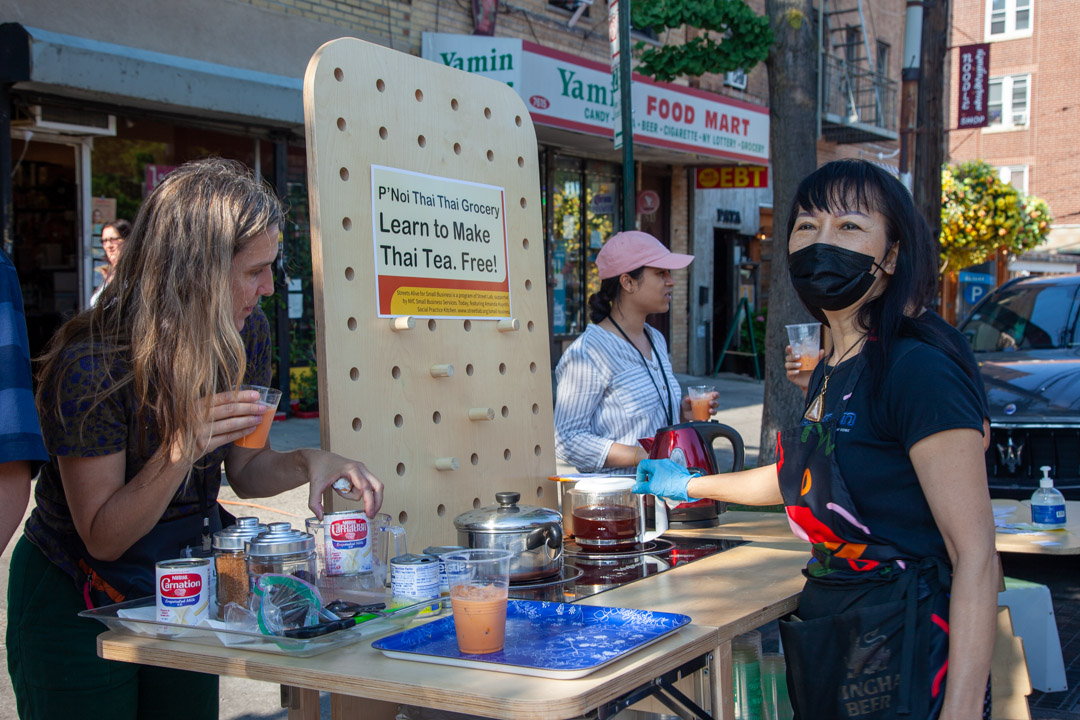 The nonprofit Street Lab which creates programs for public space has featured two Pratt-connected projects this summer in its open-air street environments. The Street Lab team includes Visiting Assistant Professor of Industrial Design Hannah Berkin-Harper, MID '07, and Anushritha Sunil, MID '22.
One of the projects is the Social Practice Kitchen, a mobile kitchen cart that was built in the fall 2020 semester under the leadership of Amanda Huynh, assistant professor of industrial design, and has been used for an array of Pratt campus events and projects, from 3D printed pasta to candy casting workshops. For Street Lab, it recently hosted a Thai iced tea demonstration event in Elmhurst, Queens.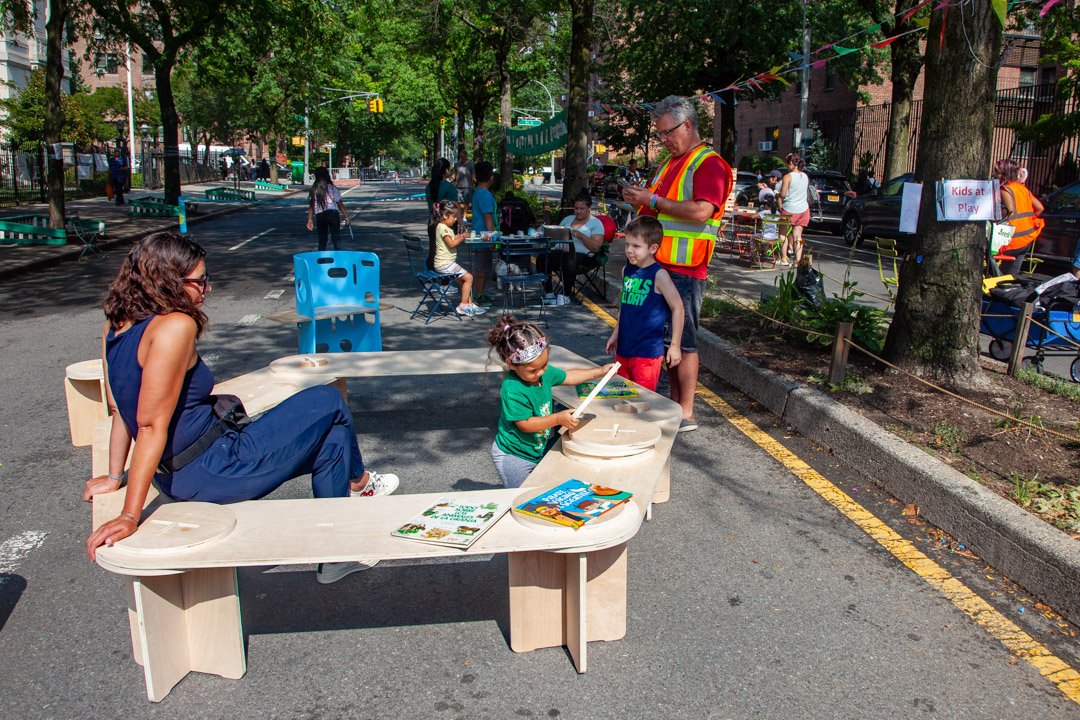 Also at Street Lab, modular rotating benches by Hannah Berkin-Harper have provided seating at events, including the open street on 34th Avenue in Jackson Heights, Queens. The project, supported by a Taconic Fellowship—a program of the Pratt Center for Community Development—is a prototype for street furniture encouraging multigenerational physical and social activity, offering a range of seating options from chairs to moveable benches. After this summer, Street Lab is planning to use them for more programming in the fall.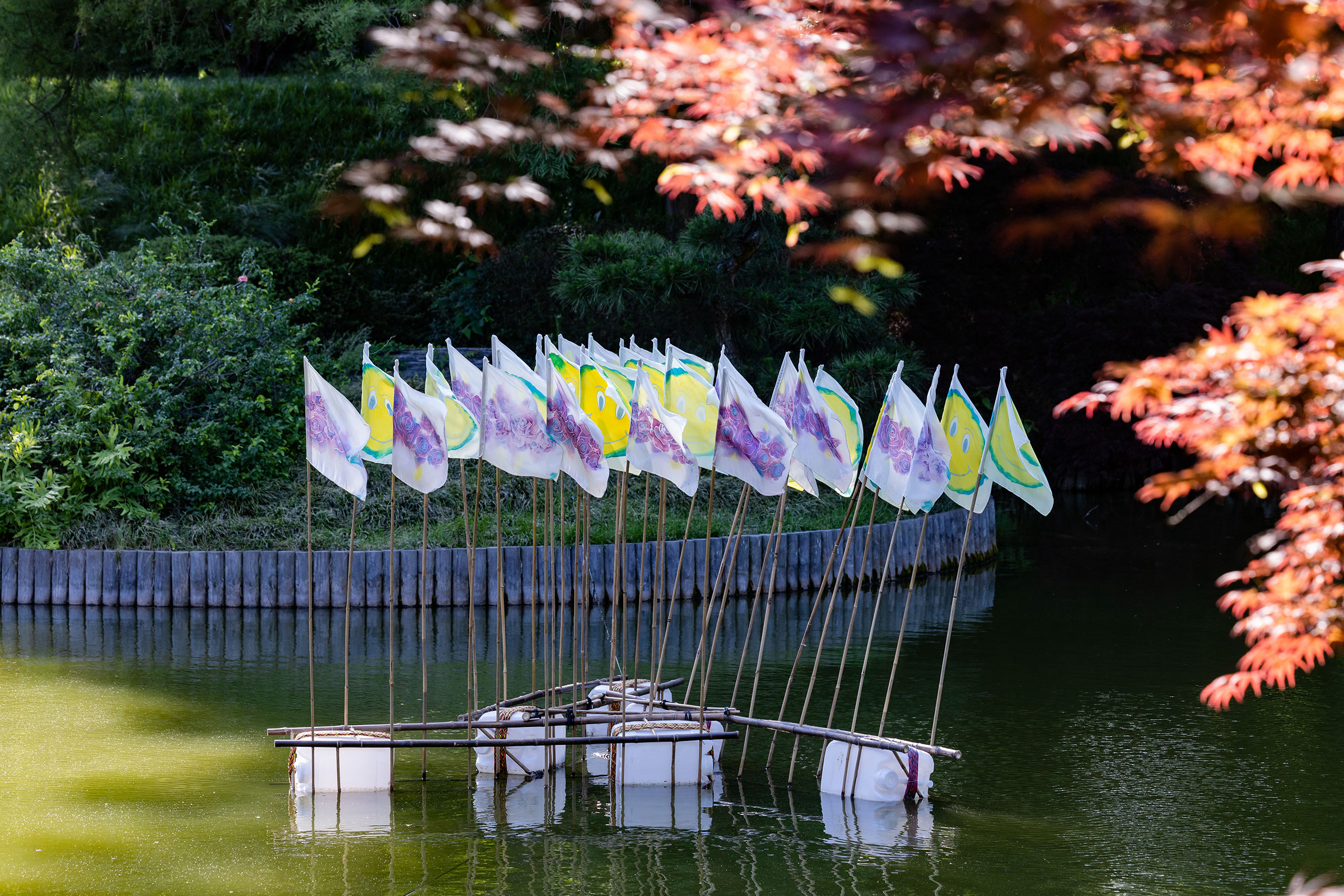 In the Brooklyn Botanic Garden, Chen Chen, BID '07, and Kai Williams, BID '06, are offering a fishing platform for the great blue herons that frequent the Japanese Hill-and-Pond Garden with their "Blue Heron Triangle." The piece floats on plastic cartons recycled from their studio and has a group of silk flags held aloft on bamboo poles, the graphics on the flags referencing the vibrant imagery on plastic bags as well as the waste they create. The work is part of For the Birds, a garden-wide exhibition with artist-designed birdhouses.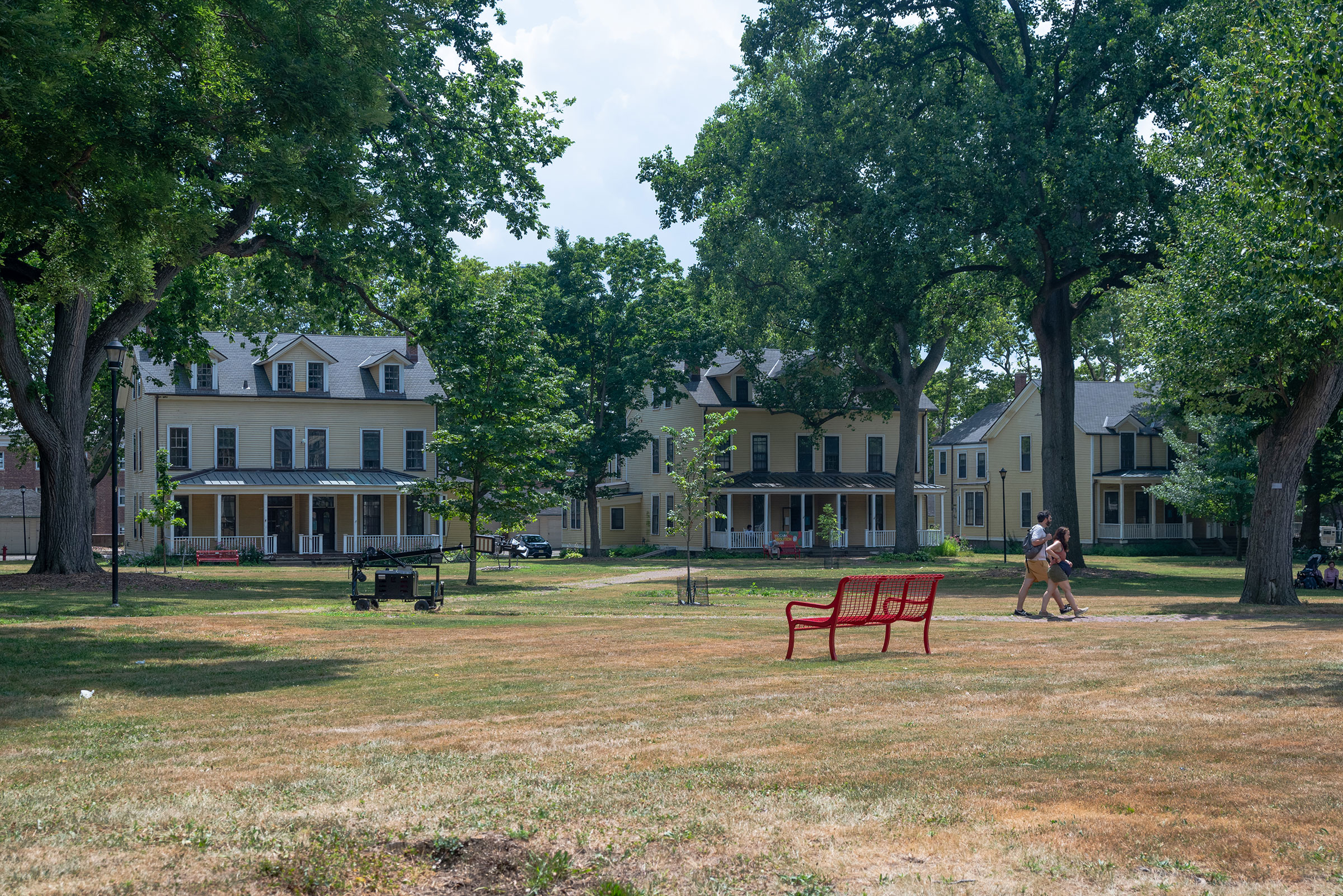 Through November 1, visitors to Governors Island can also consider local ecology at Swale which has a research center in one of the buildings at Nolan Park. Mary Mattingly, the Fine Arts 2022 civic engagement fellow, started Swale as a floating food forest on a barge. The center includes spaces exploring rivers, soil, and agriculture to connect visitors to its ongoing advocacy for building edible landscapes and addressing food access in public space.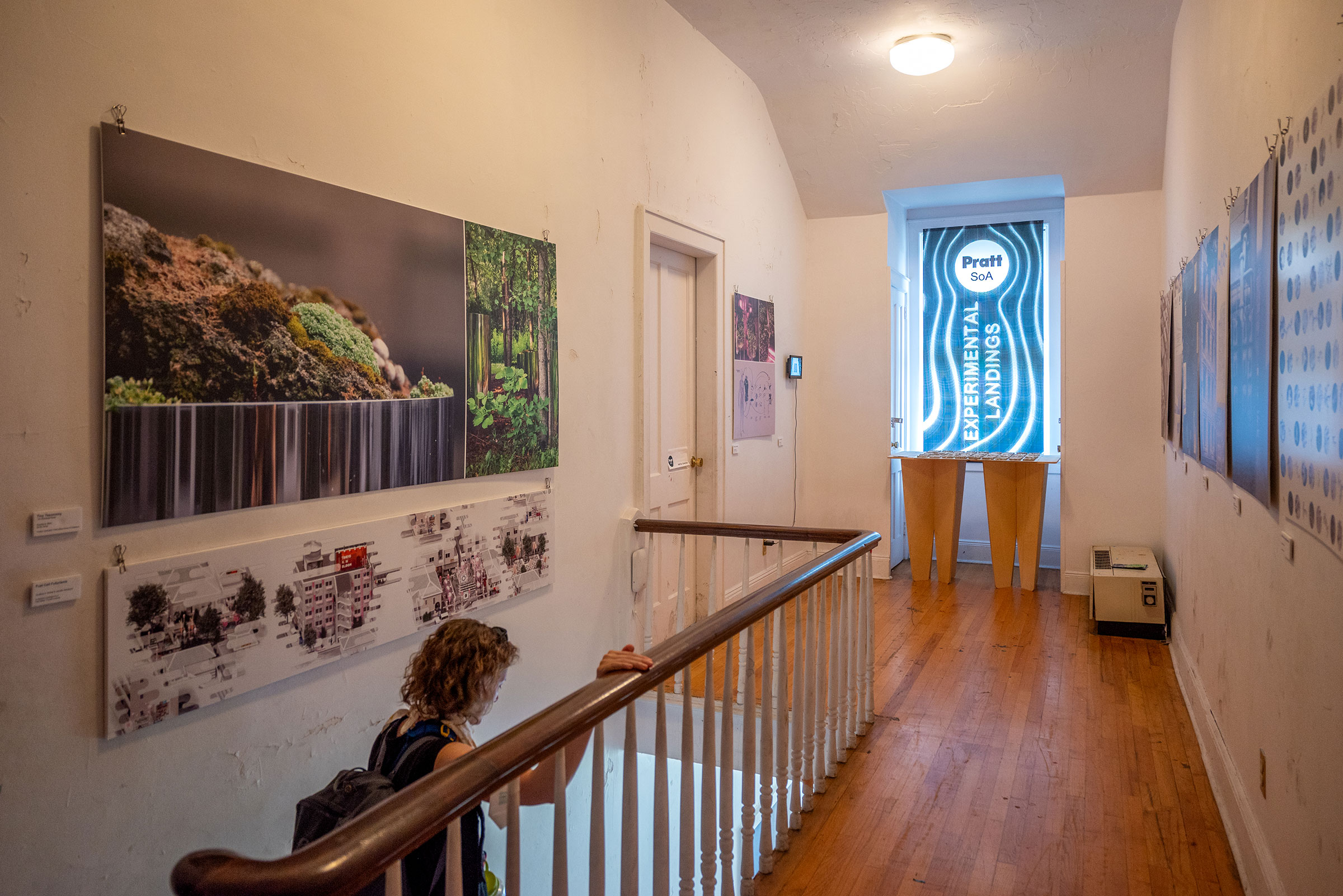 Also in Nolan Park, the School of Archi­tec­ture's Grad­u­ate Archi­tec­ture and Urban Design (GAUD) program is in residence as part of its ongoing engagement with Governors Island. The house currently features the exhibition Experimental Landings, curated by Jonathan A. Scelsa, associate professor of architecture, and David Erdman, chair of GAUD. The exhibition opened on July 8, as the closing event of the Teacher's Summit for Climate Agency, co-hosted by the Pratt School of Architecture and the Association for Collegiate Schools of Architecture. The exhibition features national and internationally curated faculty research work around the topics of Artificial Earths, Seeding Resilience, Imaging Ground, and Mapping Maintenance. The exhibition will remain on view through October 30, open to the public on the weekends and by appointment during the week.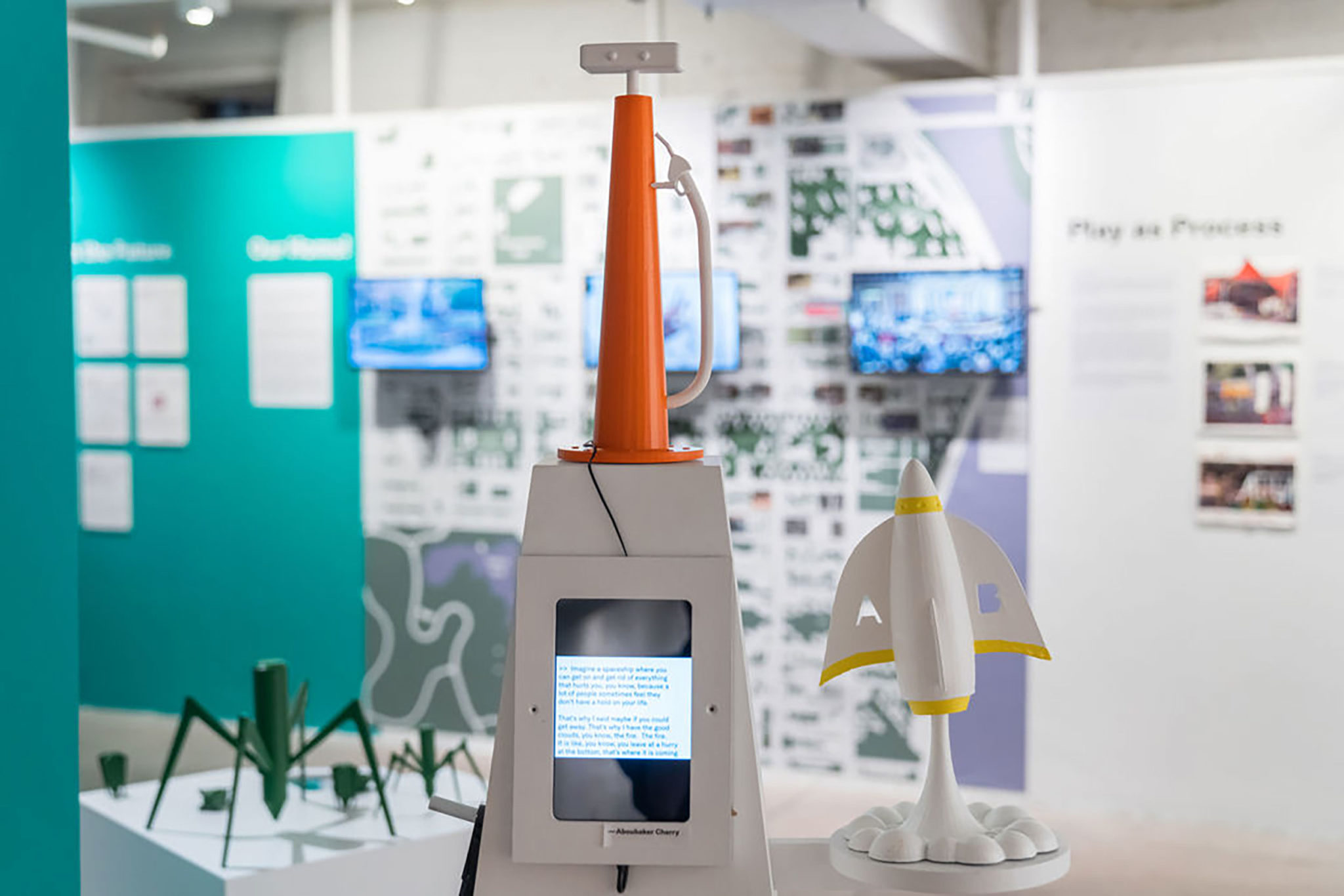 More architecture-related work from the Pratt community is on view through September 3 in Reset: Towards a New Commons at the Center for Architecture in Manhattan. A team organized by Deborah Gans with School of Architecture faculty David Burney, Caitlin Cahill, Jerrod Delaine, and students Catherine Chattergoon and Jared Rice is presenting "Re:Play: Reclaiming the Commons through Play." It is one of four projects presented in an exhibition that is considering architecture's role in envisioning new dynamics of living and community. For "Re:Play," young residents of three New York City Housing Authority campuses reimagined their public spaces through play, focusing on intergenerational needs for healing and gathering.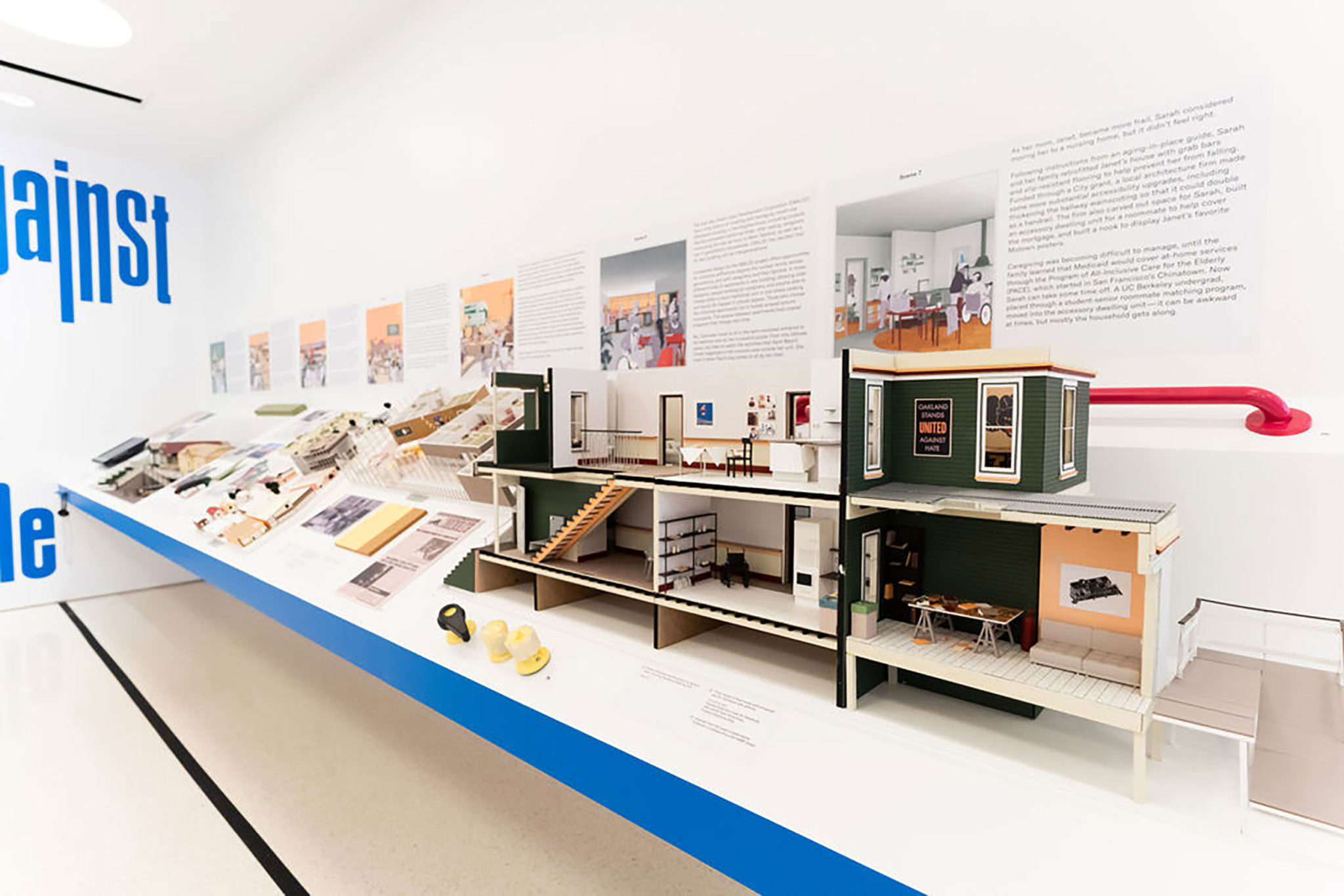 Alongside is "Aging Against the Machine," a project created by a team including faculty member Karen Kubey. They worked with residents in West Oakland on alternative housing and community development scenarios for aging. A digital version of Reset: Towards a New Commons is also available to explore online. The exhibition was covered by publications including Curbed and the Architect's Newspaper.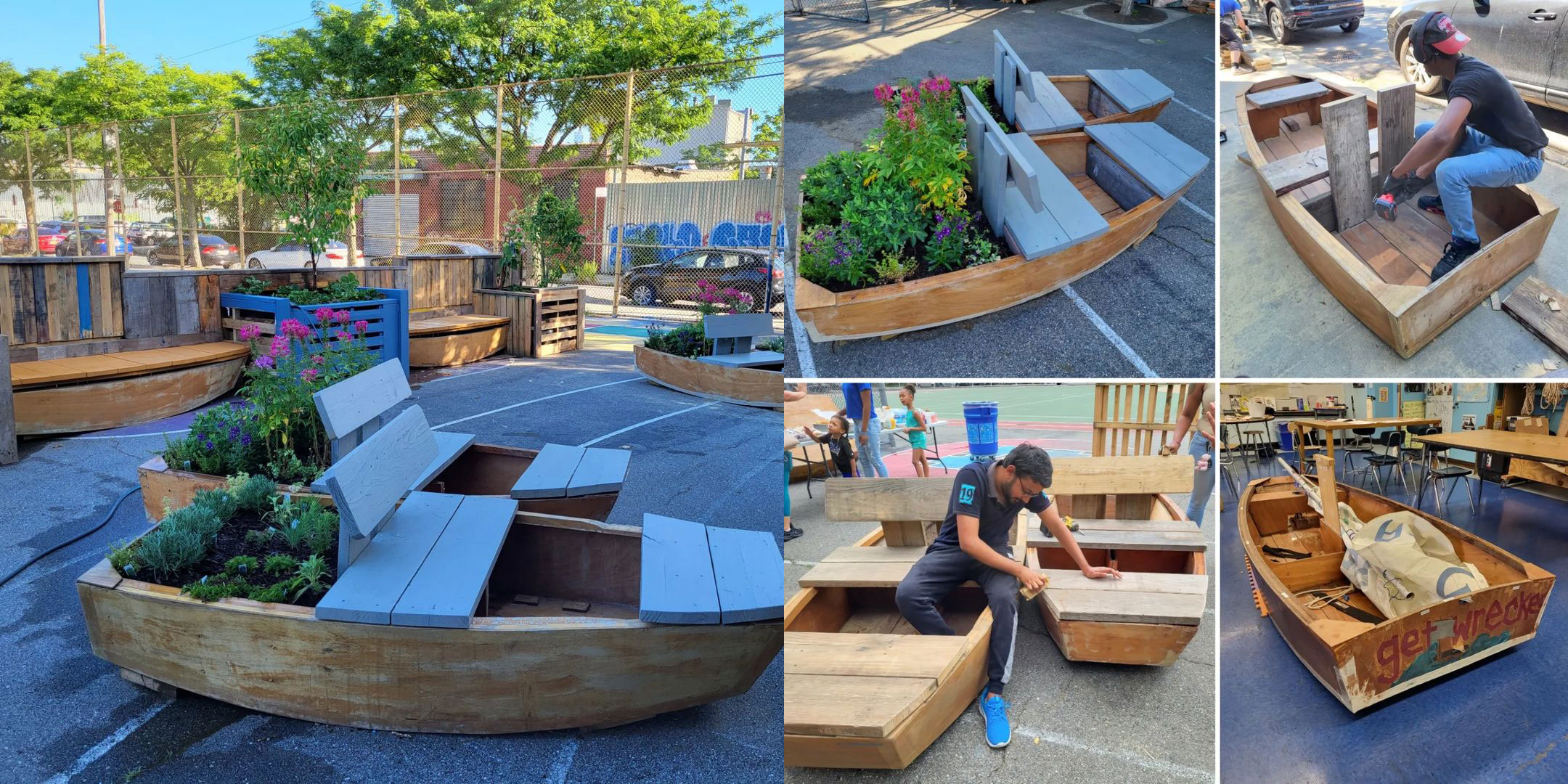 At this spring's Pratt Earth Action Week, Samuel Pressman, MS Sustainable Environmental Systems '20, worked with the student group Leaders in Environmental Advocacy at Pratt (LEAP) to create a community planter with pollinator-friendly plants outside Apple Art Supplies, which is just outside the Brooklyn campus. Pressman's ongoing work with community gardens includes work with the NY Harbor Middle School and the RETI Center this summer to create a Red Hook garden made from repurposed lumber, including salvaged boats and construction scaffolding supplies. The planters feature seating alongside the gardens which the students can cultivate and harvest through the seasons, long after this summer has come and gone.