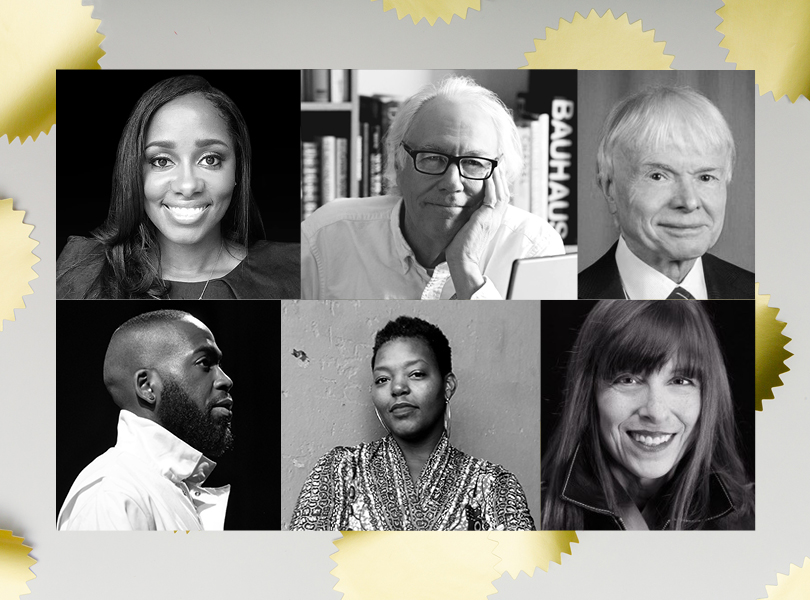 On Saturday, September 29, Pratt Institute's Alumni Achievement Awards 2018 will be presented to six distinguished alumni during a special "Best in Class" catered dining event to be held as part of Alumni Day 2018 on the Brooklyn campus. The awards recognize outstanding Pratt graduates who have distinguished themselves in their fields, are highly respected among their colleagues and in the general community, and whose impact has been felt at the regional, national, and/or international level. Award recipients are chosen by a committee of similarly accomplished professionals, including past Alumni Achievement Award honorees.
This year, Alumni Achievement Awards will be presented to:
Derrick Adams, BFA Art and Design Education '96 (School of Art)
Mahogany L. Browne, MFA Writing '16 (School of Liberal Arts and Sciences)
Thomas J. Hughes, BME '65; MME '67 (School of Engineering)
Pascale Sablan, BArch '06 (School of Architecture)
Tucker Viemeister, BID '74 (School of Design)
Margot Williams, MSLIS '80 (School of Information)
Learn more about the 2018 Alumni Achievement Award winners.
The "Best in Class" event is part of Alumni Day 2018, which will offer a range of events and opportunities for alumni to rediscover the Institute and reconnect with classmates and friends. Visit the Alumni Day 2018 web page for more information about "Best in Class" and Alumni Day 2018 events, as well as how to register once registration opens on July 15.
Image: (L–R, top) Pascale Sablan, Tucker Viemeister, Thomas J. Hughes; (L–R, bottom) Derrick Adams, Mahogany L. Browne, Margot Williams