For the first time in three years, the Pratt community gathered in person for Legends, the annual gala which benefits student scholarships that support diversity. Legends 2022 was a joyous event held beneath the historic domes of Weylin, an event space in the former Williamsburgh Savings Bank in Williamsburg, Brooklyn. The jubilant evening on November 15 honored Arem Duplessis, Phyllis Lambert, and Mickalene Thomas for their cultural impact. With two of the recipients—Duplessis and Thomas—being Pratt alumni and Lambert holding an honorary degree, it was a night especially infused with a feeling of community among the over 200 guests, particularly after two years of virtual gatherings.
Nearly 80 percent of Pratt's students receive financial aid to pursue their educational and creative ambitions, with the Legends scholarship endowment providing major support toward their success. The Legends honorees are distinguished leaders, innovative thinkers, and creative icons whose dedication to their communities, the development of their field, and the promotion of a positive future resonates with Pratt's values.
After mingling at a cocktail reception, the guests were welcomed by Pratt President Frances Bronet who celebrated the adaptability and resilience of the faculty, students, and staff in the room that were demonstrated in the turbulent recent years: "You can see all of these amazing qualities reflected in our multi-talented Legends honorees." She also recognized how the Institute "effects positive change in the city and beyond. We have joined forces with almost 100 community partners to better our New York neighborhoods."
She then introduced the new Chair of the Board of Trustees Gary Hattem, who recalled the significance of scholarships to his own education. "A Pratt scholarship was a game changer, maybe even a lifesaver, for me personally," he said. "I had the benefit of a partial scholarship at Pratt that allowed me to complete my studies in graduate school [for architecture] in the mid-1970s. It enabled me to cut back on my hours driving a taxi in New York City."
Miranda Obić, BFA Communications Design '23, was the 2022 Legends Student Speaker and discussed her perseverance in following a non-traditional path as the daughter of immigrants to study illustration, including starting her studies at PrattMWP before her current senior year on the Pratt Brooklyn campus. "For families like mine, our dreams are considered impossible, but they come closer within reach with the support of a strong and loving community," she said. "As difficult as my journey may have been for me, I hope it can inspire you to persist in your endeavors, and I hope you will continue to watch my peers and I forge our futures together pursuing what we love most and what we hold dear."
Each of the attendees walked away with a memento of Obić's art in the form of a print that she designed and corresponding magnets. A call-to-action for audience members to pledge scholarship donations was then launched by Charlotte Van Dercook, vice president and specialist of contemporary art at Sotheby's auction house, before the awards presentation. The Legends 2022 awards were designed by Yile (Lisa) Fan, BID '23, and fabricated in metal under the mentorship of Dana D'Amico, adjunct associate professor of industrial design. A short video by Reilly Bair, BFA Film '23, shared the design process for the sculptural objects.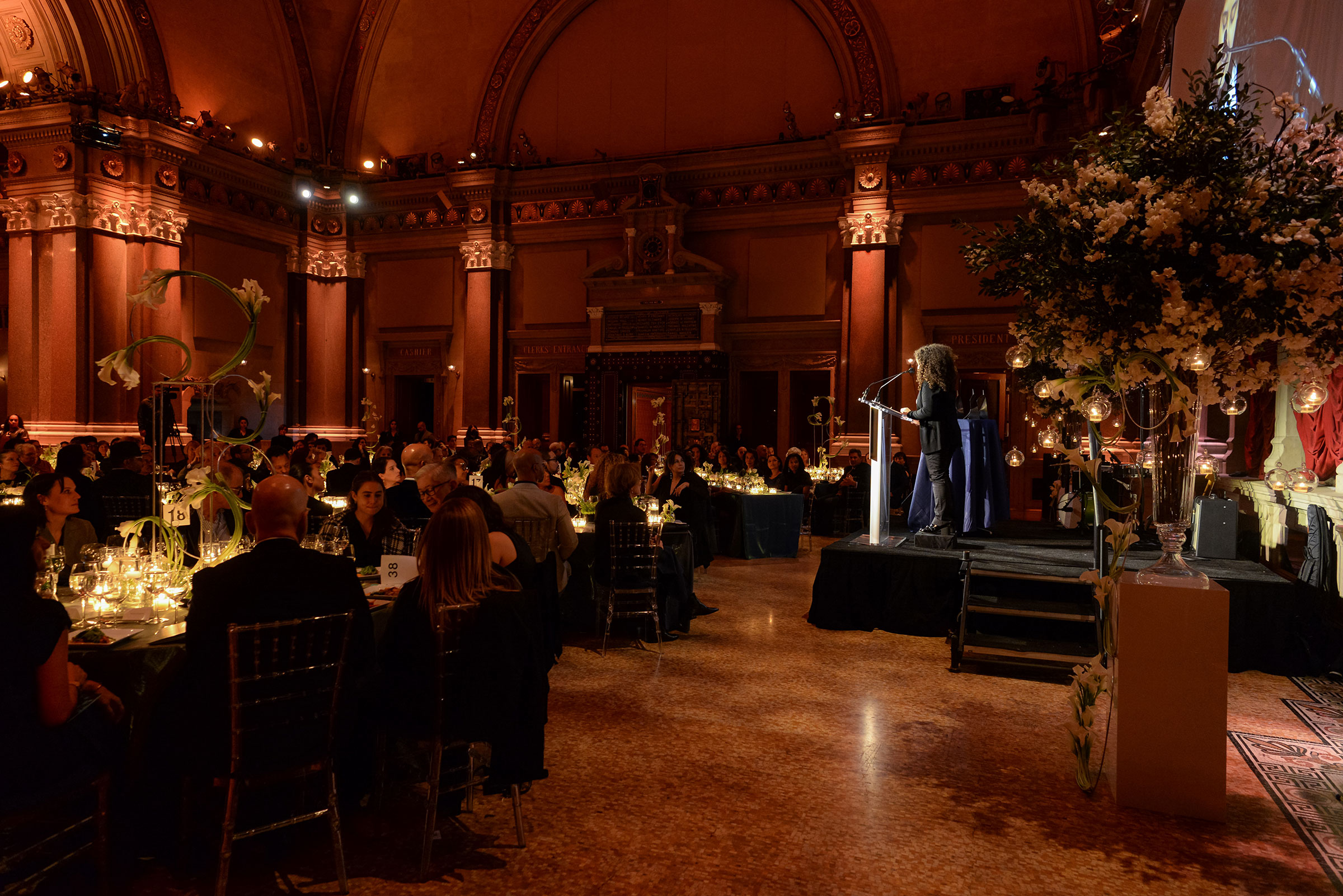 Graphic designer and creative director Janet Froelich presented the 2022 Legend Award to designer and Pratt alumnus Arem Duplessis. Duplessis is a creative director at Apple and was previously the design director of The New York Times Magazine. He is also an AIGA Medal recipient and co-created the GQ Gotham typeface for the redesign of GQ Magazine. "To all the young Black creatives in here, when you're the only one in the classroom, you have to keep pushing," he said. "When you're the only one in the conference room when you first start your job, you have to keep pushing. When you end up in the boardroom, you have to keep pushing. You have to use that platform to give back and the best way to give back is to be aggressive in how you mentor people and how you bring them up. You bring them up with honesty and support."
Architecture editor, critic, and Pratt faculty member Cynthia Davidson presented the 2022 Legend Award to architect Phyllis Lambert. An author, scholar, curator, conservationist, photographer, critic, and activist, Lambert is the founding director emeritus for the Canadian Centre for Architecture and previously received an honorary degree from Pratt in 1990. Lambert, who was unable to attend in person, expressed her thanks in a video acceptance speech: "I'm so thrilled to be honored by being named a Legend and especially in this evening that encourages the making of future Legends."
Thelma Golden, director and chief curator of the Studio Museum in Harlem, presented the 2022 Legend Award to Pratt alumna Mickalene Thomas. A globally renowned multidisciplinary artist who has exhibited at museums including the Museum of Modern Art, Solomon R. Guggenheim Museum, Whitney Museum of American Art, and many more, she also co-founded the Pratt>FORWARD mentorship program for emerging artists that recently took place at Newlab in the Brooklyn Navy Yard. "I'm here because someone told me that I can be an artist," she said. "At a crucial moment in my life, a community provided a sense of awareness and growth. I'm so happy to stand alongside these esteemed co-honorees for this great cause, helping to expand the scholarships for future creatives, but I'm most grateful for Pratt and many of you giving me the space and freedom to pave my own path in the art world."
President Bronet then gave the closing remarks, looking ahead to the future and the need to support the next generation who will follow the trails blazed by the honorees. "We have great plans for the world around us," she said. "We have much to do. With great anticipation, I imagine our journey to both the foreseeable and the very unpredictable projects we will discover and accomplish together. Thank you to our incredible Legends. You are absolutely inspirational and we will carry you with us every moment."