Over a month this fall, Pratt>FORWARD invited 10 emerging artists to the second edition of the program launched in 2021 by Pratt Fine Arts. This was the first iteration of Pratt>FORWARD to be in person and was held at Newlab, a center of invention located in the Brooklyn Navy Yard where participants connected to practitioners across creative fields, from fine arts to technology.
Pratt>FORWARD was co-founded and is co-directed by Mickalene Thomas, BFA Fine Arts '00, and Fine Arts Chair Jane South. It supports artists at the beginning of their careers, with each participant selected from an open call, receiving a full scholarship to attend.
"Pratt>FORWARD is a unique mentorship program," Thomas said. "Its model and main purpose are to provide professional tools and knowledge so that artists can confidently develop a sustainable career. We have exceeded our own expectations by creating standards for artists' professional development within the market. This year's cohort of artists' desire to absorb all the information is a testament to the need for this mentorship program."
"For our first in-person Pratt>FORWARD to be housed at Newlab was a game changer for the program," South said. "We could not be more delighted with how the Pratt>FORWARD 2022 artist cohort seized the opportunity to inhabit the space and create community with each other. Without exception, people who attended our public events or visited as mentors and dialogue session guests commented on the atmosphere of warmth, generosity, joy, and creative focus that this group generated. We have something very special here and look forward to building on it in the future."
The Pratt>FORWARD 2022 artists were Mary Enoch Elizabeth Baxter, Taisha Carrington, Jennifer Chia-Ling Ho, Mario Joyce, Kirsten Leach, Kristyn McKinney, Sajjad Musa, Mieyoshi Ragernoir, Vessna Scheff, and Yamico. They included recent Pratt graduates as well as other emerging artists with interdisciplinary and community-engaged practices.
"I think the emphasis on development for emerging artists is really special about this program," said Vessna Scheff. "Having very grounded, casual, and comfortable conversations around all aspects of the art world is critical, and relationships between artists are instrumental and foundational. Not many residencies have such a strong emphasis on them."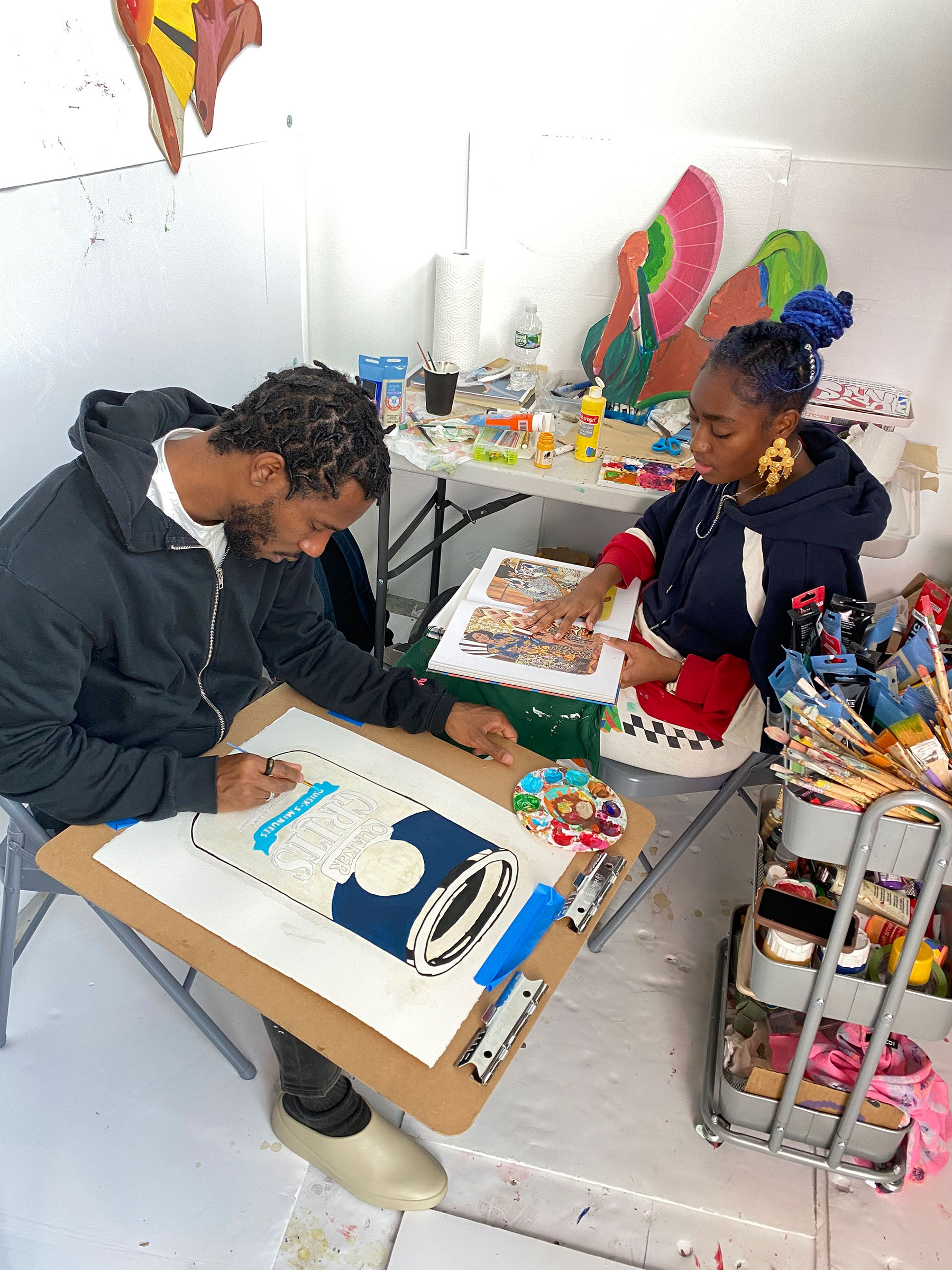 Facilitating these discussions is part of Pratt>FORWARD's goal of forging stronger support systems for artists that can be sustained outside of institutional settings. The experience encourages artists to build on the connections made in the program and be empowered in making their own opportunities.
"I'm a self-taught artist; I've never gone to school; it's been a long journey of whatever resources I can grab," said Mario Joyce. "My biggest takeaway from this program is a community of the greatest artists that I've worked with and I'll follow their careers for the rest of my life. My practice expanded in such a short amount of time. I'm an oil painter and a collage artist, but I did casting, performance art, and video work. I used new mediums in ways I never expected."
The October program was facilitated by Pratt>FORWARD's 2022 Core Mentors, who included Pratt Trustee and alumnus Derrick Adams, BFA Art and Design Education '96; collector and art advisor Racquel Chevremont; arts organizer and Director of Company Gallery Elizabeth Lamb; artist José Parlá; and curator, activist, and Project for Empty Space Founder Jasmine Wahi.
"When I started this residency, I was kind of lost in my practice and was a little frustrated with my work," said Jennifer Chia-Ling Ho, MFA Fine Arts (Sculpture) '20. "But through talking with the mentors, I was able to gain confidence and get the strength back to move forward and be clear about the direction that I want to go."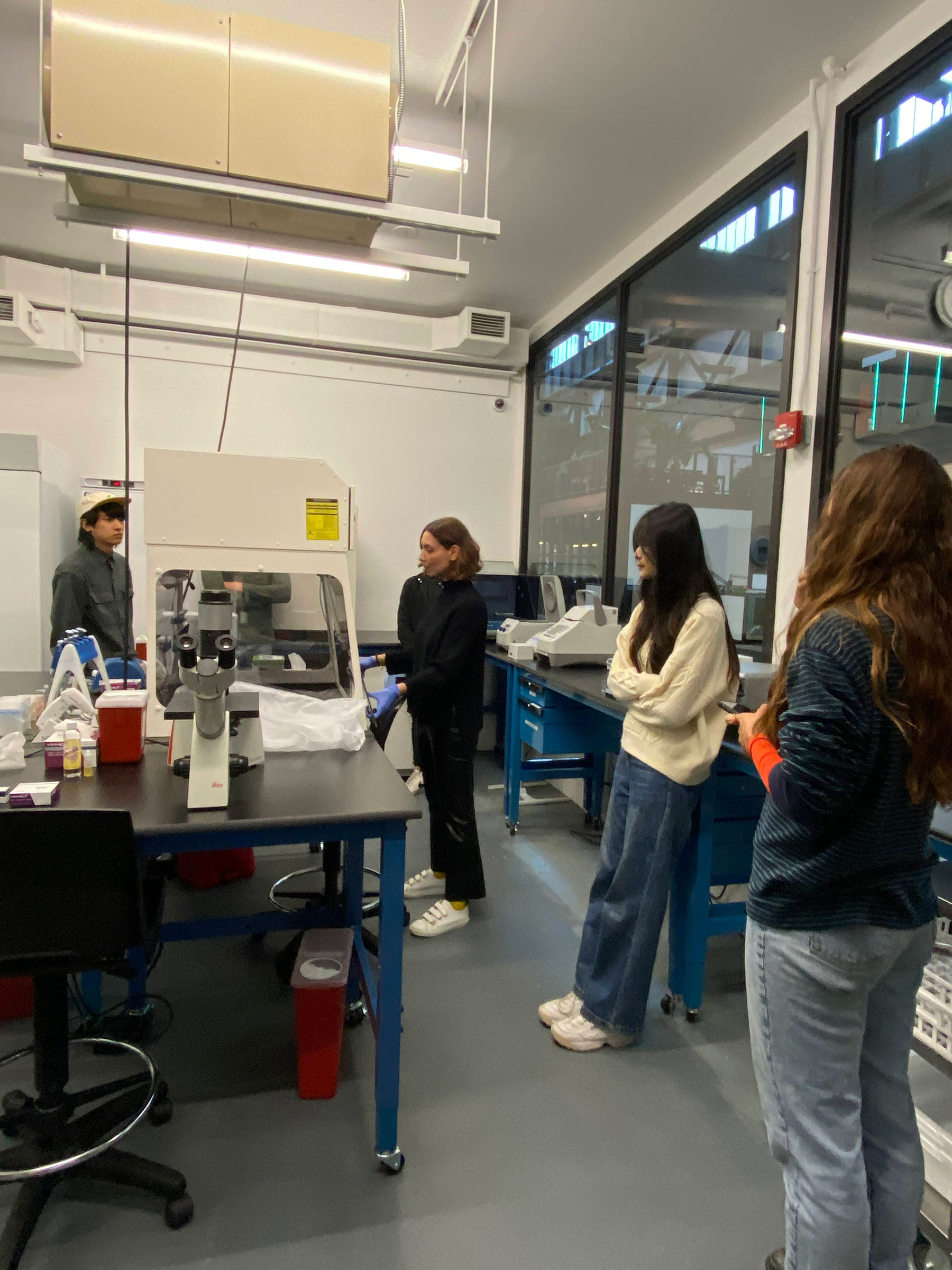 The artists each had a studio at Newlab where they had access to the on-site maker facilities and collaborative opportunities with the hundreds of entrepreneurs, artists, technologists, and researchers who utilize the space. The luminous former warehouse in the Brooklyn Navy Yard connects experts and innovators in innovation, drawing on the industrial heritage of the area.
"The opportunity to envision my practice outside of an art-specific space was impactful," said Taisha Carrington, BFA Fine Arts (Jewelry) '18. "My work is very non-traditional in its materials and processes, and to be in a space where I'm seeing other people in completely different fields, but working in a similar manner, helped me reposition my place as an artist in the world. Whether it's somebody who invented a drone or somebody doing an artwork, the creative underpinning is often similar."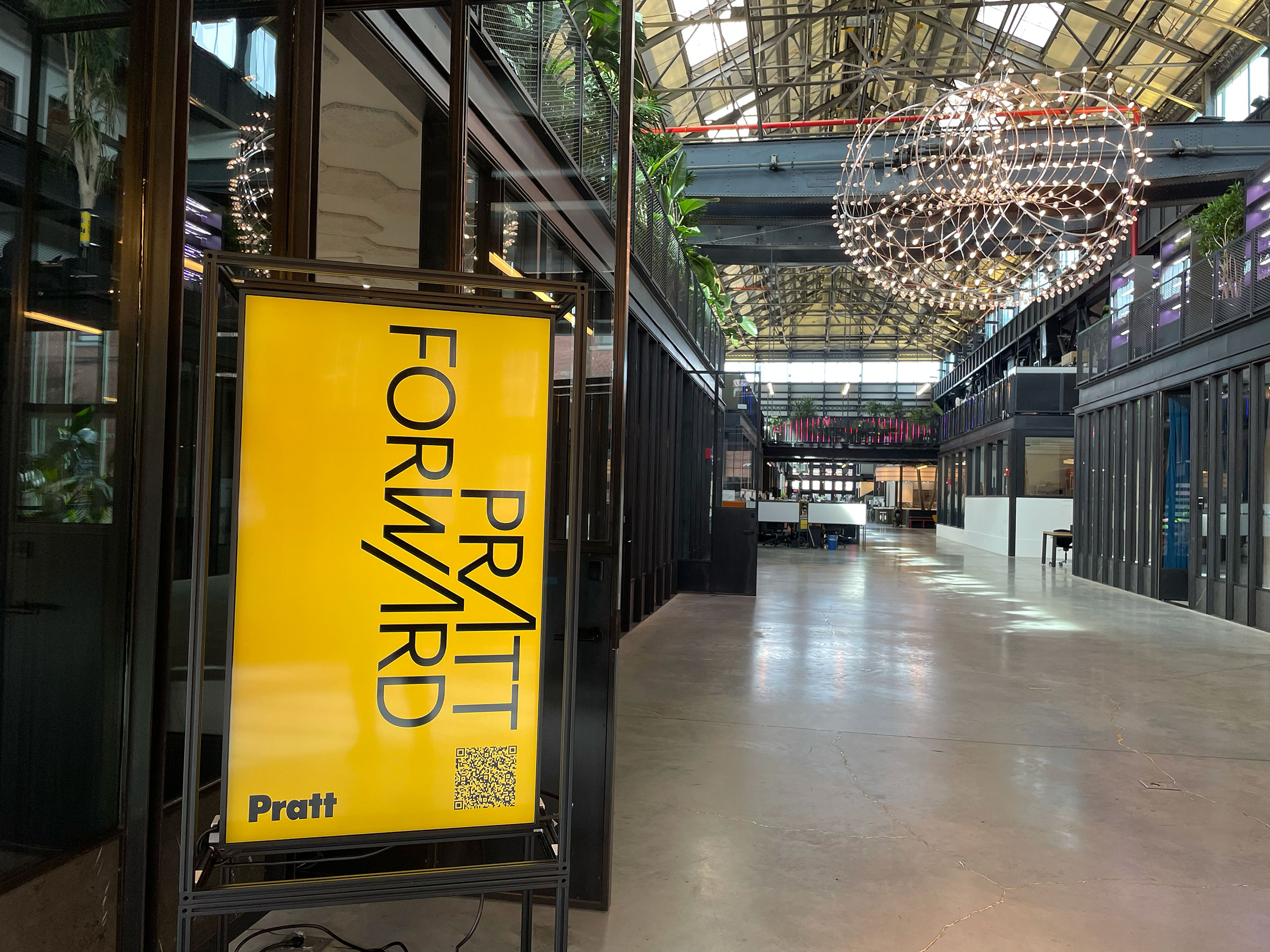 Basing Pratt>FORWARD in a technology-focused space bolstered its ongoing concentration on connecting artists with systems for success that are multidisciplinary and diverse. From its start, the program was conceived as being able to take place in a range of locations, each year adding more opportunities for relationships beyond traditional art or academic settings.
"The sense of community through the cohort here was so important because as an artist, a lot of times you find yourself working in a silo," said Sajjad Musa. "To be able to have conversations with other creators that are going through similar things, whether personally or professionally, that was invaluable."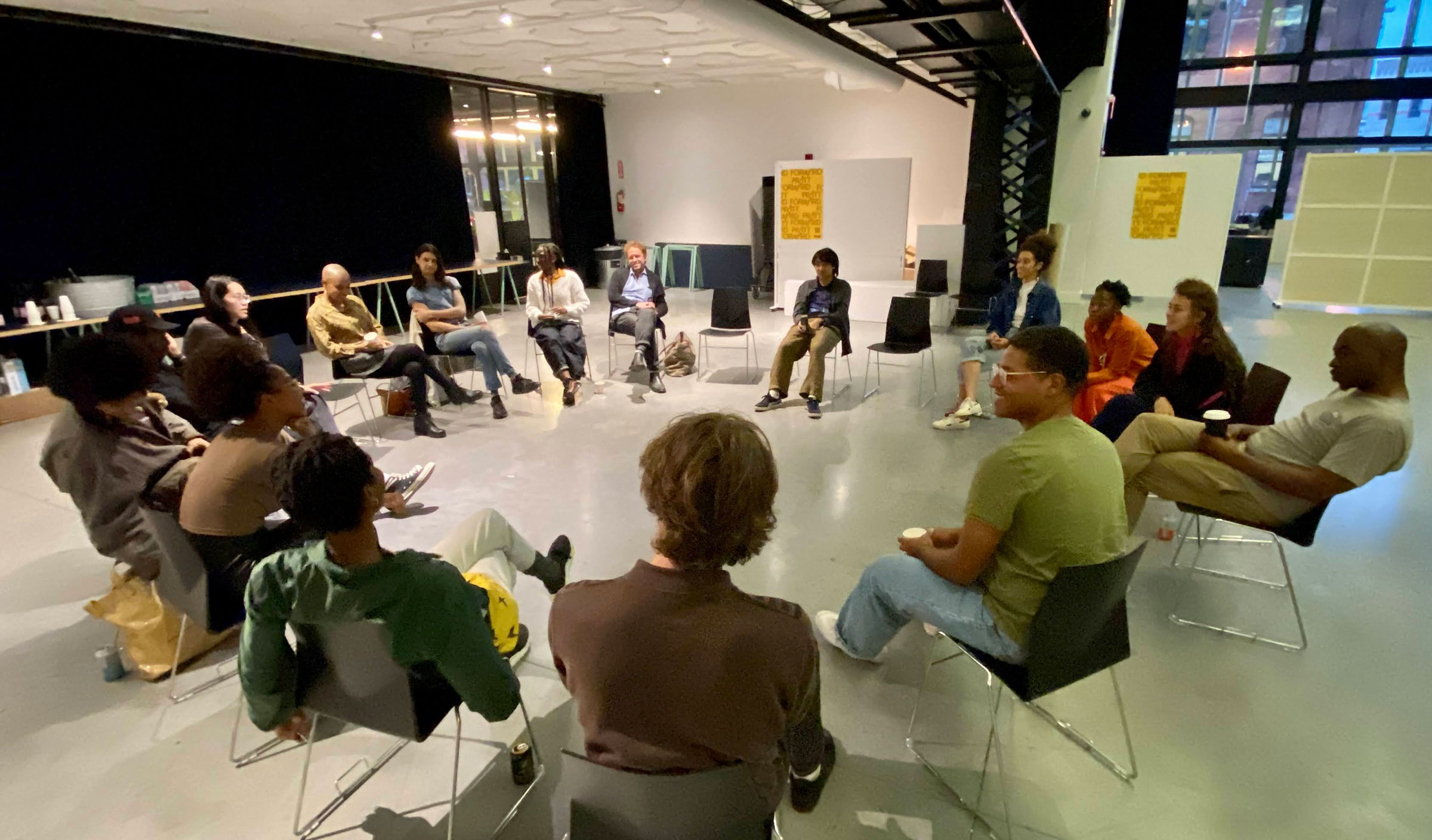 Visiting guests to the 2022 Pratt>FORWARD included Pratt faculty, artists, critics, gallerists, curators, entrepreneurs, activists, and other professionals in the field. Their conversations encouraged the participants to have agency in their work, whether it's with a gallery, museum, collector, publication, or other opportunities. From legal and copyright issues to the complexities of the art market, these are topics rarely addressed in BFA or MFA programs.
"When I graduated, there was nothing about how to promote your work," said Yamico. "Because there were so many artists, creators, gallerists, and other people here, we could talk one-on-one and I could ask them about anything. These things can be hard to ask about, so it was very helpful to be in this ecosystem."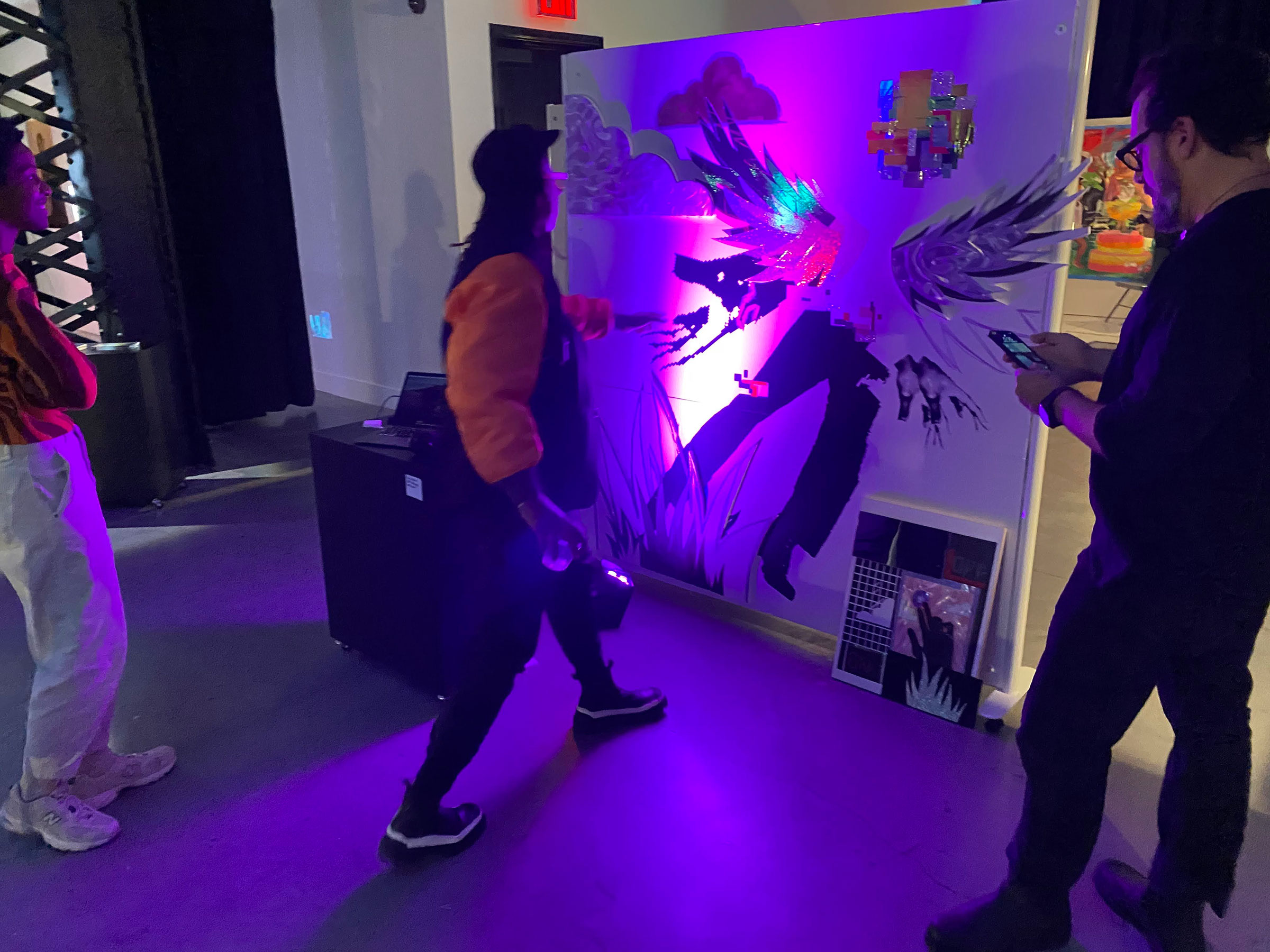 The program culminated with a series of public events, including open studios in which the artists shared their work and a panel discussion on establishing mentorship programs and innovative support systems that center artists in communities of care.
"The professional development and the mentoring, the critiques, but especially the advisors, whether they were lawyers or folks that help enforce copyrights, and the structure of how to legitimize your art practice as a business, so that it's sustainable, was all invaluable to an emerging artist," said Mary Enoch Elizabeth Baxter. "A lot of times this opportunity does not present itself, so artists are forced to deal with trial and error. Having access to the space and the people has been a very enlightening, joyous, and instrumental part of me continuing my practice."