How can waterfront communities withstand shifts in their environment brought on by a changing climate, and even flourish as the world transforms?
Two Pratt professors are working with the RETI Center, a resilience-education organization in Red Hook, to create a model for what resilience and adaptability could look like, "putting a lens, for all of New York City, on coastal climate change issues."
Professors Gita Nandan, principal of multidisciplinary design firm thread collective, and Zehra Kuz, founder of Oasis Design Lab, are in the design phase for RETI BlueCity Lab, a first-of-its kind climate-research vessel to be sited off Columbia Street Pier in the protected waters of GBX Gowanus Bay Terminal, owned by concrete producer John Quadrozzi Jr.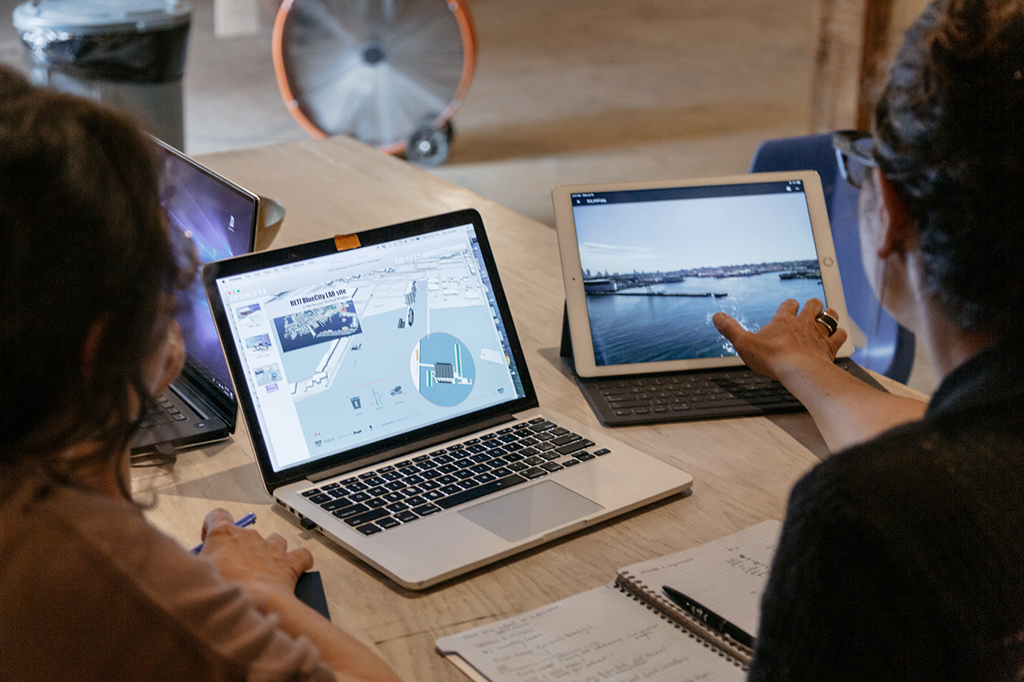 Aiming to be a sustainable, closed-loop system, versions of the design feature elements such as a solar skin to generate power, rainwater harvesting from the inverted roof, and floating gardens that break down contaminants in the water. The prototype aims to be flexible and will invite modifications by others looking to explore resilience technologies. Every discipline will have a seat at the table, from architects and planners to biologists and industrialists.
For Nandan and Kuz, involving industry is central to the work, with the potential to "soften the edge" of industrial waterfronts and push the economic conversation—RETI is rethinking the manufacturing process around tools for resilience, creating green-blue-collar jobs, and training local residents to drive production in the resilience economy. (As an example of local, low-carbon manufacturing, project partner GBX will create the vessel's eco-concrete hull on site to be carbon-neutral.) "Economic development is in the back of our minds," Kuz says. "How can we do something productive here that also elevates the community?"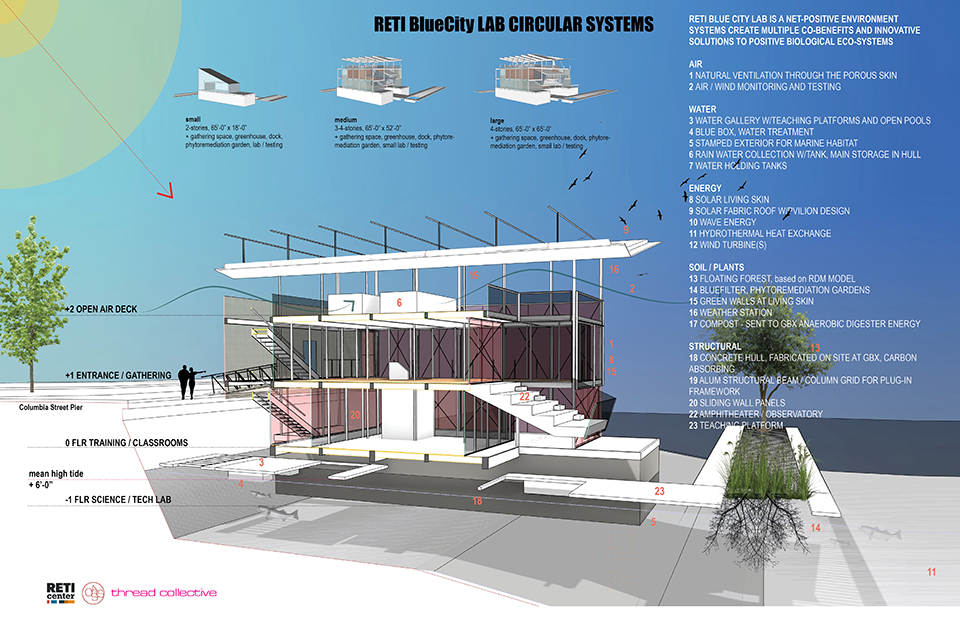 Another goal is to engage the community with the water, with input from residents on programming. Creating access to the water and through RETI Lab could help residents, Nandan says, "to not be scared by the prospect of climate change but activated to do something, to adapt."
For six semesters at Pratt, Kuz and Nandan have brought their interdisciplinary, community-centered approach to students in the Delta Cities Coastal Resiliency Studio. Undergraduate and graduate Pratt students, together, have the opportunity to work on client-based resilience projects, gain exposure to working with local organizations, and hear the real concerns of people affected by environmental changes, cultivating students' sense of social responsibility and inviting them to start their investigations from the perspective of overall impact.