While walking around the Pratt campus this past semester, Paul Loupe, BArch '23, has noticed the sheer abundance of wind that can be harnessed in Brooklyn. Sam Joslyn, BArch '23, has observed how virtually every building can be outfitted with some form of renewable energy generation.
Both students have been immersed in an ambitious research project exploring the frontier of wind power. Overseen by Adjunct Associate Professor of Architecture Karen Bausman, the NYC Future Perfect project seeks to develop lightweight, flexible, and modular structures powered by wind turbines built into their facades. Bausman hopes that the structures can act as alternatives to existing boardwalks, piers, and other static structures along New York's coastline because they can better withstand higher sea levels and worsening storms, be relocated as needed, and are self-sustaining. If successfully realized, the structures could have global reach, accelerating the ability to generate renewable energy in off-grid contexts and empowering communities to gain energy independence without fossil fuels.
"Dispatched across the five boroughs to fulfill New York's waterfront revival initiative, the structures are meant to support recreation, concessions, and more," said Bausman, who helps lead the School of Architecture's research into green energy design. "The students working on the project are getting hands-on experience with some of the most sophisticated engineering and architectural technology available."
Currently, the field of wind power has been following a bigger-is-better trajectory by investing in massive offshore wind turbines. Bausman's project moves in the other direction with smaller structures that can be incorporated into more contexts.
The broad potential use of the designs supports the NYC Comprehensive Waterfront Plan, which aims to significantly expand access to and improve the resiliency of waterfront sites over the next several years with a particular focus on historically underserved communities. Bausman's firm Karen Bausman + Associates has worked on countless projects throughout the New York area and specializes in sustainable and equitable waterfront designs.
For the past three years, Pratt undergraduate and graduate students, selected through a competitive application process, have played an important role in the initial phase of the NYC Future Perfect project. From the start, students have had access to the Wind Power NYC Archive that Bausman created with Maria Sieira, Pratt SoA graduate architecture and urban design professor, and the support of Pratt Institute Libraries and School of Information.
"The compiled materials related to green energy in the New York City region, including the waterways in the tri-state area, documenting the implementation of offshore wind farms off the city's coast, are a record that serves as a resource, including for my research assistants, each of whom is introduced to the archive at the start of each semester," she said.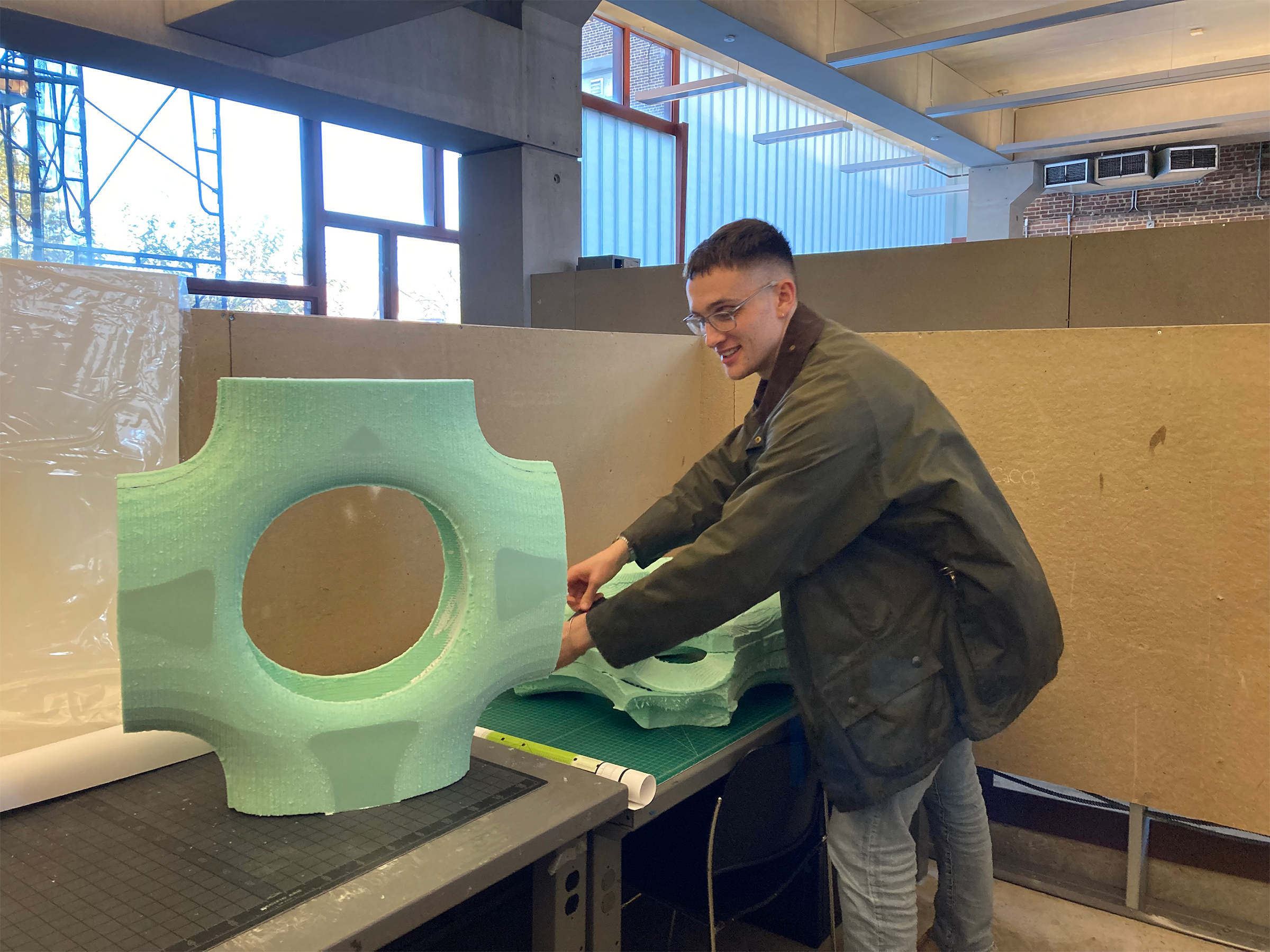 Loupe and Joslyn have built on student work from previous semesters. With continuous guidance from Bausman, they were able to refine and expand the simulations of the proposed structures and create real-world models using workshops in the PI-FAB facilities of Higgins Hall.
On a bi-weekly basis, the students consulted with industry professionals including the renowned engineering firm Thornton Tomasetti, through its research and development incubator of ideas CORE. They worked primarily with the wind power expert Jeroen Janssen, who advised them on the complex mechanics of wind infrastructure and helped them gain proficiency in the advanced engineering software SimScale. This program allowed the team to simulate sophisticated models of the proposed structures, testing them against real-world factors such as wall shear stress, vorticity, velocity, friction velocity, turbulence, total pressure, mean age of fluid, and more.
"We're taught in our architecture classes to make sure a building doesn't move, but in this case, it's the opposite," Joslyn said. "We're trying to make things move as efficiently as possible. It was a different way of thinking that we had to get adjusted to. Trying to understand something as complicated as computational fluid dynamics enough to run these simulations was definitely a learning curve."
As the students became versed in SimScale over the course of the semester, they improved their ability to write scripts and generate functional simulations. After dozens of iterations and extensive workshopping, they came up with workable blades and wall panel models.
"It was very affirming to work with Jeroen because a lot of the time we'd be like, 'yeah, we don't really know how to do this.' And he'd say, 'Oh, I don't know, either.' And we realized that everybody approaches these problems with very little knowledge," Loupe said. "That sort of interaction with a professional was definitely valuable because it showed us the process of somebody who actually works in the field and how much you have to kind of reinvent the wheel every single time."
"A lot of it was trial and error on our part," he said. "We would get really close to solving something but because we didn't have the same sort of experience with the software as Jeroen did, he would step in and help us figure out how to make it right. He was super accessible and super helpful. We learned a lot working with somebody who was so knowledgeable."
Loupe has worked for more than three years in Pratt's PI-FAB where he helps make student and faculty projects across an array of specialties. He was able to leverage his understanding of the facility's fabrication machines and techniques, from robotics to woodworking, to bring the SimScale data to life through physical modeling and prototyping.
The team made proof-of-concept models of the envisioned turbine blades out of cardboard and 3D-printed small-scale versions of the blades' curvature dynamics by following the design of airplane wings: round on one side and flat on the other. They also wrote scripts for the computer numerical control (CNC) milling machine to "flip-mill" wall panels out of foam. The machine would fabricate thin layers of the panel, flip the object, and then layer on the other side. They tested different thicknesses to figure out which size would most efficiently allow wind to enter and exit the wall panels.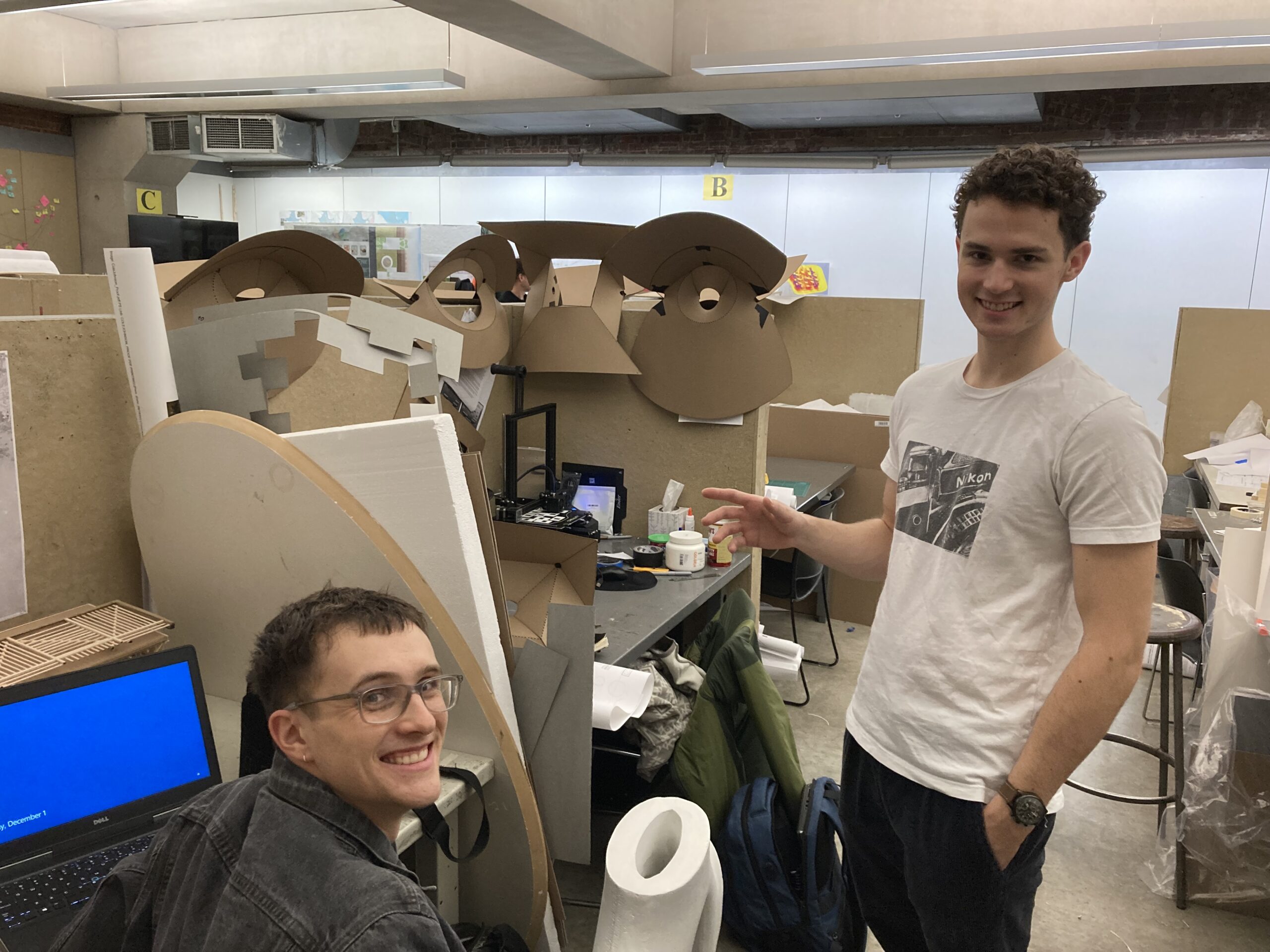 Loupe and Joslyn debuted the wind turbine architectural facades to the public during the Pratt Research Open House on March 10, held in the Brooklyn Navy Yards, alongside dozens of other cutting-edge research projects. They also discussed their work in a panel discussion at the ARCH 563a Student Colloquium.
As the fall semester approaches, Loupe and Joslyn will coordinate with Bausman to help train the next group of research assistants on what they learned to ensure the smooth continuation of the project. Both said that the project has influenced how they think about architecture and the central role the field will play in building a more sustainable future.
Bausman, meanwhile, is spending the summer "working with leading engineers to develop wind turbine-powered architectural infrastructure, including building prototypes for integration into the NYC waterfront."
"I will also develop course syllabi over the next couple of years to investigate the architectural, urban planning, landscape, design, and socio-cultural issues involved in implementing offshore wind-power allied infrastructure in New York City," she said.