On a recent evening in the Pratt Textile Dye Garden on the Brooklyn campus, the Pratt community was invited to commemorate the end of this year's growing season for the flourishing space. The Harvest Salon was part of Sharing the Yield, a project led by Gina Gregorio, adjunct associate professor of fashion design, as a 2022 Center for Teaching and Learning Fellowship to expand the programming of the site where container beds brim with flowers like marigolds, indigo, beebalm, yarrow, and goldenrod. In the twilight hours for that October event, visitors could visit a small mobile kitchen to sample food and drink made with ingredients from Pratt Farm To Campus as well as natural pigments, with offerings including candied cosmos flowers and beet and marigold pickled eggs.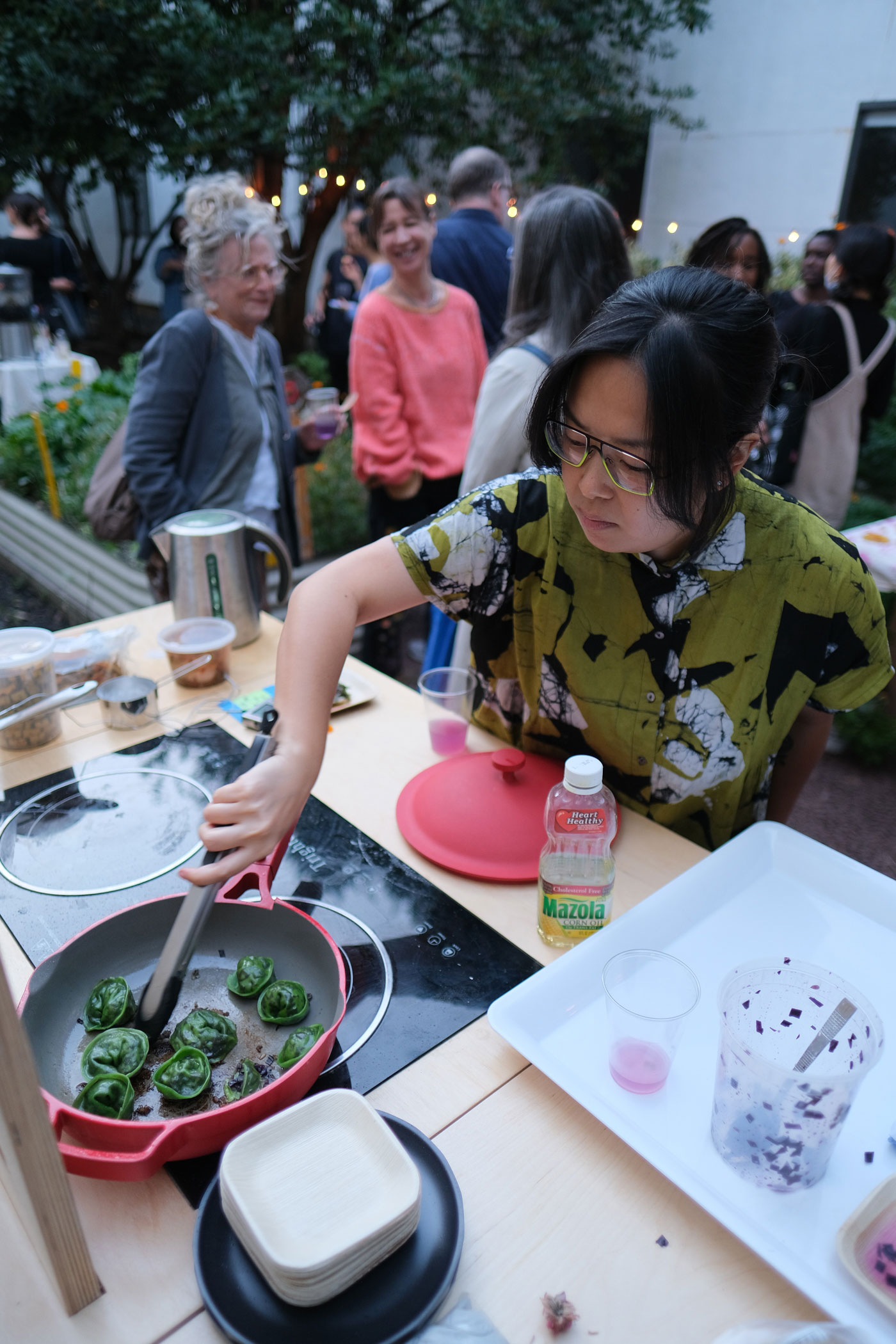 The Harvest Salon was the latest visit for the Pratt Social Practice Kitchen, an interdisciplinary project that, since it debuted in 2020, has visited open street pop-ups, community art installations, and campus events, with bookings open to any student, faculty, or staff member. With a 2019-20 Seed Grant, Amanda Huynh, assistant professor of industrial design, created the mobile kitchen that could be a roving space for interdisciplinary collaboration. Huynh is a food designer and instilled that experience into the project, with additional inspiration coming from a mobile kitchen designed by Joey Cheung, a student of hers at Emily Carr University of Art + Design in Vancouver where she was previously part of the faculty. For the Harvest Salon, Charlotte Reiter, MID '24, was deeply involved in the kitchen's contribution to the event.
"It's been used for biomaterial research, candy-casting workshops to look at prototyping and production techniques, natural textile dyeing workshops, various School of Design events, and just simple activities like cooking breakfast for a class," Huynh said. "One of the characteristics of food that I think about often is its accessibility. It lowers the barriers for engagement—anyone can talk about food! Everyone has food memories and relationships to food. The Harvest Salon was a wonderful showcase of people coming together—Fashion, Industrial Design, Foundation, Fine Arts, etc.—over color and pigments in a celebratory way and I think food was a big key to that."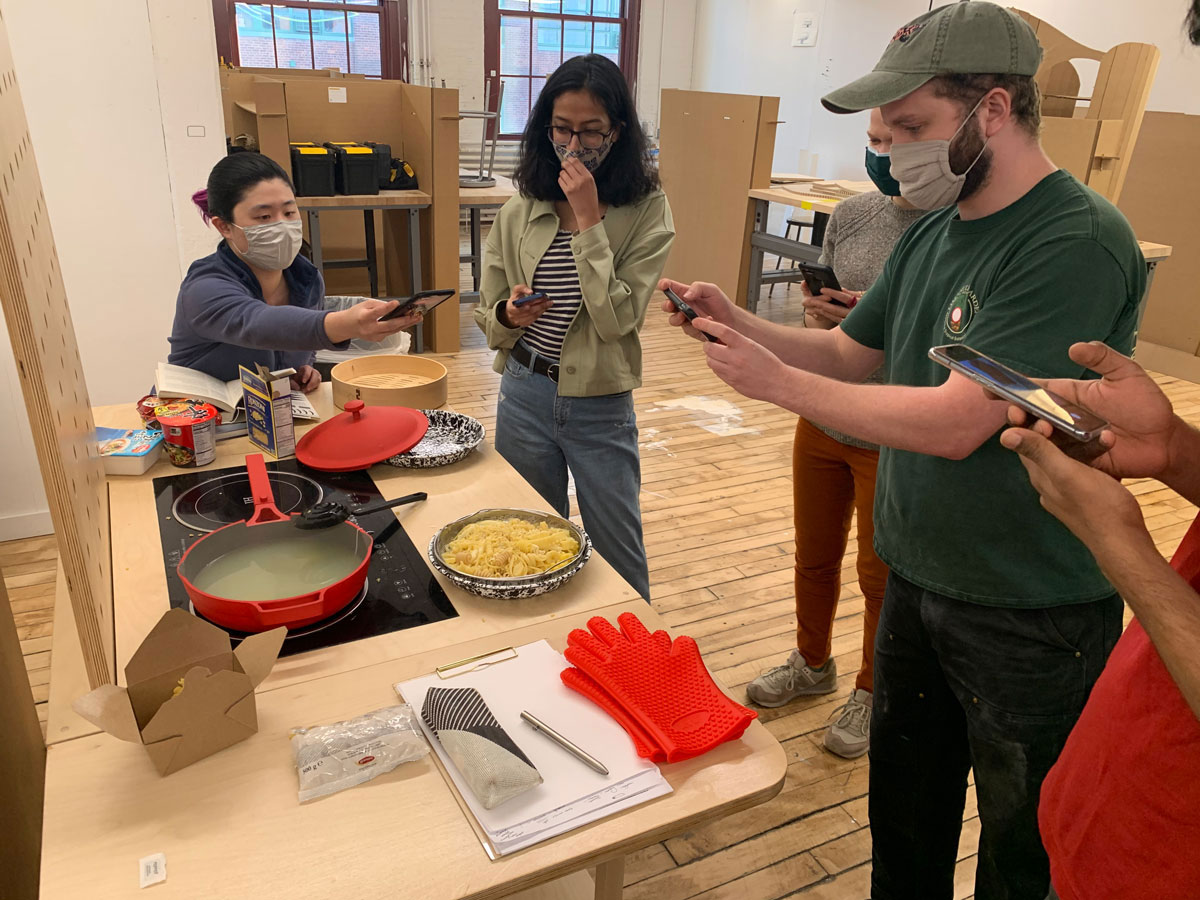 This range of actions, from informal meals to research projects, was in the vision for the project from the start, with issues like food waste, community building, and social innovation all part of a goal of using food not only as a material but as a form of communication. Its design is streamlined to be flexible for these diverse needs, providing countertop burners, a vertical surface to hang pots and pans or other items, and storage below, with wooden wings lifting up for more surface space or folding down for ease of transportation on its wheels.
While the pandemic delayed its building until the woodshop facilities were again open on campus, it was finally constructed in the fall of 2020 by Huynh with Research Assistant Kai Wen Chuang, BID '20. Its completion coincided with a time when opportunities for outdoor gatherings and safely sharing community moments were more important than ever.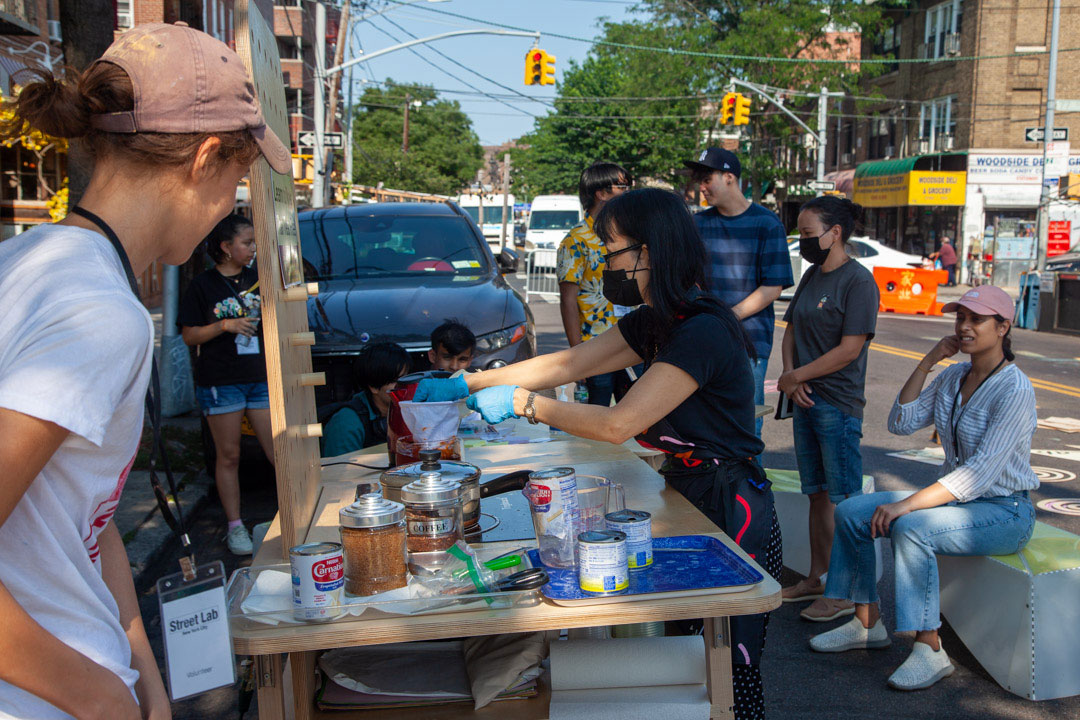 The project was presented in the 2020 and 2021 Research Open House and joined the openings of the 2021 and 2022 Foundation Expanded. Huynh worked with Corinne Ulmann, adjunct associate professor in Foundation, on this collaboration between the Myrtle Avenue Brooklyn Partnership (MARP) and Pratt Foundation department that connects first-year Pratt students to civic engagement.
This summer, the Pratt Social Practice Kitchen traveled to Woodside Avenue in Elmhurst, Queens, where it hosted a free Thai iced team demonstration at a Street Lab open street event. Street Lab is a nonprofit that creates programs for public space, with its team including Visiting Assistant Professor of Industrial Design Hannah Berkin-Harper, MID '07, and Anushritha Sunil, MID '22. The pop-up invited the community to learn to make the drink with the owner of the local Thai Thai Grocery, who had long wanted to host such an event but was finally able to realize it through Street Lab and the mobile kitchen.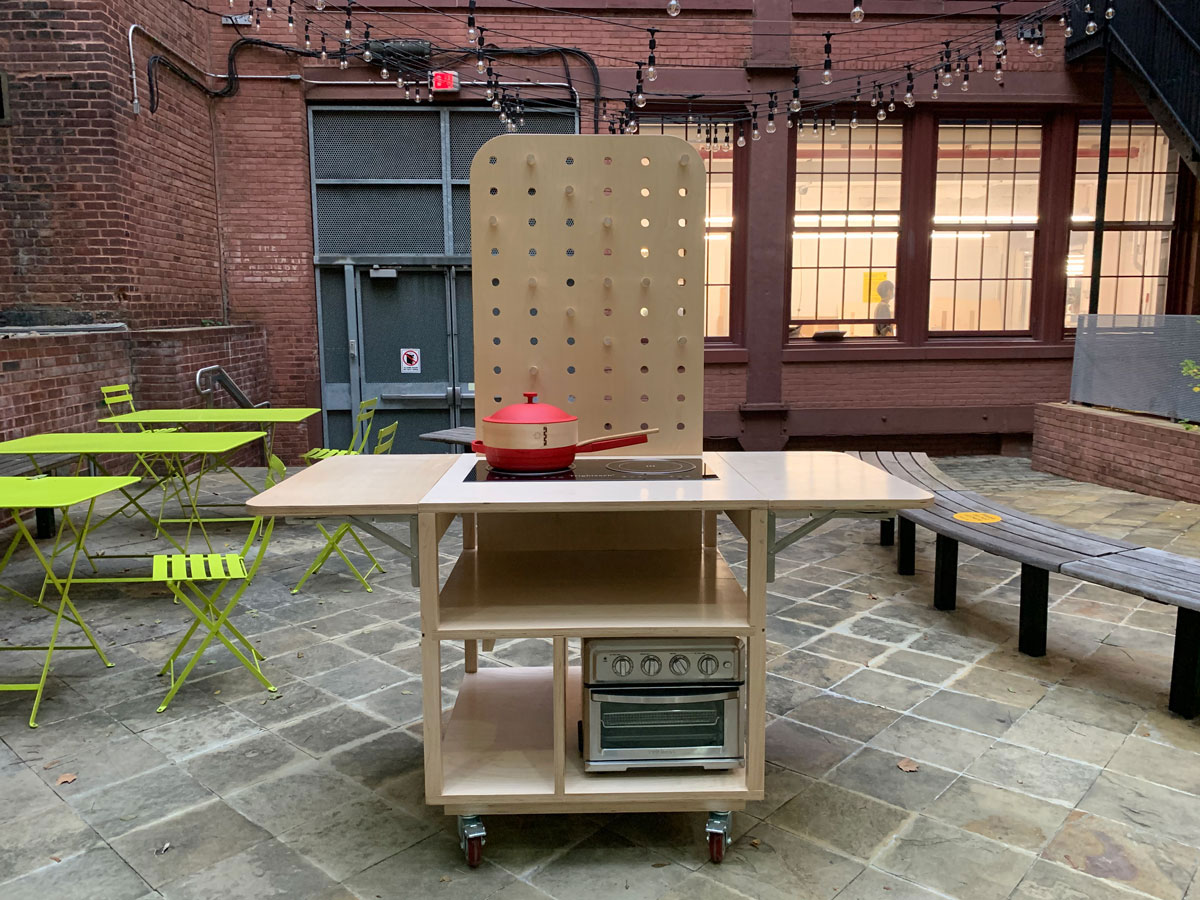 While events like this have brought together people and projects from across campus and the city, others have been more small-scale.
"In spring 2021, [School of Design] Dean Anita Cooney and I put on a series of events called 'BYOM(ug)' where we served tea and breakfast treats before 9 AM class to the School of Design community during the wellness weeks," Huynh said. "It was the first time in such a long time for gathering when everyone on campus was a little more isolated than usual. That's a special memory for me because the kitchen itself sparks a lot of curiosity in passersby and really, it was designed to be used by anyone on campus."
Students in a capstone course led by Huynh also used the mobile kitchen to cook for each other. Over the semester, this weekly moment of interaction contributed to the students feeling within a network of care. The Pratt Social Practice Kitchen is planned to be an ongoing, collaborative resource for anyone at Pratt to create, experiment, or simply share the joy of food anywhere it can roll.