The Black Alumni of Pratt Celebrating 30 Years Supporting Pratt's Black and Latinx Students and Alumni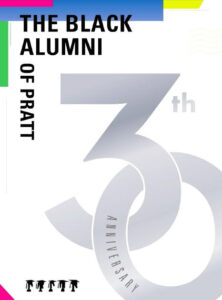 More than three decades ago, a group of Black and Latinx Pratt senior students, Claudine Brown, Errol Crawford, Patricia Cummings, Nadia Fattah, Vicky Gholson, Gail Harris, Dwight Johnson, and George Lythcott, representing all disciplines within Pratt during that time, recognized a need for a more diverse faculty and student body. The students spent weeks working under the advisement of Professor Eleanor Holmes Norton, Pratt Trustee John Morning, and Ambassador Ulric Haynes, developing what would become known as The Black Alumni of Pratt (BAP). This affinity group launched in 1990 and led with a very specific mission: "to identify and advance scholastic and professional opportunities for Pratt students and alumni of African and Latinx descent." This group of young creatives was keenly aware that in order to raise the funds necessary to accomplish their mission, BAP could not be a "traditional" alumni organization, and they would have to take risks and utilize the art and design skills they learned at Pratt. It's exactly what they did. Here are the results.
BAP 30th anniversary journal cover designed by Richard Menage
Scholarships and Stipends
In 1997, a contribution from the late Brooke Astor established the BAP Endowment. By 2002, the endowment had reached $1 million. To date, BAP contributions have exceeded $5 million, and have helped to financially support more than 1,200 Pratt students.

In 2015, BAP, in partnership with global marketing firm McCann Worldgroup, launched the Marcio Moreira Multicultural Scholarship for Pratt's junior and senior Communications Design students. In 2018, it was renamed a fellowship and opened to junior and senior students and Associate Degree (AOS) students earning degrees in Digital Arts, Film/Video, Photography, and Writing.
In this 30th anniversary year, the Balenciaga/Black Alumni of Pratt (BAP) Full Scholarship was established offering two full undergraduate scholarships for students in the School of Design, School of Art, and School of Architecture—including tuition, fees, room and board, supplies, and books. The first scholarships will be awarded for the fall 2021 semester.
Celebration of the Creative Spirit Scholarship Benefit Gala
In 1992, BAP hosted its first gala, honoring the late Nancy Wilson, on the lawn of Caroline Pratt House. To date, the gala has been held at such venues as The Carlyle the Waldorf Astoria, Jazz at Lincoln Center, the Four Seasons Restaurant and Park Hyatt New York honoring the following:
Special Events
The BAP Holiday Party, High Tea, and Alumni Day Receptions have celebrated outstanding alumni and distinguished leaders.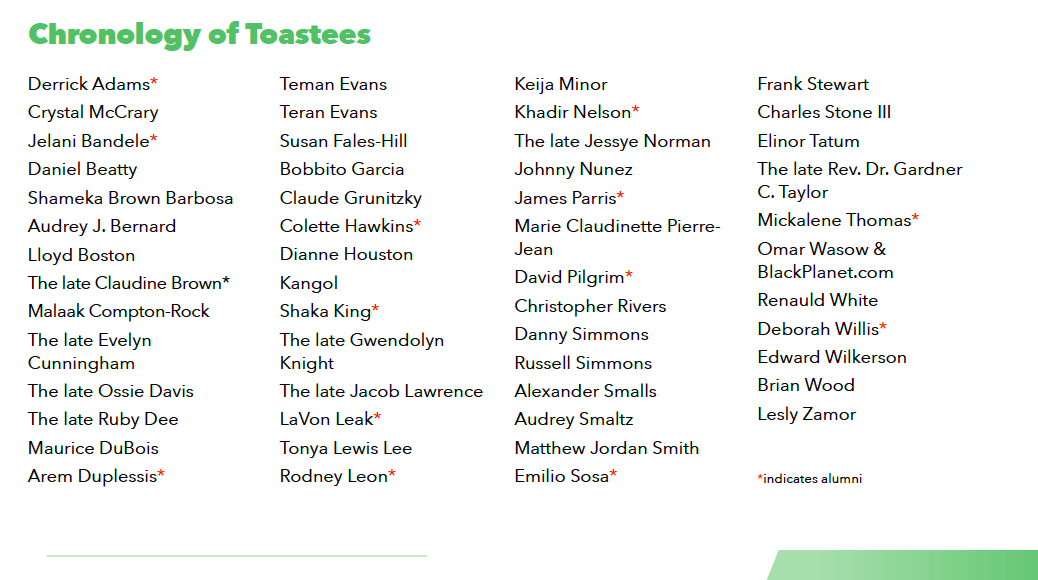 During the last three decades, BAP has hosted a variety of events paying tribute to Pratt students, alumni, and supporters, launched new initiatives, and enjoyed the support of notable art and design, corporate, entertainment, and political figures.
1993 BAP 30/30 exhibition juried by Jacob Lawrence
1994 BAP's first annual career day for high school students
1998 Book signing for Ossie Davis and Ruby Dee's With Ossie & Ruby: In This Life Together
1999 First Lady Hillary Rodhman Clinton attends BAP gala, hosts high tea birthday party for the late Jessye Norman
2000 BAP endowment reaches $1 million
2002 High tea celebrating women in media
2003 101st birthday luncheon for the late Brooke Astor
2009 BAP and friends shop, box, wrap, and present gifts to needy families for Christmas
2010 High tea for BAP's top 50 women supporters in honor of Women's History Month
2011 Theater party for Mountaintop starring Samuel L. Jackson and Angela Bassett
2013 Book signing for David Dinkins' A Mayor's Life
2014 High tea celebrating June Kelly, Prudence Inzerillo, Bethann Hardison, and Marva Smalls
These three decades of success are the result of dedication and diligent work by the BAP Advisory Council, alumni, faculty, staff, donors, and those with a passion for the Brooklyn community and Pratt. Our thanks goes to the late Diane M. Porter, who suggested the organization of a Black alumni affinity group; Warren F. Ilchman, president at Pratt in 1990, who provided a budget and an office; BAP's first staff members, Denise Wiggins and Barbara Harris, who helped lay the foundation; alumnus Ajuba Douglas, who designed the BAP logo; and all of BAP's angels who would like to remain anonymous.
To learn more about the history of The Black Alumni of Pratt, visit Pratt News. Pratt's news page will feature several stories through this milestone year, highlighting BAP's history, leadership, programs, and work with students and alumni. #PrattBap30