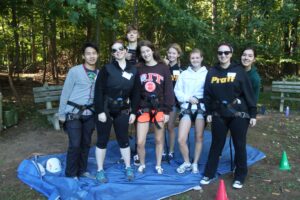 Every student has the capacity to contribute to their surroundings and fellow individuals. At Pratt Institute, every effort is made to ensure that students develop into leaders that can successfully affect change in any environment, amongst all endeavors. Student organizations, clubs, groups, and activities and programs give students the ability to exercise essential student leadership skills, develop relationships, and gain an understanding of personal and group dynamics that parallel real-world situations that Pratt students will face.
Apart from the many activities and organizations that the school offers, a number of leadership development opportunities exist to promote student growth. From new students to seasoned student leaders, from first-year students to graduate students, all Pratt students can emerge into prosperous leaders while honing basic tools for success at Pratt and in the future.
Contact Student Involvement about any of the programs/events offered below at involvement@pratt.edu
Student Commencement Speaker
Traditionally, both an undergraduate and a graduate student are chosen to speak at the Commencement Ceremony.  Applications will be available in the spring semester and a committee will convene to choose the student speakers.  Being chosen is a great honor and carries tremendous responsibility.
Student Leadership Awards
The Office of Student Involvement facilities the process for the annual Student Affairs Leadership Awards program. The ceremony is held in the spring and the awards are given on behalf of the entire Division of Student Affairs.
Students, faculty, or staff may make nominations; self-nominations are encouraged. All nominees will be provided with more detailed award criteria and asked to complete an expanded nomination form.
Award categories are usually as follows:
Outstanding Campus Program
Unsung Hero
Outstanding Involvement in the Residential Community
Chris Kasik Outstanding Service to the Residential Community (Student Staff Member of the Year)
Seraphin Bernard Award (Student Leader of the Year)
Outstanding Organization Advisor
Outstanding Staff Member
Outstanding Student Organization
Helen Matusow-Ayres Student Worker of the Year
Dienamarie Giaquinto Outstanding Sorority/Fraternity Life Leader
Emerging Leader
Thomas F. Schutte Senior Leadership
Graduate Leadership
John Morning Award for Art and Service
Leadership Retreat
Each fall, the Office of Student Involvement hosts a leadership retreat for interested Pratt students. The retreat is an overnight event at a camping center where participants learn about leadership styles and how these styles apply these styles to their own leadership experience. Students who have gone on the retreat over the years have learned concepts that have enhanced their personal leadership paths and increased their self-confidence. There is no cost for the retreat but registration is required.
The Art of Leadership Conference
Primarily for new student leaders, the Art of Leadership Conference is offered during spring semester. Participants can choose from a variety of workshops facilitated by seasoned Pratt student leaders.
Connections
Connections is an opportunity for students to learn about themselves, meet other like-minded students and get involved at Pratt. The five-week, not-for-credit class is during the first part of the Spring semester and addresses: communication skills, organizational skills, identity and diversity awareness, decision-making, and problem-solving. Students may apply for Connections towards the end of fall semester.