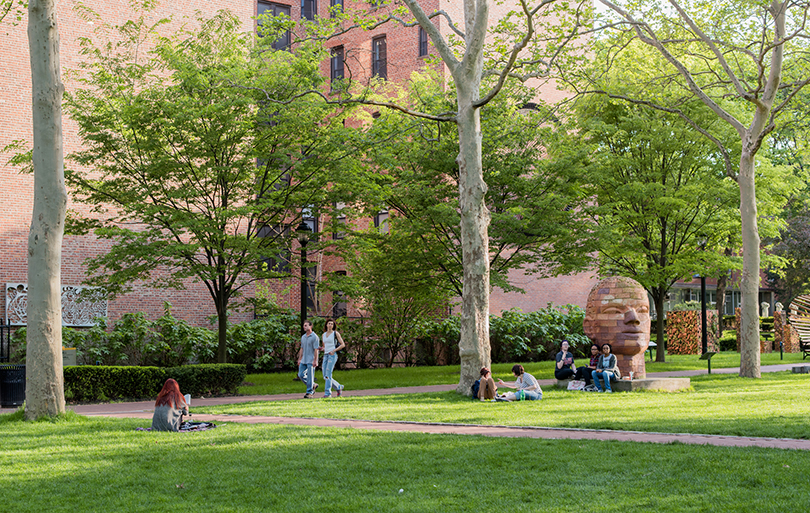 All New Students: International Student Form
There are many things you need to do before coming to Pratt as an international student. Most students will need to submit an application to OIA for a SEVIS Form I-20 to get an F-1 Student Visa. The first step in this process is completing the online International Student Form (ISF). After ISF submission, you will receive an email titled "Next Action Steps" about uploading the required supplemental documents.
This page provides a general outline of the process. After paying the enrollment deposit, you will be given a Pratt OneKey so you can log in and start the ISF.
Transfer Students
Transfer students are students who are transferring from one school in the United States to Pratt, such as from a U.S. high school, language school or other academic institution. Your SEVIS I-20 record must be transferred from your old school to the new school.
Please review the Transfer Process Guide to understand the extra steps involved, especially completion of the Transfer Certification Form.
J-1 Exchange Visitors
Students who require a J-1 Visa need the Form DS-2019 to get their J-1 Visa. Pratt issues DS-2019 forms for students who are fully sponsored by their government or at least 51% by Pratt.
If you are sponsored by an organization such as Fulbright/IIE, LASPAU, or AMIDEAST, they will issue the Form DS-2019 for you. However, you must still complete the International Student Form for Pratt below. We will then remove the OIA Hold.
To see if you are eligible for a J-1 Visa, please contact your sponsoring organization or email oia@pratt.edu.
Other Students
If you are currently in the U.S. in a visa status other than F-1 or J-1 (for example: F-2, H-4, J-2, E, etc.) you must also complete the International Student Form (ISF) below.
International Student I-20/DS-2019 Application Deadlines
Summer start (SCP only) Apply between April 1-April 15
Fall Semester start: Apply between April 1–June 1
Spring Semester start: Apply between October 1–November 1
If applications are received after the deadline above, they will still be processed, but the issuance of your I-20 form may be delayed. Applications are processed in the order received and completed.
I-20/DS-2019 APPLICATION PROCESSING TIME
The current processing time for a SEVIS I-20/DS-2019 is estimated at four weeks from the date you submitted all required and complete documentation.
Please expect up to 10 business days to wait for Dashboard status changes from supporting document uploads. The status change is done manually by OIA staff, so it will not happen immediately. Do not re-upload documents or ask for confirmation in those 10 business days.
We ask for I-20 processing questions to be sent via email rather than phone due to our remote work circumstances and high volume of processing.
We accept status check inquiries to OIA@pratt.edu only after four weeks of a pending complete application. You can check your status at any time via the Dashboard.
Get Started
You can get started on April 1st if you were admitted for the fall semester. Please pay your deposit, and have your acceptance letter and financial statement ready to apply for the I-20.