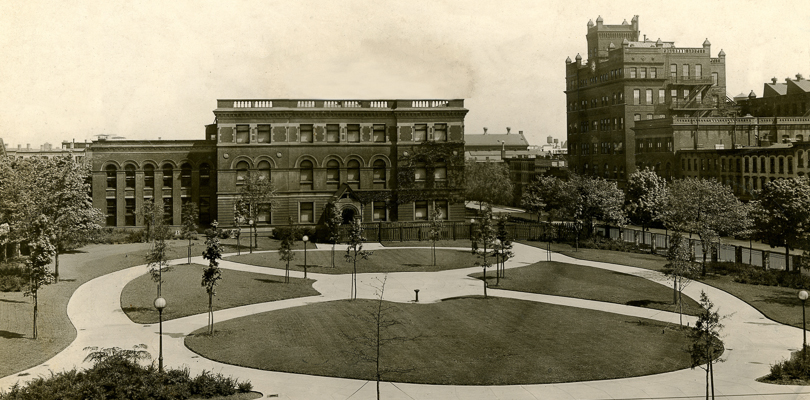 The year was 1887. The economy was rapidly industrializing and New Yorkers needed new ways to adapt to a changing world. Charles Pratt believed deeply in the transformative impact of education, and so set off on a bold mission: to provide an affordable college education to all students regardless of class, color, or gender.
Early graduates from Pratt—whether architects, engineers, or dressmakers—pursued their discipline alongside the liberal arts, bringing an expansive understanding of the world into their chosen craft.
Pratt is still centered around its original 25-acre campus in Brooklyn—today, a rich cultural capital where artists, makers, and creative minds mix. Our home base in Brooklyn is at the heart of a network that now extends into Manhattan and New York state. As we've grown, our roots in Brooklyn have continued to inform who we are and how we serve the communities where we live, work, and teach.
This commitment to work and the world is as true to Pratt today as it was then—and undoubtedly, just as important. Looking back at those early days of Pratt, that moment in history isn't unlike the one we're living through now. Faced with formidable challenges in climate change, equity, and justice, we need new ways of thinking and leaders to imagine a way forward.
At Pratt, we're shaping those leaders. Every day, our faculty inspires our students to question the status quo to create new solutions for real-world problems. Pratt is home to a number of impact-driven centers that push the boundaries of innovation on topics ranging from community development and sustainable fashion, to robotics and data visualization.
As we look ahead to what's next, our search for ideas that have the power to inform the future has never been more important. We will continue to expand access to emerging disciplines and lifelong careers—always with the vision to equip Pratt students with the knowledge and experience to create a better world.
While Pratt was started in 1887, the land our campus exists on to this day was home to communities long before ours, and long before the United States was established. Pratt is situated on Lenapehoking, the traditional and unceded homeland of the Lenape people. Learn more about our Living Land Acknowledgment.