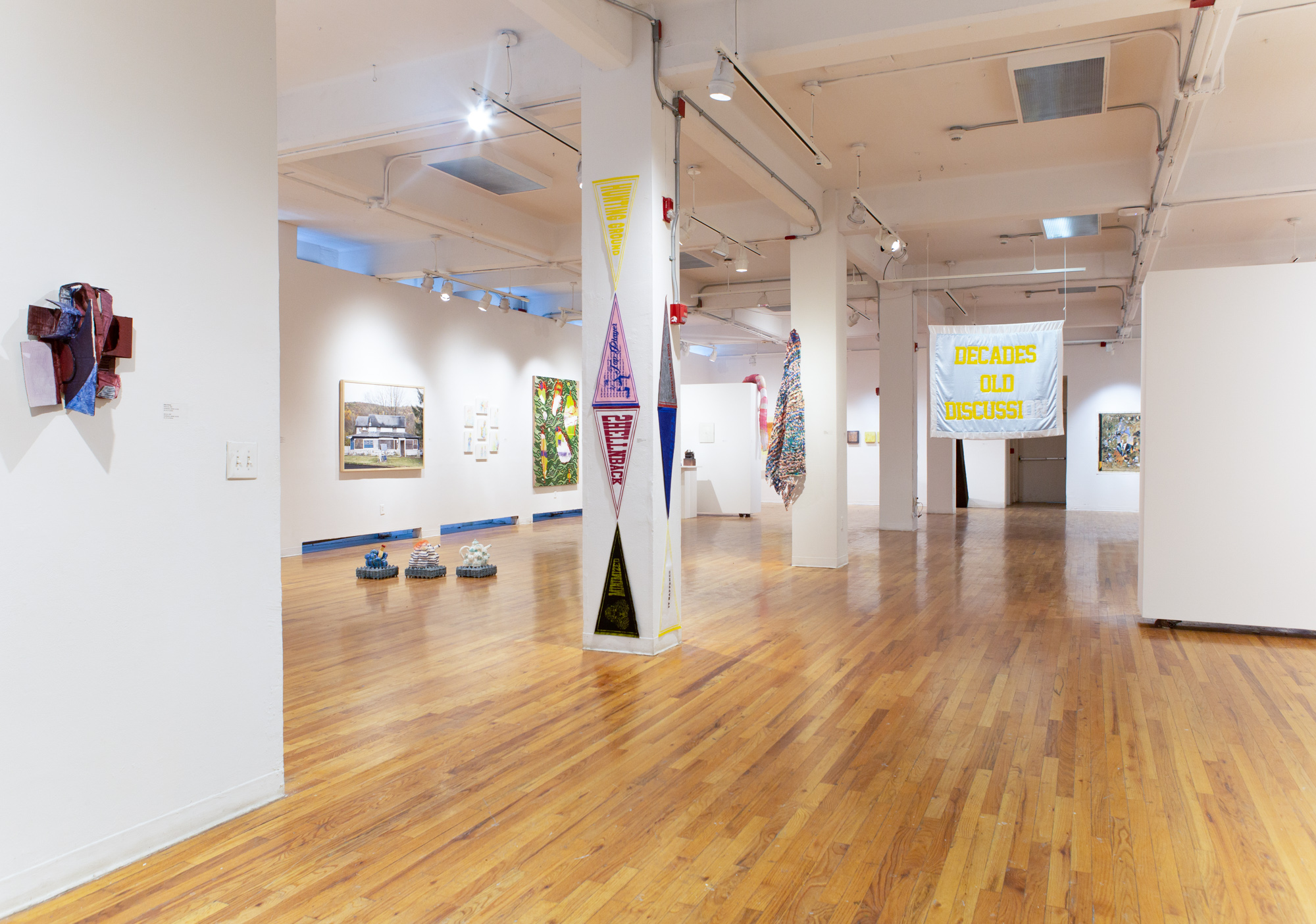 The Schafler Gallery presents exhibitions by Pratt Institute faculty, students, and alumni from all departments. The gallery favors cross-disciplinary topics that reveal how ideas and issues affect our lives from many different perspectives and provides an open forum for the presentation and discussion of contemporary culture. 
Pratt Institute
Chemistry Building, 1st Floor
200 Willoughby Avenue

Brooklyn, NY 11205

718.636.3517
exhibits@pratt.edu
Hours: Monday – Saturday 11 am – 5 pm
The Schafler Gallery is now open to the Pratt Community, and to pre-registered guests.
Guests (except Pratt students, faculty and staff with campus clearance) must be fully vaccinated, visit the following link to register, and agree to the conditions outlined there.
Register to visit the Schafler Gallery below under Current Exhibition
In order to provide a safe environment for those attending Pratt Institute's events and exhibitions, attendees are asked to comply with the following protocols as well as to respect instructions given by Pratt Institute's staff. Please note that conditions are subject to change during the pandemic and to check pratt.edu/coronavirus for the latest information about Pratt events. 
In accordance with Key to NYC guidelines, all visitors age five and older must present one of the following items to enter the gallery:
CDC COVID-19 vaccination card (or photo)
NYC COVID Safe app
New York State Excelsior Pass
NYC COVID-19 vaccination record
An official COVID-19 immunization record from outside NYC or the US
An ID is required that matches the vaccination record.
Registration is required for all events and exhibitions on Pratt's campus. Space is limited and registrations will be made on a first-come, first-served basis. 
Everyone must wear masks completely covering the mouth and nose while indoors on Pratt's campus. Hand sanitizer and masks will be available on Pratt's campus for use.
Visit the Department of Exhibitions on Facebook, Twitter, and Instagram.
Current Exhibition
---
BFA Sculpture + Integrated Practices Thesis Exhibition 
On view from April 18 – May 8, 2022
Opening reception on Monday, April 18 from 5pm -7pm
The Rubelle and Norman Schafler and Dekalb Galleries on Pratt's Brooklyn campus
To attend please register here
More information about the Sculpture + Integrated Practices exhibition here
Please note that the Rubelle and Norman Schafler Gallery has different hours than Dekalb. Official Schafler Gallery hours are listed above, Monday – Saturday 11am – 5pm.
Please join us for the thesis exhibition of our BFA Sculpture + Integrated Practices BFA students. In this culminating exhibition, each student will present a body of work developed during their senior year.
Eris Cereli Avera
Helena Chappell
Rendele Collins
Sage Gentry
Alexa Hartman
Naomi Larson
Madison Maffia
Dillon Monamara
Daniel Menatian
Matalina Moore
Dylan Newlon
Atlas Thomas
Ariana Tottenhoff
Sarah Weiner
Recent Exhibitions
---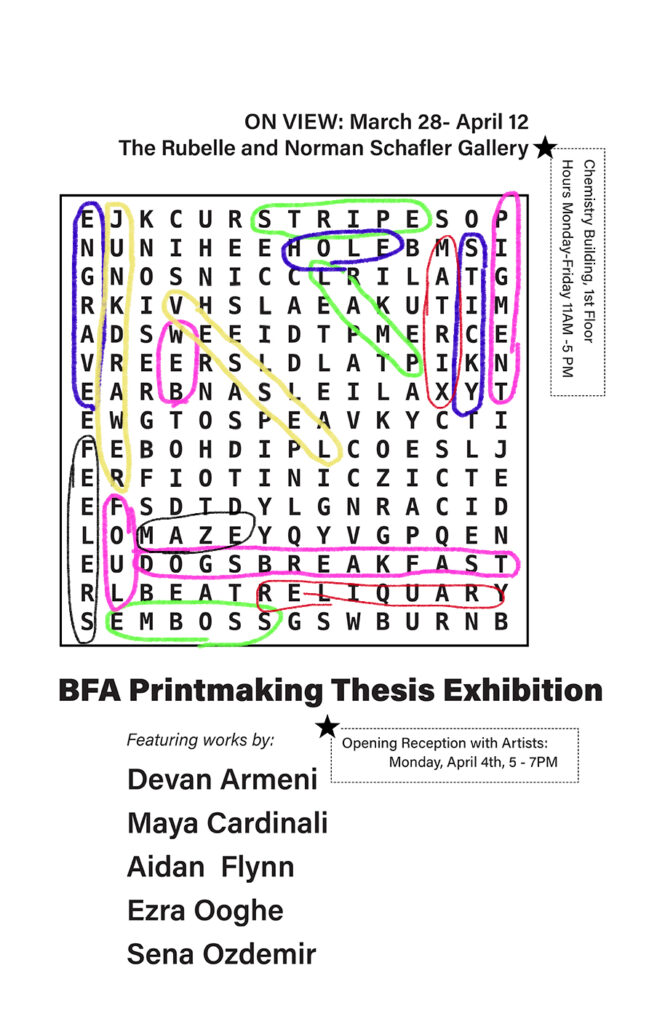 BFA Printmaking Thesis Exhibition
March 28 – April 12, 2022
Opening Reception with the Artists
Monday April 4: 5PM–7PM
Please join us for the thesis exhibition of our Printmaking BFA students. In this culminating exhibition, each student will present a body of work developed during their senior year.
Devan Armeni
Maya Cardinali
Aidan Flynn
Ezra Ooghe
Sena Ozdemir
Open to the public. Registration is required. To attend, please register here
More information about the Printmaking exhibition here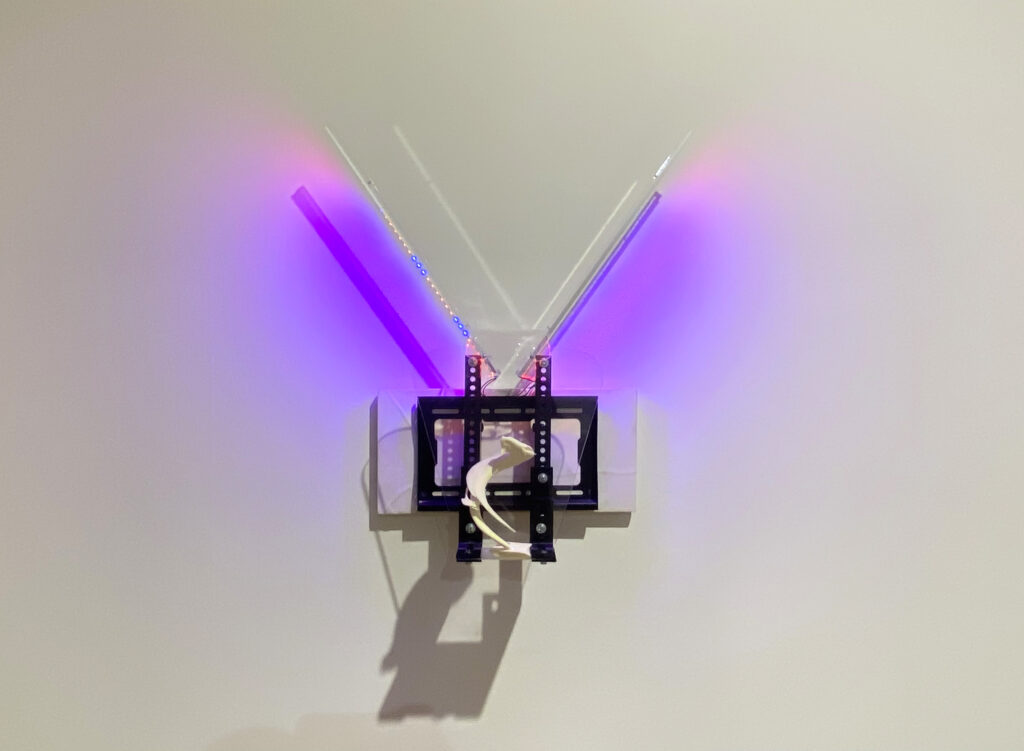 Place/Displace
An exhibition of Art & Technology faculty in the Department of Digital Arts
Curated by Linda Lauro-Lazin, Assistant Chairperson
Department of Digital Arts
On view October 28, 2021 – March 4th, 2022
Including Artists:
Blake Marques Carrington, Mattia Casalegno, Andréa DeFelice, Heather Delaney, rebecca (marks) leopold, Amelia Marzec, Steven Pestana, Colette Robbins, Sophia Sobers, Suzy Sureck, Claudia Tait.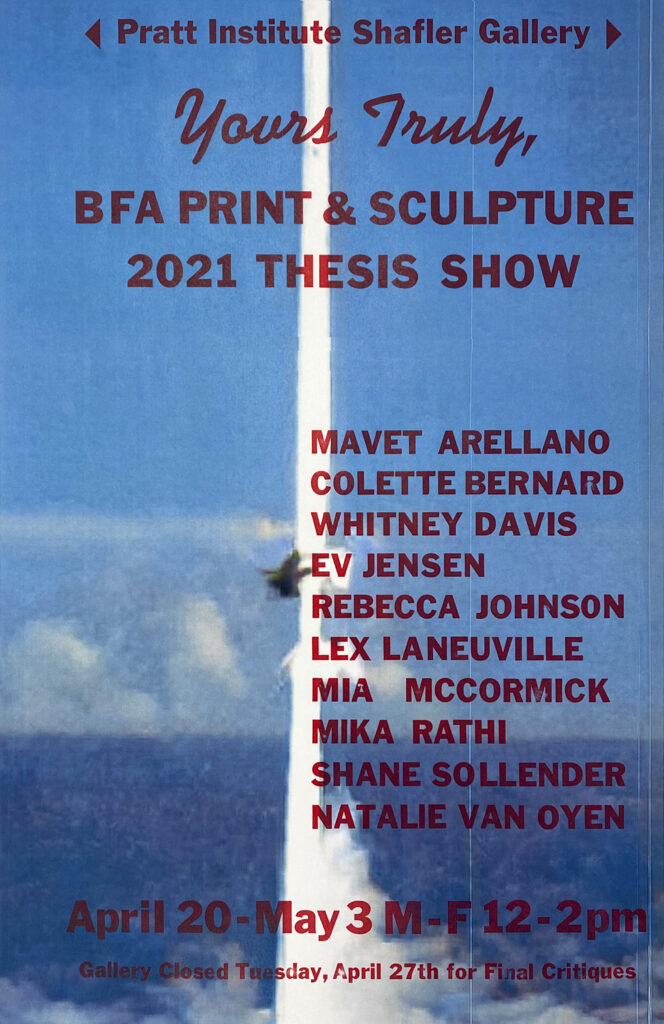 Fine Arts: BFA Printmaking & Sculpture And Integrated Practices Thesis Exhibition
Yours Truly
April 20-May 3, 2021
Hours: M-F, 12-2 pm for Campus Community Only
(Closed Tuesday, April 27th for Final Critiques)
Including: Mavet Arellano, Colette Bernard, Whitney Davis, Ev Jensen, Rebecca Johnson, Lex Laneuville, Mia McCormick, Mika Rathi, Shane Sollender, and Natalie Van Oyen.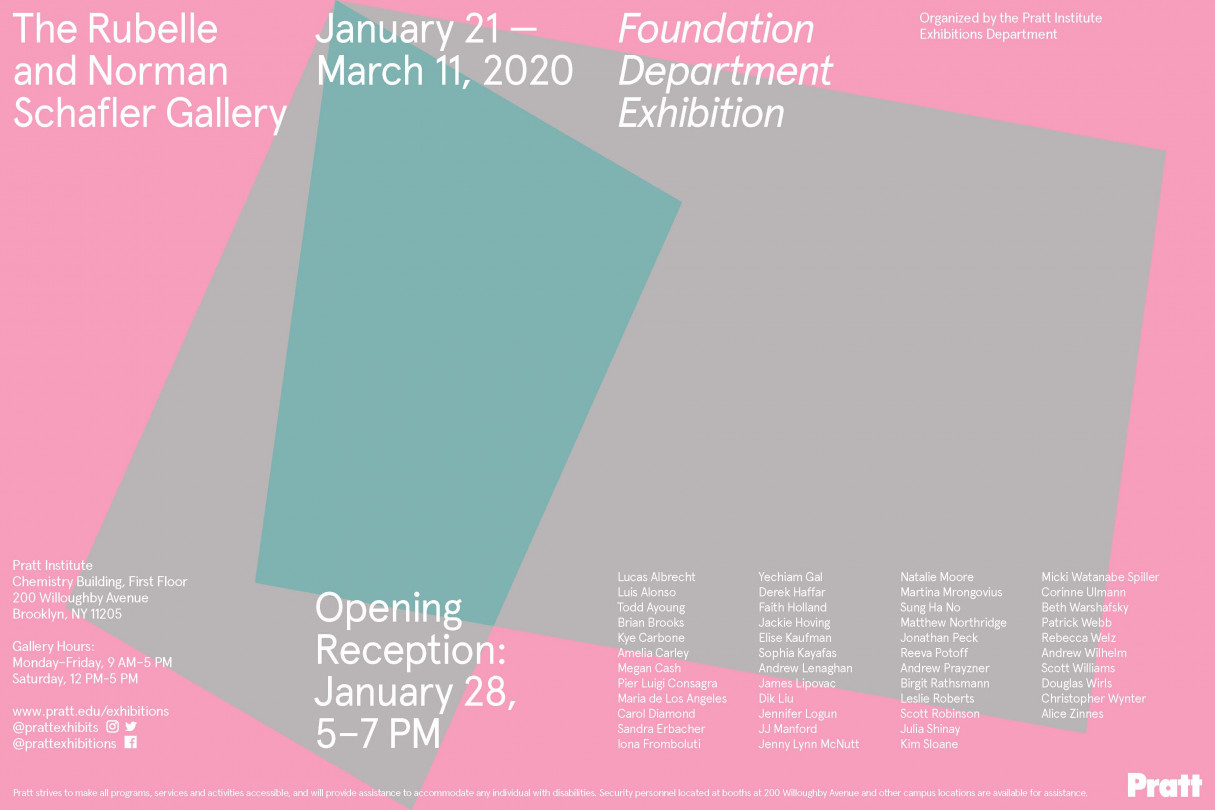 Foundation Department Exhibition
On View: January 21–March 11, 2020
Opening Reception: January 28, 5–7 PM
Featuring works from:
Lucas Albrecht
Luis Alonso
Todd Ayoung
Brian Brooks
Kye Carbone
Amelia Carley
Megan Cash
Pier Luigi Consagra
Maria de Los Angeles
Carol Diamond
Sandra Erbacher
Iona Fromboluti
Yechiam Gal
Derek Haffar
Faith Holland
Jackie Hoving
Elise Kaufman
Sophia Kayafas
Andrew Lenaghan
James Lipovac
Dik Liu
Jennifer Logun
JJ Manford
Jenny Lynn McNutt
Natalie Moore
Martina Mrongovius
Sung Ha No
Matthew Northridge
Jonathan Peck
Reeva Potoff
Andrew Prayzner
Birgit Rathsmann
Leslie Roberts
Scott Robinson
Julia Shinay
Kim Sloane
Micki Watanabe Spiller
Corinne Ulmann
Beth Warshafsky
Patrick Webb
Rebecca Welz
Andrew Wilhelm
Scott Williams
Douglas Wirls
Christopher Wynter
Alice Zinnes
Organized by the Pratt Institute Exhibitions Department.