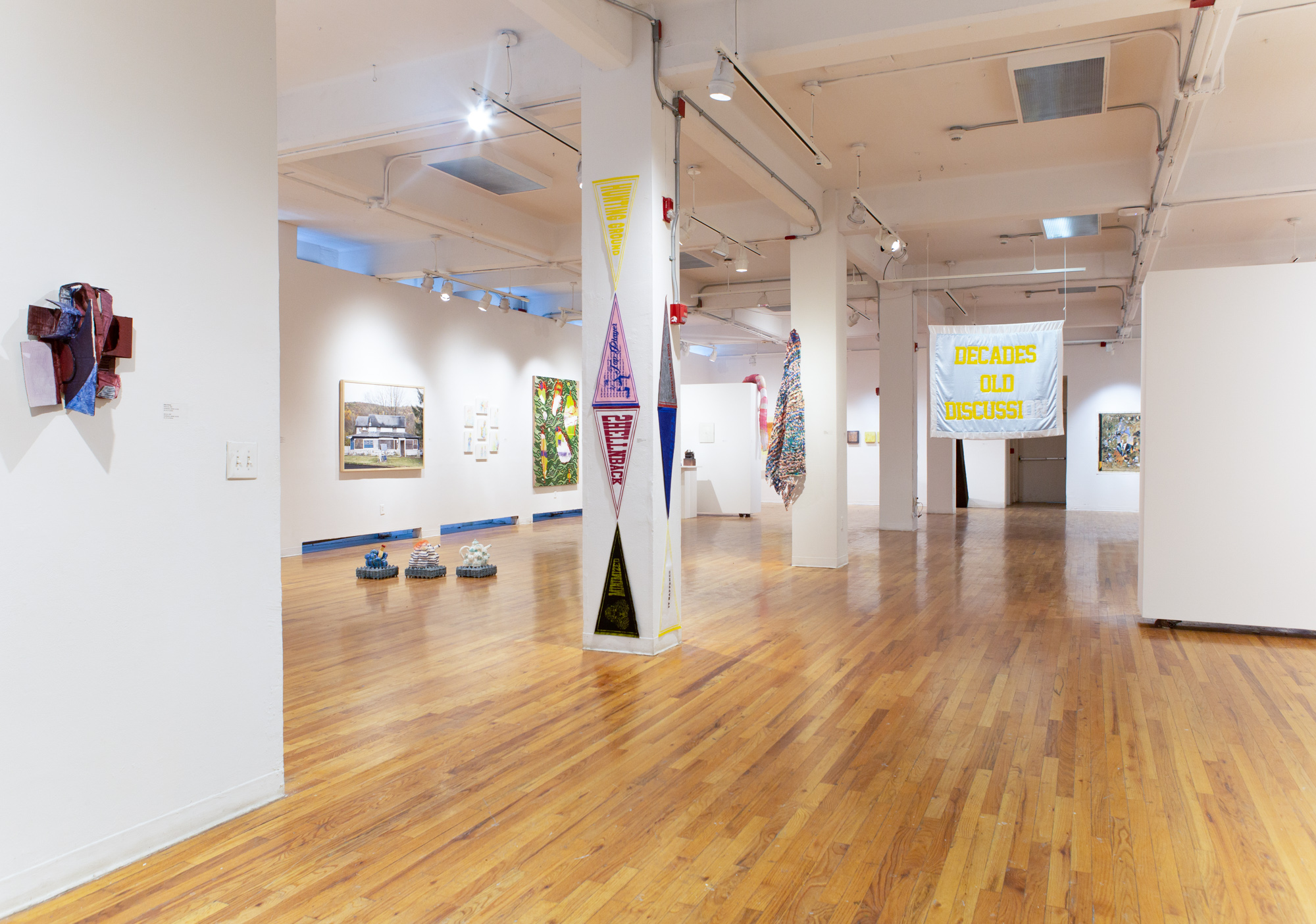 The Schafler Gallery presents exhibitions by Pratt Institute faculty, students, and alumni from all departments. The gallery favors cross-disciplinary topics that reveal how ideas and issues affect our lives from many different perspectives and provides an open forum for the presentation and discussion of contemporary culture.
Pratt Institute
Chemistry Building, 1st Floor
200 Willoughby Avenue
Brooklyn, NY 11205
718.636.3517
exhibits@pratt.edu
Hours: Monday – Saturday 11 am – 5 pm
Visit the Department of Exhibitions on Facebook, Twitter, and Instagram
---
Current Exhibition
Corpus:
Landscapes of Memories and Eternal Sprouting
August 29 – September 30, 2022
Curated by Constanza Valenzuela (BFA Fine Arts Sculpture 17′)
Presented by School of Art and the Office of Exhibitions
With support from Somos Pratt; Center for Equity & Inclusion; Alumni Relations; and Pratt Presents
Artists:
Lydia Allende Hernandez(BFA Communications Design '25)
Mateo Arciniegas Huertas (BFA Photography '23)
Julio Cardenas-Arana (BFA Fine Arts Painting '23)
Andrea Garcia (BFA Fine Arts Painting '22)
Felix Lugo (BFA Art & Design Education '23)
Ariana Milan (BFA Fine Arts Painting '22)
Emily Morillo (BFA Art & Design Education '25)
Kristina Naso (MFA Photography '22)
Christian Ocampo (BFA Film '22)
Dariana Portes (BFA Photography '23)
MADeleine Riande (MFA Fine Arts '22)
Andrea Robles (BFA Fine Arts Painting '24)
Aysia Ciel Ramirez Segura (BFA Digital Arts '22)
Gina Somma (BFA Fine Arts Painting '23)
The human body is central to how we understand facets of identity such as race, ethnicity, gender, and sexuality. The artists in this exhibition, Corpus, explore the complex and fragmented Latine/@/X identity through representations of the body, reflection, presence, and autonomy. In thinking about the body as a vessel of memories, sentimientos, and compartmentalized traumas – and its direct relationship to change, growth, and healing – the artists use the body as a medium to tell a personal narrative and explore a perpetual sense of belonging.
As the body is a site for expressing identity, artists historically have used depictions or taken inspiration from the body for thousands of years to convey and comment on culture, power, social structures, spiritual beliefs, and cultural values. While the Latine/@/X identity is increasingly contested as a unifying ethnicity for over thirty countries with diverse and complicated histories tied to a colonial and racially segregated past, there is an increasing urge in Western institutions for the visibility of Latine/@/X folks and culture, which have previously been neglected, under-resourced, and under-scholarized. Building on a growing presence of Latine/@/X students and faculty at universities in the United States, it is crucial to create and hold space to further examine identity and its ties to historical oppression, media stereotypes, and erasure. From this point on, we can embark on an open-ended discussion of the body and its relationship to diaspora and the Latine/@/X identity.
Let us take a moment to consider the metaphysical understanding of searching for belonging. In a diasporic sense most work in relation to identity is autobiographical, drawing from a personal history of being displaced, misunderstood, and in pursuit of self-determination. Themes in this exhibition include but are not limited to memories, family, trauma, absence, guilt, reflection, healing, sexuality, language, connection, folklore, classicism, Syncretism, and mortality. The body in some shape or form makes a consistent appearance throughout the exhibited work to speak through these themes, their differences, and their commonalities.
Cover art by Lydia Allende Hernandez, Cuánto Duele Tu Amor, 2021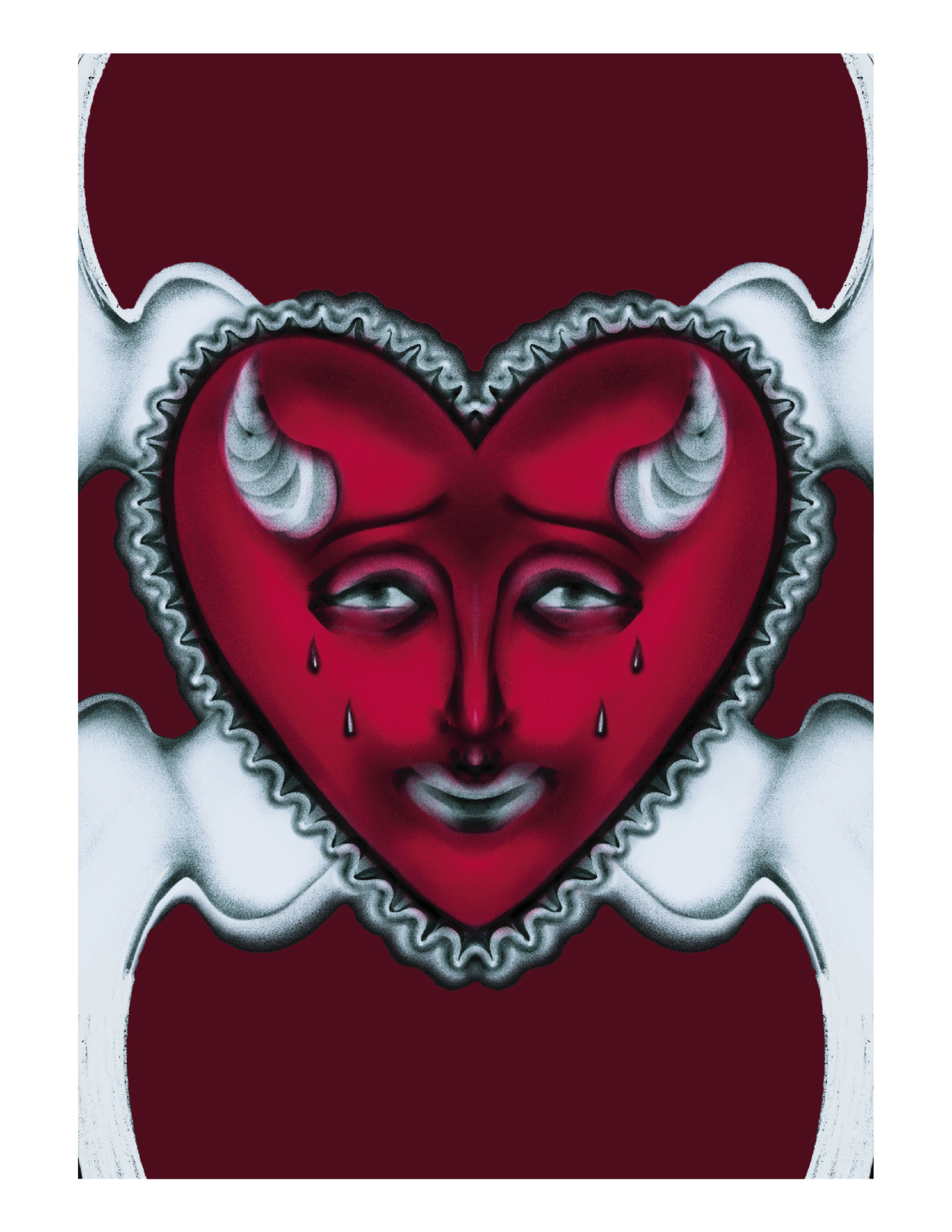 ---
Recent Exhibitions
BFA Sculpture + Integrated Practices Thesis Exhibition
On view from April 18 – May 8, 2022
Opening reception on Monday, April 18 from 5pm -7pm
The Rubelle and Norman Schafler and Dekalb Galleries on Pratt's Brooklyn campus
To attend please register here
More information about the Sculpture + Integrated Practices exhibition here
Please note that the Rubelle and Norman Schafler Gallery has different hours than Dekalb. Official Schafler Gallery hours are listed above, Monday – Saturday 11am – 5pm.
Please join us for the thesis exhibition of our BFA Sculpture + Integrated Practices BFA students. In this culminating exhibition, each student will present a body of work developed during their senior year.
Eris Cereli Avera
Helena Chappell
Rendele Collins
Sage Gentry
Alexa Hartman
Naomi Larson
Madison Maffia
Dillon Monamara
Daniel Menatian
Matalina Moore
Dylan Newlon
Atlas Thomas
Ariana Tottenhoff
Sarah Weiner
---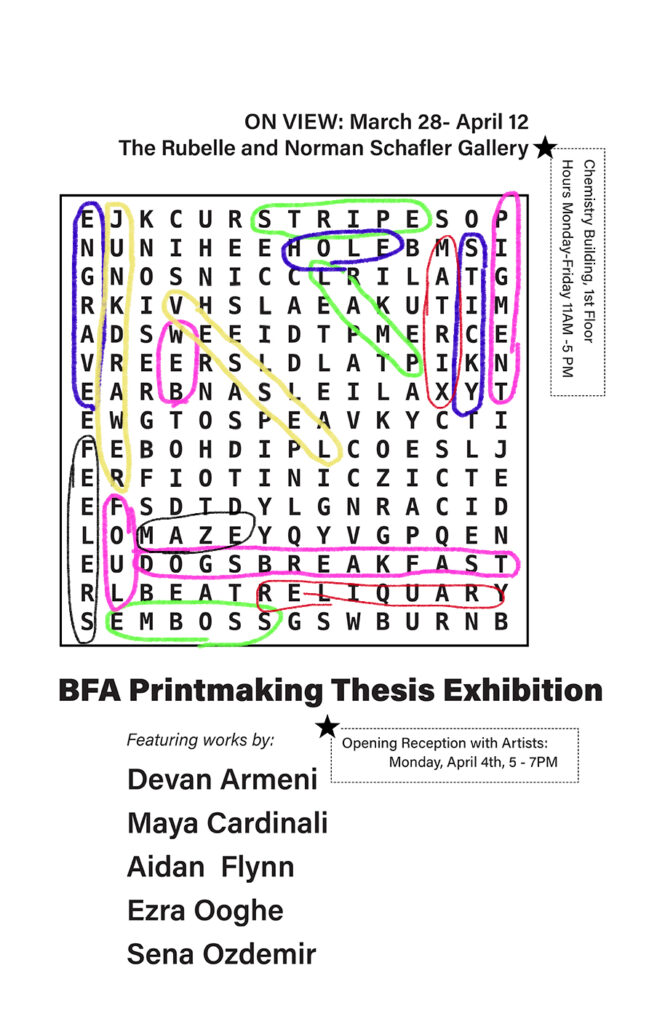 BFA Printmaking Thesis Exhibition
March 28 – April 12, 2022
Opening Reception with the Artists
Monday April 4: 5PM–7PM
Please join us for the thesis exhibition of our Printmaking BFA students. In this culminating exhibition, each student will present a body of work developed during their senior year.
Devan Armeni
Maya Cardinali
Aidan Flynn
Ezra Ooghe
Sena Ozdemir
Open to the public. Registration is required. To attend, please register here
More information about the Printmaking exhibition here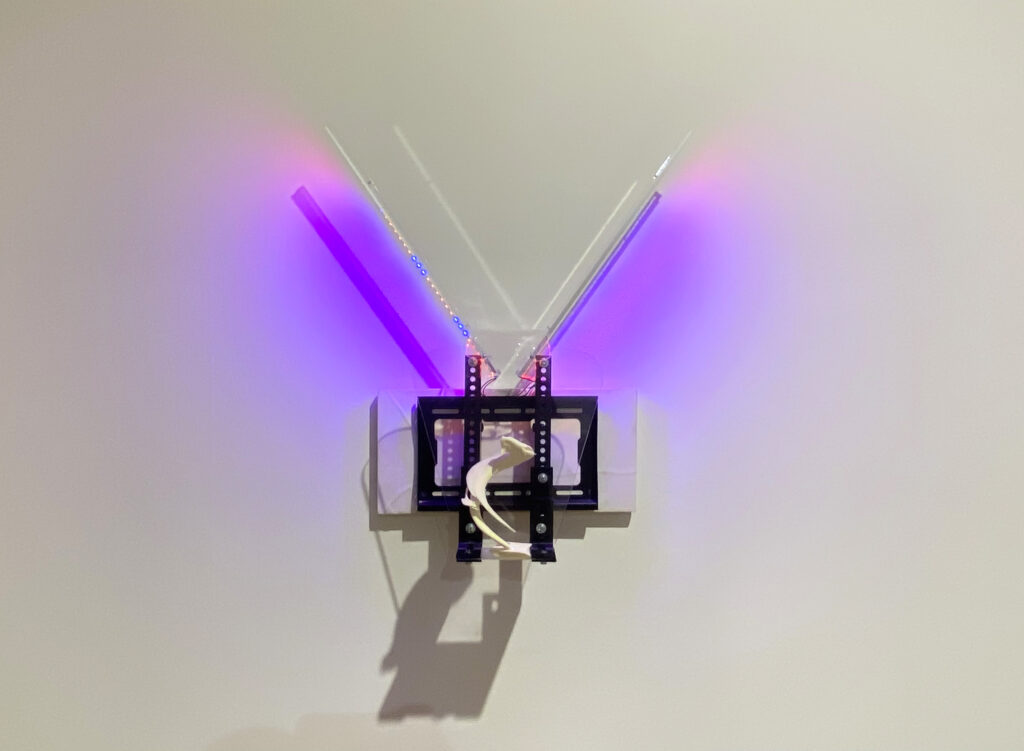 Place/Displace
An exhibition of Art & Technology faculty in the Department of Digital Arts
Curated by Linda Lauro-Lazin, Assistant Chairperson
Department of Digital Arts
On view October 28, 2021 – March 4th, 2022
Including Artists:
Blake Marques Carrington, Mattia Casalegno, Andréa DeFelice, Heather Delaney, rebecca (marks) leopold, Amelia Marzec, Steven Pestana, Colette Robbins, Sophia Sobers, Suzy Sureck, Claudia Tait.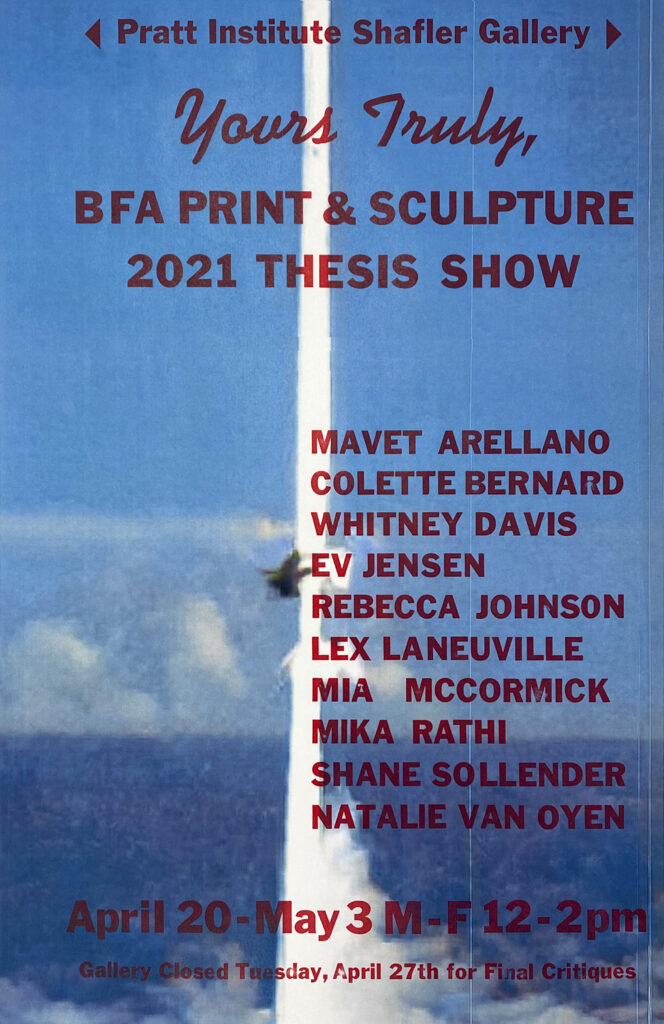 Fine Arts: BFA Printmaking & Sculpture And Integrated Practices Thesis Exhibition
Yours Truly
April 20-May 3, 2021
Hours: M-F, 12-2 pm for Campus Community Only
(Closed Tuesday, April 27th for Final Critiques)
Including: Mavet Arellano, Colette Bernard, Whitney Davis, Ev Jensen, Rebecca Johnson, Lex Laneuville, Mia McCormick, Mika Rathi, Shane Sollender, and Natalie Van Oyen.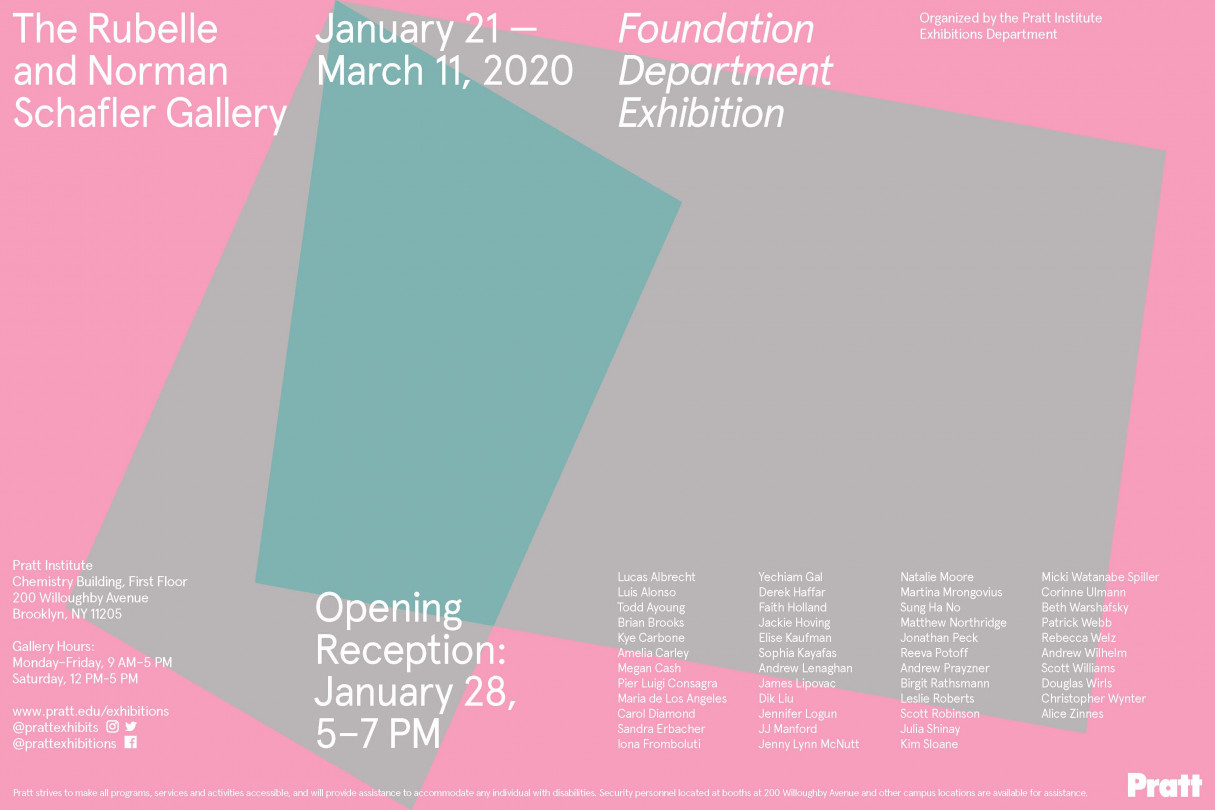 Foundation Department Exhibition
On View: January 21–March 11, 2020
Opening Reception: January 28, 5–7 PM
Featuring works from:
Lucas Albrecht
Luis Alonso
Todd Ayoung
Brian Brooks
Kye Carbone
Amelia Carley
Megan Cash
Pier Luigi Consagra
Maria de Los Angeles
Carol Diamond
Sandra Erbacher
Iona Fromboluti
Yechiam Gal
Derek Haffar
Faith Holland
Jackie Hoving
Elise Kaufman
Sophia Kayafas
Andrew Lenaghan
James Lipovac
Dik Liu
Jennifer Logun
JJ Manford
Jenny Lynn McNutt
Natalie Moore
Martina Mrongovius
Sung Ha No
Matthew Northridge
Jonathan Peck
Reeva Potoff
Andrew Prayzner
Birgit Rathsmann
Leslie Roberts
Scott Robinson
Julia Shinay
Kim Sloane
Micki Watanabe Spiller
Corinne Ulmann
Beth Warshafsky
Patrick Webb
Rebecca Welz
Andrew Wilhelm
Scott Williams
Douglas Wirls
Christopher Wynter
Alice Zinnes
Organized by the Pratt Institute Exhibitions Department.