In her fifth-grade year yearbook, Ariel Tidhar proudly declared she wanted to be a fashion designer. Today, the 2016 Pratt grad has built a remarkably successful business where she imagines, designs, assembles, and ships colorful and eccentric acrylic Judaica jewelry, all from her Clinton Hill apartment.
The 27-year-old's business is online-only, and she's built a massive following of over 10,000 on Instagram. Her pieces, while all Judaica, use a wide range of materials and designs. For Chanukah 2021, she created a collection with Y2K elements, nostalgia-inspired earrings consisting of charms, Swarovski crystals, and purple hamsas—a fresh take on the symbol of a double-thumbed palm, often with an eye at its center. Tidhar jokes that "If Lizzie McGuire ever needed a hamsa, this would be the one!" The on-trend Y2K details, like the vibrant purple and glitter colors, represent a contemporary approach in contrast with the traditional Judaic symbols. For non-holiday-specific items, she uniquely designed Chai Blue Marble Link earrings made from acrylic materials with gold fill hardware. Outside of wearable jewelry, she also created Magen David napkin rings, again with acrylic, coupled with silver fleck details. Her pieces have been featured everywhere from Nylon to Teen Vogue, and Time Out.
Tidhar's designs and jewelry epitomize the power of place. Tidhar, a Clinton Hill resident, sought inspiration from the Hasidic Jewish community that surrounds her in Brooklyn. She explains, "you see school buses with Hebrew letters on them, and kosher groceries on every block," adding that "those visuals in a way were really inspiring to me."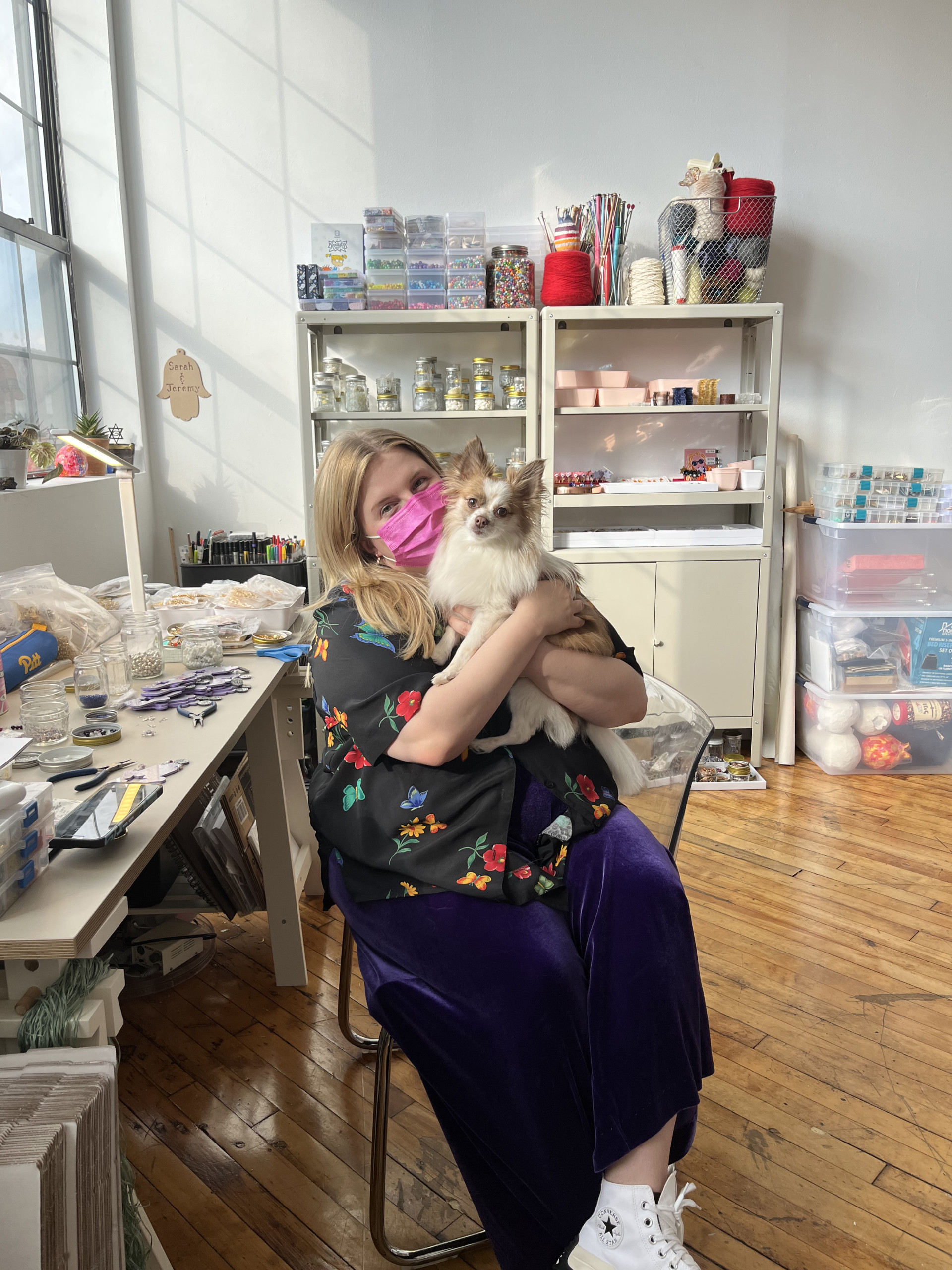 As a fashion student, she used that imagery for a variety of assignments, including a sportswear athleisure collection called "Rabbis at the Gym," and a series of designs inspired by Tzfat, the spiritual city in Northern Israel known for its eclectic and colorful jewelry, further seeking inspiration from physical spaces meaningful to her.
Her place in NYC and Tel Aviv has also helped her navigate the dual identities of being Israeli-American in her work. As a student, Tidhar spent time in Israel and was inspired by "the juxtaposition of Tel Aviv life," which she describes as having elements of city street life shared by New York as well as a particular color and vibrancy, and, she says, "you have these men and women that are dressed in this pristine and modest attire." Her Pratt thesis featured prominent Israeli imagery such as Bazooka bubble gum, a popular brand, and American iconography including the Chicago Bulls logo, a nod to the city where Tidhar was raised. She adds, "I was really attracted to the juxtaposition of those ideas." Her work today continues to dwell in those contrasts.
Clinton Hill has also held ample significance for Tidhar, especially when it comes to expressing her Israeli-American identity. Before launching Ariel Tidhar Studio, her prospering jewelry business, she had a solo gallery exhibition in 2017. The show, titled Rimon, which is Hebrew for "pomegranate," displayed at Hadas Gallery and Synagogue in Clinton Hill, a gallery dedicated to promoting Jewish artists in Brooklyn. It featured a series of custom pomegranates in different sizes and materials, reflections on a fruit that is heavily present in both biblical Jewish texts and present-day Israel. Again, Tidhar found inspiration in her travels through Tzfat, and the city's impressions have been lasting—pomegranates are heavily present in her jewelry designs to this day. From Brooklyn to Israel and back again, Jewish street aesthetics and symbolism steeped in tradition have been Tidhar's muse.
In Tidhar's sunlit Clinton Hill studio, Hebrew stars of David, hamsas, and acrylic pomegranates line the walls. Almost a hundred plastic bowls and containers and mason jars hold beads of many colors, sizes, and materials. In her current business, the mesh of traditional Judaica coupled with modernity is easily felt. Her most recent drop, one of the 8 to 11 collections she releases each year, features hamsa heart link earrings in gold glitter, blue ice Magen napkin rings, and mini Magen David earrings, created from acrylic materials with an option of either gold plated or sterling silver stud posts. Tidhar's roots reverberate in the work, designs that are, in her words, "treading a fine line between fashion and art, but also growing up Israeli and American."
Her work can be viewed at arieltidhar.com.