For civically engaged students today, the years surrounding their college careers have held their share of challenges.
As they began to chart the course of their lives—as high schoolers, undergraduates, and young professionals preparing to return to school as graduate students—the social and cultural conversation took a turn globally, casting a shadow on the expansiveness, creative progress, and nuanced, inclusive worldview that resonates with art, design, and innovative practice. At the same time, this shift also centered issues that had long been consigned to the margins.
This winter, before yet another momentous global phenomenon altered life as they—and we all—know it, Prattfolio spoke with Pratt student leaders, thinkers, artists, and organizers about their participation in these dialogues of change. They spoke about their visions, their worries, their hopes, and how their fellow students can get activated. As they look to the future, though it remains uncertain as ever, the path they see is a shared one, with creativity and critical inquiry acting as forces of understanding, unity, and forward motion.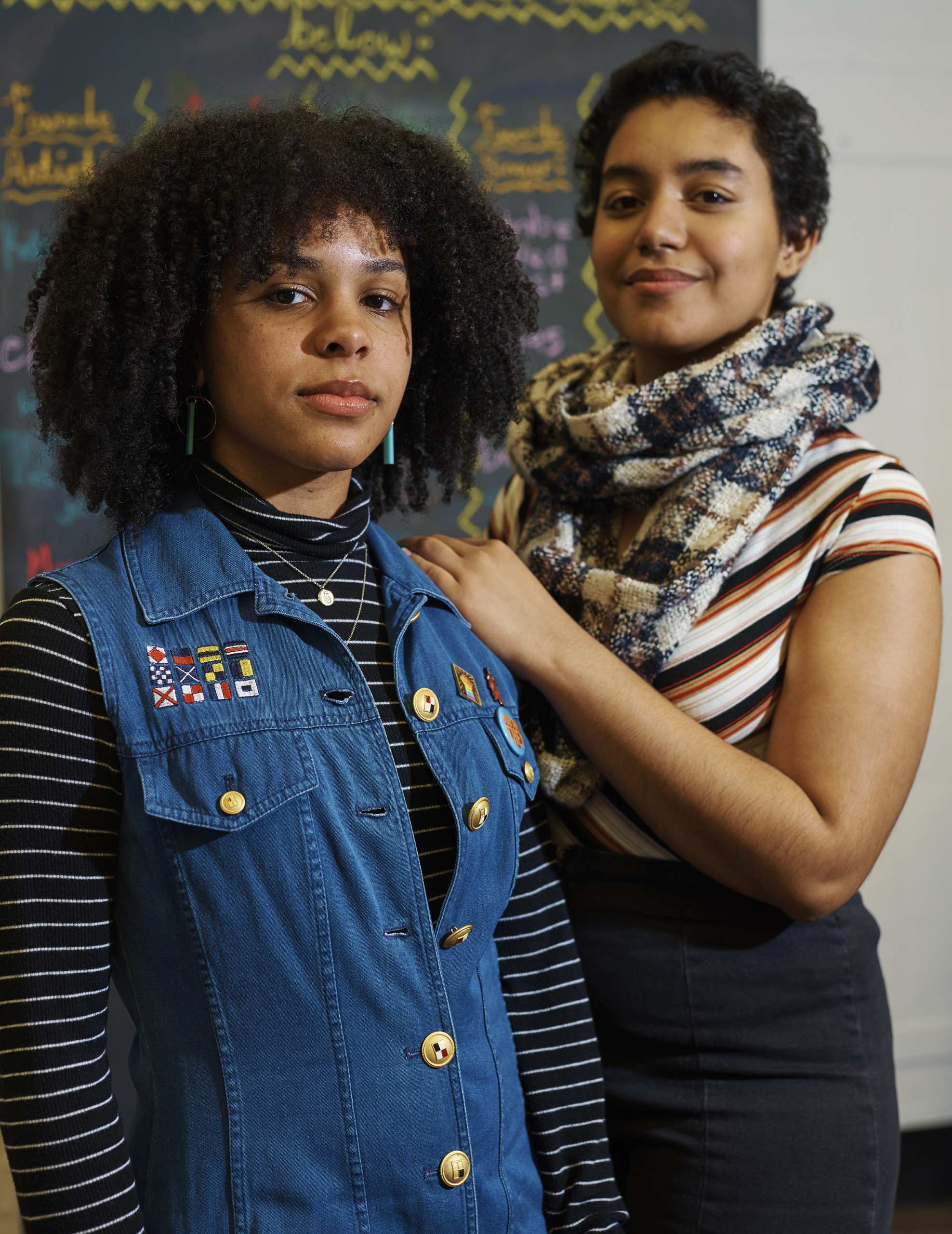 Deanna L. Cepeda and Sarah Kanu reinvigorated the Black Student Union, with a spirit of presence and visibility.
"In the past, it was challenging to assemble students together," says Deanna L. Cepeda, BFA Communications Design '21, copresident of the Black Student Union (BSU) at Pratt. Fellow copresident Sarah Kanu, BFA Communications Design '21, adds, "It was disheartening because there seemed to be a desire and need for Black and Brown students to gather on this campus."
But this year, that need has found its champions. "It is genuinely starting to feel like a committed community is forming," says Sarah. That shift is the result of the two leaders' efforts—with, as they note, the partnership of Pratt's Center for Equity and Inclusion and Higher Education Opportunities Program (HEOP) as well as Traci Abbott, BFA Writing '20, former president of Black Lives Matter Pratt, and Santi Butler, BFA Printmaking '22, former treasurer of BSU—to establish consistent space and time for Black students to, as Deanna puts it, "bring unification and value to our voice, our presence."
When did you first feel like a part of a community of action?
DC: For me, a community is individuals that are vulnerable to one another. They support and build each other through a shared common experience, for one cause. The first time I felt a part of a community was during my sophomore year at Pratt Institute. The friendships and development made within the HEOP, BSU, and the Latinx Student Alliance brought a sense of engagement.
SK: Always. The people I surround myself with tend to be those who are involved and willing to act; I put myself in spaces that require active engagement, and I interact with people who personally find purpose and joy in being a part of a community of action.
What's a challenge you see you and your peers facing that you're addressing with BSU?
SK: Representation, presence, and ensuring we utilize our voice to provide Black and Brown students with the best Institute experience as possible.
When you imagine the world changing for the better, what does that look like?
DC: I have low faith that the current system in place would make change for the better. However, if there was a magic wand to fix our dilemma, then I believe there would be a balance in which money has value but does not promote greed. Where production is cautious and considerate about the planet and the ecosystem. Where education and health are informative, productive, and equal. Our identities would be acknowledged and privilege would be used to build and maintain communities and unity. We would all be viewed and heard citizens of our earth.
SK: To imagine the world changing for the better is not enough. We have to work, and in some cases fight, to make it so.
What worries you about the future?
SK: Passive people content in staying ignorant to reality, people in power who trivialize the climate crisis, globalization, and the erasure of numerous histories and cultures due to Western homogenization.
DC: Despite the partisan system ingrained in society; there is still ongoing "change" to alter the structure of government and economy for the people. Still, FEAR is the only thing that can change the future for the worst. It can take one movement, incident, or action that can instill terror into the hearts of the people, eventually building up hate, despair, and outrage that can be easily manipulated to divide the people, distort a narrative, and overturn the growth in civilization. The act of igniting panic is what worries me.
What gives you hope and makes you feel like "yes, we can"?
SK: People. Presence. Power. When people show up, converse, and support one another. Just having individuals in the room, whether they speak or not, is the most exciting and refreshing part of being a student leader and running a club on campus.
DC: People taking action toward a better prospect should be motivation, not hope, to shift a situation. It is exciting to see a burning devotion that ties everyone together. Yet we should not let hope be the end-all to advancement in communities. Planning, engagement, reaction, and response are what really makes us say "yes, we can."
When it comes to imagining and acting toward change, what is the biggest gift you see in your peers?
SK: In my peers, I see and honor their insight, awareness of history, and understanding of the intersectional ways in which systems influence our everyday lives, as well as their ability to engage in challenged but respectful discourse. I am frequently humbled and ignited by my peers' knowledge and drive.
DC: That they are eager to help, provide ideas, take action, and stand for one another is what I am blessed to see in them each day.
How does what you're studying at Pratt (communications design) relate to the change you want to see?
DC: For now, it is still a blur to me. However, I try to present issues that are pushed aside to create an open dialogue within a space.
SK: I find my work outside the classroom—with the Black Student Union and Student Government—most profoundly reflects my preferred methods in being the change I wish to see. I continue to promote working with others to provide not only a voice but a platform for those whose needs, concerns, or wants do not get met. Also, trying to instill more community-based and horizontal forms of leadership on campus that mimic the work and experiences of many non-Western methodologies that inspire me and should and will change the structure of our society and many other oppressive spaces.
Where to find the Black Student Union: @bsupratt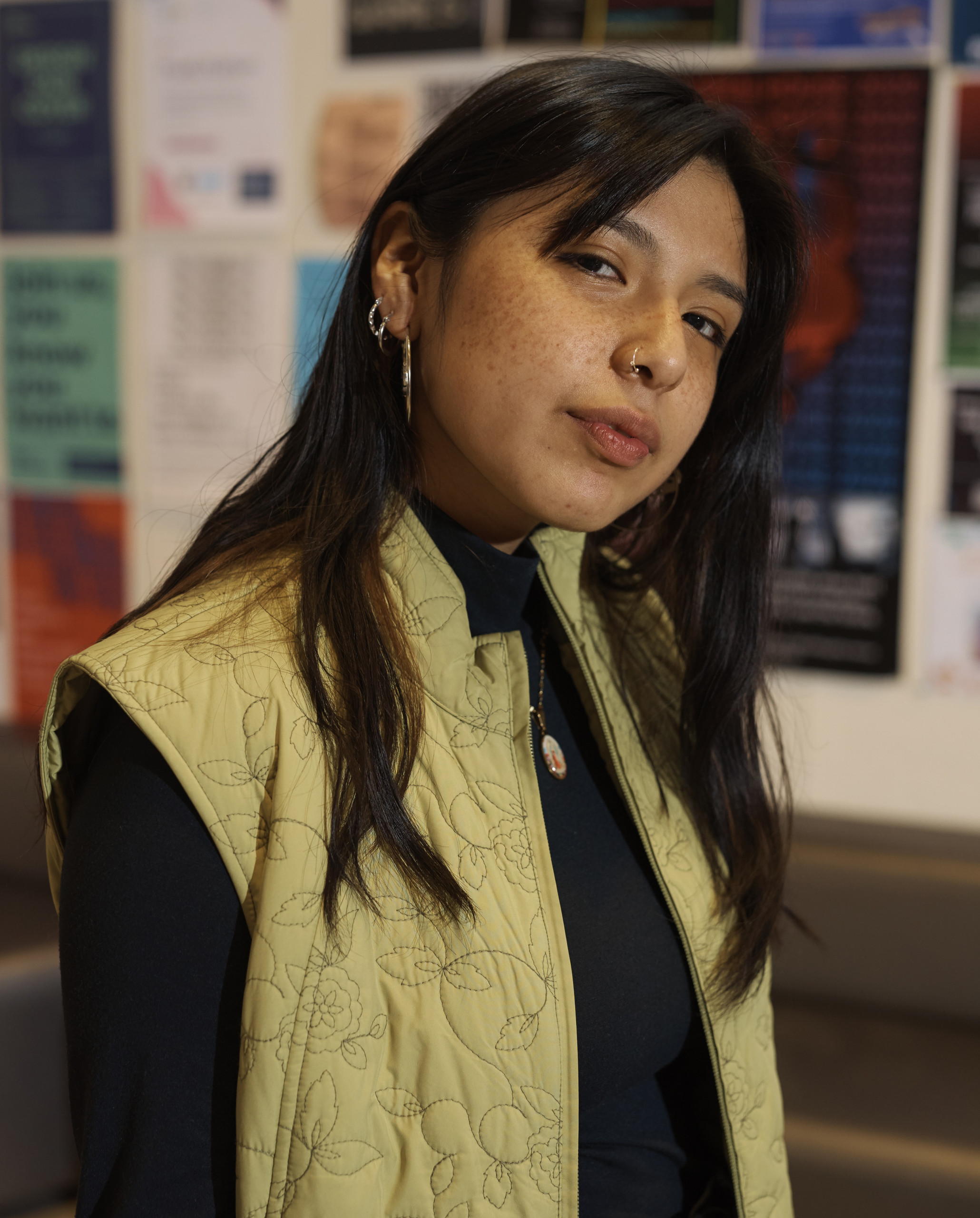 A viral video activated Maribel Marmolejo to protest unjust policing, and then she picked up her camera.
It wasn't the first time. Since high school, Maribel Marmolejo, BFA Film '22, has been making films on social issues—before Pratt, she was part of Downtown Community Television Center's youth filmmaking program in Manhattan, which got her into making documentaries. One of the early pieces she worked on was about March for Our Lives, the 2018 rally for gun reform, which took her to Washington, DC, to film and to lobby. Along with fiction and nonfiction films on themes such as consent and the representation of Latinx communities, her latest project at Pratt observes the recent protests around law enforcement within the MTA system. She became aware of the actions after seeing a video of a subway passenger's arrest that circulated on social media last fall. "I just fell in love with the unified community that was there," she says of the demonstrations she has attended and began to document, almost as a reflex. "This was the first time in my life I have seen my people use their power, and it was the first time I was able to have a camera to capture it all."
What compelled you to join others working toward a cause or a mission?
What has compelled me is the effect criminalization has on those with many disadvantages and how these problems repeatedly get brushed over.
I realized in all of my art, staying away from social or political issues is almost impossible. I have to acknowledge the privilege that comes with speaking up, and I have to use it for those who are silenced with no outlet for them. I have to use it wisely. I just need to use it because I can, even if it gets stepped over.
What's a big challenge you see yourself and those around you facing?
It is often hard to get your input heard on such topics, or even acknowledged. For people like me, that's the usual challenge we face. We don't get taken seriously most of the time.
How has your art allowed you to express your voice?
There are some things I can't verbally say, so I use the camera to say them. Film is an art form that allows groups of people to understand each other regardless of the language. I think that's why I grew up liking film—it brings people together. Here at Pratt, the film community is so accepting on almost every single project. They've helped me find ways to get my ideas out there, and not be scared.
When you imagine the world changing for the better, what does that look like?
When I imagine the world changing for the better, I imagine a place where a person never has to question their value in society due to the color of their skin. Where money does not dominate someone's lifestyle and position in this life. Where anyone from anywhere is welcomed without being detained or criminalized for simply seeking a better life. Where white politicians don't have a choice in what I do to my own human body. Where families are not being forcibly detached. Where we can finally put humanity over law and oh so much more.
When it comes to imagining and acting toward change, what is the biggest gift you see in your peers?
The biggest gift I see in my peers who I am working with is the unquestionable loyalty in helping me achieve my vision. We have similar views on what we want to see on big screens, and therefore, it is just an automatic connection I wouldn't replace. Sometimes we forget the power we have when doubt starts creeping in . . . but determination is definitely another gift I see in my peers.
What worries you about the future?
Being separated from my family, being silenced, and non-satisfaction with what I have done in life.
What gives you hope and makes you feel like "yes, we can"?
What gives me hope is my family. Their daily sacrifices always push me to work hard and keep my head up despite the many obstacles I go through.
How does what you're studying at Pratt relate to the change you want to see?
I think films have a large impact on a person and one single film can change a person's life. Films about real problems finally getting some acknowledgment from larger audiences is the change I want to see.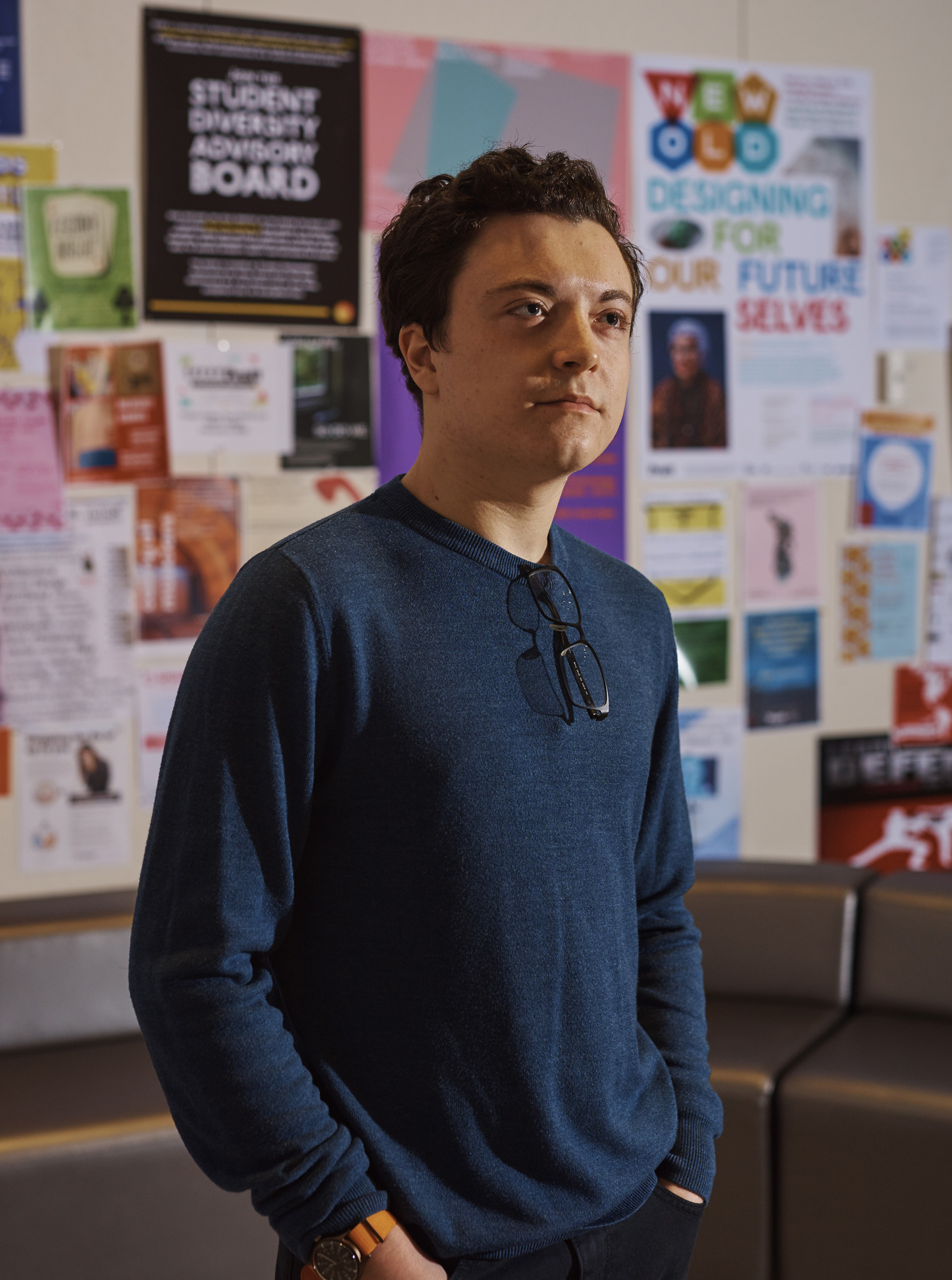 Luc Micera hoped he was wrong about feeling a lack of community. His research showed he wasn't alone.
A graduating senior in Communications Design, Luc thinks a lot about hierarchies, formats, and the ways visual design mediates messaging—particularly in a world filled with digital noise, and through the lens of a busy student. How do we know what's important? How do we all get on the same page? He also thinks a lot about community, what it means to come together and debate, form coalitions, and make change. Among his classmates, he saw critique happening all the time—institutional, social—but didn't see it plugged in in ways that were organized and visible. A project in his Methods of Cultural Analysis course with Nurhaizatul Jamil, Assistant Professor of Social Science and Cultural Studies, led Luc and a group of his classmates to survey fellow students on student culture, representation, and activism. The results revealed that students were passionate but didn't feel activated as a collective. Motivated by these findings, Luc made plans to bring the research results and recommendations to the Student Government. Considering his classmates, Luc says, "We have all the tools to make the changes to the world that we want to make, because we're cultural creators." It's now a matter of taking action together.
What's a big challenge you see your peers facing that you were addressing with your project?
The absence of community. Our project initially aimed to better inform students and to strengthen Pratt's community, but through our research we came to find that there really is no centralized community at Pratt at all, and we think that this is causing or at least aiding a lot of the anxieties and issues felt in the student body.
When it comes to imagining and acting toward change, what is the biggest gift you see in your peers?
The difference between right and wrong matters to them. If that stays true I think everything else will follow.
What worries you about the future?
I worry that we've wandered too far to change course in time to avoid the next chain of crises.
What gives you hope and makes you feel like "yes, we can"?
I am constantly comforted by the notion that things have to get worse before they can get better. With our government as an example, every crisis or act is just another way of revealing where the problems lie and motivating all the right people to fix them.
How does what you're studying at Pratt (communications design) relate to the change you want to see?
Putting my voice out into the world through my work, and curating it to be one of the many that work toward our better future, our stronger community, and our acceptance of those different from us, by normalizing and supporting the ideals and views that will move us in the right direction—that will help effect the change I would like to see. That means, right now, I'm learning the power of said voice, how to most effectively use it, and the politics behind modes of communication and control of information.
---
The following findings are excerpted from Luc Micera's survey project "On Representation, Student Activism and the Socio-political Culture of Pratt Institute," developed along with Alexa Hornbaker, Clay Mears, and Isa Yehya, in Dr. Nurhaizatul Jamil's Methods of Cultural Analysis course, fall 2019.
15% of polled Pratt students consider themselves politically engaged outside of the Pratt community
20% of polled Pratt students consider themselves politically engaged within the Pratt community
90% of polled Pratt students showed interest in becoming more politically engaged within the Pratt community
Students responded that they are aware of the following political groups on campus:
NYPIRG (New York Public Interest Research Group), Black Lives Matter, Socialist Revolution, Queer Pratt, Black Student Union, Pratt Student Government Association, Pratt Feminist Club, Envirolutions, Latinx Student Alliance, Global South Center, Center for Equity and Inclusion
75% of polled Pratt students want to take classes that involve socio-political engagement
Students responded that they are aware of the following classes at Pratt that discuss social, cultural, or political issues:
Curating Culture; The Empire Strikes Back; Talking to Action; Gender and Capitalism; Philosophy and Race; Social Praxis Lab; Art, Community, and Development; Shaping the Contemporary City; Islam from Muhammad to the Great Khans; Visual Analysis; Fashion and Sustainability; Fashion Labor and Justice; Creative Cultural Organizing; Social Practices, Students, and Protest; The Art of Protest; Big Impact; Gender Studies; Culture, Identity, and Power; Sexual Politics; Memphis to Ferguson
50% of polled Pratt students are aware of Pratt's Social Justice/Social Practice minor, Sustainability minor, and/or other programs under the Global South Center
100% of polled Pratt students feel that there are changes that need to be made to Pratt's community—including "more collaboration and communal vibes" and "building school spirit and a tight community from day one"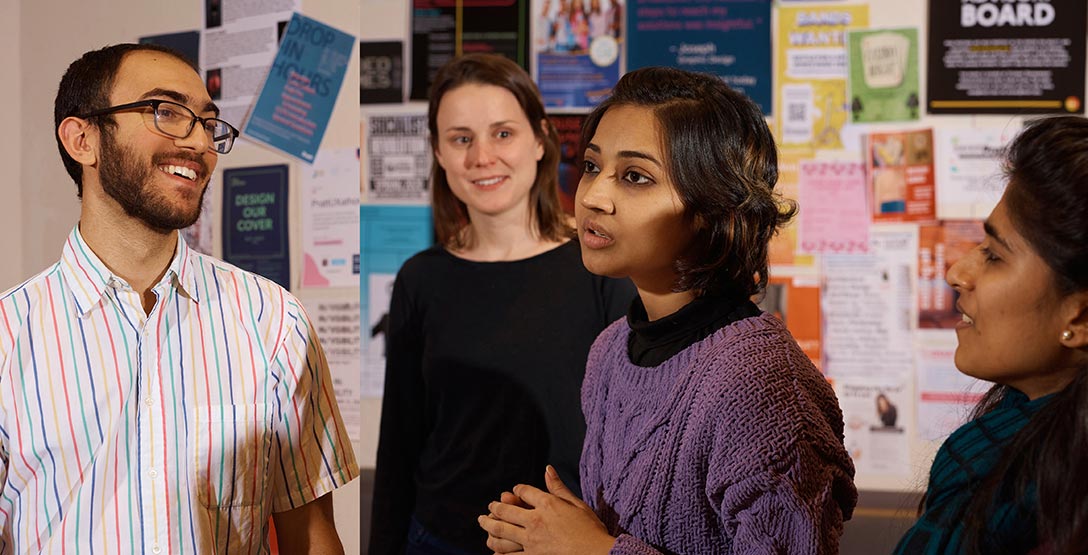 Ben Matusow, Haley Balcanoff, Pankti Mehta, and Sneha Mokha say there is no time to waste.
As members of LEAP, or Leaders of Environmental Advocacy at Pratt, Ben Matusow, Haley Balcanoff, Pankti Mehta, and Sneha Mokha—all MS Sustainable Environmental Systems candidates—work alongside like-minded organizations on campus to push the conversation toward sustainability, compelled by "the urgency of changing our actions to be more consistent with the needs of earth's ecosystems." They can be found at Pratt's Blue Week in the fall and Green Week in the spring, the annual awareness-building event series that focus on education and actions around water and general ecological topics, as well as participating in actions in the larger community such as the Climate March last fall. (They coauthored their responses to this interview.)
When did you first feel like a part of a community of action?
As soon as we started classes at Pratt. Everyone in the Sustainable Environmental Systems program brings a passion for action. Whether it's through our practically applied courses or through LEAP, we're all attempting to move the world in a more sustainable direction in one way or another.
What's a big challenge you see you and your peers facing that you're addressing with LEAP?
A big challenge we've tried to address has been to inspire institutional initiatives and policies that align with what we are studying. Learning about the harmful environmental impacts of plastic manufacturing, for instance, and then observing that plastic use is encouraged in many spots around campus, has created an obvious opportunity for action.
When you imagine the world changing for the better, what does that look like?
It looks like more intention and awareness of how our actions impact the earth's systems. It looks like the general population having basic needs covered so that we can all gradually focus on acting with more intention and awareness. For instance, even if we don't all immediately stop using internal combustion engines to get around or burning natural gas for electricity, a step in the right direction would be a widespread deep understanding of how burning these fuels affects temperature and carbon dioxide and the long-term ability of ecosystems to thrive.
What worries you about the future?
Too little, too late. In terms of climate change, income inequality, gender inequality—all of it. While we have been moving in the right direction in many ways, it never feels fast enough.
What gives you hope and makes you feel like "yes, we can"?
The plethora of legislation that has been passed at the state and local levels is a great reminder that both lay people and politicians are starting to understand the urgency of climate issues. A great turnout for the climate march is inspiring. Banning the sale of plastic bottles in campus dining halls as of January 2020 is an example of how hard work pays off, and that change really is possible.
How does what you're studying at Pratt relate to the change you want to see?
The Sustainable Environmental Systems program has opened our eyes to all kinds of ways to make the world a better place, in fields ranging from energy to ecosystems to land ownership, and countless others. A beautiful thing about this program is that it is incredibly well-connected to professionals who are working on these issues in their careers. Access to so many talented and prolific individuals helps us take the first steps, as students and professionals, toward finding solutions to the issues that would otherwise seem very daunting.
Where to find LEAP: @leap.prattinstitute; commons.pratt.edu/leap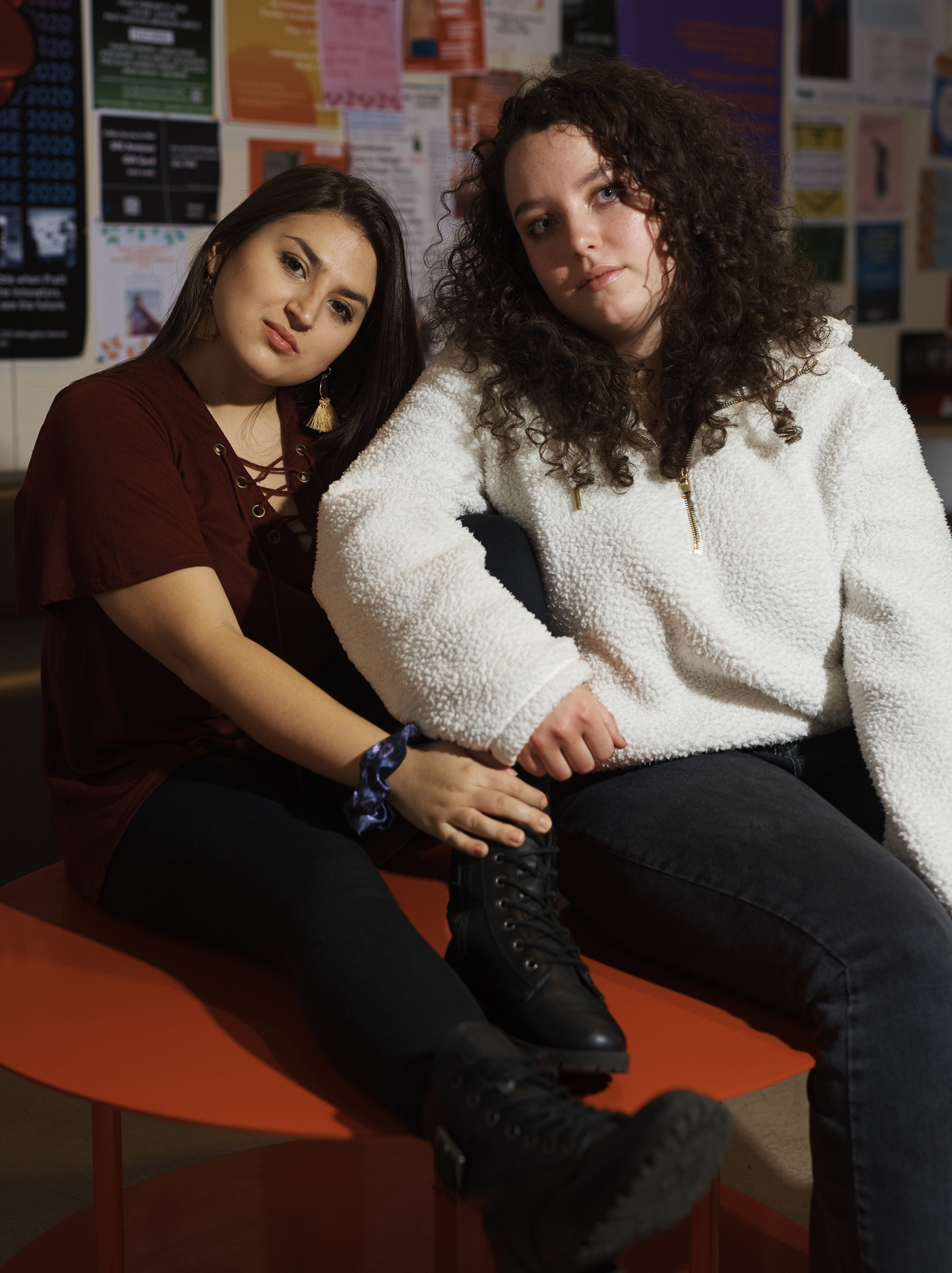 Lexi Anderson and Aliza Pelto give ink to the conversation around campus.
The motto of The Prattler, Aliza Pelto, BFA Writing '21, points out, is "student read and led." While the voices and formats have changed over the newspaper's 80 years, its editors' dedication to amplifying the Pratt student voice remains. Aliza, who has served as editor in chief of The Prattler this year, and managing editor Lexi Anderson, BFA Writing '21, along with their fellow Prattler staffers, are committed to continuing that tradition. "People love and care about so many things but often, young people especially, don't have the space to talk about the things they love as in depth as they would like," says Lexi. "At The Prattler, we try to create a space where students can write freely and without fear, addressing all the different problems and passions they may have."
When did you first feel like a part of a community of action?
LA: I first felt like I was part of some kind of community back in high school. I was in school during the lead-up to and eventual election of Donald Trump, and my school felt very split. There was a lot of anger and hate being thrown at certain groups of people, LGBTQ in particular. I think a lot of it was my peers and I standing our ground and speaking up in the classroom when we witnessed things that we didn't think were okay.
AP: As a teenager in high school—more specifically, after the 2016 elections. A group of friends and I put together a rally the Friday after the 2016 election, in support of love, peace, and the marginalized individuals at our school who would be most greatly impacted by the Trump administration. About 50 kids showed up, and it felt great to have our voices heard.
When I came to Pratt, everyone was extremely vocal about politics and social issues. One of the first issues I worked on at The Prattler was "Fierce and Femme," and the next "Diversity & Inclusion." It felt great to be able to write about issues I was passionate about alongside like-minded people.
What compelled you to join The Prattler and foster a platform for student voices?
AP: I joined The Prattler for the same reason most students do—I wanted to have my voice heard and I wanted to do what I loved, which was writing. Aaron Cohen [BFA Photography '20], the editor in chief before me, really drilled into us that our voices were valid and that The Prattler was a platform we could raise our voices on, and he had the same thing told to him by the previous editor—so when I took over, I wanted to keep that up.
LA: I've always loved writing and journalism in particular, and I was the editor in chief of my high school's newspaper, so The Prattler was always something I wanted to do here at Pratt. I think The Prattler is great because (unless you're being hateful) you can write about whatever you want. That could be something political or it could be some weird obsession you have that you want everyone to know about.
What's a challenge you see you and your peers and communities around you facing that you're addressing with your work on The Prattler?
LA: Accessibility, representation, climate activism . . . the list goes on. At The Prattler we have themed issues, so different themes bring out different conversations.
Our first issue of the school year was "The Forecast Issue," so we pushed for things related not only to the future, but to the environment specifically. The next issue was "The Forgotten Issue," so we were focused on pieces that gave a voice to overlooked/forgotten members and groups in society. For that, we had an article about Weeksville [the historic pre–Civil War Brooklyn neighborhood founded by free African Americans], which was super interesting.
AP: Right now, I'm thinking a lot about our fourth and final issue of the year, which is "The Recovery Issue." We're hoping student writers will reflect on this trying year and come up with ways to cope and recover, ways people can care for themselves in the world today and as members of this institution.
When it comes to imagining and acting toward change, what is the biggest gift you see in your peers?
AP: I think as artists, we have a unique connection to wanting to change the future. While we may not be the people in office who have the power to change things, we have the power to make art about [the issues we care about]. To spread the word. To write, take photographs, and so on.
LA: We care so much. The passion I see in everyone around me is incredible. When we see problems, we say something. We're not afraid to speak up. We're not afraid to express our opinions. I think a lot of it has to do with us being fed up, which could be seen negatively—but if anything, I think it's simply a catalyst for change to be done. Essentially, I feel like my peers are not complacent or ignorant. We are a very politically charged, knowledge-seeking group, and I think that is so important considering the time period that we're in.
What gives you hope and makes you feel like "yes, we can"?
LA: There's a lot being done, a lot of changes already being made. I think the biggest thing is just that the conversations are happening, that they're there, and that it's so obvious that people care and are willing to do what they can to make things happen. It's hard to see it, in the day-to-day, but it's there.
AP: Honestly, Gen Z kids give me so much hope. I am on the older side of Generation Z, but the kids just a few years younger than me are so cool, progressive, and active—and I like to think I am too, but I really think kids like Emma Gonzales of March for Our Lives, Greta Thunberg, Isra Hirsi, and so on are going to change the world.
How does what you're studying at Pratt (writing) relate to the change you want to see?
AP: For the most part, the courses at Pratt really encourage people to make a change in the world and/or give them the tools to do so. Now, my Tuesday afternoon class is Writer's Studio, and my teacher encourages us to tell our stories, and teaches us how to do this well. An hour after that, I have a Gender and Capitalism class that is teaching me about the ways capitalism impacts every aspect of our life, and I'm looking at the world differently. I'm thinking about how I can incorporate what I learn into my own art.
Where to find The Prattler: @prattler; prattleronline.com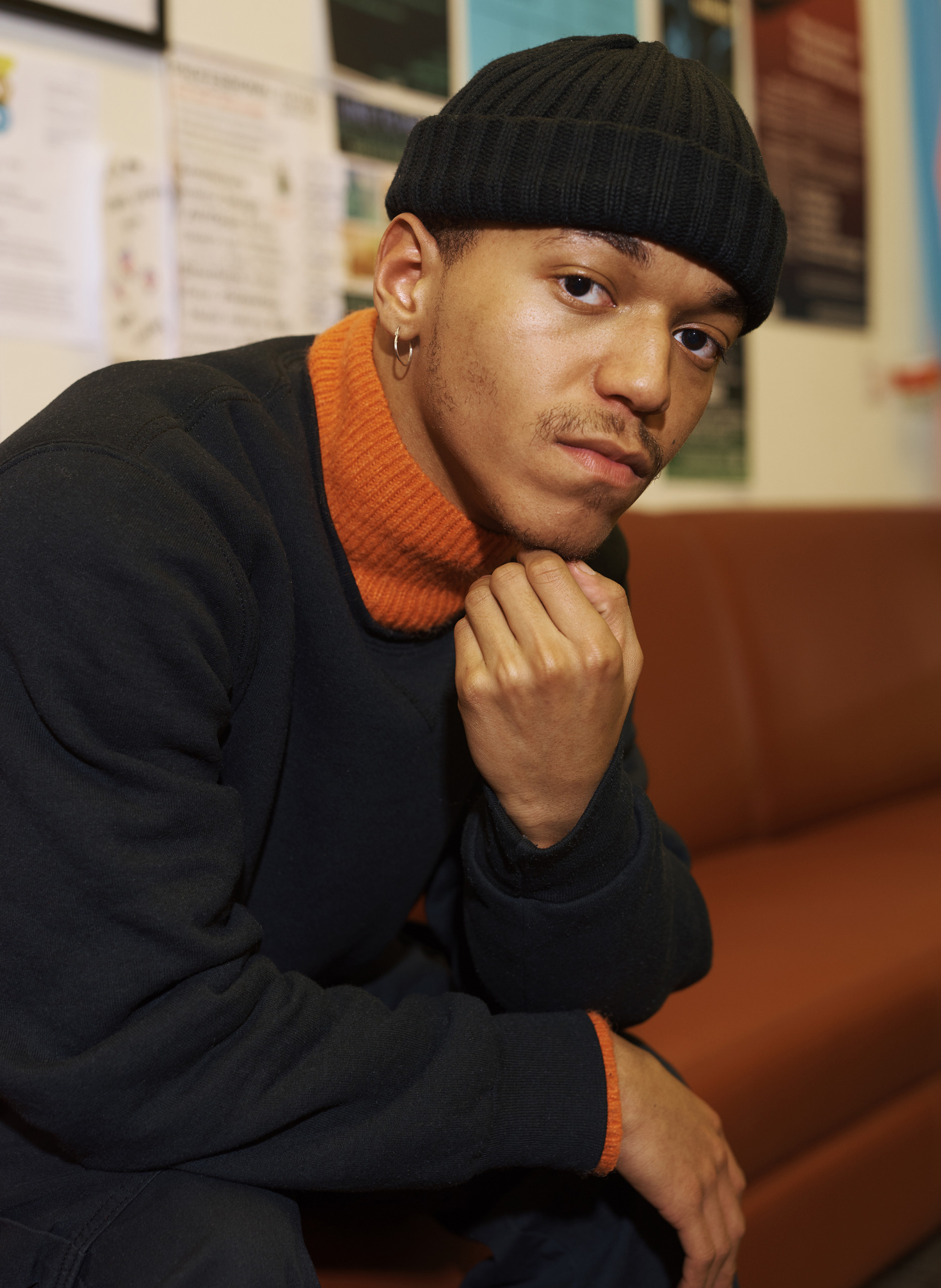 Jaylen Strong practices a politics of togetherness.
From his early years growing up outside of Washington, DC, Jaylen Strong, BFA Writing '21, learned about the elegant ways communities can galvanize and push back against forces of oppression. He cut his teeth in his high school's poetry club and at Busboys and Poets, the cafe and gathering place for artists and activists around the capital. "That's where I learned all these tactics and tools around poetry, writing, and art and also about being together, being vulnerable," Jaylen says, "thinking a lot about collective tenderness and how that looks—a politics of joy—and representing ourselves when we don't have other voices to speak for us, especially being youth." During his time at Pratt, Jaylen drew on those experiences to create A Place to Be, a literary workshop and salon series. Every session focuses dialogue around a topic—from liberation and imagination to eros—for anyone looking for a collaborative space to be vocal or just curious, engaging his writing practice along with "the voice of the people, my community."
When did you first feel like a part of a community of action?
In hopes of avoiding the butchering of my memories, I think a somewhat distant community of action that I can recall being invigorated by was my high school's poetry club. Whether we knew it or not, the space we held was an incubator for art and activism. Together, in communion, we learned tactics and skills not only to write verse and lyric but of vulnerability, tenderness, and a politics of togetherness. We also garnered a kind of reputation, as poets do, as the voice of the people, of the student body.
What has compelled you to organize with others toward a cause or mission?
It is a limb of my personality to be inquisitive about what we can do together. When I have all ten toes to the ground doing street work—protesting—and am disrupting the very fabric of what is socially acceptable, there is a militant joy that occurs. Or when I organize in hub-spaces, like A Place to Be, there is a brand of intimacy between myself and my community that fuels a passion and responsibility to continue toward a mission for social change.
When you imagine the world changing for the better, what does that look like?
My better world looks like one where there is an unprecedented and unabashed unification of people, ideas, and love . . . I want people to be liberated in all facets. [But] at the core, it does not matter what the contents of my imagination are if I do not have kinship and fellowship with my community and communities around the globe. If I am alone in my efforts, I will never have the force of group mobility that can construct new ideas for the world.
What worries you about the future?
That we will perpetuate our past.
What gives you hope and makes you feel like "yes, we can"?
I don't have hope. I think hope may be useless. Instead, I have courage in the place of hope. I am most courageous when I sit and plan with other people. I work for Playground Coffee Shop [in Bedford-Stuyvesant, Brooklyn] and our small 501(c)3, Playground Youth, that works as a collaborative art and activism space, and when we all bring ideas into full-scale initiatives it brings that true feeling of "yes, we can," because we have done it, we do it, and we will continue to do it.
What's the biggest challenge you see you and your peers facing?
Being burnt out! If you are a person who is constantly curious about how to engage in any sort of movement, you will come to a point at which you run through your fuel reserves. It is so important to be cautious of your energy and time. Knowing the inner workings of your psychic, emotional, and physical body is so pertinent to how you will maintain your drive for imagining, deconstructing, decolonizing, and so forth.
When it comes to imagining and acting toward change, what is the biggest gift you see in your peers?
Their ability to think the world anew through innovative and prolific lenses. If not already, their imagination as artists will drive and shift the paradigms that we live in. If it were not for the folks around me constantly being committed to imagining new ways of existing together through their practices, where they invest their activist energy, and how they show love, I would not be the person I am.
How does the work you do while you're at Pratt and what you're studying (writing) relate to the change you want to see?
One of my favorite facets of the work I do is the librarian curatorial process I engage with. I am in charge of the book selection of the Playground Annex, which is an extension of Playground Coffee Shop. There, I employ a selection of books that chiefly prioritizes work from Black, Brown, Queer, and POC authors, artists, presses, and organizations. I do this alongside studying in the Writing Department at Pratt. I think my love for writing and reading has evolved into a fascination with literary access. I want everyone to be engaged with writing that is charged and embodied.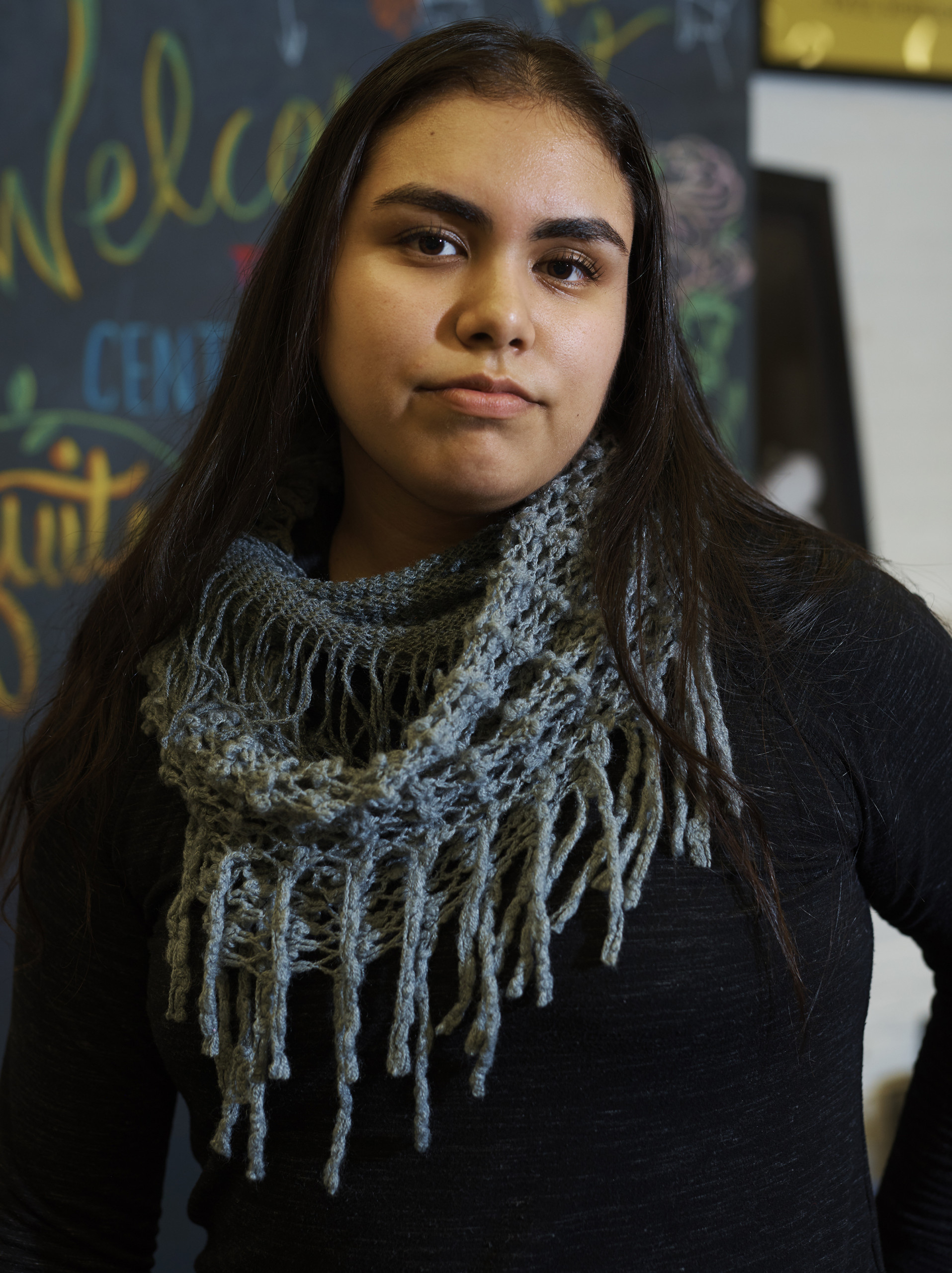 Yessenia Sanchez makes space for Pratt Latinx students to commune.
Upon arriving at Pratt as a transfer student from California, Yessenia Sanchez, BFA Film '21, sought out not only artistic community but also a community of peers that shared similar cultures and traditions. Last year, Yessenia joined forces with now-alumna Emma Vitoria, BFA Communications Design '19, to form a group from the ground up, making the Latinx Student Alliance (LSA) into an official club and solidifying enthusiastic leadership (Deanna L. Cepeda, also copresident of the Black Student Union, is LSA's vice president, and Yessenia serves as president). Filmmaking experience prepared Yessenia to organize people, plan activities, and promote the club's presence to help the LSA gain a foothold. Success has come through consistency—meeting at the same time, same place every week—and cooperation. "I collaborated with other clubs on campus so they could reach out to their people, their connections," says Yessenia. "Collaboration is one of the biggest ways to get people involved."
What compelled you to organize with your peers?
I didn't see any Latinx organizations at Pratt that were already formed or active and I wanted a place to meet with people that I could connect with and relate to. I helped build LSA for myself and for people who are looking for that same kind of connection.
What's a challenge you see you and your peers facing that you're addressing with LSA?
What we're addressing with LSA is inclusivity and appreciation for our cultures. We are doing our best to organize events that highlight our heritage, our traditions, and how they represent who we are. We're proud of where we come from, and we want to share it with our communities. But LSA isn't just about organized events, it's a place to hang out with people of the same identities.
What kinds of conversations are coming up when you come together?
We want to make sure there's enough time for our members to talk about anything they want—how their day was, if they're excited about anything they're working on, if they found a really great Latinx food spot they want to share with the rest of us, etc. We also want our members to know if they want to talk about any struggles they may be facing, whether that be within a classroom, at home, in public, etc., we're a safe space for it all and we're more than happy to be anything they need us to be.
I'm friends with everyone in the club and I miss them—sometimes it's the only time I get to see them during the week. So it's a good time to catch up. We do have some people who just come by once or twice a semester, and even though I would like them to come regularly, I'm still excited they're coming by when they can. Even just to come by and say hi, it matters.
What gives you hope and makes you feel like "yes, we can"?
My peers, the people I've surrounded myself with, and the members of Latinx Student Alliance remind me of what we're truly capable of.
When you imagine the world changing for the better, what does that look like?
If comfort, respect, and acceptance had a physical form, it would be that. Anywhere you go, you would see those three components all the time.
How does what you're studying at Pratt (film) relate to the change you want to see?
What we see in general—movies on our downtime, TV series we binge, or short videos online—is one of the biggest influences on all of us, and I believe that all of these things play a critical part in how we can create change within ourselves and everyone around us.
Where to find the Latinx Student Alliance: @prattlatinx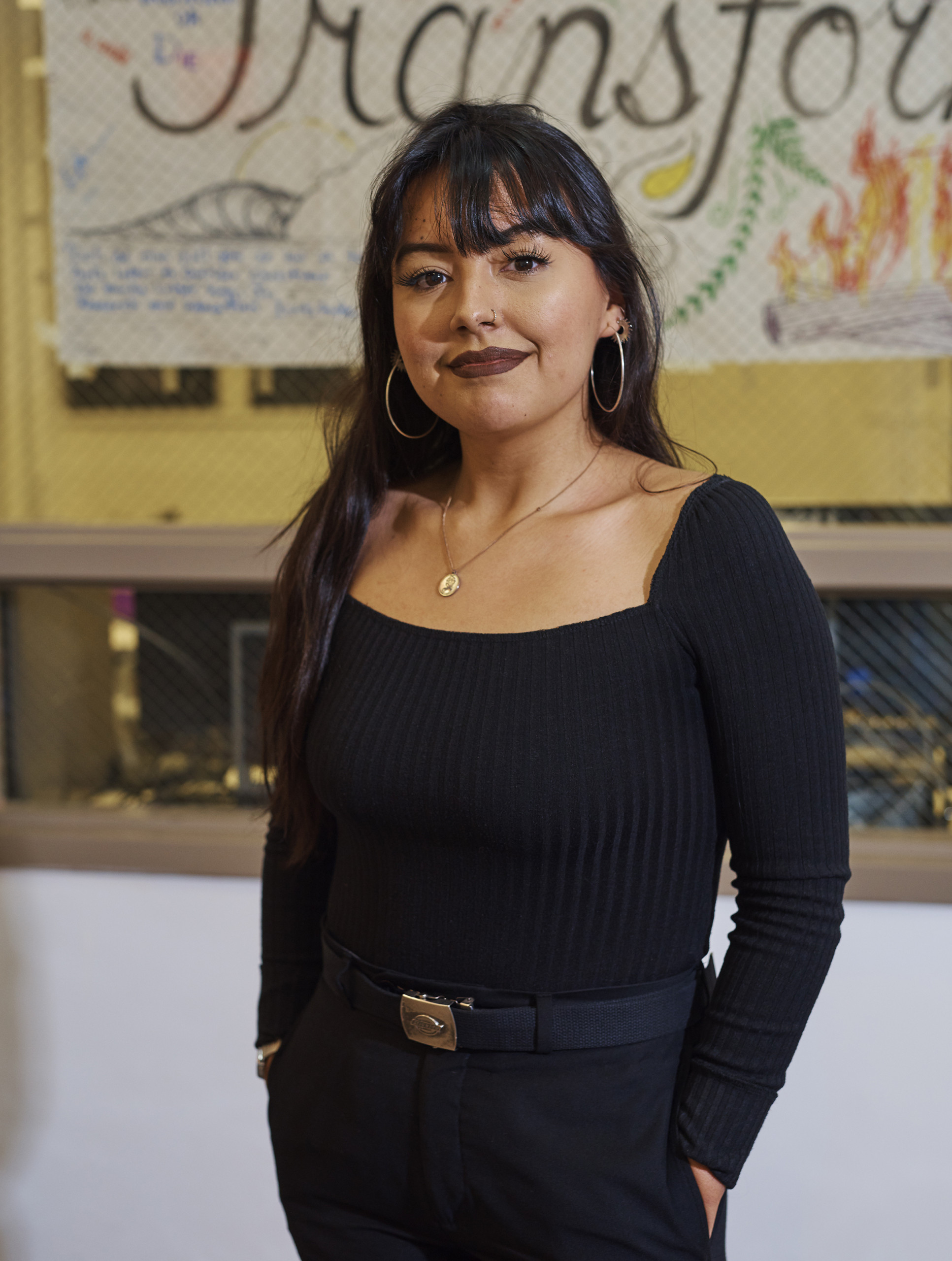 Katixa Espinoza shares the subversive power of cut-paste-copy publishing.
"Women and gender nonconforming/nonbinary people of color have been neglected, marginalized, overshadowed, and erased for too long . . . we feel isolated. We no longer want to feel this way." So begins the manifesto that opens issue one of Survival, a zine project created by Katixa Espinoza, BFA Writing '20, during her time at Pratt. Katixa had begun developing her zine-making practice in a Pratt humanities course, Writing as Photography, initially seeing it as a DIY way to get her ideas into the world. What had started as a means to find language around trauma and injustice on a personal level expanded to a way to center others' experiences too. Survival included poems, collage, and illustration that created "a form of community" united in coping and ultimately healing. This project expanded into workshops in political zine making, in collaboration with Sofia Zabala, BFA Communications Design '19.
Alongside her focus on writing, Katixa is a Social Justice/Social Practice minor, a program for Pratt students across majors that gives them an opportunity to connect their studio practices with critical thought around equity and justice, preparing them to converse with socially engaged perspectives in their work. The local connections she forged as a result of her minor led her to bring zine workshops to young students in Sunset Park and other communities, making space for them to share their cultural experiences and consider the zines as a vehicle for vocalization and visibility.
What compelled you to organize with others in your zine work?
I wanted to focus on creating communities, making spaces for discussions about trauma, spaces to talk about what it's like to be in a Brown or Black body in America, what it's like to be an immigrant or child of immigrants, and to foster space for art practices to happen. The point of the zine is to create a conversation—when starting these kinds of conversations, it is less emotionally laborious to hand someone a zine, where the art speaks for itself. But talking's also important.
When it comes to imagining and acting toward change, what is the biggest gift you see in your peers?
Watching them create art that is socially engaging and addresses things I could never fully fathom. Their ability to constantly resist and dismantle systemic and institutional powers.
How has your zine work resonated with your peers?
It's always been an overwhelmingly positive response. My classmates have admired the vulnerability people have had to put artwork in the zines. If people are interested in submitting, there's a boundary they have to cross—like, do I want to be this vulnerable?
How do you see this practice affecting the young people you've worked with?
The main reason I wanted to bring the zine practice to the students I work with, youth of color, was so that they could open up to say: This is where I stand, and I have some words around it now. The next step would be: Now that I have this language, I know there is a way that I can talk about it in an art practice. I can make art that is political. Maybe I can make zines that create community spaces for these conversations. It is such an accessible practice—creating and collaging things, and then xeroxing and binding with staples—so you as a student can do this and also engage other people in your channels.
When did you first feel like a part of a community of action?
During my last year of high school and into freshman year at Pratt, when the 2016 elections were taking place. I wanted to be a part of communities where similar narratives to mine existed in order to unlearn the oppressive silences I grew up in—I didn't want to be silent like generations before me. I wanted to decolonize spaces and decolonize my body. This is what propelled me into communities of action.
What worries you about the future?
The constant hyper-surveillance of bodies of color. The carceral and police state in America. Capitalism and treating bodies of color as a commodity or fetish. The constant feeling or worry of repeating intergenerational cycles of trauma. So many and too many things worry me about the future.
What gives you hope and makes you feel like "yes, we can"?
The number of civic engagements and groups that already do so much activism around the things that worry me and others. The activists that just will never stop doing the work they do—Decolonize This Place, Make the Road New York, Alexandria Ocasio Cortez, and Bernie Sanders. I'm eternally grateful for the work that they do and look up to them very much in all that I do.