Even as we emerge from the grips of the past year and enter a promising period of rejuvenation, the need for self-care is strong as ever. And ideas for how to practice it are plentiful, from exercise to rest, creative expression to meditation. For those looking to create care rituals around introspection, tarot can be a guide—and Pratt has a rich history of contributors to the form.
"I don't consider the tarot a fortune-telling oracle, although it can sketch out scenarios of future possibilities," says Jody Boginski Barbessi, BFA Drawing '82, a longtime tarot artist. "Tarot is more like therapy. The cards help you see things in a way your everyday brain doesn't normally see or consider them. Tarot strikes a nice balance between being introspective and objective."
Barbessi has been designing tarot decks for 21 years, starting as a graphic designer and illustrator for US Games Systems, the publisher of specialty playing cards including the iconic Rider-Waite-Smith tarot deck illustrated by fellow Pratt alumna Pamela Colman Smith in 1909 (cards from which are pictured above and at bottom). Barbessi's most recent is Inversion Tarot, the black-and-white deck shown below. As she worked on her first deck designs, Barbessi learned tarot by immersion, attending evening classes at the Tarot School in midtown Manhattan and then simply launching into giving readings, discovering the cards' uncanny ability to elucidate life's mysteries.
"Between the Major Arcana and the four suits of the Minor Arcana, a tarot deck covers everything," Barbessi says, adding that she wrote in a booklet for her recent Apprentice Tarot Deck: "Tarot cards are visual interpretations of both practical and esoteric realities. They represent aspects of human experience that have been with us for many generations. That's why they 'work!'"
Amelia Rose, BFA Communications Design (Illustration) '13, often consults her cards for outside perspective on life's dilemmas, and last year turned to designing a tarot deck as a creative diversion amid all that was happening. She and collaborator Lindsey Millen, a graphic designer and branding expert, were inspired by another outlet in the maelstrom—a very relatable form of self-care, escaping into the heightened drama of a reality television series along with friends.
"We didn't know whether to laugh or cry when we realized watching the weekly episodes of The Bachelorette were the only thing giving us life," Rose says. "We decided to channel the small spark of joie-de-vivre we had remaining into a fun project, and thus the Final Rose Tarot was born."
Rose and Millen dove into the project, researching, illustrating, and designing the 78 cards of the tarot in six months. The imagery draws on the spectacle of the reality-dating-show universe, balancing high drama and humor.
"Using the tropes from the show, we've been able to create archetypes that not only relate to real life, but also contain a healthy dose of silliness," Rose remarks. "I hope this deck can bring a lighthearted perspective to any everyday problems, while also encouraging the reader to see themselves as the protagonist in their own journey!"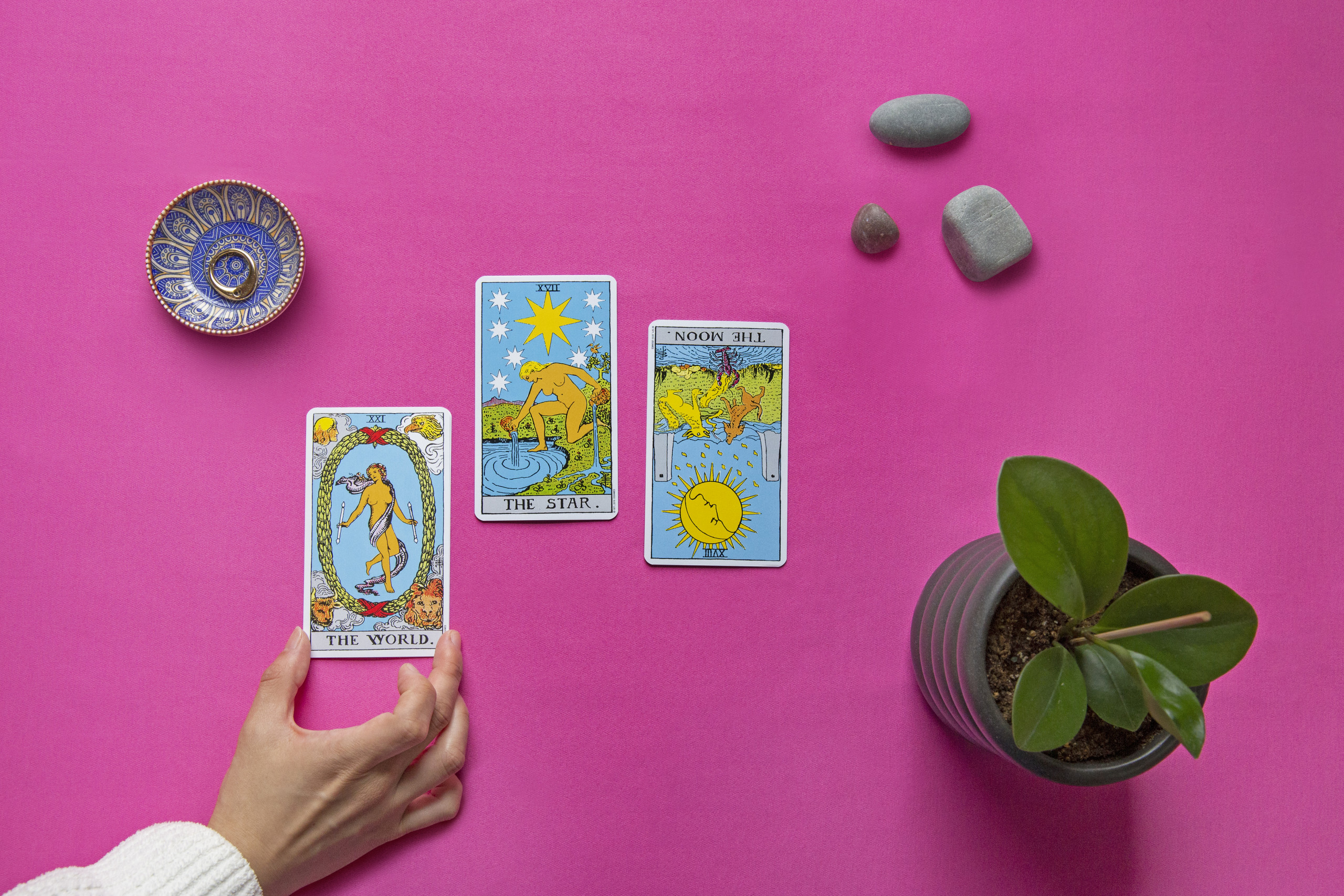 Expanding on the deck as a problem-solving tool, the Black School, an arts education organization cofounded by Joseph A. Cuillier III, MFA Communications Design '13, broadens the tarot's reach from the personal to the collective.
The Black School Process Deck guides its readers in thinking about community care, art, and change making in novel ways, reflecting the organization's mission to use "art to propose radical alternatives to the current systems of injustices." Educators, artists, and activists can work constructively with the cards and a project outline to reflect, imagine, and plan new actions toward a just future.
Whatever path a reader might be searching, whether it's how to activate a community, how to tend to their heart, or where to focus their studies, beginners to tarot might benefit from learning as they go, and especially as the world continues to open and reconnect, sharing the practice with others.
"The best thing I learned at the Tarot School was to jump right in!" says Barbessi. "Do readings for other people—no matter how inexperienced you are—as often as you can. It really is the best way to learn."