Free fridges, volunteer-made dining structures, streetside murals honoring the people of New York City's diverse neighborhoods—the ways creative people activate to support their communities have been on full display over these past two years. For their part, Pratt alumni, faculty, and students have been involved in numerous projects in Brooklyn, and beyond, that celebrate, nourish, and care for our neighbors.
Throughout the Spring 2022 print issue,
Prattfolio
highlights a selection of that work as it harmonizes with the streetscape of the city.
Here is an expanded look at the projects.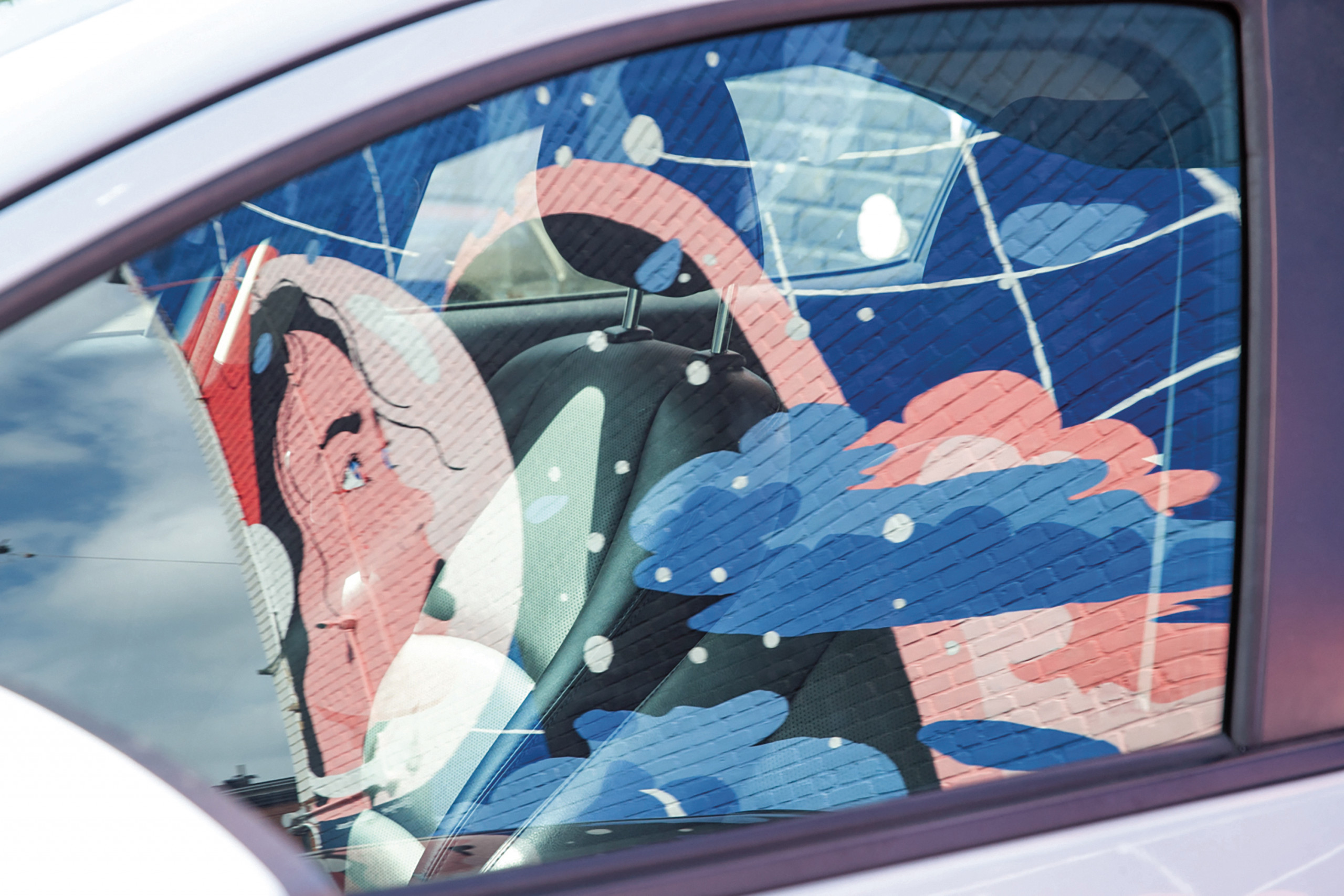 A Cluster of Enigmas
Amanda Phingbodhipakkiya, MFA Communications Design '15


Fort Greene, Brooklyn
In the heart of Fort Greene, on Fulton Street just around the corner from Brooklyn Academy of Music and a short walk from Pratt, a swirl of stars and deep blue clouds form the backdrop of a mural honoring the city's women, with an illuminating scientific subtext. The work pays tribute to a group of our universe's cosmological misfits, called brown dwarfs. Neither planets nor stars, glowing in blue and red hues, these mysterious objects have long intrigued scientists, including American Museum of Natural History astronomer Dr. Jackie Faherty, whose research inspired the mural. In artist Amanda Phingbodhipakkiya's words, "these curious space entities reminded me of the luminous, diverse women of New York City." Part of the artist's Findings mural series (@findings.art), which highlights the research of women in science, the piece depicts Brooklyn's own Dr. Josephine English, the late women's health trailblazer who was the first Black woman to open a private practice in New York, while celebrating all of the city's women fighting for our shared futures.
Photos by Caroline Cramer, BFA Photography '22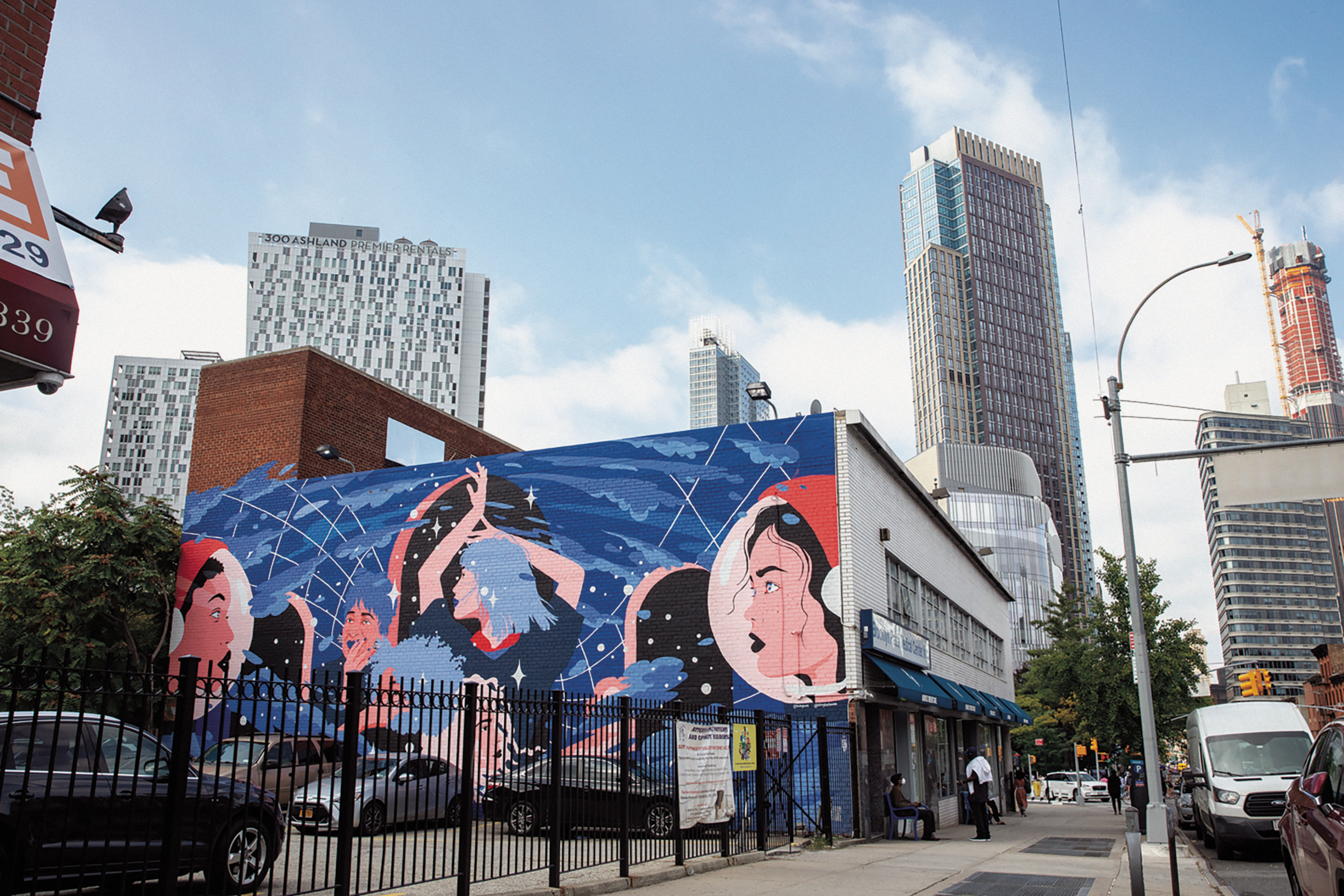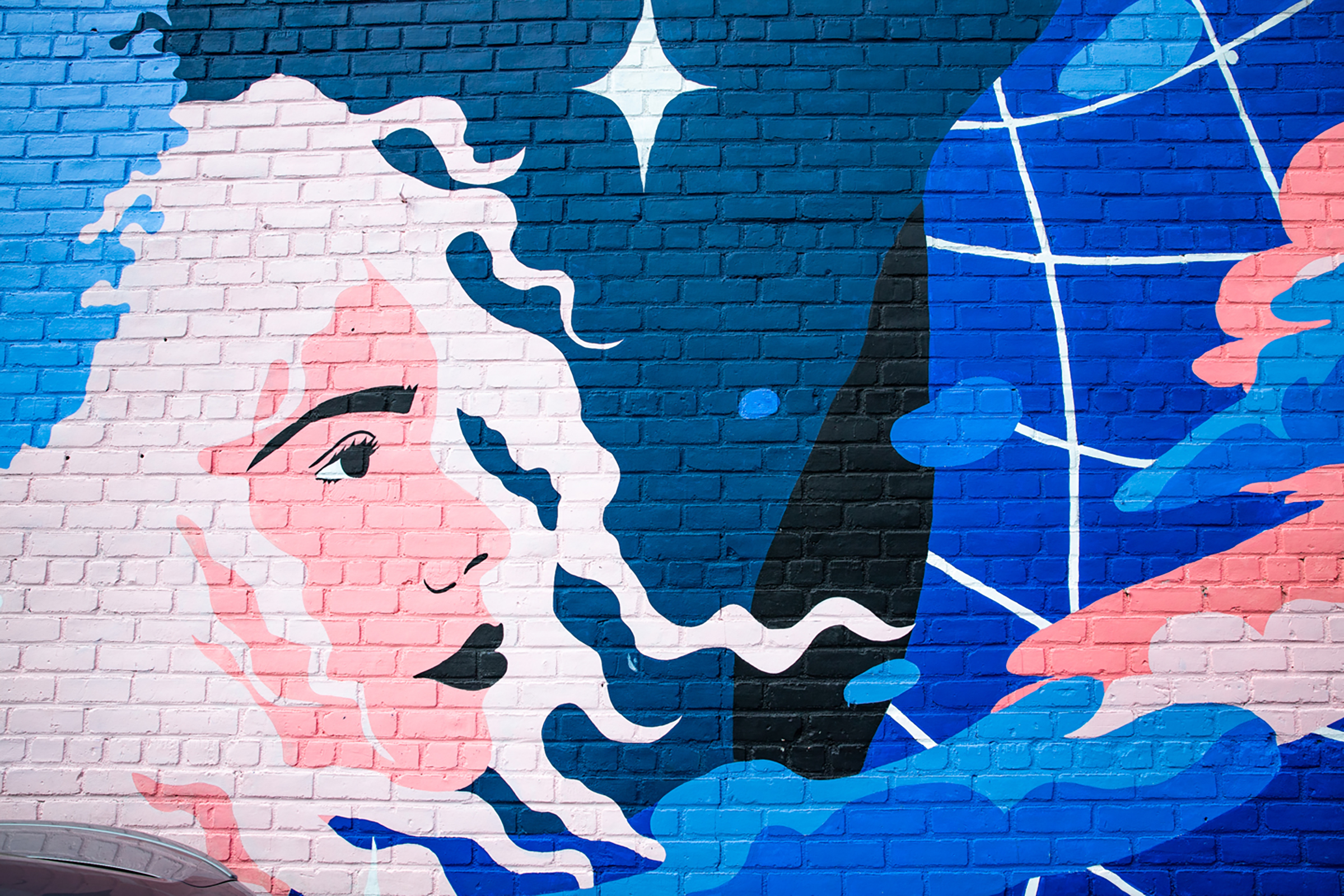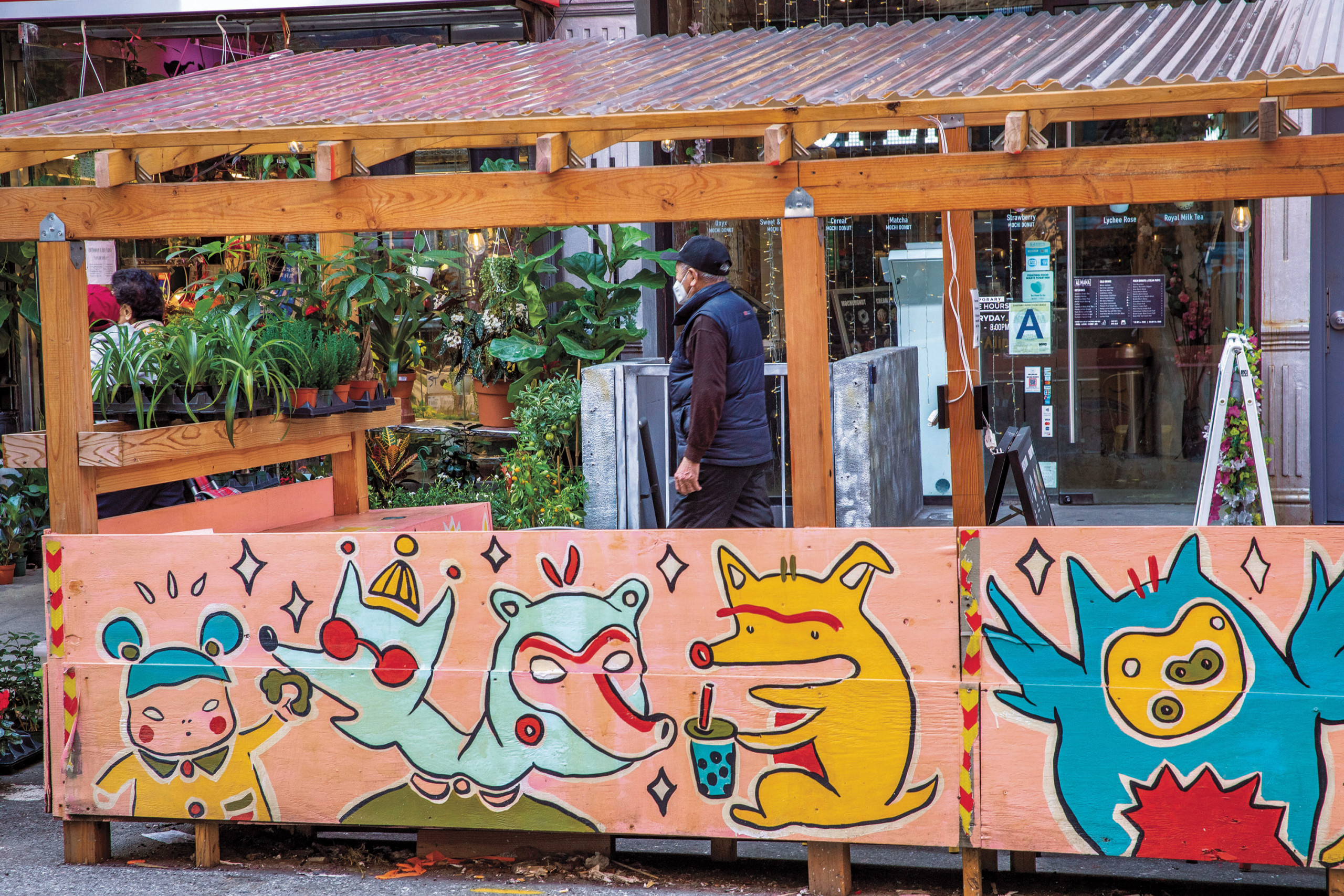 Assembly for Chinatown

Ashely Kuo, BFA Interior Design '14, with Arianna Deane and Andrea Chiney,
A+A+A
Chinatown, Manhattan
Last year, multidisciplinary design studio A+A+A (@aplusaplusa) partnered with the organization Think!Chinatown on Assembly for Chinatown, an initiative to construct outdoor dining structures for neighborhood restaurants affected by the pandemic. The builds, designed to comply with city regulations, were created by volunteers and personalized by various artists, including fellow Pratt alum Rose Wong, BFA Communications Design '14. Pictured is the build for Yin Ji Chang Fen at 91 Bayard Street, with artwork by Chanel Miller.
Photos by Caroline Cramer, BFA Photography '22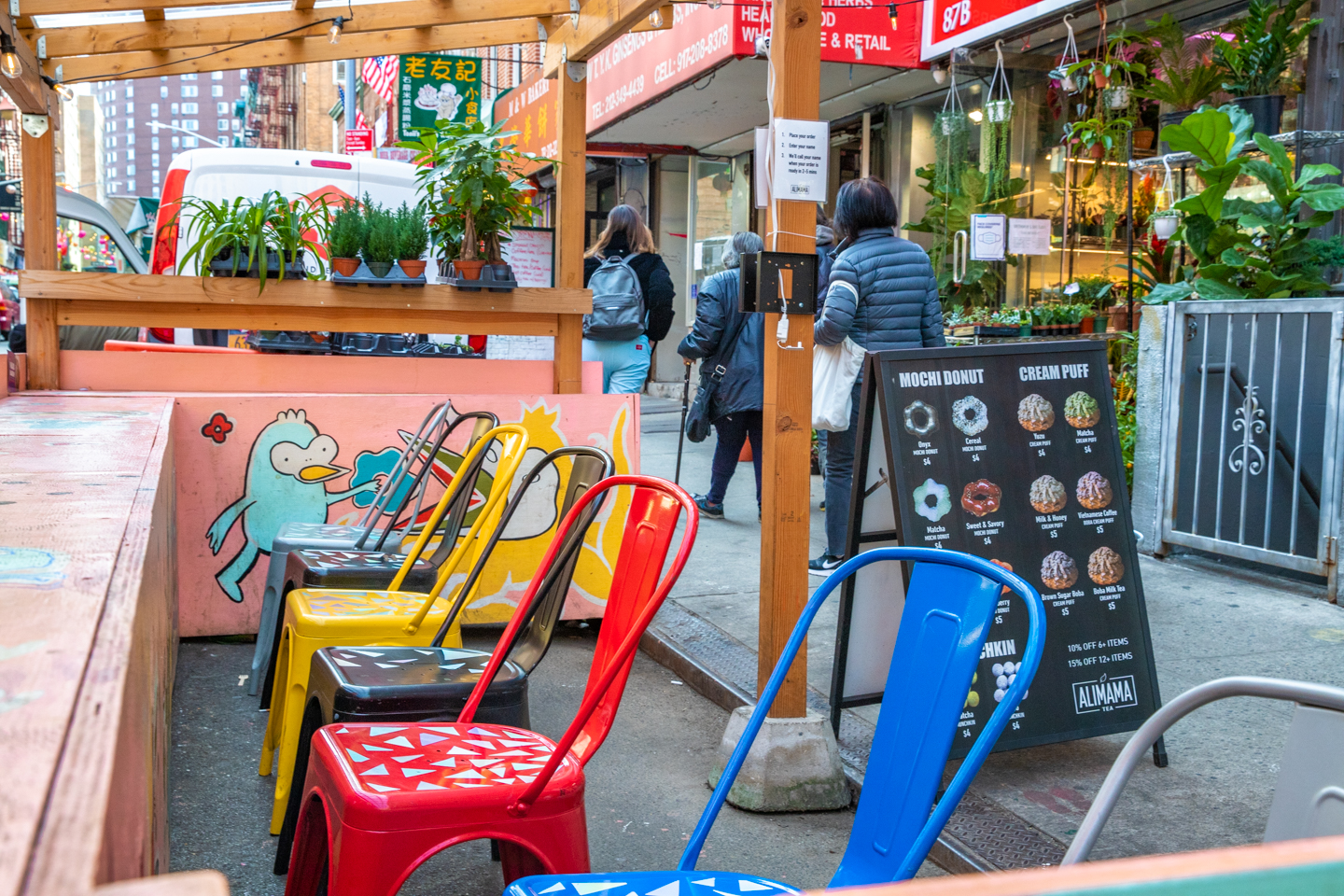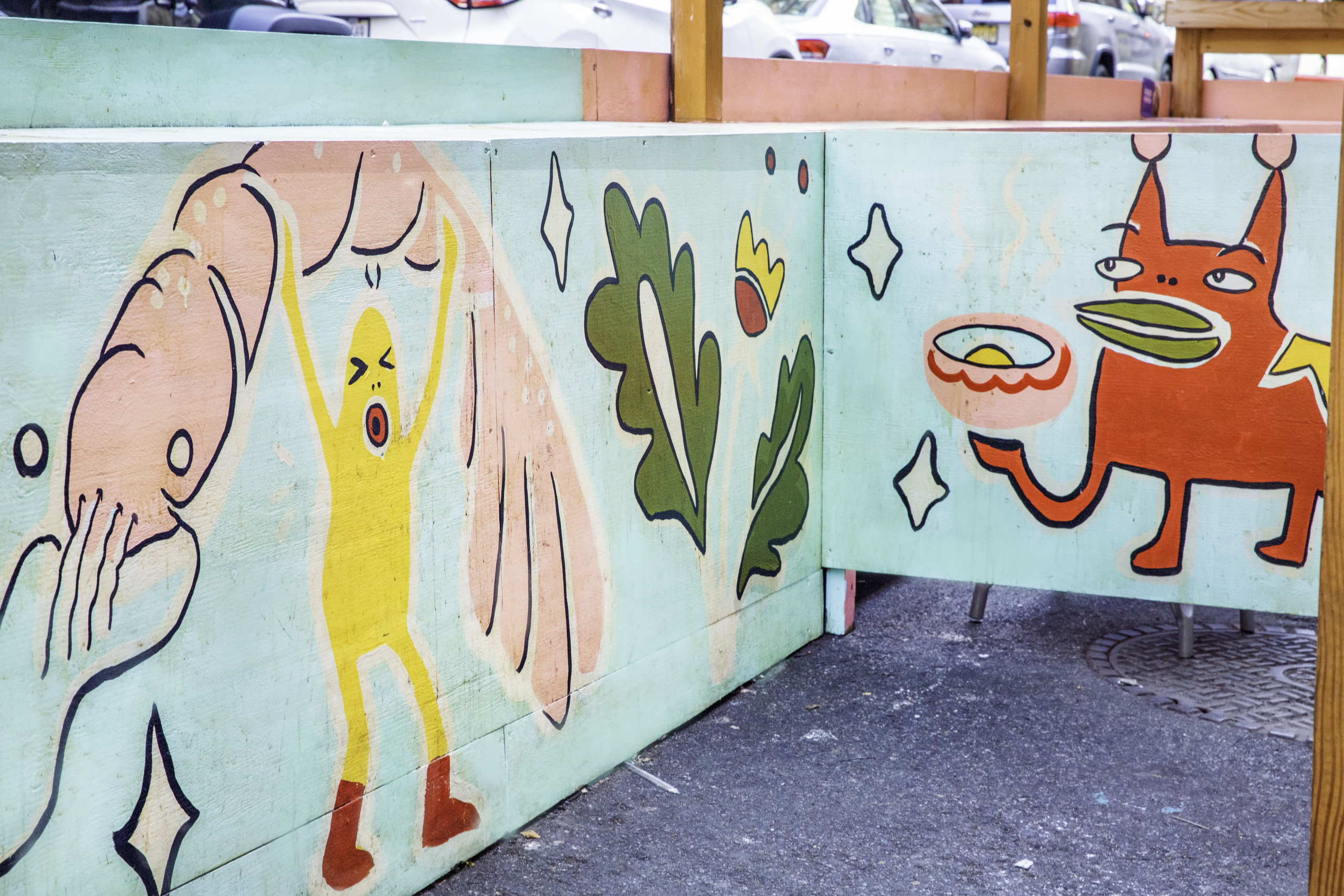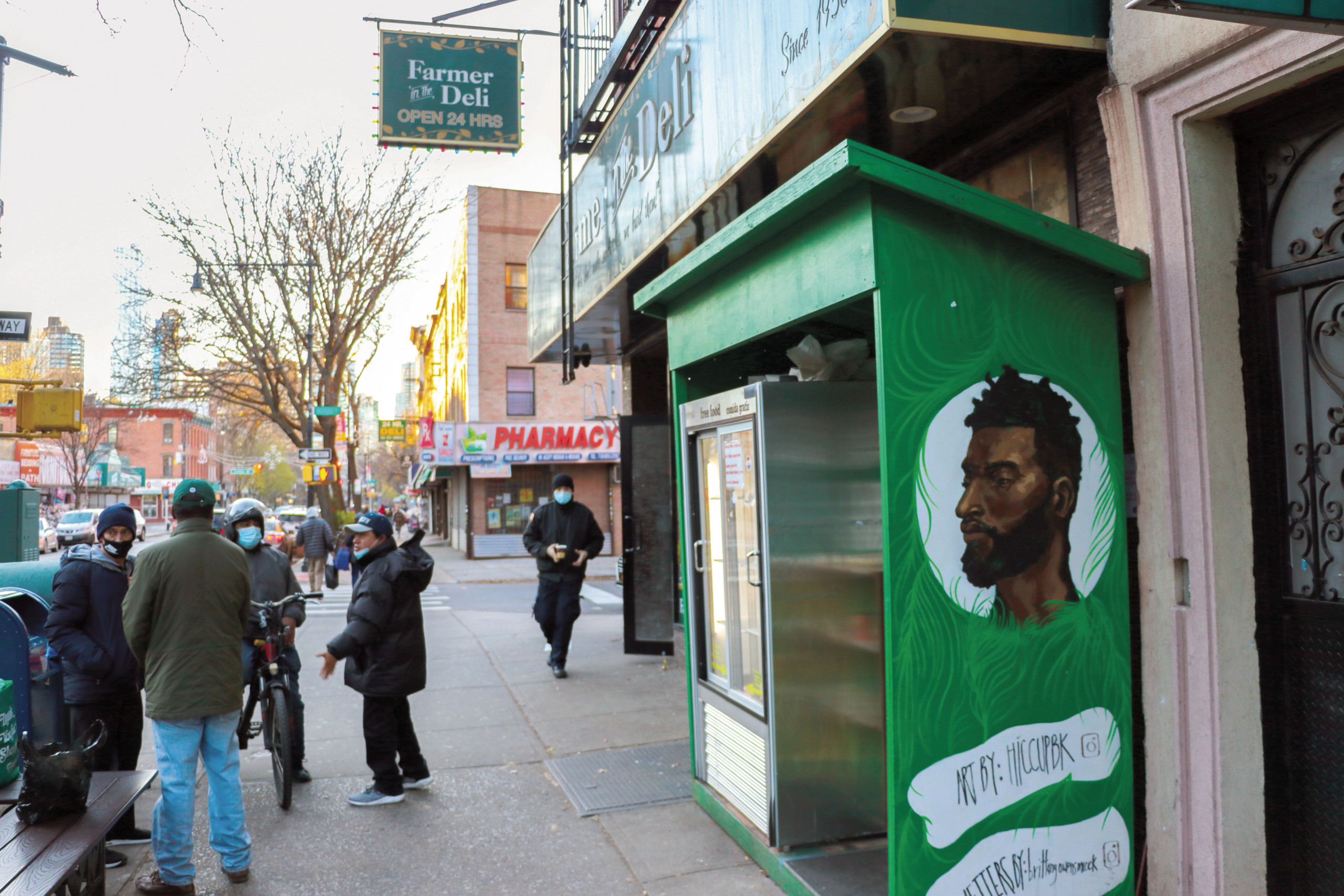 Community Fridge Art
Tiffany Baker, BID '08


Fort Greene, Brooklyn
A number of Brooklyn's mutual-aid community fridges came to vibrant life last year with artwork by Tiffany Baker (@hiccupbk). On refrigerator installations for Playground Coffee Shop and Clinton Hill Fort Greene Mutual Aid (the Fort Greene Community Fridge, pictured above), Baker's hand-painted portraits encourage neighbors to take what they need and share what they don't. The portraits are framed in bright graphics and welcoming messages (Free food for all!). Each work serves as a reminder that art can be a bridge, as Baker's artist statement says, "between the viewer and the subject to create a shared space of intimacy and trust."
Photos by Deniz Gonel, BFA Film '24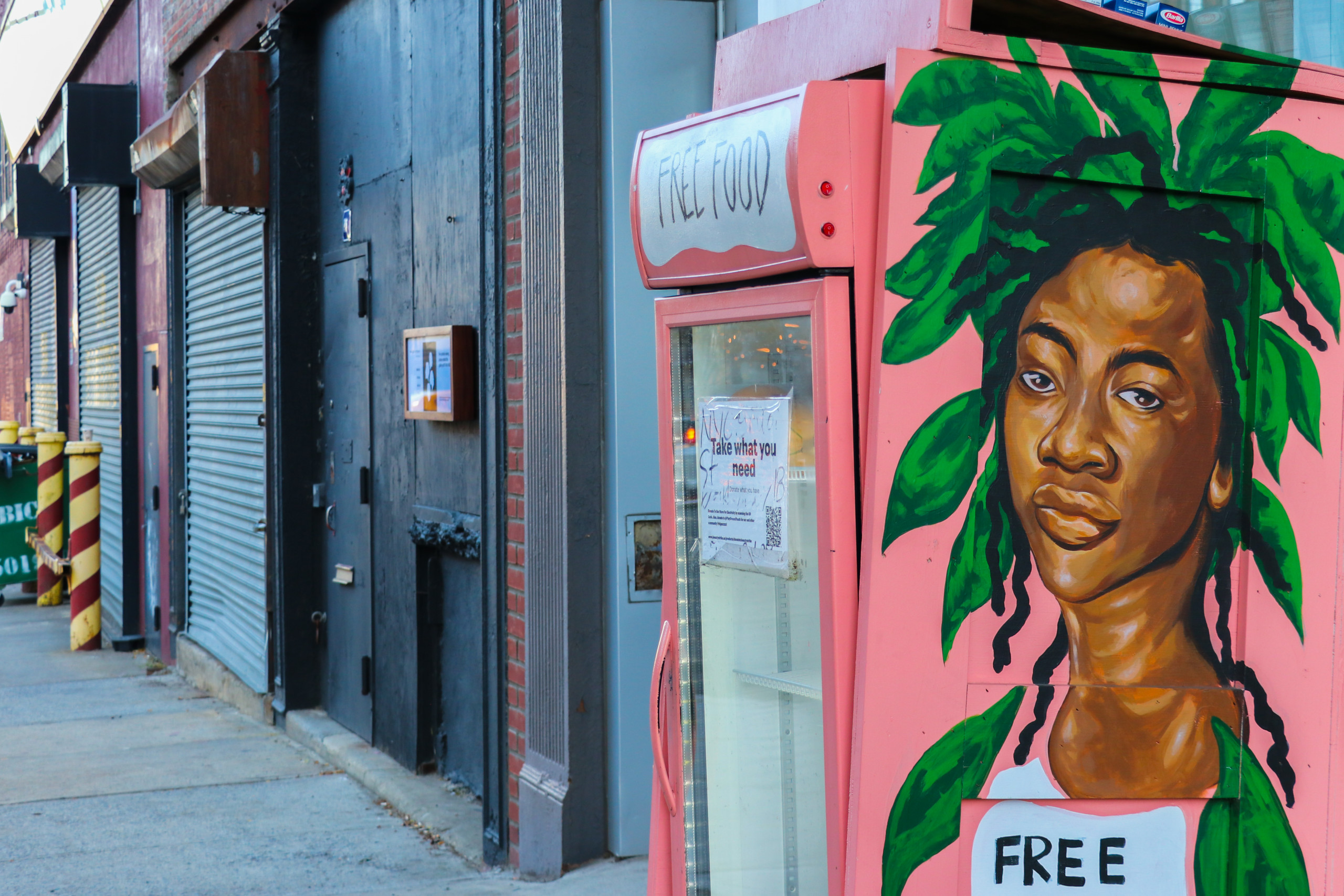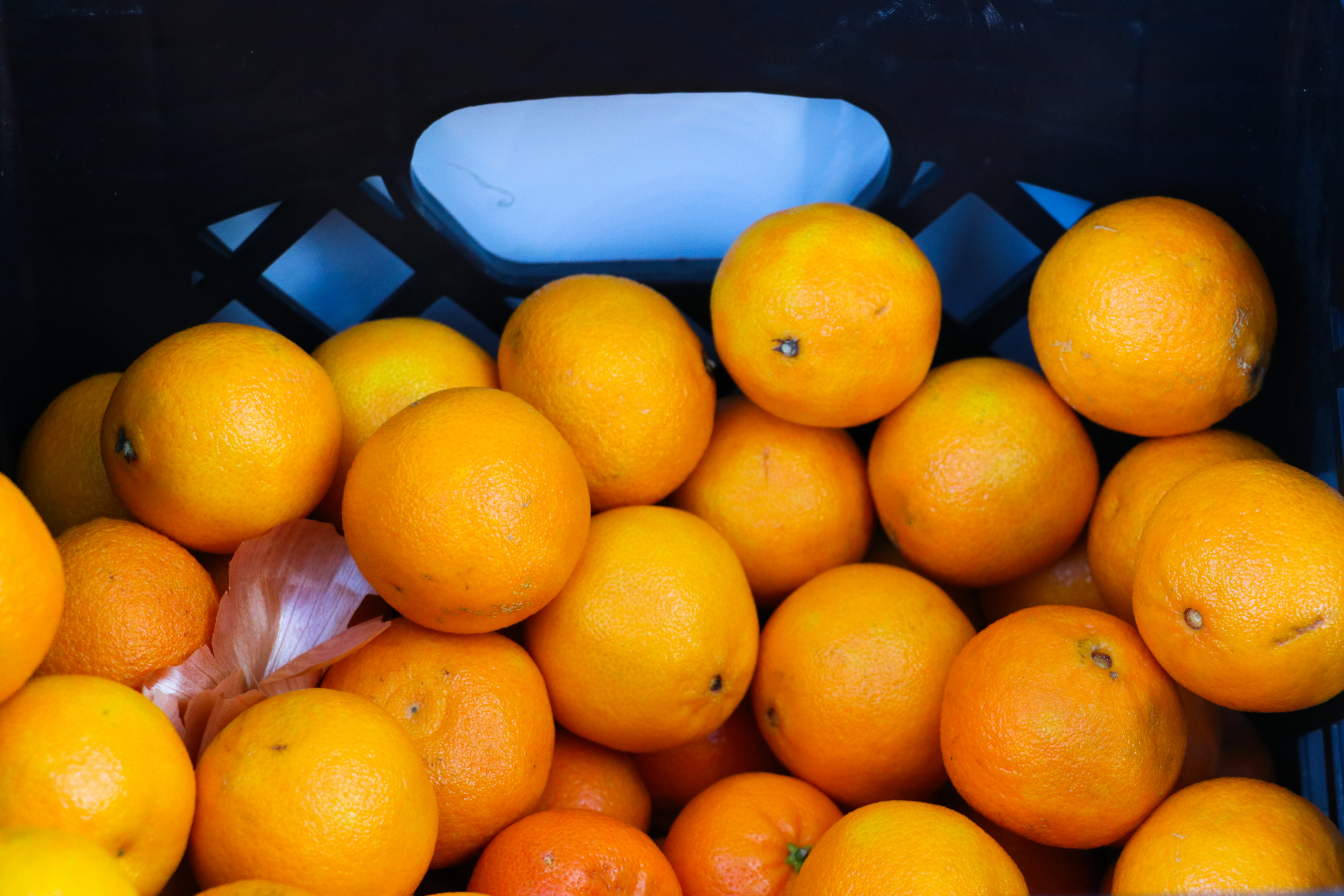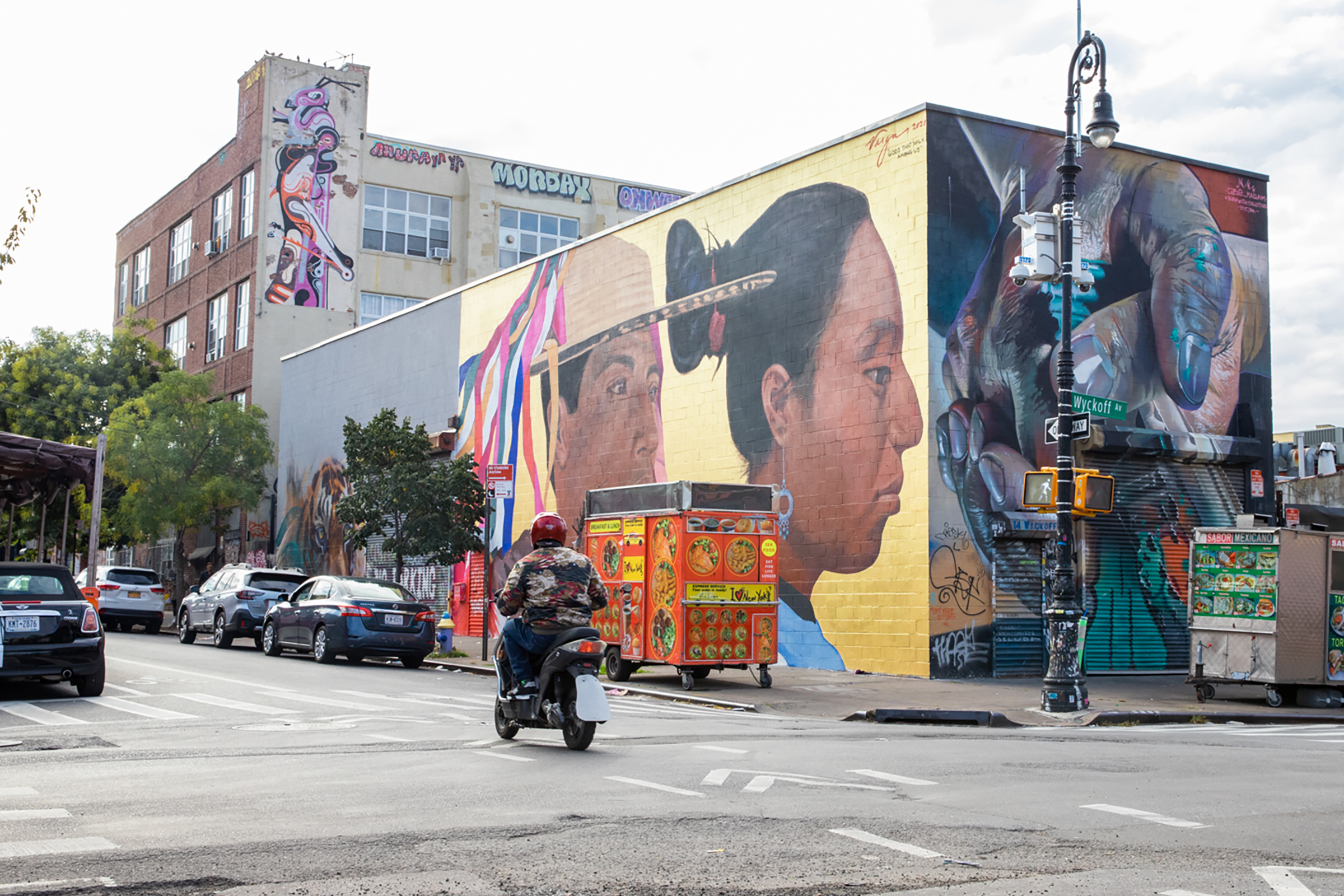 Gods That Walk Among Us
Robert Vargas, alumnus of Fine Arts


Bushwick, Brooklyn
Painting through the summer city heat and rain over three days last August, Robert Vargas (@TheRobertVargas) created Gods That Walk Among Us, a mural on the corner of Troutman Street and Wyckoff Avenue. Vargas made the piece, commissioned by the street art organization the Bushwick Collective, in tribute to "the Latin people of this community . . . united under the banner of our collective Indigenous roots," as he shared in a post on Instagram. "My dedication to this wall was my way to honor them and to further instill pride in this community."
Photos by Caroline Cramer, BFA Photography '22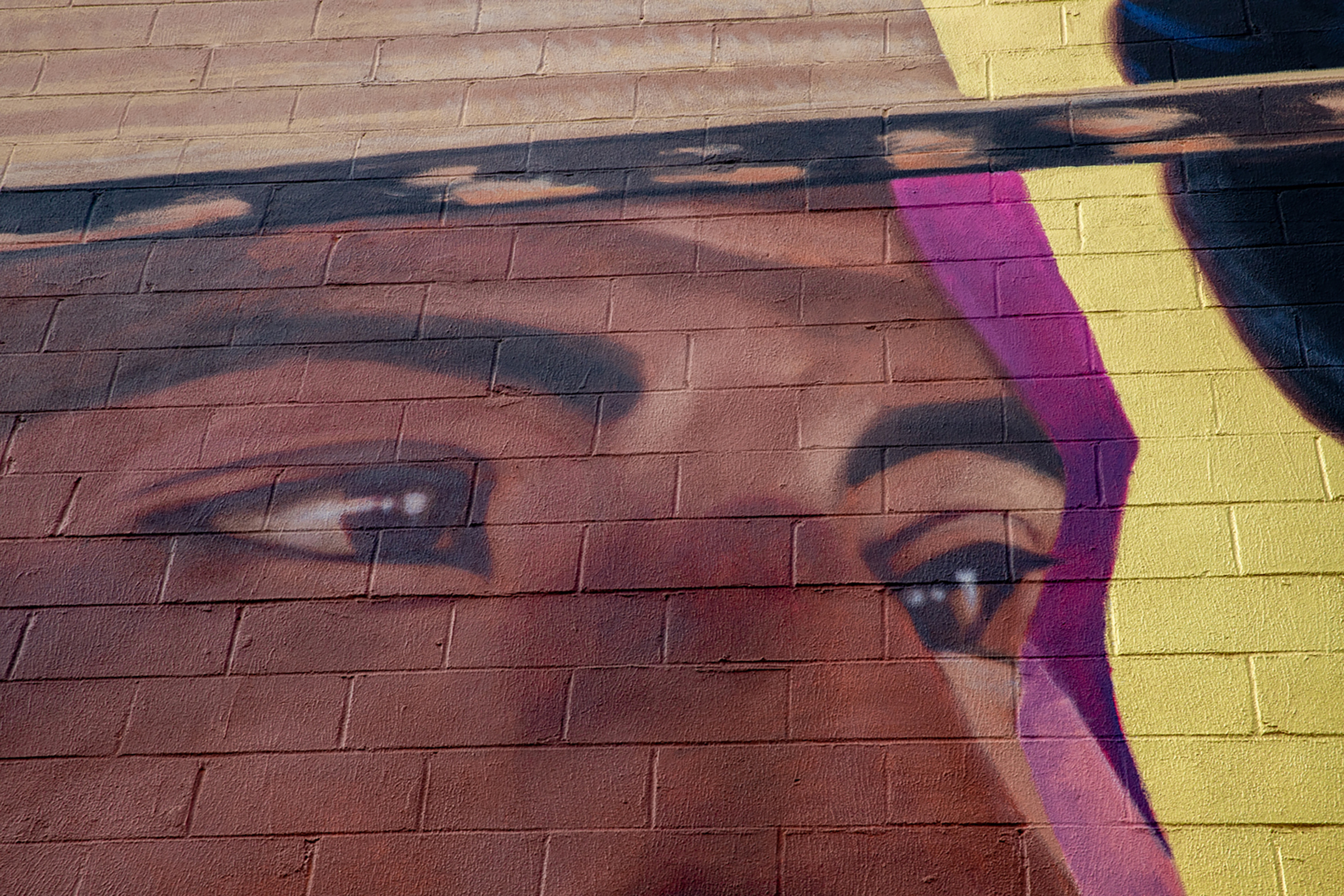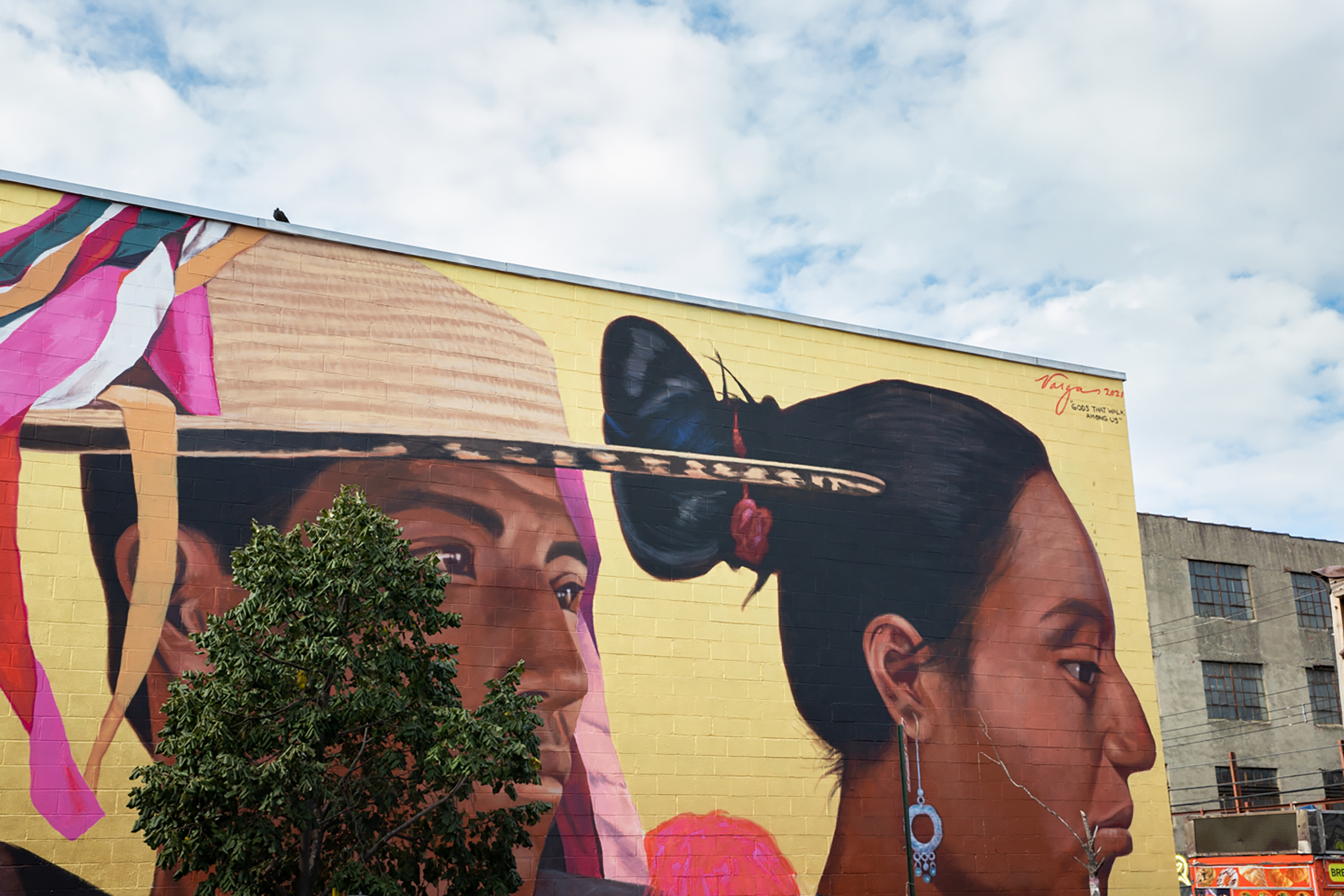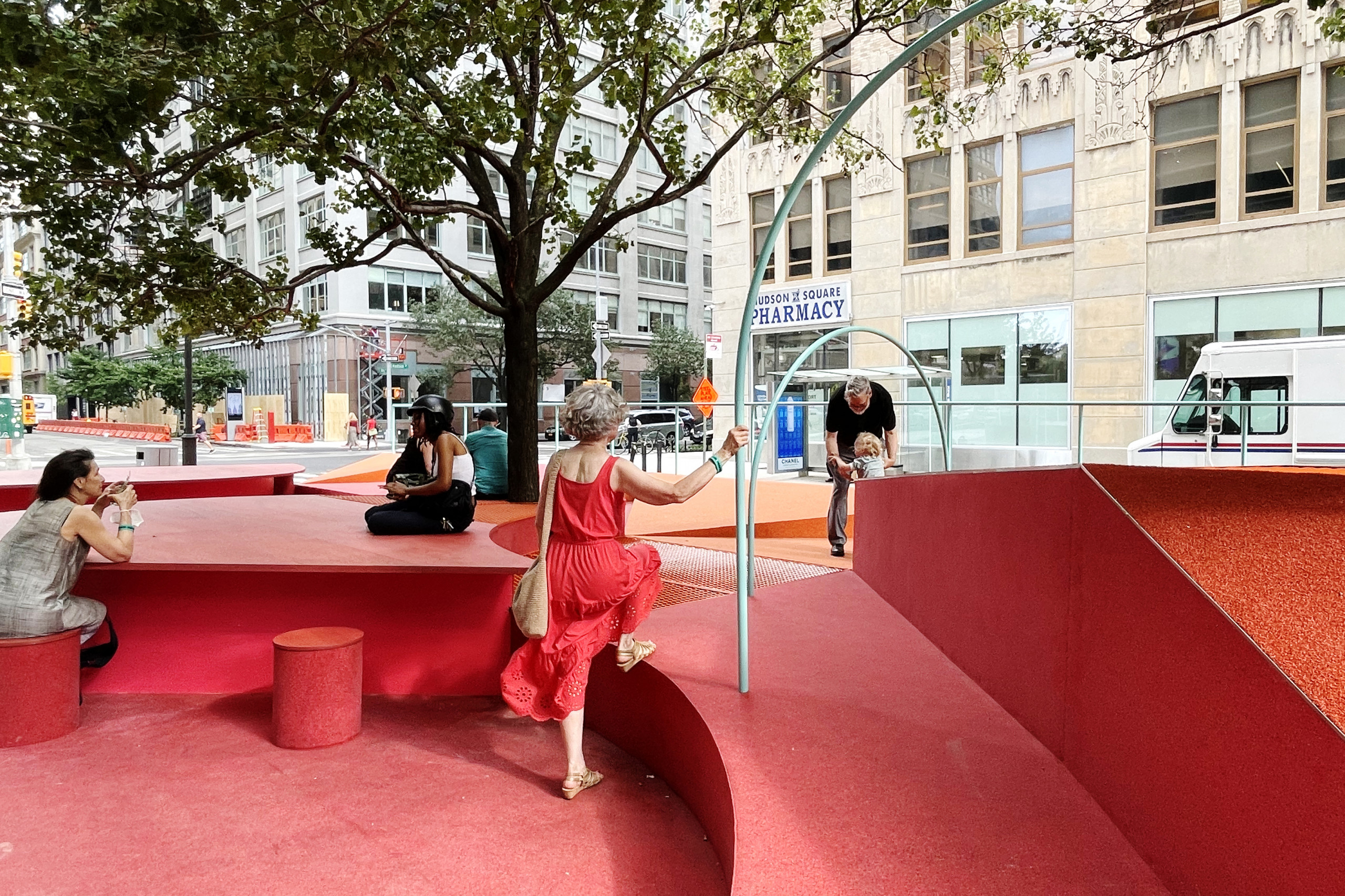 Restorative Ground

Abigail Coover, adjunct associate professor of undergraduate architecture;
Sera Ghadaki, MArch '18; Sonya Gimon, MS Sustainable Environmental Systems '18; Lindsay Harkema; Elsa Ponce, MPS Design Management '17; Bryony Roberts; and Ryan Brooke Thomas—
WIP Collaborative

Hudson Square, Manhattan
Relaxation, play, interaction—WIP Collaborative (@wip_collaborative) designed this inclusive public space as an environment of respite and joy for city dwellers of all ages and abilities. The installation was the winning proposal in Urban Design Forum's Care for Hudson Square design competition, launched during the pandemic as a means of creating safe, outdoor healing space for community members to convene after months of isolation.
This is only the beginning of WIP Collaborative's ongoing work to address inclusivity in the city's public spaces. This past fall, they won Design Trust for Public Space's Restorative City RFP to launch The Neurodiverse City, a multiyear project in collaboration with Verona and Carpenter Architects, with the support of Center for Independence of the Disabled-NY, Bronx Independent Living Services, and INCLUDEnyc, to analyze and develop prototypes for public spaces that welcome and support people of all spectrums of neurodiversity.
Photos courtesy of WIP Collaborative