If it's 7 p.m. in New York City, there's a chance that somewhere a reading is about to start. The past months have toggled between virtual and real-life gatherings, and while the accessibility of online events has kept the spark of literary connection alive, there's nothing like the particular warmth and community that happens around readings that bring us into one place—low-lit dive bars and art-filled galleries, storied cultural venues and bookstore backyards, and of course, Pratt's own performance spaces.
"Writing is a solitary activity, but at a reading, writers are with their audience, talking about what matters most to them," writes Kate Gavino, BFA Writing '11, in her book Last Night's Reading: Illustrated Encounters with Extraordinary Authors (based on her illustrated project of the same name), which chronicles Gavino's observations at readings across New York City. Among them, a reading in Green-Wood Cemetery's catacombs and the host of literary happenings at the annual Brooklyn Book Festival—"I couldn't believe so many authors were in one place for free," Gavino writes. "At the end of the day, I was both exhausted and inspired, a combination of feelings I now can't help but equate with love."
Last year, Pratt writing student Kori Nelson discovered surprising connection at East Village literary standby KGB Bar (whose formal name is Kraine Gallery Bar, a nod to the Ukrainian heritage of owner Dennis Woychuk, who once taught at Pratt). There, she found a fascinating cross-section of ages, professions, "goth people, finance people," all there for a Monday-night poetry reading. Distinct from other venues she'd visited, the inclusive atmosphere made her feel "more free and welcome," Nelson said in a presentation about the experience for the Pratt writing course Community as Classroom.
One encounter with a writer who shared Nelson's rural roots—the writer hailing from Missouri and Nelson from Texas—sparked an instant connection. "I am thankful that I got to go to a live reading and experience a piece of work that I not only related to but felt inspired by as well," Nelson shared. "I come from a place where I never would have been exposed to anything like this in real life."
A close second to that experience? A Pratt open mic in the Rose Garden on the Brooklyn campus. Nelson said it was a boost to have her work well-received by her fellow writing students, but, as she described it, "an even bigger boost was getting to hear my peers' work and being moved by it . . . I think we all really bonded through that experience."
"Readings offer an incredible chance to witness the fundamentally social nature of writing, the community that makes sustainable creativity possible."

Laura Henriksen
The open mic was organized by Gina Zucker, adjunct associate professor of writing, as part of the Community as Classroom course, with student participants from Zucker's class and the section of the course taught by Pareesa Pourian, visiting assistant professor of writing. Community as Classroom centers on connecting Pratt writing students with the world of writing and publishing in the city, whose points of access are many and various.
"NYC is a major literary center, home to so many writers, reading series, and publishing houses—and the part of Brooklyn where Pratt is located is itself a thriving hub for artists, writers, and cultural thinkers," Zucker says. "Through field trips to literary institutions, spaces, and events, both on campus and off, our students start to develop an awareness of 'writing community' as a lived experience. By attending literary readings, book launches, book festivals, visiting small presses, bookstores, and literary community centers throughout the city, students come to understand literary life in New York City as a dynamic, embedded history that they themselves can partake in and contribute to, as writers, readers, activists, and curators."
Readings in particular present a potent mix of craft and camaraderie. "I think readings offer an incredible chance to witness the fundamentally social nature of writing, the community that makes sustainable creativity possible," says Laura Henriksen, BFA Writing '12, and visiting assistant professor of writing. "And beyond the chance to witness, they also open up the possibility of active participation, of becoming part of a writing community that both includes and extends beyond the Pratt writing department. Readings are an exceptional chance to be introduced not only to new writing in the fullness of its performed embodiment, but also the chance to be introduced to new people, aka future friends! All of these things are totally necessary for emerging writers."
As director of learning and community engagement at The Poetry Project, the East Village institution based at St. Mark's Church-in-the-Bowery, Henriksen knows the vital energy of literary gatherings. Among her recommendations for venues and series to check out: "I'm biased, but The Poetry Project is a totally exceptional community-centered literary space, both steady and various, welcoming and vibrant," she says. "Our programming takes so many forms, lectures, classes, readings, publications, and all of it is sliding scale (if not free). It's a real 'something for everyone' situation."
"I also love CRUSH, based out of Woodbine"—an experimental space in Ridgewood, Queens—"as an example of community building based in mutual aid," Henriksen adds. "Desperate Living is another wonderful DIY series, but the in-person events take place in a bar, so that limits who can participate. Wendy's Subway offers endlessly exciting programming as well"—last year, Erika Hodges, MFA Writing '21, curated an event series at Wendy's Subway for their fieldwork residency, a component of Pratt's MFA Writing curriculum—"and Segue of course is a classic, indispensable series."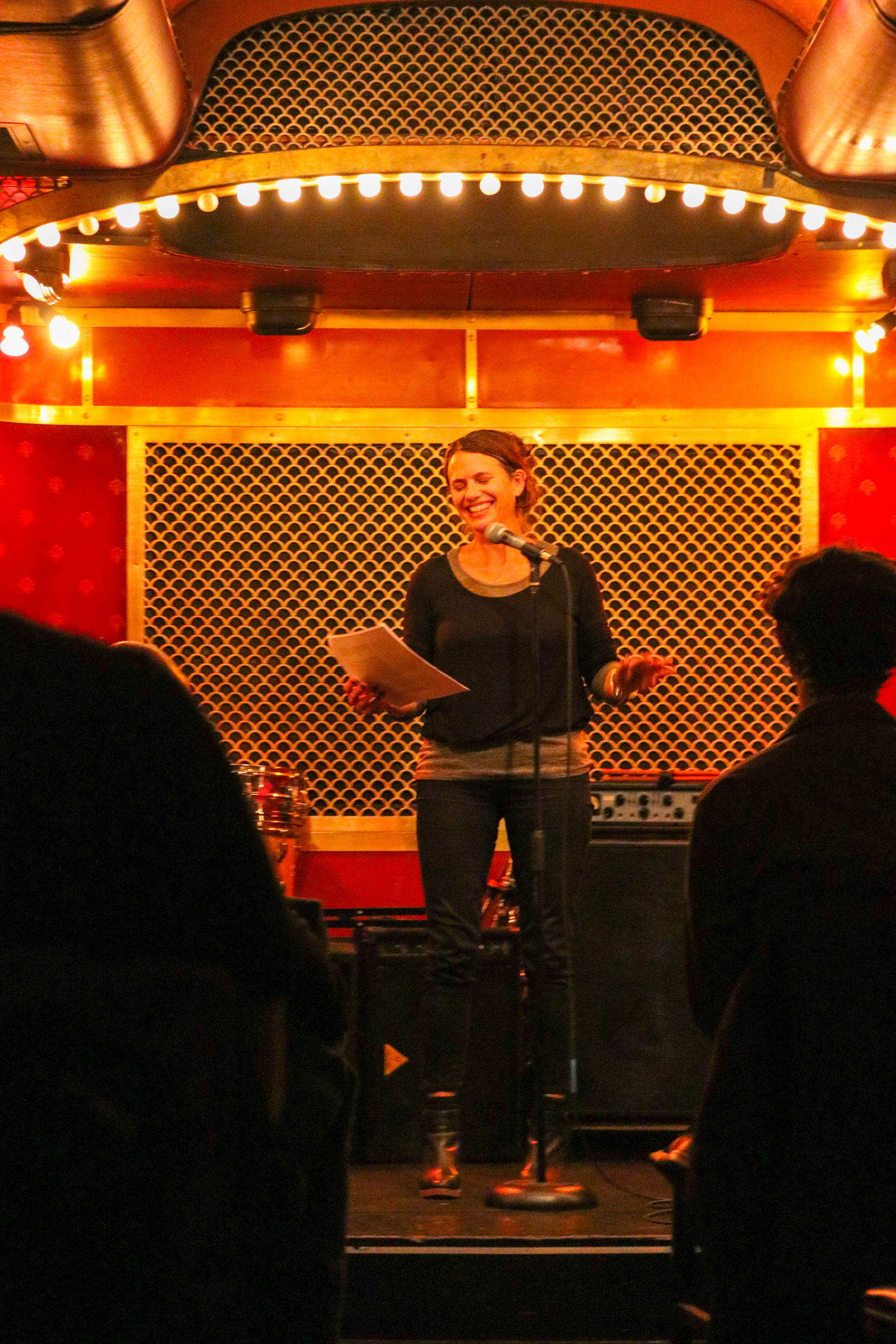 Two classic venues, Pete's Candy Store in Williamsburg and Pratt's local Greenlight Bookstore in Fort Greene were among the stops for James Hannaham, professor of writing, on the tour for his latest book, Pilot Impostor. Anna Moschovakis, adjunct associate professor of writing CCE, joined Hannaham on the reading lineup at Pete's. Hannaham's book launched at an opportune moment last fall when reassuring COVID numbers allowed a moment of comeback for live events before winter.
One Brooklyn series that has been significant to Hannaham as a writer happens monthly just a stone's throw south of Pratt. "Franklin Park has long been one of the best, with a huge, loyal, and diverse crowd and a great roster. Glad to see it still going," he says. The Crown Heights mainstay's second-Mondays reading series has played host to literary luminaries for more than a decade.
"I still lament the passage of Bridgett Davis's Sundays @ series, which was already a bunch of years ago," Hannaham adds, referring to the event hosted at Branded Saloon in Prospect Heights in the mid 2010s, a happening that initiated important connections. "She brought together a lot of incredible writers of color—I met Tayari Jones through that series, for example, as well as Bridgett herself."
Among Hannaham's book tour stops online was Twenty Stories bookshop, founded by Pratt alumni Alexa Trembly and Emory Harkins, both BFA Writing '16. Their brick-and-mortar location is in Providence, Rhode Island, but they also have a mobile shop—a refurbished vintage van—that has visited Pratt's Brooklyn campus, and they've created a lively presence in the virtual space, with readings, author conversations, and book club gatherings, that they plan to continue even as in-person events return.
When they were studying at Pratt, Trembly recalls, the readings at Unnameable Books in Prospect Heights were particularly illuminating. "Their events were held in the small, low-ceiling basement of the bookstore," Trembly says. "It always felt like I was venturing into a secret hideout when descending down the steps, and then it'd open up to a room with string lights and rows of foldout chairs. The events at Unnameable Books taught me so much about the writing community. They taught me that readings should be treated with the same kind of ceremony no matter if they're small and intimate or a room packed full of strangers."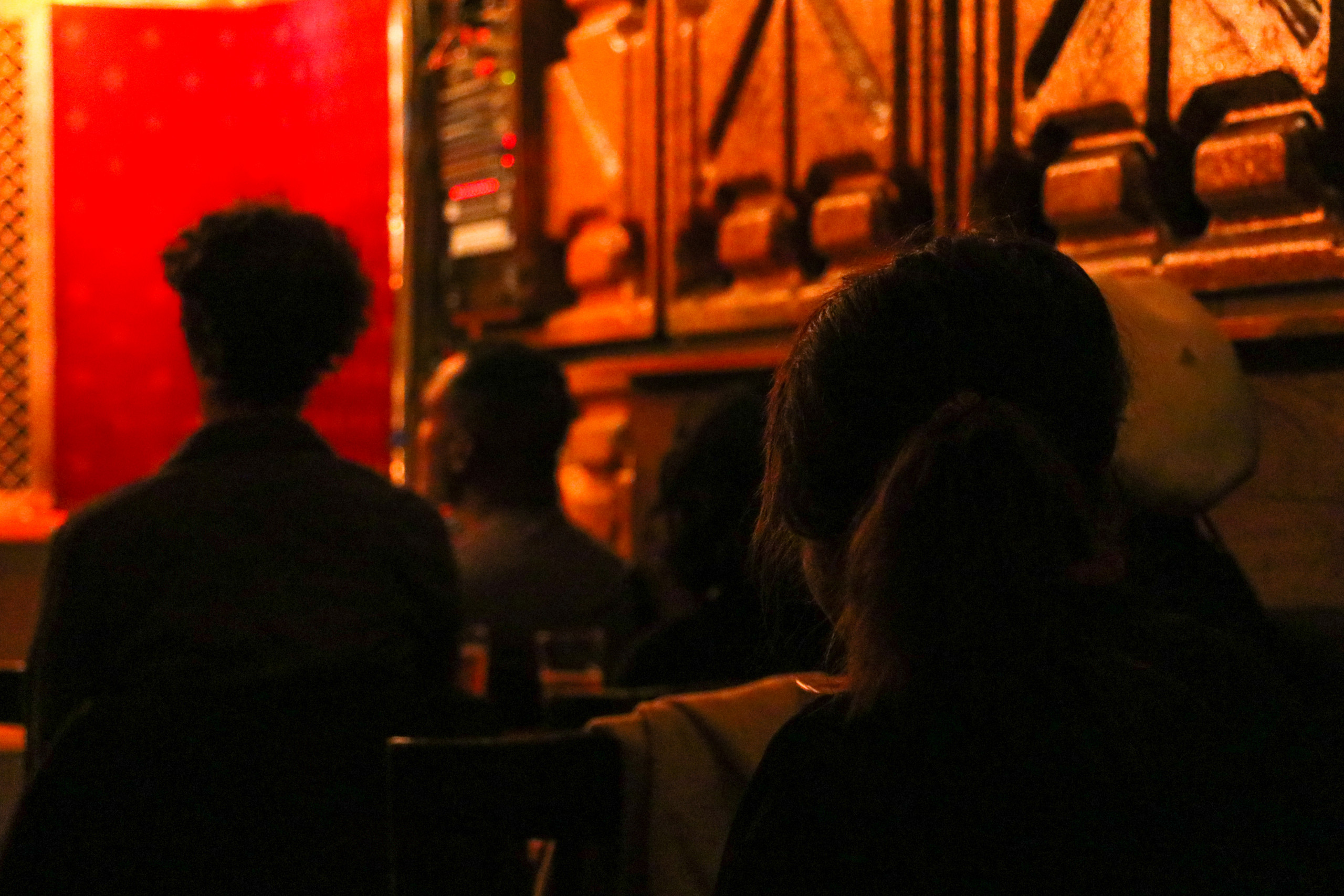 Trembly also shouts out events at the Brooklyn Public Library and Pratt's annual Michael Mahoney Memorial Reading as places to hear writers not only read but converse about their art—celebrated authors like Ottessa Moshfegh (spring 2022) and Ross Gay (spring 2021), the latest readers in the Mahoney series. At the time of this writing, an author-roundtable event is coming up soon on the Brooklyn campus—Commune(ing): Ghosts and Utopia, with recently published Department of Writing faculty Samantha Hunt and Adrian Shirk, among others, on April 27, 2022—part of the Pratt Student & Faculty Reading Series.
How does the proliferation of readings in the city make New York a nurturing place for writers? "It nurtures by proliferating!" Hannaham says. Work and sharing of work begets more work, more sharing, generating a home for art and artistic community.
Though nurturing may be just one slice of what a writer needs. "One needs coping skills, hard-headedness, and strength as much if not more than 'care' or even 'self-care,'" Hannaham adds. "You need to be able to handle rejection after rejection and stupid comments galore, sometimes from close friends and relatives, and keep going like a steamroller. So you need what? Literary crossfit? Swagger lessons?" Training that perhaps experiencing, and presenting, work in real time can offer an emerging writer.
Not only are readings places to find creative society, courage, all the fuel a writing practice needs to thrive, but in New York, they can also be a means of discovering one's place in a city rich with history and possibility, through one bookstore cellar door at a time. "I keep a map of all the readings I go to," Gavino writes in Last Night's Reading. "Every time I add a new pin, I feel like I know the city a tiny bit better."