Their project, HURRAH!, is an interactive musical installation inspired by a commission from the Polish Cultural Institute and the Embassy of the Republic of Poland in Washington, DC, to commemorate 100 years of diplomatic relations between Poland and America. Design team members included Murlak, the Pratt faculty author of the project; designer Marzena Krupa, who initiated it; graduate industrial design student Begnaud; and Kasia Michnowska, a student at the Academy of Fine Arts in Łódź, Poland.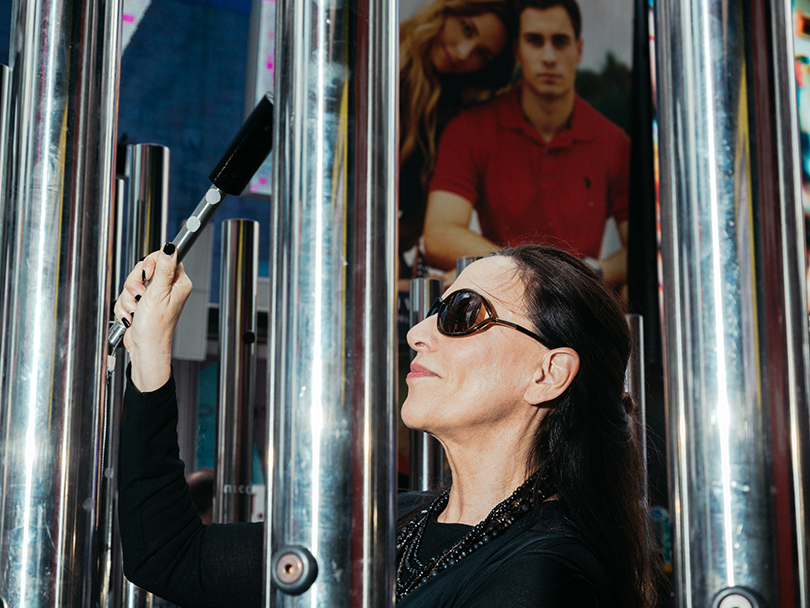 HURRAH! debuted in New York City at the 2019 Design Pavilion in Times Square during NYCxDESIGN, the city's annual design festival, held in May. Murlak and Begnaud discussed the project as it transitioned to a second phase in DC, where the installation will be on view—and open for play—until September 2020.
DANIELLE BEGNAUD: The project has a few themes, but something that kept coming up was music, how it strongly relates to Polish culture, but also how it can bond people and create joy.
KAROL MURLAK: The key word is joy. The diplomatic relationship [this celebrates] relates to the everyday life of Polish people in America, so we felt that it needed to be very close to people. We looked at how people celebrate anniversaries in their everyday life, and it was clear that in Poland, and in America, when we celebrate anniversaries, we celebrate through singing and through music. Joy, happiness, and celebration equals music and sound.
DB: We came up with what we would love the project to look like and sound like based on a complete lack of knowledge of music. The iterations were figuring out how to make different notes [to play the Polish celebratory song "Sto Lat"], and shaping the structure based on information we were finding out as we went along.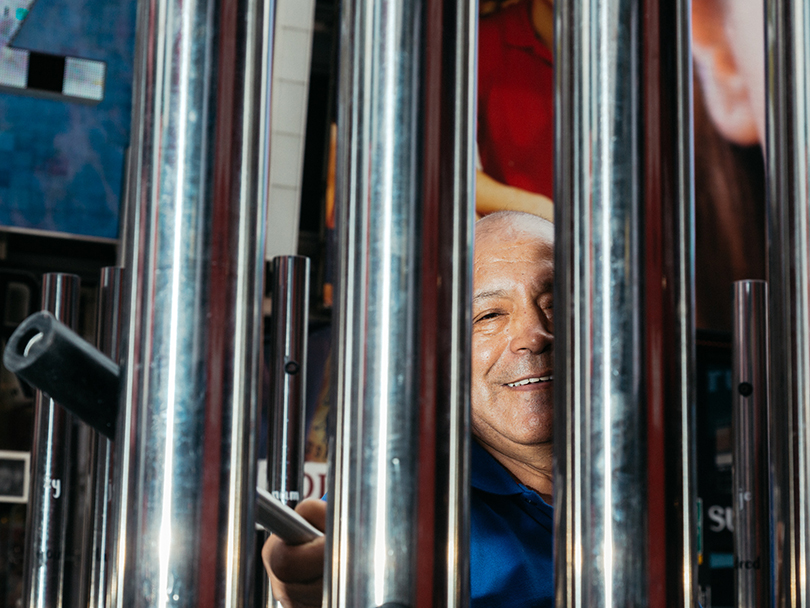 KM: Sound was our main medium. This is a three-dimensional installation, but the thing we wanted people to remember was the music, not the form. At the same time, we as designers are trained to satisfy human eyes, really, not so much ears. It was actually quite exciting to have this idea that we all loved, and our main struggle was to find a way to make it feasible, which is a big part of design work anyway. We spent a lot of hours in the workshop of our fabricator at Brooklyn Stainless Steel—he became one of our experts.
Hannah Fink, MID '20, also lent her expertise as a metalworker, and Alice Hixon Kirk, MID '19, consulted on the project as a trained musician. Part of the expertise Begnaud brought was her experience designing for play and fun.
KM: When you finally see this thing being used, and when you see people smile when they use it, there's this moment when you know you've managed to accomplish something—it's not about the product, it's about what happens between the product and the human being who's using it. At the same time, this is a great learning opportunity, when you see that there are things you could've done better.
DB: One of the things we observed—we tried so hard to control the situation so that everyone would play the song the same and it would come out like a music box. We put stickers on the ground, told you what to do with your hands, showed you where to hit each tube, what order to hit the tubes in, how far apart each one should be in time. But something I observed is people are just going to play it however they want. Regardless of our motives, they were experiencing joy and just kind of letting loose to do their own version of the song.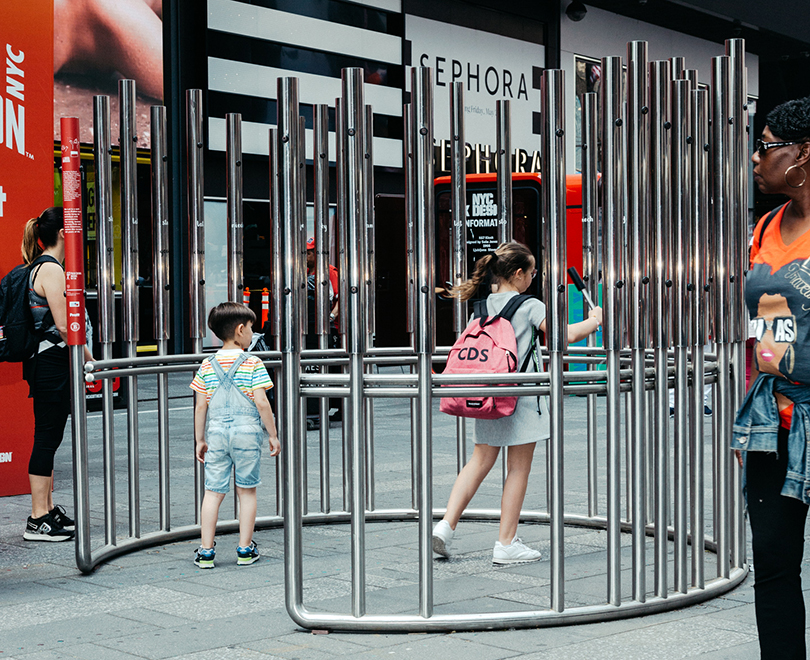 KM: This project is part of Design Clinic. The idea behind Design Clinic, when Constantin Boym [Chair of Industrial Design] was creating it, was that it would be a very different way of educating students, exposing them to real-life projects and real-life situations. This is the main takeaway that I hoped this project would give.
DB: It helped me realize that projects this quick, this real, and big are possible. You really just have to break things down, Google things and call people and figure it out, just keep moving forward. Also, a personal thing: Kasia had been working on this project with us all semester from Poland and she came at the end for the install and stayed with me. Personally, this was the culmination of the whole project, making a friendship through this celebration—I thought that was a nice poetic ending.