Where Masterpieces Begin
Painters will likely recognize the name: Simon Liu, Inc. has been a leading manufacturer of painting stretchers and supports for more than 30 years. From his factory in Brooklyn's Sunset Park, Liu has provided custom-built stretchers to major institutions such as The Metropolitan Museum of Art and to blue-chip artists including the late Ellsworth Kelly '44.
In the mid-1970s, Liu traveled from his native Hong Kong to study mechanical engineering at Rensselaer Polytechnic Institute, later transferring to the University of Hartford and graduating with a BFA in painting before coming to Pratt. He recalls his decision to continue his art education at the Institute as organic, flowing directly out of his growing immersion in his practice. "It became a very intense two years for me. I buried myself in the studio every day and tried to paint."
After finishing his degree, Liu began to design and build his own stretchers, finding store models insufficient. As his artist friends became aware of the quality of his work, he began to build stretchers for them as well, basing his nascent business out of his studio in the DUMBO neighborhood of Brooklyn. After a friend from Pratt introduced him to the conservator at The Met, Simon Liu, Inc. began to take off: "I just had a love for creating things—and it turned into a business!" Liu says his training as an artist really gave him a sense of what other artists wanted and that his two mentors, Pratt professors Alan Klotz and George McNeil, pushed him to experiment in his work in a way that later influenced his decisions in business: "Pratt gave me the opportunity to explore myself as an artist and as a person. Without my experience at Pratt, I really don't think I'd be able to talk to artists as well."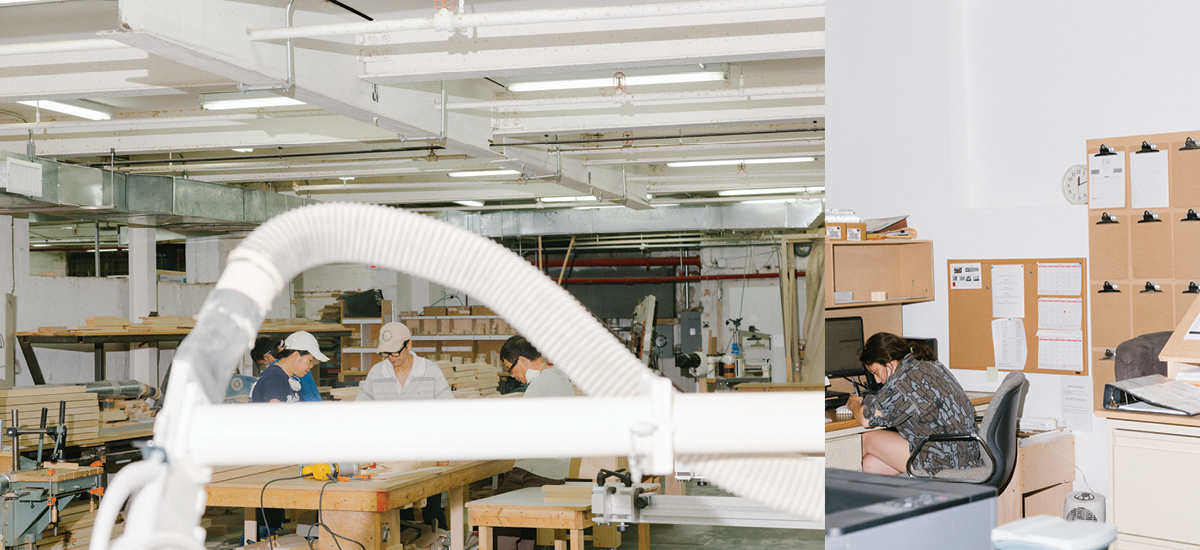 After three decades of crafting supports for some of the most important paintings in the world from his home base in Brooklyn, he has forged fundamental relationships with practicing artists of all stages of their careers—and those connections in turn inspire him to keep designing, building, and creating. As his business continues to expand today—encompassing a discount artist supply outfit as well (simonsartsupplies.com)—his craftsmanship keeps evolving with the pioneering work of the artists he serves. At the time of this writing, he was in the process of perfecting his design for a new aluminum stretcher. What Liu says of his latest design reflects his enthusiasm for growing a business to respond to the needs of the creative community: "This is the next frontier. There's always something new."
---
Curating for the Digital Set
Archiving and preserving one's work can be daunting for any artist, not least of all the artist whose works are born in the world of code. Earlier this year, Ben Fino-Radin founded Small Data Industries to address just this challenge, providing conservation and preservation services to artists, museums, and cultural institutions, with a focus on digital and time-based media, all from a lab in the growing tech hub of Industry City in Sunset Park. Fino-Radin's expertise comes both from his experience as a digital media conservator at MoMA—where he worked for four years during and after his studies at Pratt—as well as from his practice as an artist.
Fino-Radin pursued Pratt's dual MFA/MSLIS degree as a way to formalize his training from his day job in an archive while furthering his work as an artist. "As I was researching the program, I had this epiphany: It's somebody's job to preserve the kind of art that my peers and I are making. I knew immediately that was what I wanted to do." Shortly after beginning his information science studies and digital arts training, Fino-Radin took on a fellowship in the digital archives at Rhizome at the New Museum and soon transitioned to a full-time position at the organization.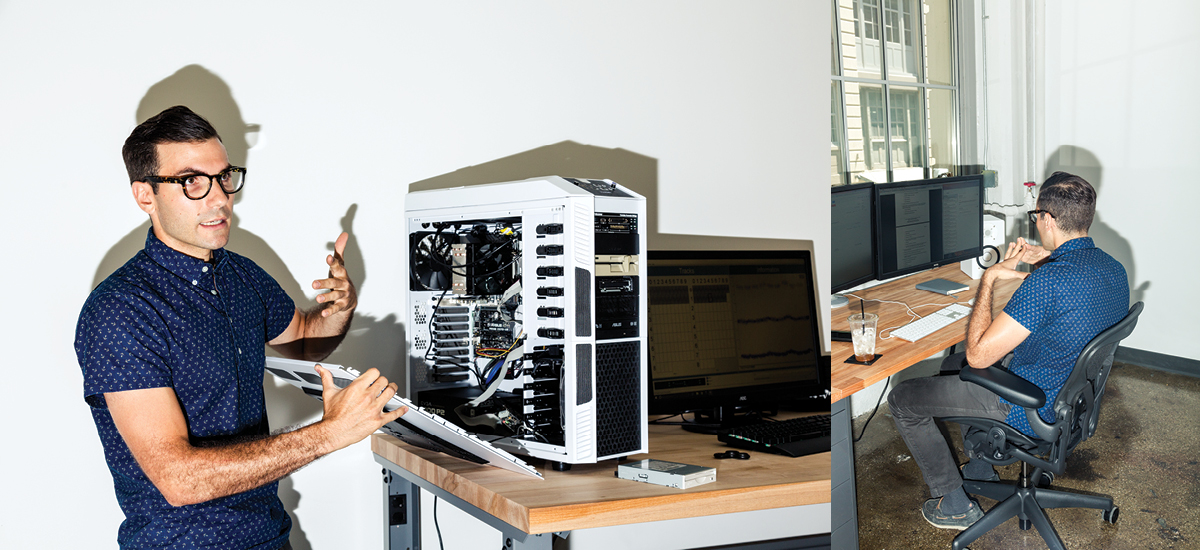 After graduating, Fino-Radin took a full-time job in the conservation department at MoMA where he built out the institution's practices for conserving software-based and digital artwork and created workflows for digital preservation infrastructure. Over time, he became more and more interested in solving preservation problems outside of an institutional setting. "We would get a lot of questions from art collectors or colleagues at smaller institutions with fewer resources. I could see that there were gaps between what people needed and what existed in the world. And that's really what motivated me to take a big risk and start a business."
Small Data Industries has been worth the risk. The company is growing quickly and has recently taken on major New York City–based projects at the Cooper Hewitt, Smithsonian Design Museum; the Whitney Museum of American Art; and the Museum of the Moving Image, all while continuing to build a client base of smaller institutions and individual artists, both locally and beyond the city. Just as his library and information science education gave him the tools to organize and preserve data, Fino-Radin credits his training as an artist for his ability to understand the needs of his clients: "It's really understanding the materials and the history of the form on a very deep level. In the same way a photograph conservator can talk about the intricacies of processing materials, I've been able to engage with and understand the process behind digital and time-based work."
---
Art to Rebuild a Community
Though Topless gallery has no fixed address, it does have a home in Far Rockaway. Founded by Jenni Crain and her collaborator, Brent Birnbaum, in 2014, the nomadic gallery occupied a different space in the beachside Queens neighborhood for three consecutive summers before taking a hiatus in 2017. Crain's training as a sculptor—her austere work in wood and glass is shown regularly in New York City galleries—prepared her for the extensive renovation jobs she and her partner have undertaken to create their own exhibition program throughout multiple spaces. And, for Crain, it's the unique synchrony of curatorial work as it takes place in harmony with the manual labor—different from how she approaches her other curatorial ventures—that makes running the gallery such a rewarding experience.
For the two founders, the project is about building community among residents, artists, and arts enthusiasts within Rockaway and beyond the peninsula. "When we started, there wasn't really much in Rockaway, in terms of contemporary art," Crain says. After Hurricane Sandy decimated the neighborhood, the arts community of New York City reached out, stepping up their engagement with and support of the Rockaway community. "That same summer, MoMA PS1 initiated a project in Rockaway, which also brought many people to the peninsula with the intention to see and support contemporary art."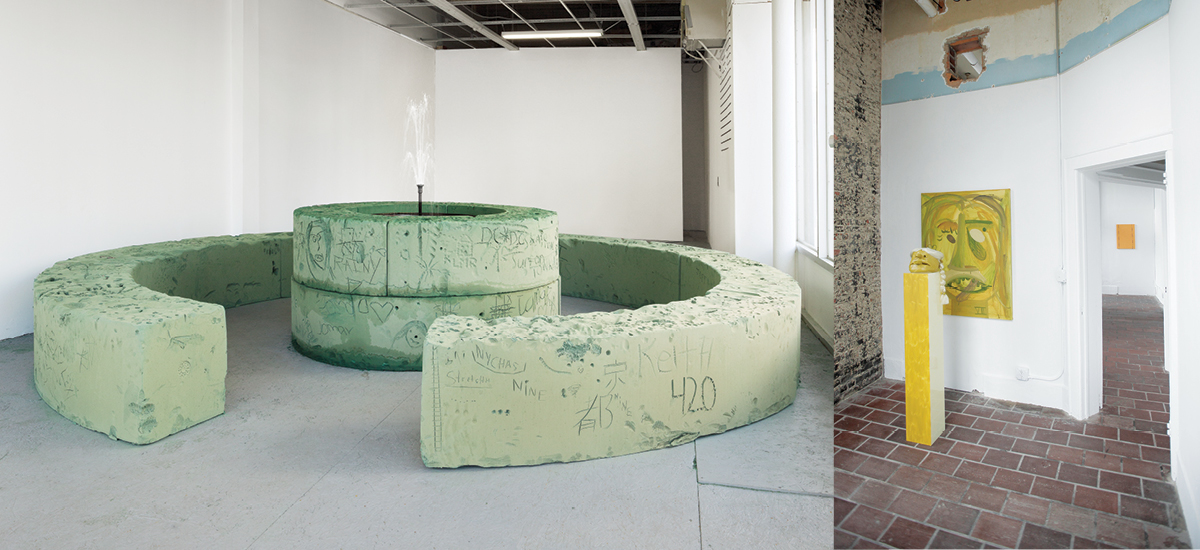 Though Topless was on sabbatical this past summer, Crain and Birnbaum plan to return. "As Rockaway changes and shifts, we decided it was important to take some time to reflect on what we believe are the positive effects of our presence out there—what we thought the Rockaway community responded to most strongly—as well as what we might like to address or change within the program moving forward."
Running Topless has pushed Crain to engage with artists and art that she otherwise might never have encountered, which in turn pushes her own practice in unexpected directions. She says, "Curating offers this really special opportunity to expand relationships and work with more people than I ever would in my role as an artist." For Crain, her experience at Pratt was critical in providing the tools necessary to thrive as a gallerist and curator: "Pratt really taught me to seek opportunities rather than to wait for them to happen. You can push the boundaries and open up more doors just by being active."