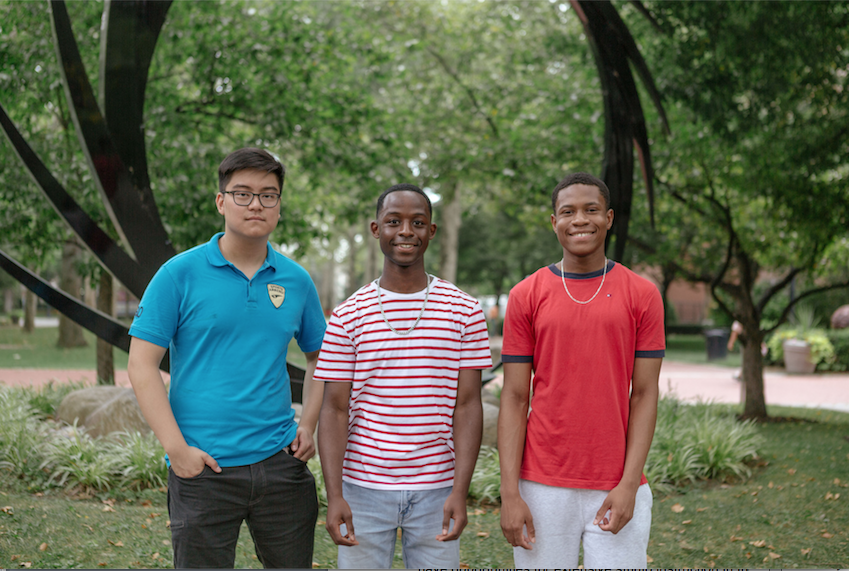 The incoming undergraduate class of 2023 has arrived at Pratt Institute for the fall semester. Three of its members—Jiale Chen, Leo Lopez, and Ajani Stewart—have already spent extensive time on campus taking college-level classes as part of Pratt Young Scholars (PYS). The three-year program offers scholarships to highly motivated New York City public high school students.
"My attending Pratt is a huge achievement," Chen said. "Being one of the first in my family to attend college is an overall big achievement. I am proud to have met the expectations of my family as they supported me in pursuit of my art."
The PYS program was conceived in 2013 by a group of faculty members from across Pratt Institute. Their program proposal resulted in a Pratt Innovation Fund Award. Initially operated by the Department of Art and Design Education, PYS is now part of the Center for Art, Design, and Community Engagement K-12. Especially crucial at a time when access to art and design education in public schools is often limited, it provides artistic engagement for students and allows them to envision themselves in creative fields through their interactions with the Pratt community. While the students, many of whom are from underserved neighborhoods, may not have opportunities for extensive studio instruction in their high schools, through PYS they can pursue art and meet students from a range of backgrounds who share similar aspirations.
"In its short existence, the program outcomes have been very encouraging," said Aileen Wilson, Director of Center K-12. "The college acceptance rates of graduates have been excellent. Everyone on campus who is involved in the program is very proud, particularly the faculty who teach in the program. Their expertise and commitment have been central to its success."
College-Level Courses for Ambitious High School Students
Each PYS participant is selected based on their demonstrated enthusiasm for art and design and their academic commitment. The coursework is college-level, with after-school sessions on Wednesdays and sessions on Saturdays led by Pratt faculty on the Brooklyn campus. Students additionally attend a two-week summer immersion. The classes and electives include drawing, painting, sculpture, printmaking, fashion and textile design, film, photography, and architecture. Although students often come into the program with specific artistic interests, this scope of experiences invites students to experiment with media they may never have encountered, expanding their knowledge of the many careers available in art and design.
From studio classes and field trips to workshops and lectures, the Scholars are challenged in their work and supported in reaching their goals. Many of the students are the first generation in their families to have college ambitions and PYS offers one-on-one guidance on the application process and financial aid as well as SAT preparation. The work that they complete during the three years is essential for their application portfolios.
"I received a lot of help from the Pratt Young Scholars program and from my college advisor who helped me with all the questions I had about college," Stewart said. "She helped me understand the differences when it came to SUNYs, CUNYs, private colleges, and a range of other things."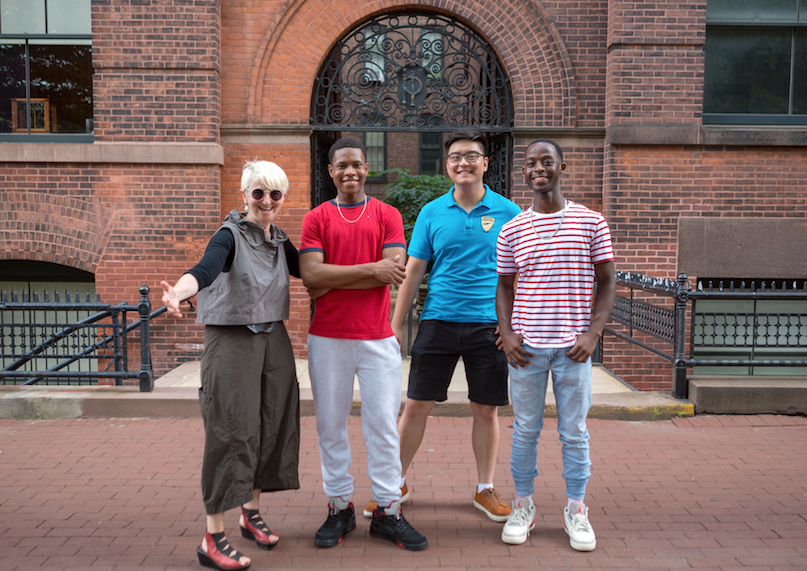 Finding an Artistic Voice
The three PYS graduates attending Pratt this fall all said that the program was pivotal in finding their artistic voice and having the support to follow a creative path as a college student. Stewart, who was also a 2018 Black Alumni of Pratt (BAP) PreCollege Summer Program Scholar, explained that he is particularly interested in learning more about his main passion—drawing—while at Pratt.
"I first realized I wanted to pursue my college major of Fine Arts: Drawing in high school, but it was the Pratt Young Scholars program that cemented the idea in my head," Stewart said. "During my foundation classes in the fall and spring semesters, along with the summer program, I excelled at drawing; it was something that I really enjoyed. Almost like second nature, I would render what I saw in front of me whether it was from a still life or imagination."
Being from New York, he said that he is looking forward to meeting new people from around the world on campus, something he experienced as a PreCollege summer student. He added that the college support provided by PYS made him feel ready mentally for this next challenge as a first-year undergraduate.
"[Attending Pratt] means a lot to me and my family," Stewart said. "They're happy that I got into my first-choice college and I'm pleased that I've done everything I needed to do to get to this point in my life. It is also a special moment because not everyone in my family has attended college. It's up to me to set this precedent so that my younger cousins can see the importance and value of college."
While a Pratt Young Scholar, Lopez developed an interest in graphic design and motion graphics. He plans to study graphic design at Pratt and examine how it plays a role in society and can communicate ideas through art.
"I feel this field will complement my artistic side and make me a more well-rounded artist since most of my pieces are hand-drawn," Lopez said. "I plan on becoming an art director and graphic design is vital in completing that goal. Graphic design will help me creatively and add to my versatility as an artist."
Lopez said that he is anticipating the variety of campus activities as well as the new challenges of the college classroom where he plans on "learning in abundance." He described how PYS prepared him to take advantage of these opportunities through exposure to new ideas and learning settings.
"The Pratt Young Scholars classes took place on campus, providing the college atmosphere," Lopez said. "One skill I gained was the ability to maintain my performance level over long periods of time in the drawing classes. These classes went in-depth on certain techniques and I look forward to exploring these techniques and my newfound knowledge in the art I create at Pratt."
Creative Problem-Solving for Life
Chen plans to study digital arts with a concentration on 2D animation and 3D animation, working from his artistic immersion in PYS. He is inspired by a longtime interest in anime and the distinct art styles produced by its different studios and has a goal of pursuing work at an anime, animation, or gaming company.
He stated that the PYS program prepared him to enter the digital field through its rich experiences in many types of art. He is looking forward to continuing this multifaceted approach to art by taking electives in a range of fields alongside those in digital arts.
"Taking a college-level course through the Pratt Young Scholars program was very different from a high school class because there were higher expectations and I met other students with higher skill levels than me," Chen said. "The experience really opened my eyes to all these amazing people. What I learned from this program is not only art-related but also people-based—I learned to expand my social skills."
All 15 of the 2019 PYS graduates were accepted into Pratt, with other students going to Syracuse University, Rice University, Northeastern University, SUNY Purchase College, SUNY Stony Brook, the Fashion Institute of Technology (FIT), Brooklyn College, and the American College of Greece. This is a testament to the rigorous nature of the program in preparing students for higher education through its coursework and college application mentorship.
There are currently 52 students enrolled in PYS at Pratt. Beyond offering the resources to pursue art and design careers, the program encourages students to use creative problem-solving in their everyday lives and to be assertive with their personal goals. By providing pathways to success, PYS promotes access to creative careers for New York City public high school students.
Pratt's PYS program was highlighted in a segment that aired on NY1, the New York City-based news network, this fall. Wilson, Chen, Stewart, and others appear in the feature, which was filmed on the Brooklyn campus and includes visits to a studio class and the Archives at Pratt Libraries to explore the past and present of Pratt's commitment to its community through youth education and outreach.
Updated: October 18, 2019
Images: [main photo, L-R] first-year Pratt undergraduate students Jiale Chen, Leo Lopez, and Ajani Stewart; [inset photo, L-R] Pratt Institute President Frances Bronet with Ajani Stewart, Jiale Chen, and Leo Lopez