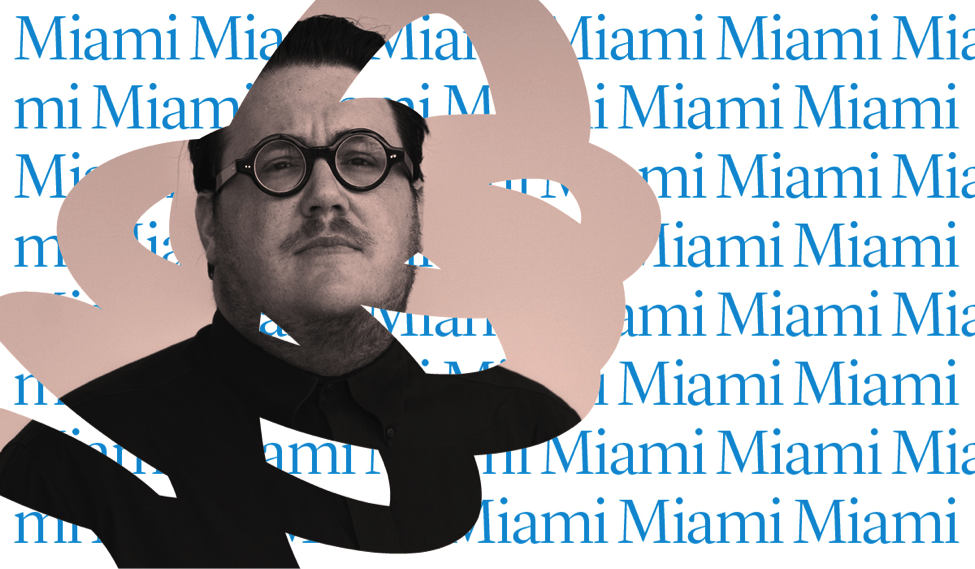 As the Office of Alumni Relations launches its first regional networks, laying the groundwork for Pratt connections to flourish in the many places alumni do their work, Prattfolio* checks in with six local influencers across the United States who are helping to make their cities hubs of creativity and innovation. Part five of six highlights Tommy Ralph Pace, BFA Drawing '08, associate director of the Institute of Contemporary Art, Miami.
When Tommy Ralph Pace returned to South Florida, where he grew up, he was drawn to the potential for artistic growth and flourishing there, especially in his current home city of Miami. For the past nine years, Pace has worked to enhance the conversation around art in the region—most recently as associate director of the Institute of Contemporary Art, Miami, whose new building opens in the Miami Design District this winter.
What attracted you to Miami?
I am a quintessential Floridian, with artistic roots here—my grandmother was a ceramics teacher at a local senior citizen home and my father owned the recording studio where Gloria Estefan recorded her first album. My move back was part altruistic—combatting the constant brain drain our region experiences due to a lack of top-tier postsecondary education programs—and part due to the fact that Florida has an incredibly unique context for artists to work and live in. According to the Forbes America's Fastest-Growing Cities 2017 index, the state is home to 6 out of the top 10, even as Floridian coastal cities are the national—even global—face for the looming threat of sea-level rise caused by climate change. South Florida is a place filled with paradoxes, and I think that tension provides a lot of potential for artists to unpack.
In the continuum of your career in the city's gallery and museum scene, how does your work at ICA Miami stand out?
When we took the bold stance to create the Institute of Contemporary Art, Miami, it was out of the belief that our region, which is one of the most diverse in the nation, deserved an arts organization that was based on a pretty simple concept: free and open access to the innovative art of our time. Our curatorial program has been focused on promoting the work of the most significant emerging and underrepresented artists working today, and ICA Miami is our region's only museum that offers free admission year-round, alongside an energetic calendar of programs and events that are offered to our community for free as well.
How do you see ICA Miami having a transformative impact on the city?
Miami is such a young city, compared to some of the arts and cultural meccas in our country and internationally—technically only about 35 years old, in terms of being a major international city for commerce. The city has made amazing strides over the last 15 years to define itself through the arts, and ICA Miami is helping to advance that shift.
Is there an initiative you're especially enthusiastic about?
One of the projects I have been working on extensively has been the development of a comprehensive digital strategy for the museum, through a grant from the Knight Foundation. As a museum founded and built in the 21st century, when technology continues to transform the way we live our everyday lives, it's important for us to create new and unique platforms to provide access to our wealth of content. To that end, we have been developing a major video initiative in partnership with South Florida PBS, as well as experimental digital content to enhance the visitor experience on-site and online.
What opportunities do you see in Miami for artists and creative practitioners?
As much as it is a significant challenge, I see artists playing a huge role in shaping dialogue around issues affecting our environment and political processes—and South Florida is at center stage of many of those debates. Also, Miami offers a smaller, more focused community of artists and cultural professionals. So, practically speaking, young artists moving to the city have more opportunities to develop significant relationships with curators, museum directors, and collectors.
How did the experience you had as a student at Pratt shape the work you do today?
Pratt's focus on a well-rounded education, and specifically its emphasis on understanding the mechanisms of the artwork through foundational courses like Fine Arts Seminar, was invaluable—and I continue to apply what I learned in my current work.
What is a favorite aspect of your life in Miami that makes you feel connected to the city's arts and cultural community?
I had always dreamed of dedicating my life to being an artist, but now I can honestly say that building ICA Miami's programs, and creating infrastructure to support other artists as they make new work that challenges audiences, has become just—if not even more—satisfying.
*This article was originally published in Prattfolio (Fall/Winter 2017). Read the issue at www.pratt.edu/alumni.
Portrait by Xavier Lujan