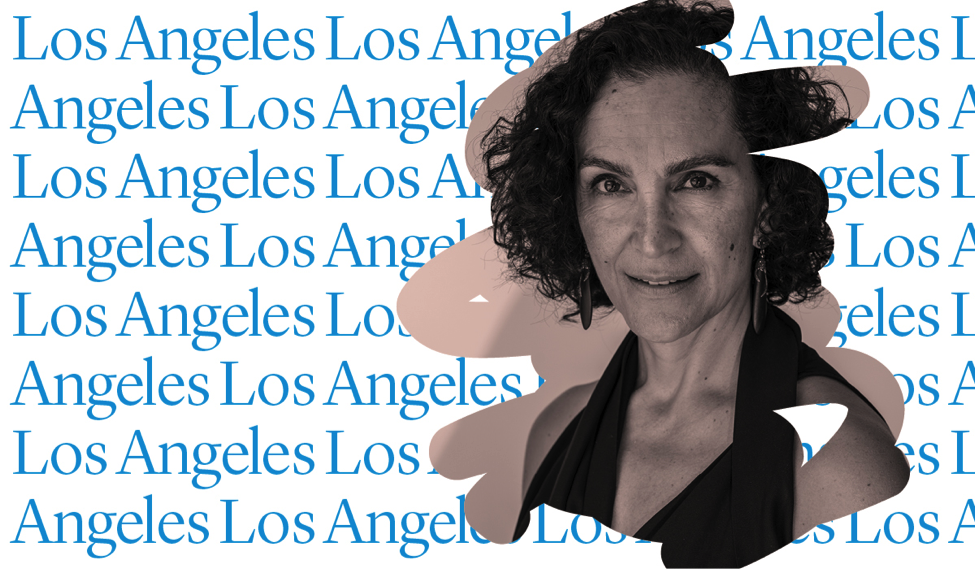 As the Office of Alumni Relations launches its first regional networks, laying the groundwork for Pratt connections to flourish in the many places alumni do their work, Prattfolio* checks in with six local influencers across the United States who are helping to make their cities hubs of creativity and innovation. Part four of six highlights Shulamit Nazarian, BArch '87, founder of Shulamit Nazarian Gallery in Los Angeles.
When gallery founder Shulamit Nazarian was studying architecture at Pratt, she was already taking an interest in representing artists, showing work in her home on the Upper East Side. Nazarian launched her gallery in Los Angeles in 2006 as a traveling art platform, moving into a more permanent home in Venice in 2012. This past spring, the gallery relocated to a 4,000-square-foot space in Hollywood with the capacity to support large-scale projects and exhibitions, aiming to represent both local and international contemporary artists and engage with the community to encourage cultural conversation.
What spurred you to start a gallery in Los Angeles?
After graduating from Pratt, I moved back to Los Angeles, where I had begun my architecture studies after emigrating from Tehran, and I was able to appreciate the city as the real tapestry of cultures that it is. There are so many backgrounds, including my own, that I saw as marginally promoted, and I wanted to create a platform to shed light on these communities and how integral they are to LA.
How do you see your gallery having a transformative impact on the city?
The gallery program focuses on multivalent artists, whose backgrounds and practices don't fit so perfectly into boxes. It's my way of paying homage to a town that welcomed me. I want to highlight the immigrant experience and share the many different levels in which displacement precipitates for people. It is my hope that this remains the central mission of my gallery, as it is needed now more than ever.
What opportunities do you see in Los Angeles for artists and creative practitioners today?
I feel that LA promotes experimental work, and artists here seem to feel less beholden to certain conventions of both making and showing work. More and more artists are discovering the pioneering spirit that has always existed in this city. On a practical level, there are such vast spaces here for artists to create work and develop their practices. With many galleries opening in the area, there are an increasing number of opportunities for these artists to show their work locally—both in for-profit and nonprofit venues.
What is a specific challenge you see facing artists and designers in LA? How do you see that challenge being addressed?
With LA being so spread out, getting involved in multiple scenes can be a challenge. Thankfully, more communal spaces are opening that welcome both emerging and established artists. I also think the collecting community is starting to support local artists, which is a rather new development and so important to kick-starting the careers of these creative minds.
What do you hope to see change for the creative community in the future?
LA has all of the nuts and bolts in place to make it even more of an international destination for art, so I hope that it continues to grow in a way that attracts people from all over the world.
What is a favorite aspect of your life in Los Angeles that makes you feel connected to the city's arts and cultural community?
Studio visits are a highlight for me. Also working with phenomenal collectors and learning about their passions, and seeing in person the uniqueness of each of their collections. I also have an incredible team at the gallery—we operate like a family—and everyone stays so in touch with what's happening on the scene. Our move to Hollywood has really put my fingers more directly on the pulse; it's been a phenomenal change to be on La Brea and constellated with so many important spaces—Regen Projects, LA><Art, Various Small Fires, and the forthcoming Jeffrey Deitch Projects.
How does the experience you had at Pratt as a student of architecture influence the work you do today?
Walking through Higgins Hall and seeing art exhibitions side by side with architectural projects sparked my early interest in crossover and dialogue between fields. I've always been attracted to unique architectural venues to show art—exemplified by both the old Venice space, a former home of modernist design, and our new Hollywood space—and my architectural education has helped me find ways to reinvent our spaces for every show and implement my visions in a concrete way.
*This article was originally published in Prattfolio (Fall/Winter 2017). Read the issue at www.pratt.edu/alumni.
Portrait by Matthew Leifheit