Students in the Pratt Institute Film/Video program learn each angle of filmmaking as a creative practice, from storytelling to shooting and editing. Within the vibrant media landscape of New York City, they have opportunities to get hands-on experience in the development, production, and distribution of film, television, online video, and more. Especially as streaming platforms, social media videos, and other areas have shifted the media landscape, there are more opportunities to engage with diverse approaches to film and video. 
Four students and recent alumni shared how their internships complemented their education at Pratt and what advice they would offer to other students interested in getting involved in the industry.
Collaborating with the Late Night TV Crew
Nicole Tucker, BFA Film '24, has worked on several New York City-based productions, including as a production assistant and as a general production intern for Late Night with Seth Meyers. Her experience highlights included getting an in-depth look at the daily creation of the show, such as being a production assistant on a segment with Post Malone.
Can you share what you did while interning at Late Night with Seth Meyers?
My general tasks included clip research, preparing the office for the day, attending production meetings, highlighting segments of the show, transcribing monologues, and helping with the general flow of the day. Every day was different, and everyone was very nice and respectful. NBCUniversal has a great program for internships that includes informational sessions with staff members to learn more about their jobs and receive insight into growing your career from an intern.
How did the experience complement what you are learning at Pratt?
Being able to learn in a working environment was something that really emphasized my desire to work in the entertainment industry. In Pratt's film program, students immediately start learning how to work collaboratively with each other using professional equipment. At Late Night, I was able to see how collaboration and trust are the cornerstones of a productive environment.
Is there something you learned in the internship that you are going to carry forward into your studies or career?
Yes! Late Night emphasized trusting others and having respect for all persons, whether they are the showrunner or intern. Small talk is always great because it allows room to establish a rapport. I liked asking people about their weekends or how the Mets played the previous night!
What advice would you give to students considering an internship in this industry?
Go for it. Dive right in. There are so many wonderful opportunities in this city. Look for those who are doing what you want to do and ask them about their experiences. It is refreshing to talk to someone with similar goals, be it a peer or a mentor. The film industry really supports young creatives, especially in an internship environment. The industry wants talented, passionate, and determined individuals in the early career category. Pratt provides wonderful experiences and skills that make one flexible and prepared to intern at a company like NBCUniversal.
Going Behind-the-Scenes with Film Production at A24
Madelyn Cardarelli, BFA Film '23, is an intern at A24, the production company behind the Oscar-nominated Everything Everywhere All At Once and The Whale, as well as recent award-winning films Minari, Uncut Gems, Midsommar, and Funny Pages (written and directed by Pratt alumnus Owen Kline).
What have you done while interning at A24?
Throughout my time at A24, I have had three separate internships. My first internship was in the People Ops Department, which focuses on general office operations. In my second internship, I worked for the TV Department. My job consisted of reading scripts, books, pitch decks, lookbooks, bios, and really any creative materials that they needed someone to look at and write coverage for.
Currently, I am working in the Acquisitions & Development Department. They choose which projects to invest in developing and sending to production, while also attending festivals and meeting with filmmakers to also acquire existing films and distribute them in theaters. My job now is similar to the work I did in the TV Department, mainly writing coverage for feature scripts. I also assist in general tasks relating to film festival research and preparation, specifically for Sundance, Berlin, and SXSW.
How does the experience complement what you are learning at Pratt?
The work I have done for A24 is very different from anything I have done at Pratt, as I am now on a completely different side of the industry. Pratt fosters filmmakers, meaning that we write and create our own films, whereas A24 is a production company and therefore exists as a part of the business side of the industry. It has been an interesting and at times contrasting experience that has allowed me to better understand the different sides of producing, making, and distributing a film.
Is there something you learned in the internship that you are going to carry forward into your career?
I've learned many things in my internship that will certainly stick with me! Most recently, I've learned a lot more about the business side of film festivals. As someone who hopes to enter my work into festivals, it's been very eye-opening to learn more about how this works.
What advice would you give to other students considering an internship in this industry?
Do it. Apply for the job, reach out to the person you met, make a point to talk to people, and put yourself out there. What's the worst thing that can happen? Film as an industry runs on relationships, and the more chances you take, the more things you try, and the more you put yourself out there, the better!
I applied for my first internship at A24 on a whim, with the mindset that I would be rejected and continue to apply and apply until I got something. And to my surprise, I was chosen for the first internship I applied for! I think we often underestimate ourselves or let our social anxiety get the best of us. But you're not going to figure out what you want or who you are by not trying something. My internships have helped me discover more about what I want and don't want, as well as understand that working both in and outside of school is simply a series of trial and error until you find a path, position, or goal that feels right for you. There is no one way to succeed in this industry.
Finding a Dream Job at Saturday Night Live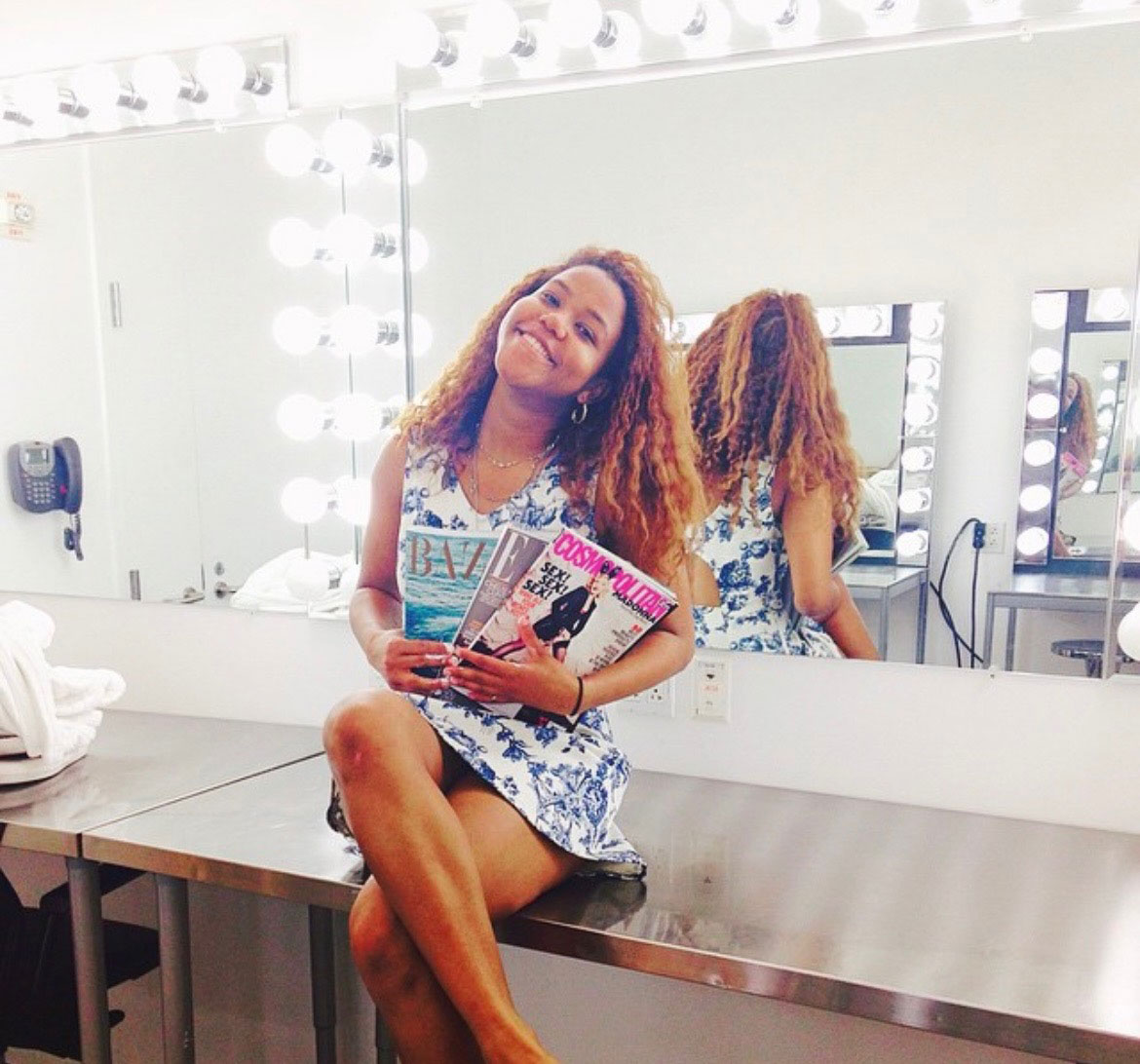 During her first year at Pratt, Asha-Kai Grant, BFA Film '17, had a goal to intern at her dream place to work: Saturday Night Live (SNL). When she was a junior, she got an internship on the television show and stayed on until graduating, when she was hired as a full-time producer's assistant. She continued to work her way up and is now a production coordinator for SNL.
What interested you in interning at Saturday Night Live?
All I wanted to do was work there. I wanted to work in comedy and television, and it was the perfect combination. I moved to New York so I could intern there in the hopes of one day working there. When I was in high school, I started to really have a passion for the show. I loved that it had a huge history behind it and the amazing talent it produced. I wanted to learn as much as I could before graduating, and that was the place I wanted to do it.
What did you do while you were interning at SNL? What do you do in your current role?
When I was an intern, I was a research intern, meaning I worked with the writers and cast. I did runs for coffee, office supplies, and anything the writers or cast needed for the week. I also did research on current events if the writers needed it. My second year interning there, I was a Weekend Update intern. During that internship, I sat in on rewrites, helped organize scripts, and worked with the writers and producers as a general helper with anything they needed. Currently, I work in the control room with the supervising producer and the director. I work on scheduling and research and still help out anywhere I can, just mainly with the studio now.
How did the experience complement what you learned at Pratt?
I learned a lot at Pratt about how to handle myself in the industry. Pratt taught me how to do research before interviewing; how to make a resume, website, and CV; set up interviews; and network before graduating. Pratt also taught me what I specifically want to do in the entertainment industry. I was able to learn what a director, editor, producer, writer, and actor all do. I had a chance to try it all. I am so thankful for that because it really narrowed my focus on producing.
Is there something you learned in the internship or at Pratt that you carry into your current work at SNL?
I learned everything from my internship in terms of learning how to listen, and that you can always learn more, and that helping out wherever you can goes a long way! Everything I learned from Pratt prepared me to get to my internship. It helped me navigate my way toward believing in myself as a producer in film and television. I will carry the lessons from Pratt and my internship for the rest of my career.
What advice would you give to current students considering an internship in the industry?
I would say to think of your internship as a class, a class that you want to get the best grade in. Show up on time, stay late, do extra credit, make yourself stand out, and commit to it. You can learn so much from internships if you really apply yourself to them.
Getting an Inside Look at the Relationship between Film & Marketing
Kiernan Francis, BFA Film '23, recently interned at Kino Lorber, which is one of the premier film distribution houses in the United States specializing in art house and international cinema. Its roster of filmmakers includes Jean-Luc Godard, Taika Waititi, Chloé Zhao, and Eliza Hittman, who is currently a filmmaker in residence in Pratt's Film/Video Department.
What have you worked on while interning at Kino Lorber?
At Kino Lorber, I decided to work primarily with the press and publicity team. Public relations was something I needed to be demystified. Learning about the relationship between films and their circulation, journalistically or otherwise, is very interesting to me.
I was primarily doing research on journalists, festivals, and reviews; circulating press breaks; updating press contacts; and sitting in on weekly meetings about theatrical and digital distribution with the company's higher-ups.
How did the experience complement or add to what you are learning in class at Pratt?
I found that this experience exposed me to the backend of filmmaking that many institutions don't talk about. It's not necessarily the fun work, but it's a large part of the industry and how films and their contributors get exposure through distribution and marketing. I think the way mass media operates in tandem with cinema is important to keep in mind.
Is there something you learned in the internship that you are going to carry forward into your career?
I am definitely going to carry with me all the information I learned about theatrical and digital distribution as well film festivals, educational distribution, and team management.
What advice would you give to students considering an internship in this industry?
I'd highly recommend an internship in this industry. Even if it seems boring, it gives you a lot of perspective on the movie industry. Distribution is arguably one of the more vital parts of film and entertainment.