From the need to reduce waste in the fashion industry to the growing consumer demand for environmentally friendly products, the 2022 Pratt Design Symposium: Designing for Sustainable Innovation covered a range of issues now impacting the design industry and launched a new sustainability-focused packaging design scholarship at Pratt. Held on November 30 at the Asia Society in Manhattan, the annual event that was started in 2016 drew a lively crowd including students, faculty, professionals in the field, and members of the public interested in how design and design education can be reshaped to better protect the planet.
The panel of leading sustainable design experts included Caroline Brown, managing director of Closed Loop Partners; Mitchell Gold, CEO of MGBW Home; Ron Gonen, CEO of Closed Loop Partners; and Al Iannuzzi, vice president of sustainability at Estée Lauder Companies. They shared insights on current issues and the potential for the circular economy and other emerging practices to promote a more sustainable and ethical design practice. President Frances Bronet welcomed the audience before introducing the moderator, internationally acclaimed entrepreneur and designer Marc Rosen, an alumnus who is a Pratt Trustee Emeritus and faculty member in the School of Design. Rosen is the creator of the Design Symposium.
"Today we have the challenge of how to create beautiful and sustainable packaging," Rosen said. "To achieve this goal, we have adopted the five R's: rethink, reduce, refill, replace, and recycle. To the credit of suppliers and designers, this formidable challenge is being met step by step by leveraging these principles of action."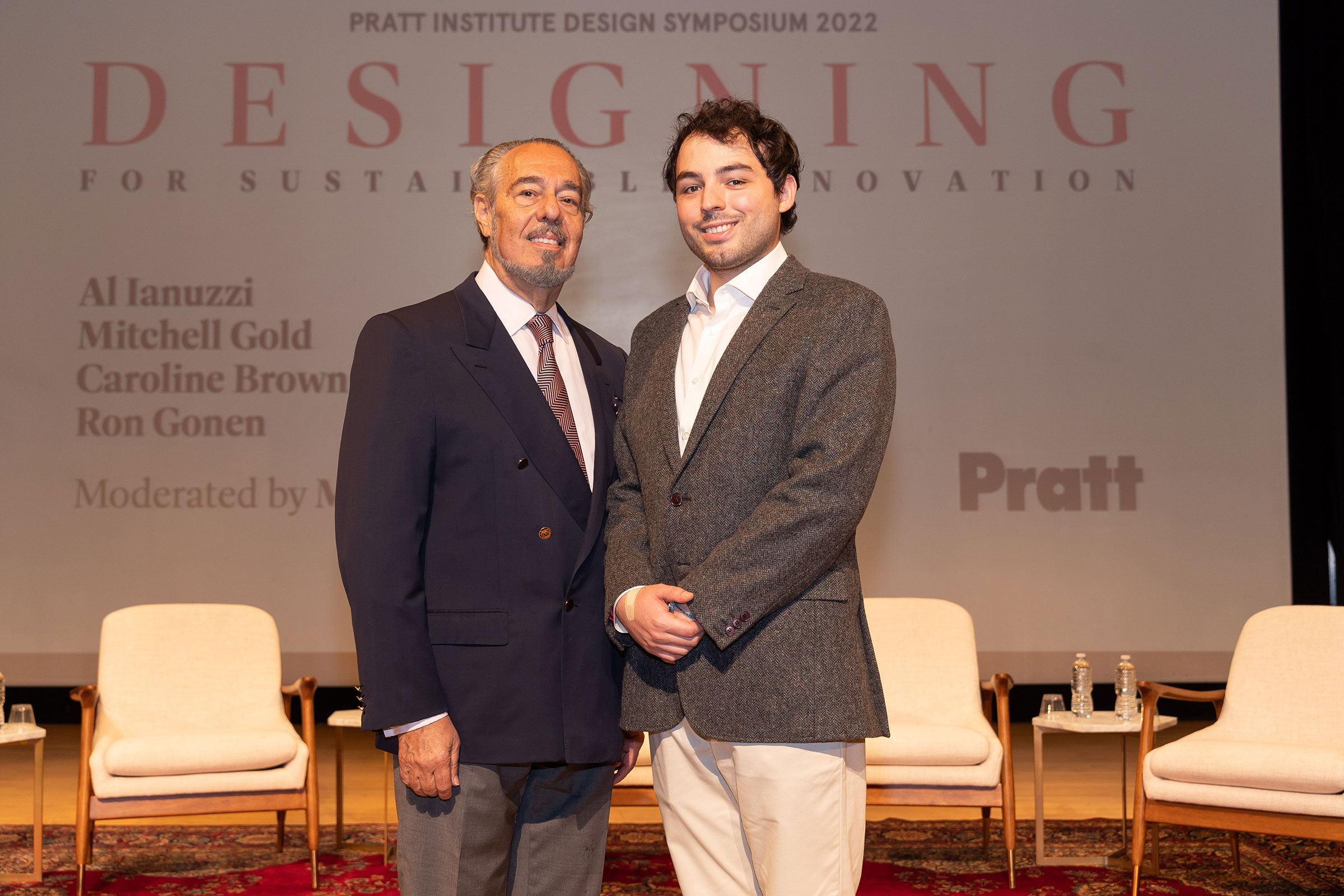 The Marc Rosen Excellence in Sustainable Packaging Scholarship is the third full-tuition Pratt scholarship to be established by the Marc Rosen Scholarship Fund for Packaging By Design which to date has provided close to $2.5 million in scholarships and awards for over 100 Pratt students. This new scholarship will be awarded every other year to a Pratt graduate student who is in the Packaging, Identities and Systems Design program and is interested in how design decisions impact local and global resources and communities. Erik Páez Menzel, MS Packaging, Identities and Systems Design '25, is its inaugural recipient and shared the importance of this support at the event: "I always tell everyone how valued new ideas, innovation, and design are now, especially in a city like New York. Designers are on the frontlines of changing not only how we interact with products and their packaging but of a cultural shift: everyone can be part of this process."
During the panel, Caroline Brown of Closed Loop Partners presented on this topic in the global fashion industry, examining how everything from the emissions it produces, to the water it wastes, requires improvement. "There is opportunity at every single part of the value chain," Brown said. "80 to 90 percent of the outcome of the end of a product's life is predicated in the headquarters of the company in the design room. Any of you training to be designers, please remember that stat. The decisions that you will make on material use construction and how product is put together will predicate whether it is able to be reused or whether it has to go to landfill at the end of its life."
Al Iannuzzi then discussed how Estée Lauder Companies is making these choices for its high-end products while addressing the question: "How do you design a package that's sustainable and still looks elegant?" Their efforts have included shifting some beauty packaging from plastic to glass and being sensitive to materials that are sourced responsibly: "We're embedding innovation and sustainability into the way we bring products to market."
Ron Gonen of Closed Loop Partners took a broader view of the history of sustainability and the ongoing disconnect between the recycling industry and designers, a major issue when success in many design spaces emphasizes selling more and more items. "We can have the aspiration to design sustainably, but if we don't have the opportunity to spend time in the place where all of that product and packaging goes to be recycled, our insight into how to design that product is very limited," Gonen said.
Mitchell Gold of MGBW Home provided a perspective from the furniture industry and how environmental consciousness can be at the core of a business. His company integrates "lean manufacturing" to minimize waste and employs excess materials in new products, such as extra leather from furniture production used to make handbags and wallets. "I want you today, after all that you've heard, to think about this and I want to inspire you to really have an open mind about what you can do and what role you can play in correcting this environment," Gold said.
The 2022 Design Symposium and the Marc Rosen Excellence in Sustainable Packaging Scholarship were covered by WWD and Beauty Packaging. The event was supported by the Marc Rosen Education Fund and had additional funding by Juliana Curran Terian, through the Terian Foundation.