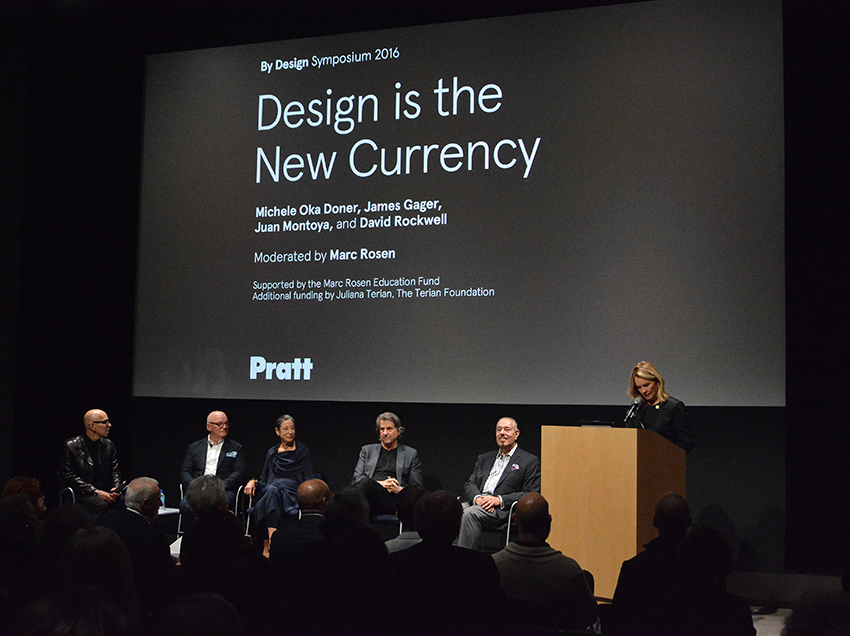 Design is everywhere today, and has become a huge part of our experience in virtually every area of our lives. On November 2, a large audience gathered at the Whitney Museum of American Art's Hess Family Theater and Gallery to attend Pratt Institute's first annual design symposium, which explored the theme, "Design is the New Currency."
The symposium brought together esteemed artists and designers from diverse fields to discuss how design has become the "x-plus" factor in an ever-changing world in which consumers know they are buying design, and use it to underscore their identities with a defining personal style. Award-winning luxury and cosmetics packaging designer Marc Rosen, Pratt Institute trustee emeritus and professor of packaging design, moderated the panel discussion. The speakers were multidisciplinary artist Michele Oka Doner; James Gager, senior vice president and creative director of MAC Cosmetics; interior designer Juan Montoya; and architect and designer David Rockwell.
"Whether we are creating bottles for perfume, designing a building or an interior, or suggesting a lifestyle through fashion, all designers are packaging, or marketing, an experience," said Rosen. "Pratt is a mecca of design education where every kind of design is taught. How appropriate for the Institute to bring together the 'Best of the Best' to participate in this first symposium," he added.
Presenting examples of their work, the panelists offered insights on the ways in which design is the new currency. "We receive 174 newspapers' worth of information every day," said Gager. "Good design is key for making sure that a good story gets noticed," he explained, using examples of campaigns for Caitlyn Jenner, VIVA Glam, and other MAC collections. He talked about design today as encompassing pop culture, social media, diversity, celebrity, and luxury. As notions of taste have been democratized, successful design is about viewing the audience as individuals and incorporating design into their lives, whether it's customizing Coke packaging or taking a Nike sneaker that consumers can make their own.
Doner focused on how the design of the present can draw from the past. "Design is a way of living that has been with us since the Egyptians," she explained. "Design gives us an anchor in the natural world we came from and should give us a notion of contemplation and refuge everyday."
Rockwell talked about being exposed to theater as a child, from regional community theater to the public "theater" of outdoor markets in Mexico. He showed this influence in several projects involving community, shared spaces, and performance. His presentation revealed ways in which design and experience come together, from Chefs Club restaurant in Manhattan, with its open kitchen and rotating chefs, to the Imagination Playground, which features flexible blocks and other elements that offer opportunities for fantasy and cooperative play.
"Design as the new currency relates to the idea that what we see is the package first," said Montoya, who spoke of how the exterior can draw us in. Showing projects such as the Punta Mita Resort in Mexico and Kips Bay Decorator Show House, he discussed the role of elements such as symmetry, composition, scale, craftsmanship, and an understanding of place in creating that experience.
During the Q&A portion of the program, the panel was asked how long a good design will last—or should last. Rockwell said that clients often come to designers seeking something timeless, but pointed out that "to get to timeless, you have to be timely first." For the final question of the evening, Doner was asked about the distinctive bracelet she was wearing, and responded that she had created it when she "needed a bracelet" about 15 years ago. "It's timeless," she quipped.
The event was sponsored by the Marc Rosen Education Fund with additional funding by Juliana Terian, The Terian Foundation.
Image: (L-R) James Gager, Juan Montoya, Michele Oka Doner, David Rockwell, Marc Rosen, and Pratt Institute Trustee Juliana Terian, who introduced the event (photo: Andrew Werner Photography)