In her Commencement address, graphic designer, civil rights activist, and Pratt alumna Cheryl D. Miller celebrated the accomplishments of Pratt Institute's class of 2023 through a time of change and declared that they can "enter the open doors of opportunity now awaiting you. We share in the same charge to make a life's contribution to our industry, to our community, to our world."
The May 17 Commencement on a beautiful spring New York day honored the class of 2023 with a ceremony in the stunning setting of Radio City Music Hall. The exuberant gathering recognized over 1,300 graduating students. As they walked across the stage and turned the tassels on their caps, they culminated their time as Pratt students and were welcomed as the Institute's newest alumni.
The 134th Commencement was also live-streamed for graduating students, friends, and family who were attending remotely. Leo Kim, MPS Arts and Cultural Management '23, performed a virtuosic rendition of Pratt's alma mater on cello before Pratt President Frances Bronet's opening remarks. She greeted everyone at Radio City and those watching across the globe, congratulating the students on their remarkable achievements. She also acknowledged their resilience as students whose college experience was transformed by the pandemic.
"You have cultivated the self-discipline and perseverance that will be essential ingredients for your future success," Bronet said. "To be honest, for our collective future success. You are both our visionaries and our implementers. You will be called upon and counted on to think about new ways of asking questions, framing questions, and developing solutions to urgent problems in the world. Many of you are already doing this." She further recognized the support of the faculty, families, and other members of the Pratt community through these years of challenges and change.
Gary Hattem gave his first Commencement remarks since being elected as the new Board of Trustees Chair. He connected the graduates to the long history of innovation at Pratt and encouraged them to now make their mark with what they have learned, while staying part of this legacy.
"As a Pratt graduate myself, I further ask that you do not take for granted the community that you have formed while at Pratt," Hattem said. "The relationships you have established with fellow students and faculty will anchor and inspire you for a lifetime."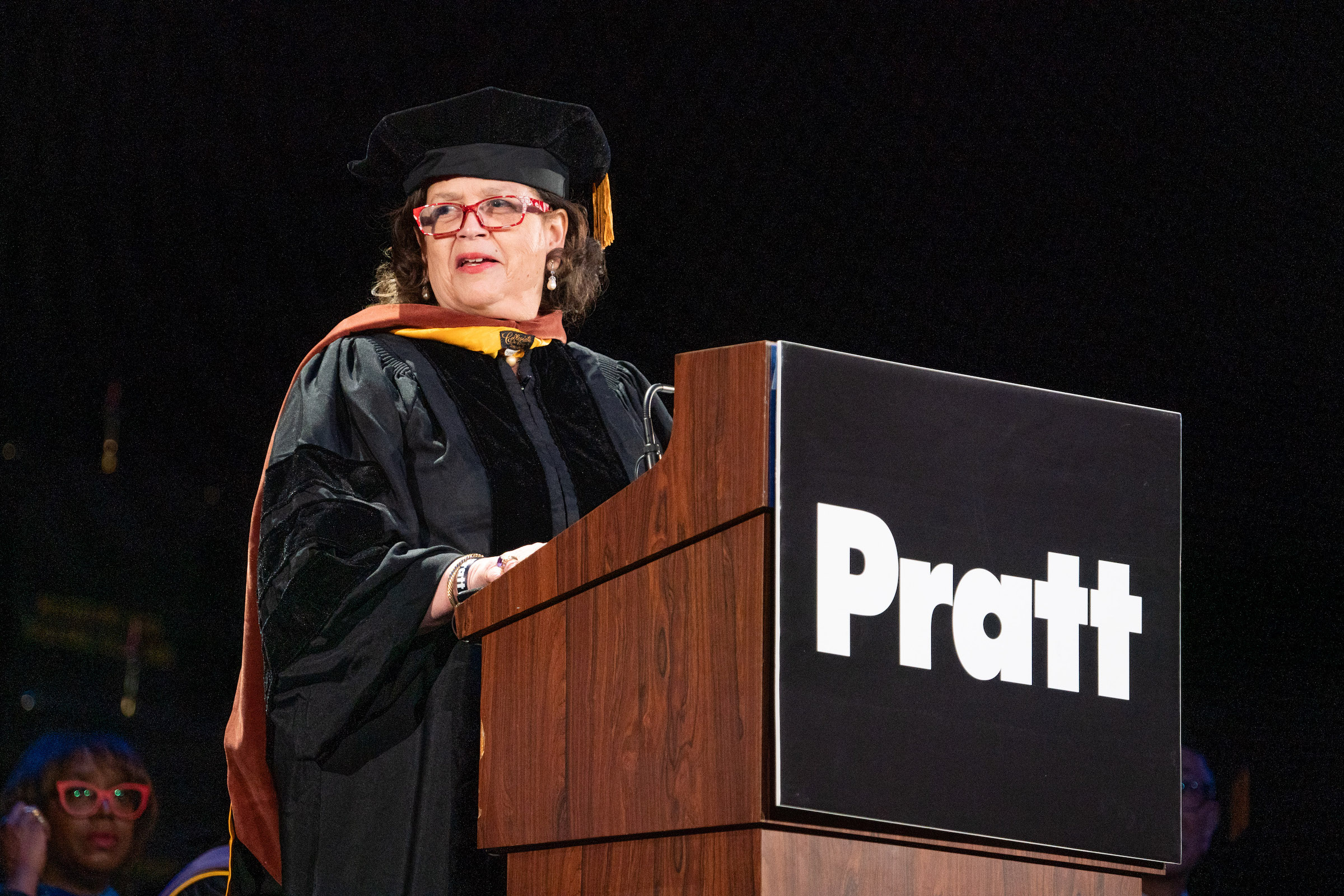 Pratt then bestowed honorary degrees upon three leaders in their fields whose work embodies the innovation and creativity promoted by the Institute, including Miller (Doctor of Fine Arts), Pratt alumna and architectural interior designer Hiroko Nakamoto (Doctor of Fine Arts), and artist and filmmaker Lynn Hershman Leeson (Doctor of Fine Arts).
Miller began her address with a look back on her time at Pratt, giving special thanks to professors Tony DiSpigna, who "helped me perfect the craft of letter form and symbols without Adobe, without Procreate" and Alisa Zamir, a mentor who "saw the gift in me" and "believed in my vision for design."
Miller shared the impact of her Pratt education on her career. "If it had not been for my Pratt graduate thesis, I would not be here before you," she said. Her 1987 article "Black Designers: Missing in Action," published in Print magazine, was based on her thesis work and brought Miller to national attention for her spotlight on the inequities in the design field. "The thesis became one of the first recorded and published pieces of scholarship on the topic. It has been an endless source of moving the needle for the BIPOC community in the graphic design industry, even today."
She emphasized that the students now "have the very same degree from Pratt Institute that has brought me here today to share in your victory and accomplishments." She added that the Pratt graduates now have an opportunity to use their experiences as students to make positive changes in the world. "I charge you to further find your vocation and let it lead you to your passion for serving others," Miller said. "May you find your purpose in being the solution for the problem that you see."
Hershman Leeson, in accepting her honorary degree, expressed her thanks and encouraged the students on their future creative paths. "As somebody who for 50 years was told what I did wasn't art, I have to say never give up, keep your sense of humor, and don't throw anything away," she said.
In accepting her honorary degree, Nakamoto spoke of the importance of the support from her teachers and friends at Pratt as she established her interior design career. "I'm humbled and honored to receive this honorary degree and I encourage the graduates assembled today to dream big, dream with passion, and don't forget to work hard," she said.
The graduation speakers also included Juan Camilo Osorio, assistant professor in the Graduate Center for Planning and the Environment, who was named Distinguished Teacher (2023–24). He was honored with a medal designed by Young Jun Kim, BFA Fine Arts (Jewelry) '24. Jeremiah Hadi Go, BArch '23, and Gustavo Ghavami, MID '23, were the elected student speakers. Members of the class of 1973 were also recognized on the 50th anniversary of their graduation.
At the conclusion of the ceremony, the class of 2023 departed Radio City Music Hall to join their fellow graduates, friends, and family in celebrating their first moments as alumni.
More photographs from Commencement are below and on the Pratt site. Follow @PrattInstitute on Instagram and the hashtag #PrattGrad23 to see more from this milestone event.