Pratt>FORWARD, a program launched in 2021 by Pratt Fine Arts, connects emerging artists with creative thought-leaders and practitioners in the field. The goal is to help emerging artists navigate the art world and empower them to build their own opportunities and communities. Pratt>FORWARD is about forging relationships, sharing knowledge, and generating agency. In its second edition, Pratt>FORWARD is extending the opportunities offered to participants by partnering with Newlab in the Brooklyn Navy Yard.
"It is exciting to be able to offer Pratt>FORWARD in person this fall and even more so to be able to provide emerging artists with access to the extraordinary facilities that Newlab offers," said Chair of Fine Arts Jane South. "This second iteration of Pratt>FORWARD will be a month-long program. We are delighted to expand upon the support and mentorship offered to participants and that once again we are in a position to award all selected artists full scholarships to attend."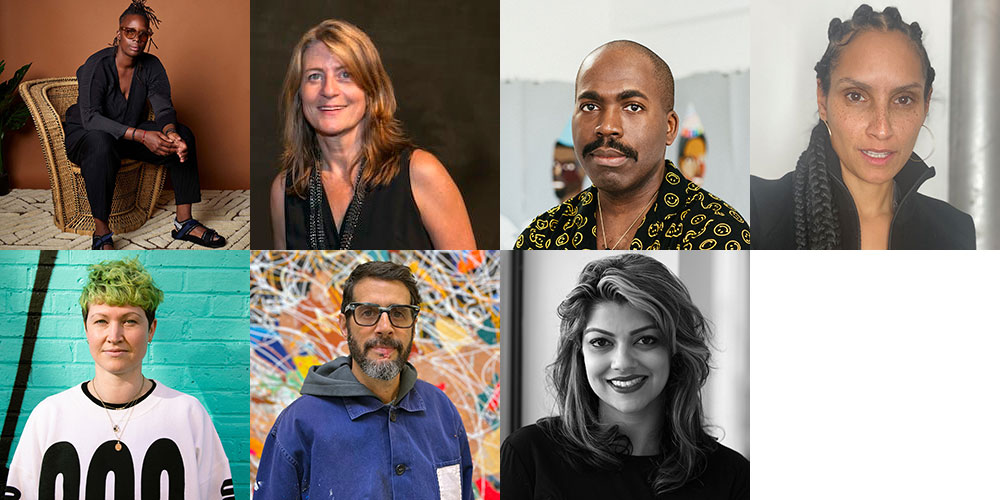 Pratt>FORWARD is co-directed by Mickalene Thomas, BFA Fine Arts '00, and South. Its 2022 core mentors include Pratt Trustee and alumnus Derrick Adams, BFA Art and Design Education '96; collector and art advisor Racquel Chevremont; arts organizer and Director of Company Gallery Elizabeth Lamb; artist José Parlá; and curator, activist, and Project for Empty Space Founder Jasmine Wahi.
"I'm always thinking about community in innovative ways," Thomas said. "This is one of the reasons why Jane and I co-founded Pratt>FORWARD. As an artist, I think it's easy to be siloed in your workspace. Pratt>FORWARD provides a support system for artists to succeed."
Additional mentors will be announced ahead of the 2022 edition which will be held this October at Newlab. Newlab advances technologies that support the health of the planet, acting as facilitator, connector, and translator for its community of experts and innovators, helping to build, test, and scale world-changing ideas through investment, venture building, and structured collaboration with industry and government partners.
This is the first time for Pratt>FORWARD to be in person as it was started virtually during the pandemic. The program was envisioned as something that could take place in a variety of locations and forms in order to offer fresh opportunities and build on relationships, such as with other institutions. This includes places that do not focus on the arts, expanding on Pratt Fine Arts's ongoing efforts to examine how academic institutions can work towards more equity and accessibility in an interdisciplinary way.
Pratt>FORWARD is designed for artists who are at the beginning of their careers. Every artist selected to participate in the month-long, fully-funded intensive experience will have access to studio space at Newlab. Participants will be able to use maker facilities which include laser-cutting, 3D printing, CNC milling, wood and metal shops, and an electronics lab, as well as engage with Newlab's entrepreneurial community. Alongside the Research Yard of Pratt Institute, City Tech, and the Brooklyn Navy Yard now under construction, Pratt>FORWARD is enriching the flow of ideas between the Pratt Brooklyn campus and the Navy Yard's hub for innovation that is just a few blocks away.
"Our community of over 900 entrepreneurs, artists, technologists, and researchers believe strongly that our impact through collaboration is greater than the sum of our parts," said Shaun Stewart, CEO of Newlab. "We are thrilled to expand this community in Brooklyn to include the emerging artists and creative thought leaders of Pratt>FORWARD while ensuring they have access to the equipment, materials, and facilities to bring their visions to reality."
Pratt>FORWARD mentors include artists, curators, gallerists, thought leaders, and creative practitioners. Together they support the participants through nurturing their artistic exploration, providing insights on career development skills, and empowering them to be cultural advocates and leaders in developing artist-led models for engagement. Central to all of this is sustaining life as an impactful artist.
"My experience with Pratt>FORWARD was something I've been in search of for many years," said Phylicia Ghee, a 2021 Pratt>FORWARD artist. "The fellowship offered exceedingly valuable, deeply important guidance for artists on so many topics and facets: traversing all of the layers of being an artist, navigating the art world, connecting with and building community, the marketplace, taxes, legal and copyright issues, and the overall logistics of being a creative entrepreneur. In other words, the information we really need to know and have needed to know for so long."
A series of public dialogues at Newlab in conjunction with Pratt>FORWARD is planned for the fall with the details to be announced. The open call for 2022 Pratt>FORWARD artists is now open with the ten selected artists expected to be announced in early summer.