Ellis Marsalis Jr. was a 2018 honorary degree recipient
As a celebrated jazz pianist and a prolific educator, Ellis Marsalis Jr. was pivotal in shaping the 20th-century New Orleans jazz scene. Marsalis died on Wednesday at the age of 85 from complications of COVID-19.
In 2018, Marsalis was awarded an honorary Doctor of Fine Arts degree from Pratt Institute at Commencement. On receiving the degree, he offered inspiration to the new graduates, noting that they could go into the world and "make the corrections that my generation of the '50s could not possibly do." He then joined his four sons—leading jazz musicians Wynton Marsalis, Branford Marsalis, Delfeayo Marsalis, and Jason Marsalis—on stage for a special performance of his piece "Nostalgic Impressions." After filling Radio City Music Hall with layers of piano, brass, saxophone, bass, and drums, the audience gave the performance a standing ovation.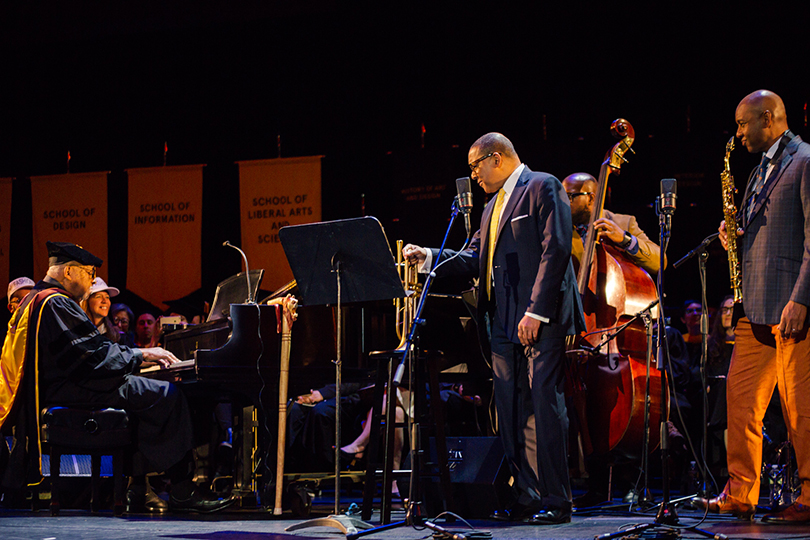 Born in New Orleans, Marsalis had a lifelong relationship with the city's musical identity. While he was a prominent and tireless working musician on the city's stages, with weekly gigs at the Snug Harbor Jazz Bistro, and recorded over 15 albums, he was also a passionate educator. Graduating with a degree in music education from Dillard University in 1955, he soon was teaching around Louisiana. After earning a master's degree in music education from Loyola University, he led the jazz studies program for high school students at the New Orleans Center for Creative Arts. Although some claimed that the improvisation of jazz could not be taught, Marsalis explained that "We don't teach jazz, we teach students."
His students included major performers such as Terence Blanchard, Harry Connick Jr., and Donald Harrison, as well as his sons who carried on his love for traditional jazz. He later was part of the faculty at Virginia Commonwealth University in Richmond as well as the University of New Orleans where he directed the jazz studies department for 12 years. Marsalis and his sons were named Jazz Masters by the National Endowment for the Arts in 2011 in recognition of how the patriarch and his family shaped modern music through legendary performance and the support of young musicians.