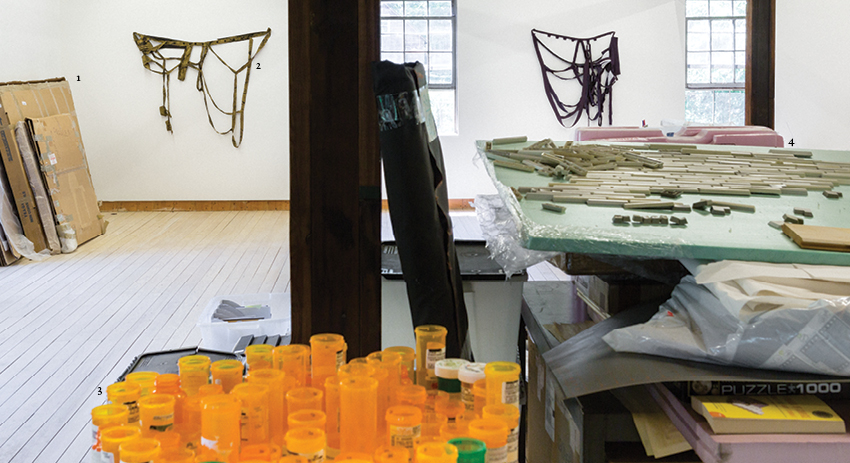 From the pages of Prattfolio, this article is part of a series exploring the artistic and professional practice of Pratt faculty through visits to their studios and workspaces. Here, Prattfolio looks inside the studio of Jean Shin, BFA '94; MS '96, Adjunct Professor CCE, Fine Arts, in Hurley, New York.
1 Jean Shin's studio stretches across the light-drenched topmost floor of a Hudson Valley barn, a former chicken coop. Originally, Shin sought out the building as storage for her expansive, object-rich pieces, but it also became an ideal staging area to hang and create work, much of which takes shape out of accumulations of objects cast off or decommissioned by their users.
2 Pieces from Shin's early Seams series hang on the southwest wall. For Seams, Shin reduced discarded clothing to its seams and fastenings, drawing out each garment's continuous framework, with echoes of the human skeleton.
"The transformation happens with the hand," Shin says, referring to her work in general. Part of her often labor-intensive practice involves entering every project as a novice and finding the specific skill or context required for each endeavor—something she explores with her Integrated Practice students at Pratt—as well as collaborating with various communities to actualize a piece. Once a tactile labor is mastered, the repetitive action of practicing that task can become a meditative experience.
3 "Something about the object calls to me," Shin says of her criteria for selecting materials to engage with. This is only a fraction of the prescription bottles she has sourced from nursing homes and willing participants' medicine cabinets for iterations of Chemical Balance. Installed, the stacked bottles jut from ceiling and floor like cave formations.
"Everything is a prototype until it's completed in a specific site," she says, whether it's these pharmaceutical stalagmites, exhibited at the Smithsonian American Art Museum, or her recent work MetaCloud, encompassing thousands of deaccessioned slides from The Metropolitan Museum of Art that explore the fragility of institutional memory, now permanently on view at Facebook headquarters.
4 Shin is attracted to the concept of obsolescence surrounding certain objects—umbrellas, shoes, trophies, keys—and looks for ways to recontextualize them within contemporary conversations. This mass of space bars relates to TEXTile, a tapestry of old computer keys linked to a working keyboard that invited the viewer to interact, participating in the reanimation of outdated materials.
This article was originally published in Prattfolio (Fall/Winter 2018). Read the issue at www.pratt.edu/alumni.