New York City's dynamic local economy includes makers and manufacturers in a vast array of industries, and in the Made in NYC (MINYC) Learning Lab, students get real-world experience by collaborating with these businesses on their creative needs. MINYC is an initiative of the Pratt Center for Community Development and started Learning Lab in 2016 to connect the creative expertise at Pratt with area businesses. After shifting to a virtual space during the pandemic, Learning Lab is back in-person with programming that empowers manufacturers to tell their stories through marketing, branding, and more.
"The Made in NYC Learning Lab supports hundreds of local small businesses each year through the expertise of our fantastic instructors at Pratt," said Taylor Novick-Finder, senior program manager of Made in NYC. "Faculty, staff, and students work closely with our members—makers and manufacturing businesses from across the five boroughs—to create product photographs, develop business plans, explore digital marketing and graphic design platforms, and more."
Since 2016, Learning Lab has provided over $1 million in stipends to Pratt faculty and staff to lead rigorous programming in business development and marketing for creative entrepreneurs. Over 1,300 businesses have received services through the participation of more than 30 faculty and staff members and over 50 students in departments including Photography, Design Management, Communications Design, Fashion, Creative Enterprise Leadership, and Social Science and Cultural Studies.
The MINYC Product Photography Studio is a major part of Learning Lab, with New York City-based manufacturers and makers joining free photoshoots for products and headshots in a space of learning. Students from the Photography Department work with Adjunct Associate Professor of Photography Stephanie Powell to get hands-on experience partnering with clients and using equipment in different environments, while small business owners can ask questions and see what goes into a professional photoshoot.
"This program introduces students to what it is like to be a working photographer, not just for image capture and delivering edited files on time, but how to work and communicate with clients," Powell said. "Students work one-on-one with clients whose products range from fashion to food to tech industries, and their creative problem-solving skills are often put to the test as the shoot days are high volume with little time for error."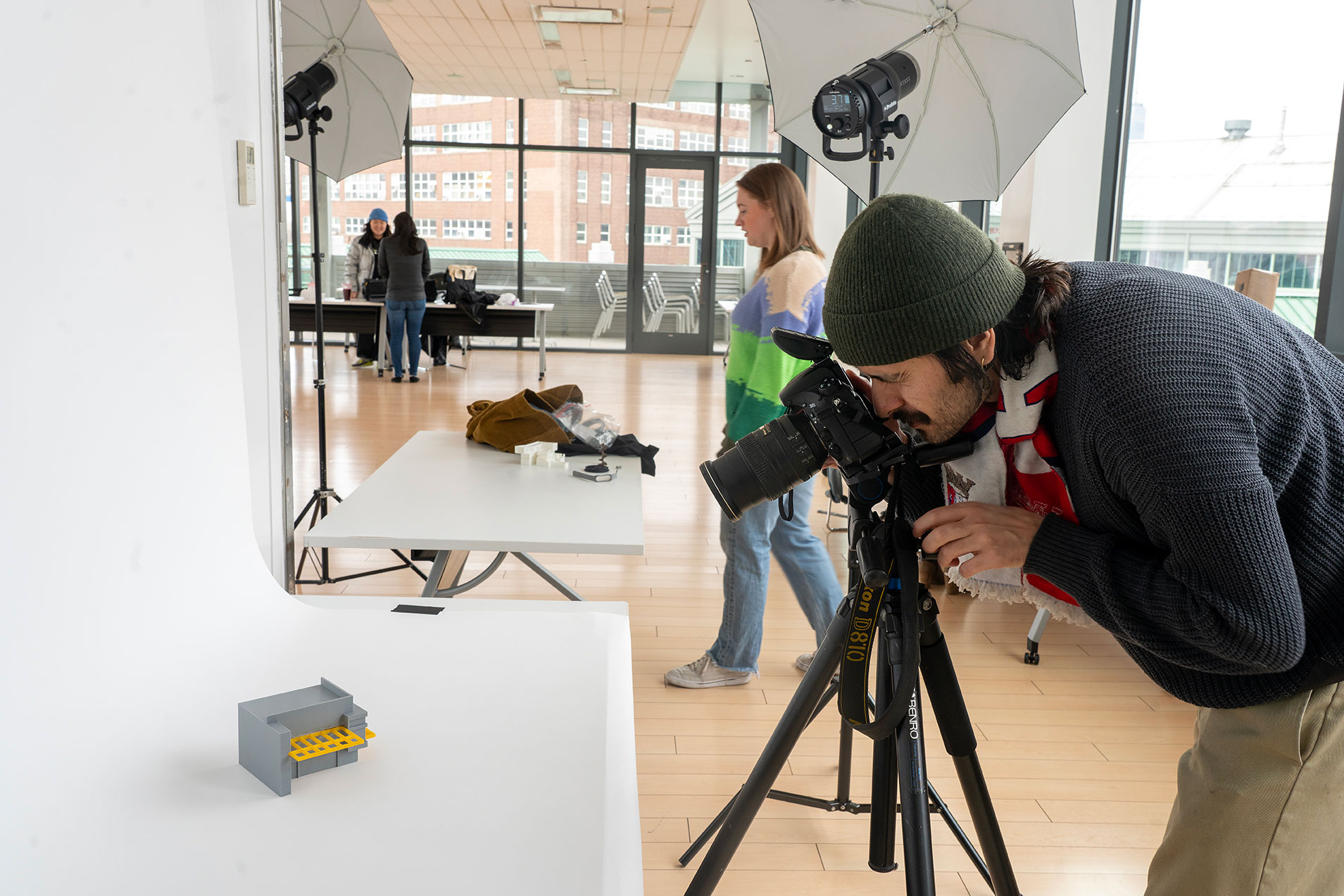 This academic year, four senior photography students have worked on product photography for over 100 businesses throughout all five boroughs of New York City. With MINYC's members ranging from fashion brands using repurposed materials to concrete furniture designers, the students get a variety of learning challenges to take the most compelling shots of a maker's product. The 2023 participants in the Product Photography Studio have included makers of hot sauce, jewelry, waffles, rugs, and suspenders, the items and their makers being as eclectic as New York itself.
"I was able to advance my professional photography experience and gain real-life industry skills to make me feel more confident within the field post-graduation," said Sophia Pallwein-Prettner, BFA Photography '23. "My personal work became stronger as I became better at industry standards such as balanced lighting and equipment, as well as how to work as a team and be the most efficient with the setup and takedown of stations. A lot of the experience is communicating with the client and making sure you are capturing an image that matches their vision. This is a helpful skill regardless of what field of photography I end up pursuing after graduation."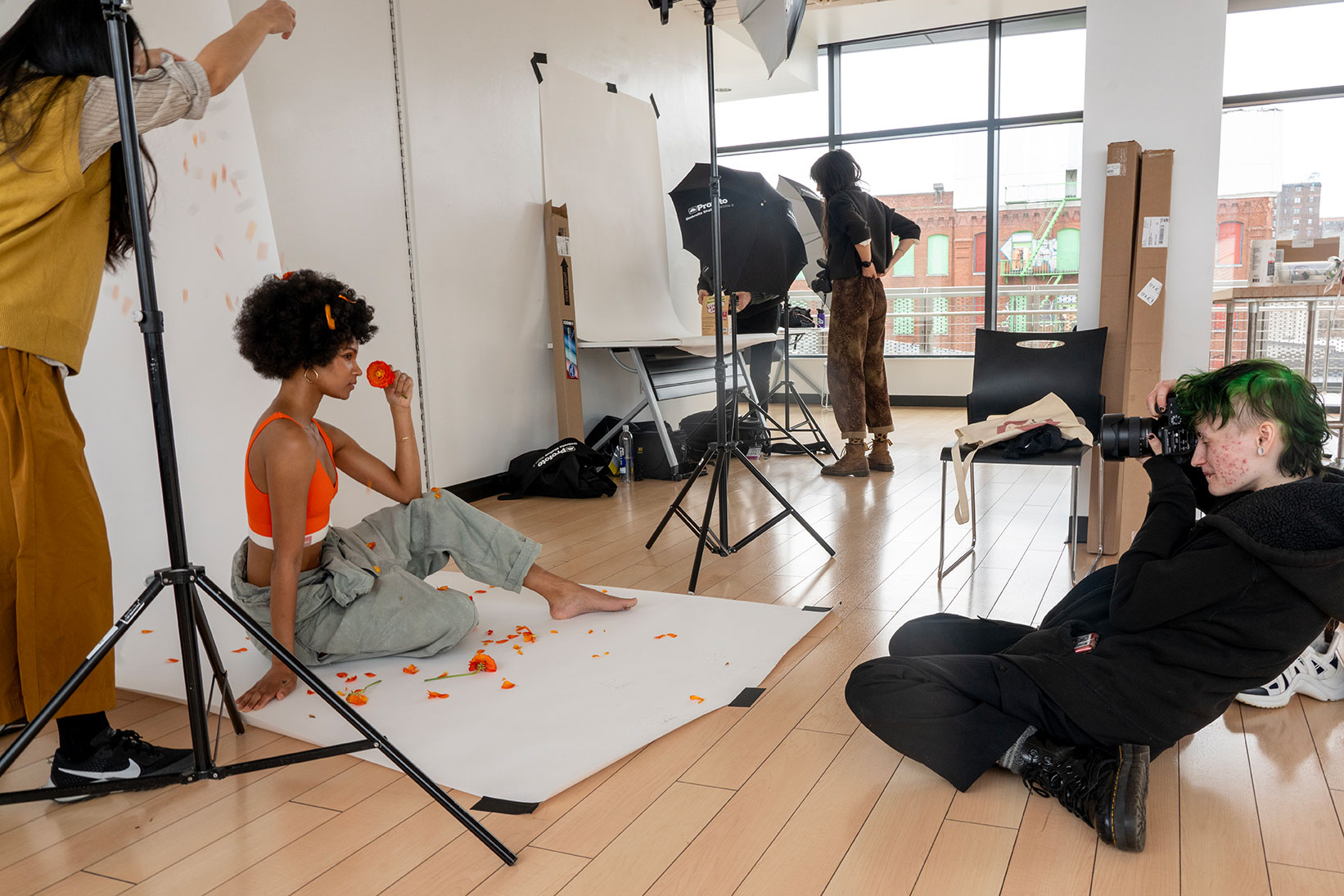 Networking in a professional space is also a goal of Learning Lab, as it provides students with these client-facing roles in which they adapt and problem-solve their creative ideas.
"Being able to connect to the community of hard-working business owners and seeing their passion for what they are creating was inspiring," said Bug Adams, BFA Photography '23. "The experience has given me more confidence in product photography, which has motivated me to take more photographs in the studio. It's also led to professional connections to take more product photography beyond Learning Lab."
The Product Photography Studio is just part of MINYC's Learning Lab programming, which involves extensive free workshops and creative services with the support of the New York City Council and the Garment District Alliance. This academic year also includes a Product Development Studio led by Karol Murlak, professor of industrial design, in which industrial design students are working with small businesses to develop prototypes of new products, and a Storytelling for Business program, led by Renata Strashnaya, visiting instructor of social science and cultural studies, which involves students in helping manufacturers and makers utilize the power and art of storytelling.
The Learning Lab Call for Ideas is now open for the 2023–24 academic year, with Pratt faculty and staff invited to submit proposals for new programs to nourish small businesses in their use of storytelling, branding, merchandising, business development strategy, and more. The deadline to submit proposals is ​​June 30, 2023. Selected submissions will be invited to develop a full project proposal. More information about Learning Lab is available on the MINYC site.