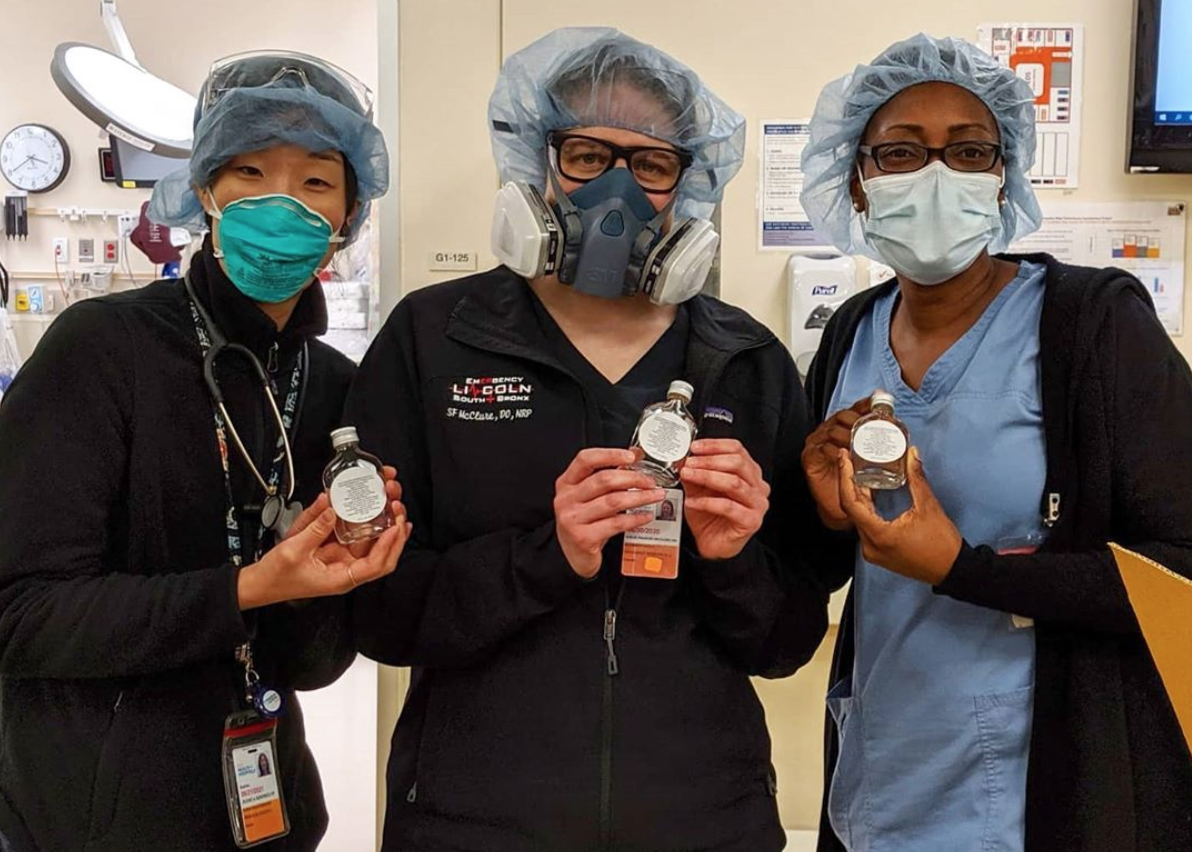 Frontline workers at Lincoln Hospital in the Bronx with hand sanitizer donated by Made in NYC member MÔTÔ Spirits
New York's small businesses have been challenged by the radically changed environment of COVID-19. Social distancing measures, shutdowns, financial losses, and a major shift to virtual platforms have all strained resources and operations. Many manufacturers redirected their production to meet the needs of their communities, including in providing PPE, retaining jobs, and bolstering the local economy. Made in NYC (MINYC), an initiative of the Pratt Center for Community Development, has rapidly responded to support these small businesses by creating resources, facilitating access to financial aid and other assistance, advocating for local manufacturing, and coordinating donations of personal protective equipment (PPE) for healthcare staff, frontline workers, and protesters.
"Made in NYC members are the creative heartbeat of New York City," said Joanna Reynolds, MINYC manager of program and partnership development. "As a culture of creative people, their desire to share their ingenuity and success with their neighborhoods is unparalleled. Our members are always willing to help and support their fellow New Yorkers, no matter the challenge."
Early in the pandemic, one of the biggest needs was information. Small businesses were grappling with how to apply for financial relief, set up digital marketplaces, and safely sustain their work in a health crisis. MINYC launched an online compilation of resources as well as a regularly updated COVID-19 database to assist manufacturers, small businesses, and entrepreneurs in accessing financial relief and navigating changing policies.
Each week, the Made in NYC team has held open "Office Hours," an intimate virtual learning and sharing space for the manufacturing community. These have involved over 50 small businesses and entrepreneurs, helping them share their stories, experiences, and best practices, all critical in shaping reopening efforts. Reynolds also moderated a virtual town hall with Miquela Craytor, executive director of the Manufacturing and Industrial Innovation Council at New York City's Small Business Services Agency; Elli Papadopoulos of the Skopos small business consulting firm; and Attorney Andrea Tan of Legal Services NYC. Their conversation centered on the state of manufacturing in New York City during COVID-19.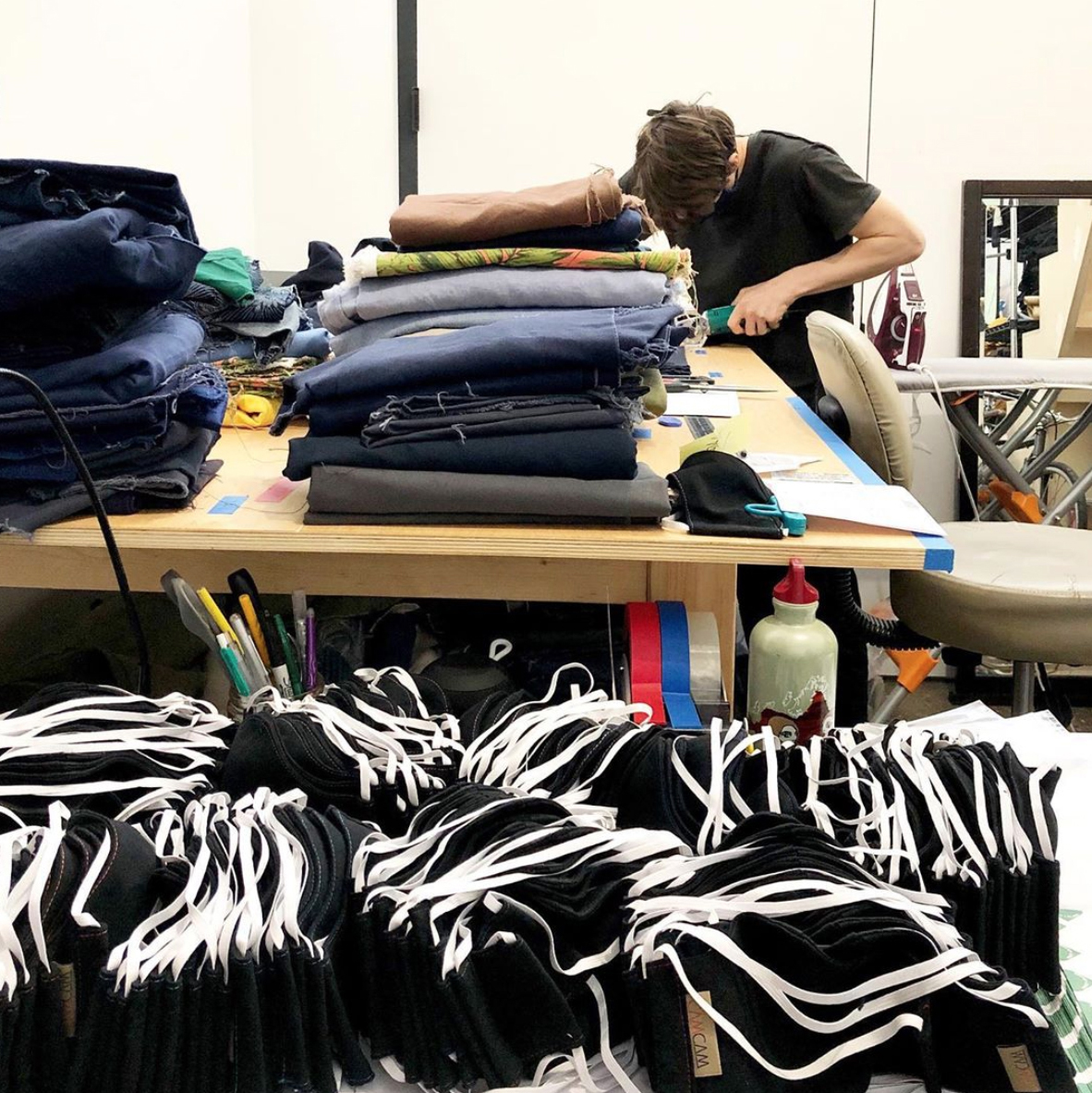 Made in NYC member CamCam manufacturing facemasks
During the height of the pandemic in the city, a number of businesses in the MINYC network transformed their studios or offices into spaces for the production of PPE to meet shortfalls for healthcare and other frontline workers, such as In.sek Design, the studio of Visiting Assistant Professor of Interior Design Ashira Israel, BArch '11, which made and delivered face shields to area hospitals. MINYC was able to help these businesses by connecting them with distribution networks to get the PPE they produced into hospitals and other places in need.
When the anti-racism protests grew across the five boroughs, MINYC coordinated the donation of 1,626 units of masks, face shields, and hand sanitizer to those practicing their civil right to peacefully and safely assemble. Partnering with community-based groups like Equality 4 Flatbush and the Bronx Defenders, they worked to direct this PPE to communities most impacted by the pandemic. They also created shopping guides for consumers to support Black-owned and LGBTQIA+-owned businesses now and always.
Essential to making this PPE production possible was the strength of local industry supported by MINYC and the zoning for manufacturing that they have long advocated for as part of the Pratt Center. Executive Director of the Pratt Center Adam Friedman discussed these issues in an op-ed for Crain's New York Business, highlighting how companies in the Brooklyn Navy Yard were able to quickly pivot to making masks, gowns, hand sanitizer, and other PPE through a "city-wide ecosystem of productions including plastics from Queens and fabric from the Garment Center."
As these companies face a future in which online marketing and a robust digital presence are more crucial than ever, MINYC has also transitioned its Learning Lab into a virtual classroom. Working with Pratt Institute faculty, staff, and students, the Learning Lab offers and teaches creative services to business owners. To meet the new needs of COVID-19, the Learning Lab launched a series of webinars and other online events free to MINYC members, from video marketing strategies to DIY lighting techniques for product photography, all aimed at empowering manufacturers to be self-sufficient and tell their stories in a digital space. Between March and May, over 200 participants joined these workshops and the complementary digital town halls.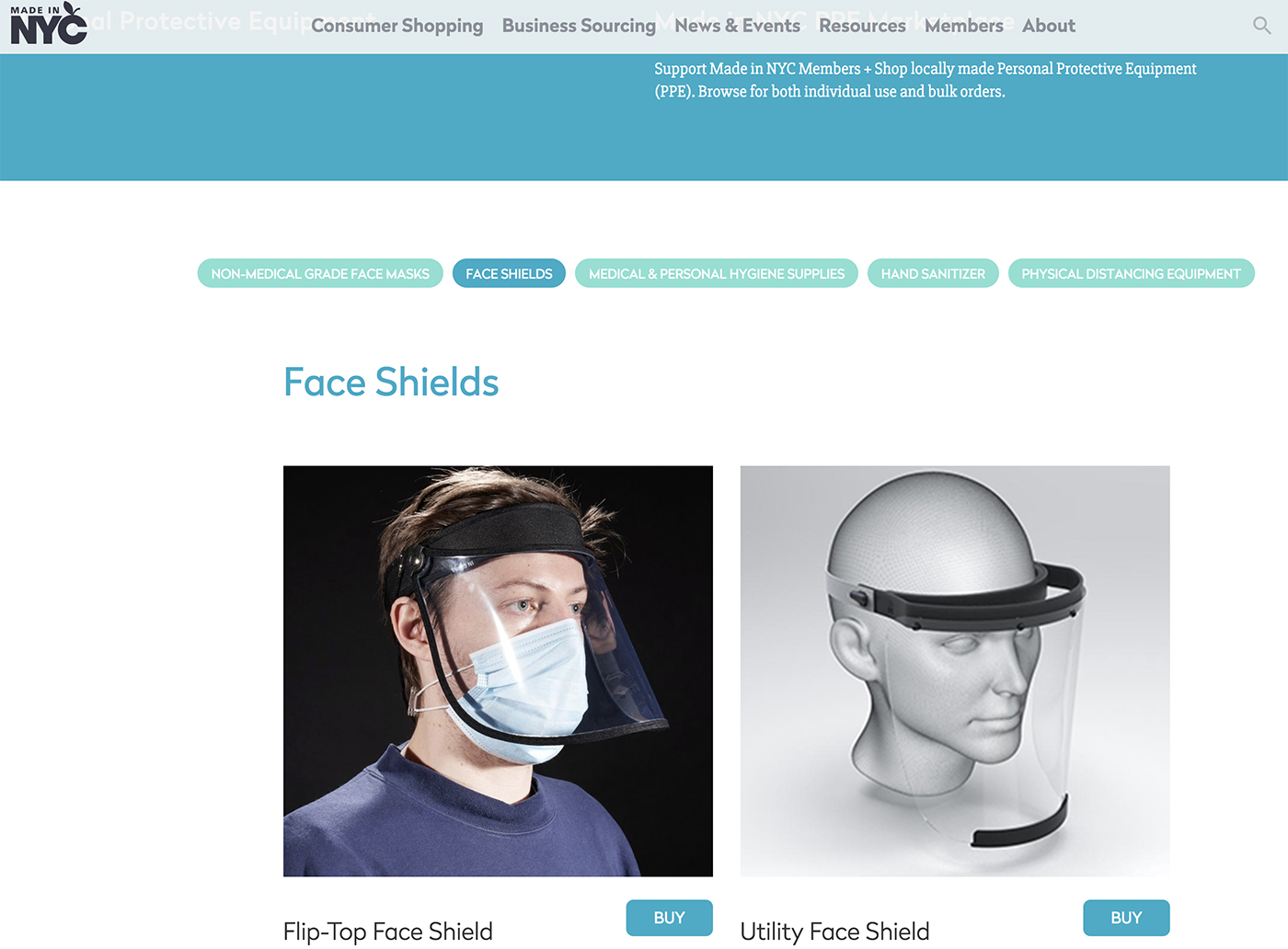 The Made in NYC PPE Marketplace
Now MINYC is looking ahead to the return of the annual Made in NYC Week. This year's event, scheduled for October 2 to 9, will be virtual, with experiences for the public highlighting the innovations being spearheaded by MINYC members. Attendees can learn firsthand stories about their adaptations, such as fashion companies making face masks to support disabled communities and food and beverage makers generously donating to frontline workers. Made in NYC Week and other future happenings will continue to be shared on the MINYC Instagram.
As the pandemic progresses and the economy is in a recession, New York City businesses are continuing to adapt to ever-changing circumstances. MINYC recently launched a new PPE Marketplace connecting consumers with businesses producing PPE in New York City, alongside the local products always promoted on the Made in NYC website. Through supporting this diverse network of businesses, from distilleries now making hand sanitizer to fashion brands and furniture companies sewing masks, MINYC and the Pratt Center are strengthening the resilience of the local economy so that it will survive and rebuild as a community.