Great leaders shine in the glow of those they influence. To students, professors' guidance and mentorship can mean the courage to embrace their own ideas, the inspiration to unlock novel ways of thinking and making, and the knowledge and resources to lay a path toward a career and lifelong practice. When students go out into the world transformed, as a brand-new class of Pratt alumni will do this May, the impression of those influential educators remains.
In their final months as Pratt undergraduates, four seniors shared work that is the culmination of so many meaningful lessons and discussed some of the leading lights who helped them discover their authority as creators. They each responded to the question: Who helped you find your voice?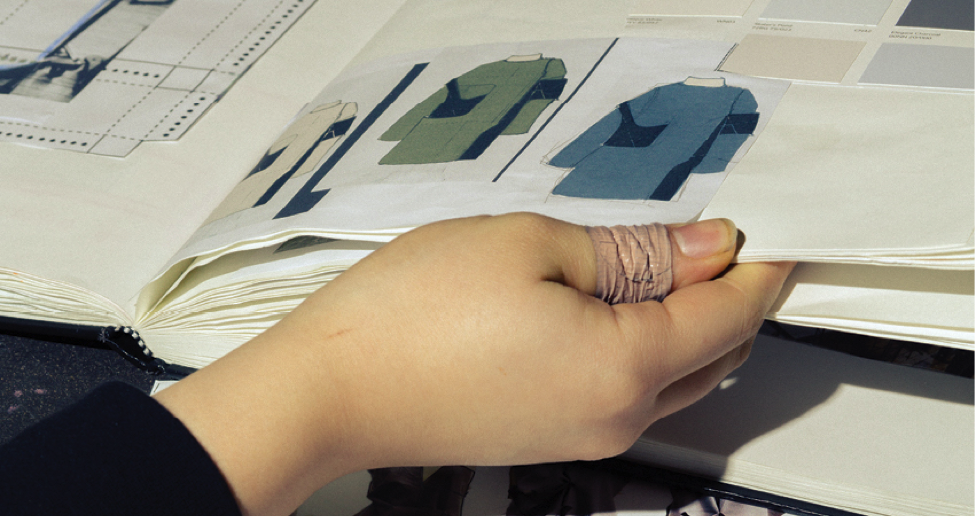 EB Hong, BFA Fashion Design '18
"It's hard to pick one professor at Pratt who has helped me find my voice as a designer because all of them have influenced me at one point or another. Rebeccah Pailes-Friedman taught me the foundational skills of constructing garments and challenged me to give a reason for every design decision I make. Gene Lakin taught me that the design process is complex and iterative. Judiann Echezabal taught me the importance of details, finishes, and treatments. I am now able to create a cohesive collection driven by ideas and an underlying concept—a potential that may not have been realized if it were not for my mentors here at Pratt."
In the second semester of her senior year, professors Gabriela (Gabby) Galvan and Mike Eckhaus helped EB identify and resolve a challenge that would become central to her thesis collection: "Mike and Gabby are really good at pointing out what needs fixing." Gravitating toward grids, lines, and detailed play with textiles, EB received feedback in critique that some of her pieces appeared flat. Striving to create streetwear with an energetic, active vibe, she knew she wanted to add volume and flow to her designs.
Taking inspiration from packaging nets, the flat patterns that when folded transform into three-dimensional containers, EB performed an extensive series of 2-D-to-3-D experiments with her garments (the reference material itself points to another of EB's Pratt mentors, her father, alumnus Seungyeoul Hong, BID '98, who went on to a career in packaging design). The process, which allowed EB to delve deeper into exploring both textiles and shapes, is one of, "as Gabby said, a million drapes."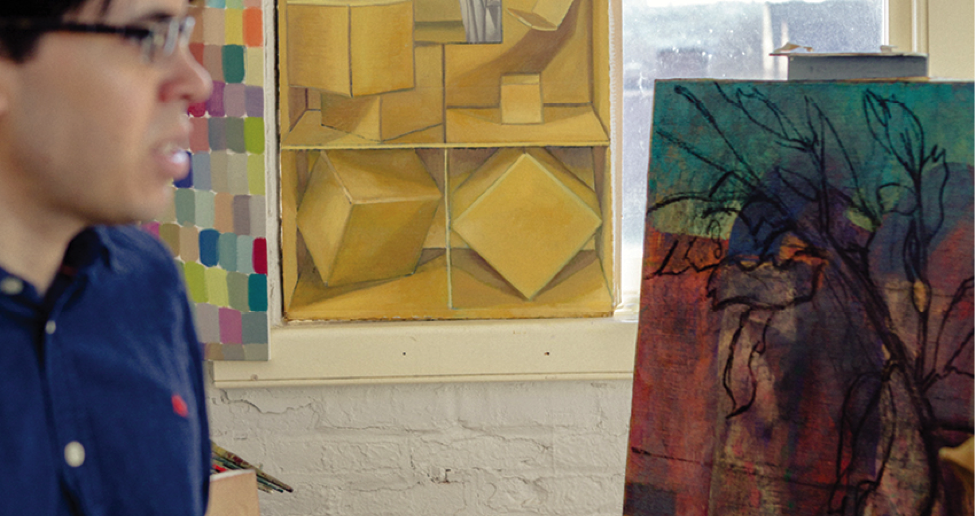 Bryan Cabrera Perez, BFA Painting '18
"Finding your artistic voice doesn't happen in a single or even a few moments. It develops slowly, often without one even realizing how everything is coming together. The professors I have had during my time at Pratt have all been aware of this, and in their classes they aim to nurture a steady development. The best things I've learned have come from their recommendations and their sharing of personal experience.
"For example, Professor Catherine Redmond, my painting professor for my thesis class, has made it a point to lend to each of us in her class specific artist books and gallery catalogs from her personal collection that she feels may reveal something new to us. There was one pocket-size book on medieval painting from the series 20,000 Years of World Painting that everyone loved. It's an old and cheap publication but it's a treasure trove of color images—Professor Redmond's copy was falling apart from how often she had gone through it. Three of us in her class went ahead and bought our own copies. It's great to be able to have it handy and pull it out for a burst of inspiration. There are more books in the series, each on a different period of art history, and I now also own the copy on renaissance painting."
In these small volumes, Bryan connected with major themes—such as how we organize our lives and construct identities—that resonated in his own painting and works throughout art history. This year, he worked on a series of linked still lifes with reference points in religious paintings such as Fra Angelico's The Annunciation and Diego Velásquez's Christ in the House of Mary and Martha. As his thesis developed, Bryan saw his work become more personal as he expanded his symbols and use of color, exploring his relationship to people and places he loves—from his dual hometowns of Bayamón, Puerto Rico, and New York City—layered with ideas from the canons of art, history, and philosophy.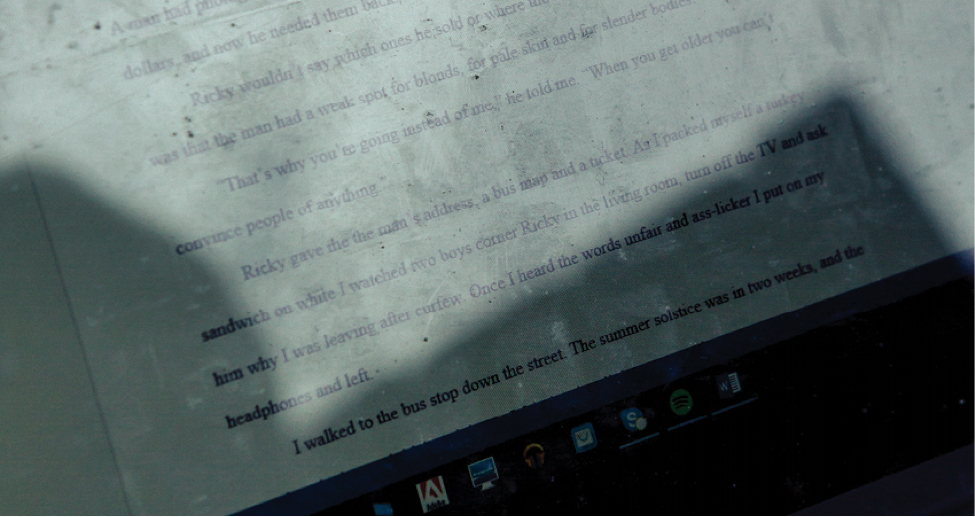 Quinn Roberts, BFA Writing '18
"I found my voice in Robert Lopez's sophomore fiction studio. He urged me to take risks, to speak my mind, and to read voraciously. Most importantly, he taught me to never be boring, that people crave stories about sex, death, pain, betrayal, failure, and insanity. This is what life is about."
One of Quinn's boldest artistic leaps came in writing from his own life, uncovering and refining the authentic personal themes that would become central to his fiction: "When I first came to Pratt, I resisted writing gay characters and plotlines because I hadn't been exposed to enough gay literature. It wasn't until Robert Lopez introduced me to [the fiction of] Justin Torres that I felt an imperative to tell my story as a gay man. At first writing gay fiction felt like a risk, and I worried that I was not succeeding, but my professors kept urging me forth. 'This is what you do,' Lopez told me. 'You've tried a lot of stuff in my class, and now you've hit your stride.'"
Quinn's short story "Weak Spot," a passage from which appears above, not only represents to him an important milestone in his practice—it also won him admission as a fiction contributor to the Bread Loaf Writers' Conference, the prestigious annual literary gathering, which he attended in 2017.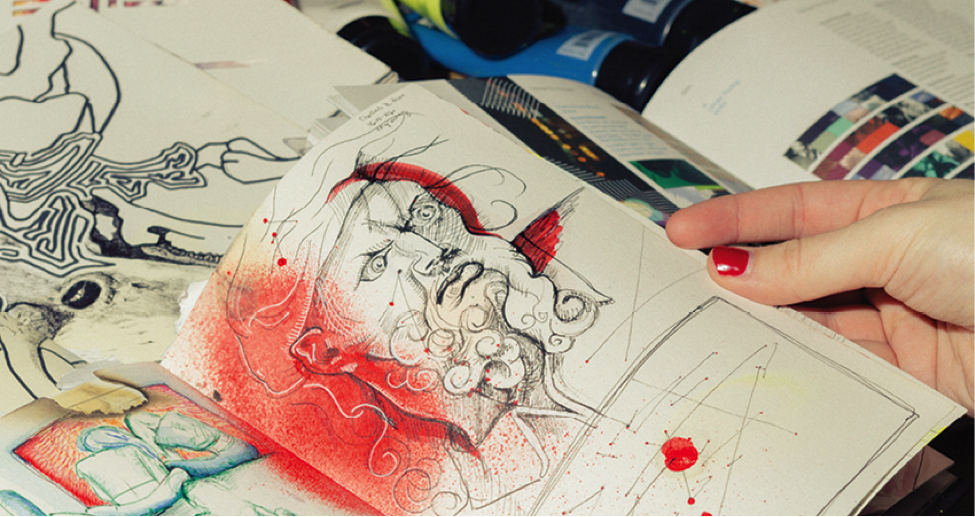 Alexa Simos, BFA Communications Design '18
"I found my direction sophomore year in Tim O'Brien's illustration class, and Rudy Gutierrez nurtured my talent the following year. Now, as a senior, I have the opportunity to be under these two illustrators' tutelage again, and I could not be more thrilled. I am a realistic acrylic painter, and I learned painting and composition techniques and tricks of the trade from both Tim and Rudy. Rudy really got to know me as an artist, and after finding out my history of working in the graphic design field, he helped me figure out how to combine elements of design with my painting skills in an exciting, fresh way."
Alexa's culminating work centers on eye-catching editorial illustration. From her personal reading online and in magazines, she selects articles that bring to mind an immediate image—and that she feels would interest others—then creates accompanying artwork. For her thesis, she assembled a book of newspaper clippings illustrated by her paintings, whose subjects range, much like a periodical, from sports to tech, to music, to growing up.
Along the way, the most enduring piece of wisdom she's received has been to trust her instincts: "Rudy often says 'Do what you feel.' This is so important. You have to do what comes naturally to you, and listen to your gut. This is how you settle into a style, and also how you get to know yourself as a person. And by doing this you will spread your authentic energy into the world and touch the lives of others in some way—which is something we all hope to do with our creations."
This article was originally published in Prattfolio (Spring/Summer 2018). Read the issue at www.pratt.edu/alumni.