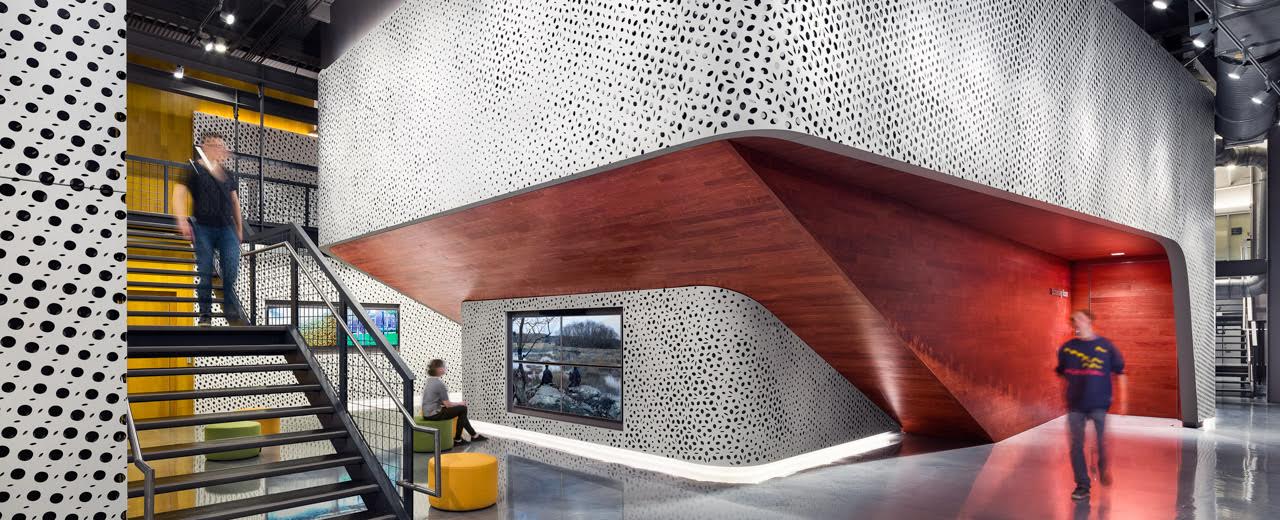 Pratt Institute recently opened a new home for the Film/Video Department in the former Prattstore building at 550 Myrtle Avenue on the Brooklyn campus. The 15,000-square-foot facility was designed by WASA/Studio A with lead architect and Pratt alumnus Jack Esterson. The project was recognized with a citation award in the 2015 American Institute of Architects New York State Design Awards.
Pratt already has more than doubled its freshman class for 2015-2016 since the opening of the new building. The Film/Video department currently includes approximately 80 students across its four-year curriculum and the new facility will allow it to significantly increase its enrollment as well as offer new courses.
"We're thrilled to open a cutting-edge facility where students and faculty can further explore the art of filmmaking and video production," said Pratt Institute President Thomas F. Schutte.
Anchored by stunning interior architectural features, the construction for the Film/Video facility began in July 2014 and the renovation cost approximately $4.5 million. The department was previously housed in the lower level of the ARC, an on-campus athletic facility.
"The students, faculty, and alumni in our program have much to celebrate with this new building as a place to explore and shape their artistic vision," said Gerry Snyder, Dean of Pratt Institute's School of Art, which includes the Film/Video Department.
The new space gives faculty and students access to a 96-seat screening room; one large soundstage (capable of being converting into two) and a second, smaller soundstage that together comprise 3,000 square feet; a sound recording studio with surround-sound capability; and two high-end color grading and post production suites.
In addition to these features, Pratt Architecture Professor Haresh Lalvani created a series of perforated metal panels specifically for the site that wrap around the entrance lobby and both the first and second floors. The artwork was donated by Lalvani, and the materials and fabrication of the work were donated by Bruce Gitlin, chair of Pratt Institute's Board of Trustees and CEO of renowned metal fabrication company Milgo/Bufkin.
"It is important for students to be exposed to advanced filmmaking technology and different modes of expression in order to tell compelling visual stories across different platforms," said Film/Video Department Chair Jorge Oliver. "This is an essential part of Pratt Institute's Film/Video Department curriculum and a skill that our students need to succeed in this competitive industry."
As part of the department's pedagogical approach, program faculty provide students with professional training, immersing them in the process of writing, directing, and editing films using traditional and non-traditional media. The Institute's new film minor, which was first offered in 2014, facilitates cross-pollination of Film/Video with other disciplines including fashion, fine arts, architecture, humanities, and photography.