Asking questions, examining issues affecting the world, and understanding how those complex concerns shape everyday life are all key skills of journalists. In Reporting the City led by Ellen Berkovitch, visiting associate professor in the Humanities and Media Studies department, students from across disciplines develop reporting experience by conducting interviews, attending public events and hearings, and writing investigative and human interest articles. Through this hands-on work, they discover how the techniques of journalism can inform their practices.
While the course in the School of Liberal Arts and Sciences had been offered in previous semesters, fall 2022 was the first time for it to be held in person since 2020. The most recent class included students majoring in writing, industrial design, film, fashion, painting, printmaking, graphic design, and more, all bringing their individual perspectives to in-class conversations about the many applications and needs for reporting skills.
"There's more overlap between journalism and industrial design than I thought there was," said Theo Hall, BID '24. "When you're researching a project in industrial design, you want to talk to the people who will use what you're designing. There are a lot of similarities in the gathering of data, interviewing, and learning."
"Graphic design has a lot to do with talking to people and messaging, which is related to journalism," said Milli Patel, BFA Communications Design (Graphic Design) '24. "Being able to report on the city itself is really helpful because it's what is around us and we're not reading something or just writing about it; we're experiencing it and thinking about our own experiences and our own biases."
Their reported stories ranged from interviews with migrants who recently arrived in New York on buses sent from Texas, to the state of the subway system, to local voter registration campaigns. They also looked into Pratt's own history as it related to the city, such as its footprint in Brooklyn and how it expanded over time. This included researching how past students reported on these issues, such as delving into the archives of The Prattler student newspaper at Pratt Libraries.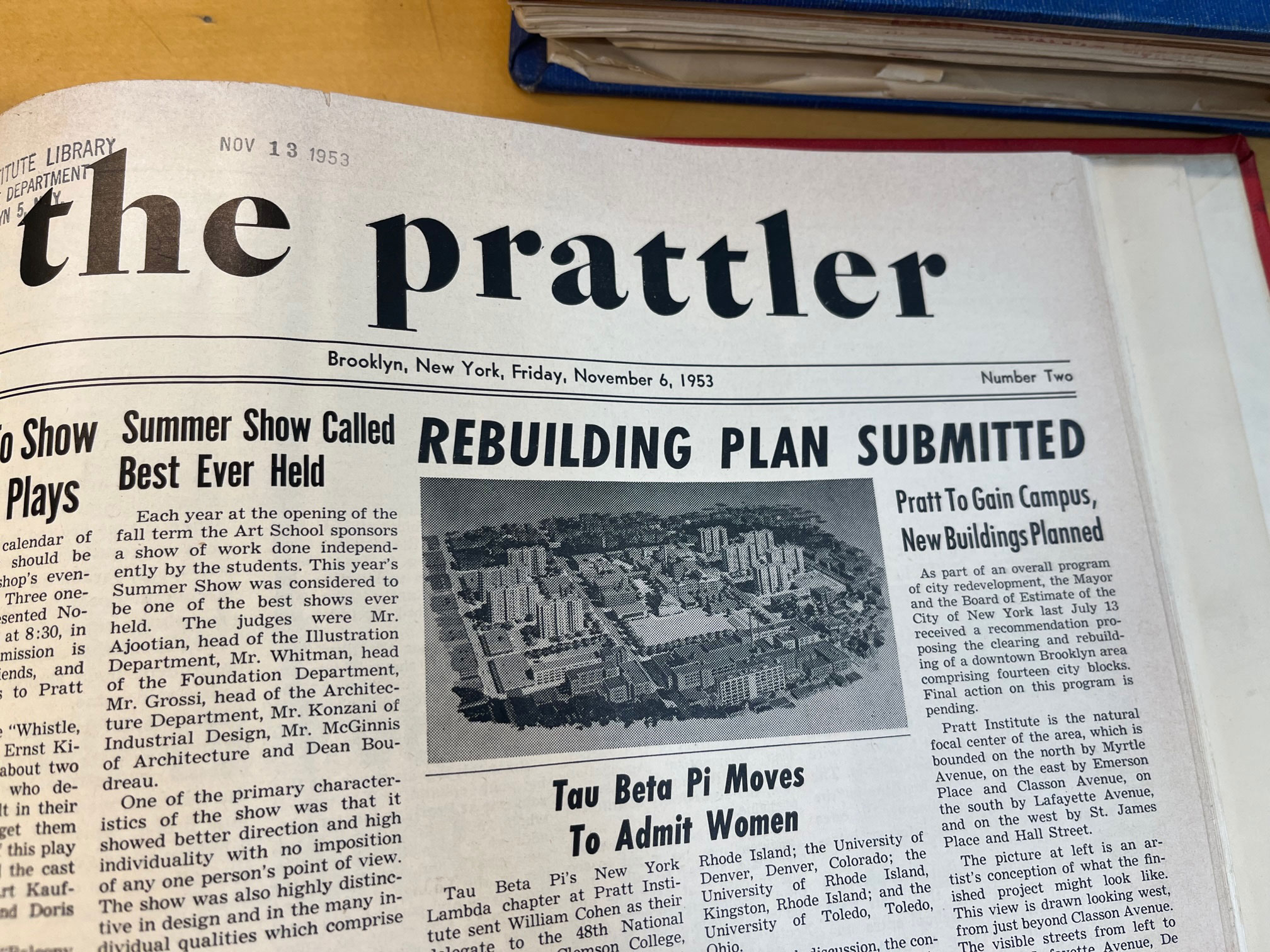 Berkovitch, who started her career reporting on housing in the city, explained that students tackled various beats, including housing, climate, education, and the arts. "I envisioned this class to be something that would look at the fact that the city has equity obligations and how to hold the city to account so that public decisions are actually able to be evaluated by members of the public," she said.
While the students all chose their story subjects, they also had opportunities to join group outings to connect with the local community. On one day, the class was asked to spend time in their own neighborhoods, talking to people who worked in local businesses or lived in the area. Another opportunity was at the Brooklyn Public Library's Walt Whitman Branch near the Pratt Brooklyn campus. Their interviews at a library listening session included residents of two of the nearby Fort Greene shelters as well as asylum seekers from Venezuela who were interviewed by Spanish-speaking students Maria Del Pilar Agudelo Muzzulini, BFA Printmaking '24, and Angelica Diaz Diverse, BFA Communications Design (Graphic Design) '23.
"It was eye-opening to hear people talk about their own experiences," Diaz Diverse said. "They were just so willing to share their stories and I could tell that it was helpful not only for the class but for life. And for them, I could tell that it was helpful to have someone listen to them and want to share their story."
District 35 City Council Member Crystal Hudson, whose district includes Fort Greene, also visited the class, allowing the students to talk directly with someone deeply involved in shaping change in Pratt's immediate neighborhood. The students asked questions related to current issues impacting the area. They also met with City Planning Commissioner Juan Camilo Osorio, who is also an assistant professor in Pratt's Graduate Center for Planning and the Environment (GCPE), to further understand and ask questions about zoning, park access, increased bicycle lanes, and affordable housing.
Each of these opportunities encouraged students to better understand the city and how they can be a voice in sharing its diverse stories.
"I feel like this class helps to not have such a barrier between being a student here and being a person who is in this location," said Mage Fischer, BFA Writing '25. "I did a story that was related to the subway and I haven't felt like public officials are people who I can access. Working on the story for this class helped shift my perception of that and know that if you're willing to seek someone out, it is possible."