Fourth-year Pratt architecture students recently participated in the first-ever US student-led rendition of the International Passive House Ice Box Challenge, an initiative that aims to significantly lower the energy use of our built environment.
Over the course of the semester, students designed and built two 8 x 8 x 8 feet ice box structures from scratch after learning about sustainability industry manufacturers' products and methods. The first structure was built according to the NYC building code, while the second was built to Passive House standards. Ice blocks were then placed in the finished structures for a week to test which one had superior thermal performance and could better preserve the ice.
"The students learned both the Passive House principles and standards and how to inspire others in climate action through their exploration of high-performance building design and its
positive impact on environmental, health, economic, and social resilience," said In Cho, visiting assistant professor of undergraduate architecture. "Pratt students will be able to actively engage in the growing workforce of the green economy that aims to reduce 80% of carbon emissions by 2050."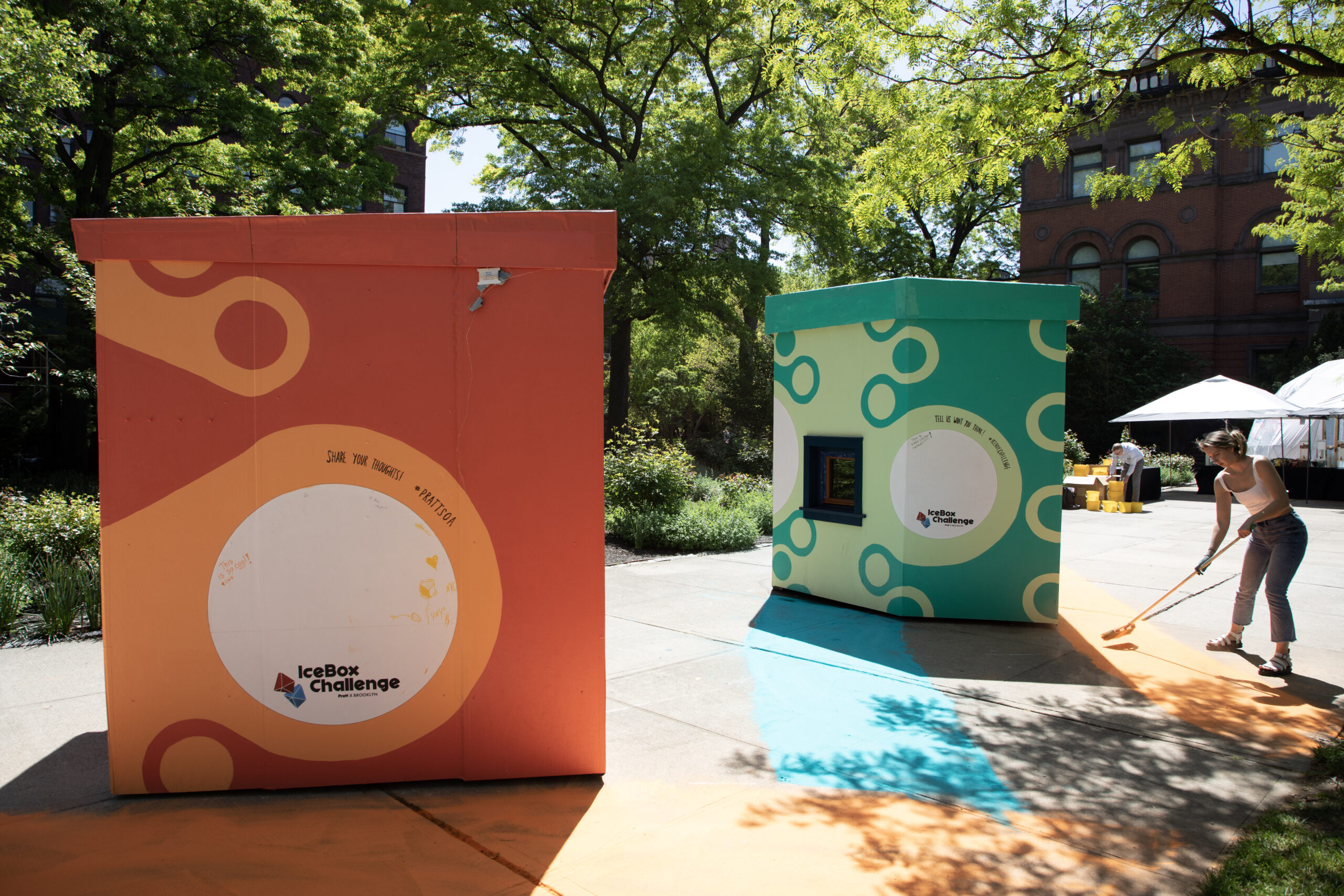 Passive House refers to a set of five building principles developed in the late 20th century by Dr. Wolfgang Feist to improve the air quality, thermal control, and energy efficiency of housing. In recent years, Passive House has been recognized as key to efforts to reduce global greenhouse gas emissions and achieve the Paris agreement's goals of curbing climate impacts.
New York City is updating local building codes to achieve its own climate targets and align with Passive House—an initiative that Cho, co-founder of the advocacy organization Passive House for Everyone, has been involved in. Whereas 40% of emissions come from the built environment worldwide, that number rises to more than 70% in New York due to the city's density. Incorporating Passive House standards into both new and existing buildings would greatly reduce New York's energy consumption.
"You want to build buildings that will last and what Passive House introduces as a concept is the possibility of not only sustainable but also equitable design," said Jeremias Emestica, BArch '24. "Can we imagine a world where our public housing is actually built to Passive House standards? All of a sudden, you're reducing energy costs for the building up to 90%. If you add solar panels, there's potential for net zero energy consumption. And what does that mean for the people who live in that building? Well, that's one less bill that they have to pay, and they can invest that money into their own families and their own children."
In addition to this kind of big-picture thinking, the Passive House studio allowed students to progress through each stage of the design and construction process, from pre-design and site analysis to "bidding" for contractors and building, transporting, and assembling the final product.
Students made numerous small-scale models and prototypes to fine-tune their ideas. In an early half-scale model, Emestica said that they didn't leave enough tolerance, or slack, in the wood panels and the model stood awkwardly, a mistake that informed later designs. Since sustainability was a guiding value, students tried to incorporate old clothing and plastic waste from Pratt's 3D robotics lab into the structures to improve insulation and modularity.
When it came time to build the two structures, the students spent hours in Higgins Hall's PI-Fab facilities. They worked with a panel saw, table saw, chop saw, and computer numerical control machine to achieve the high level of precision needed for Passive House standards.
"Before I started the Passive House Studio-Ice Box Challenge, I was actually quite hesitant to go into the wood shop and use all of the various types of saws," said Yuxin Li, BArch '24. "However, as this project moved into the construction phase, I realized using the saws, especially the panel saw, was inevitable. I slowly overcame my fears as I worked side-by-side with my studio mates."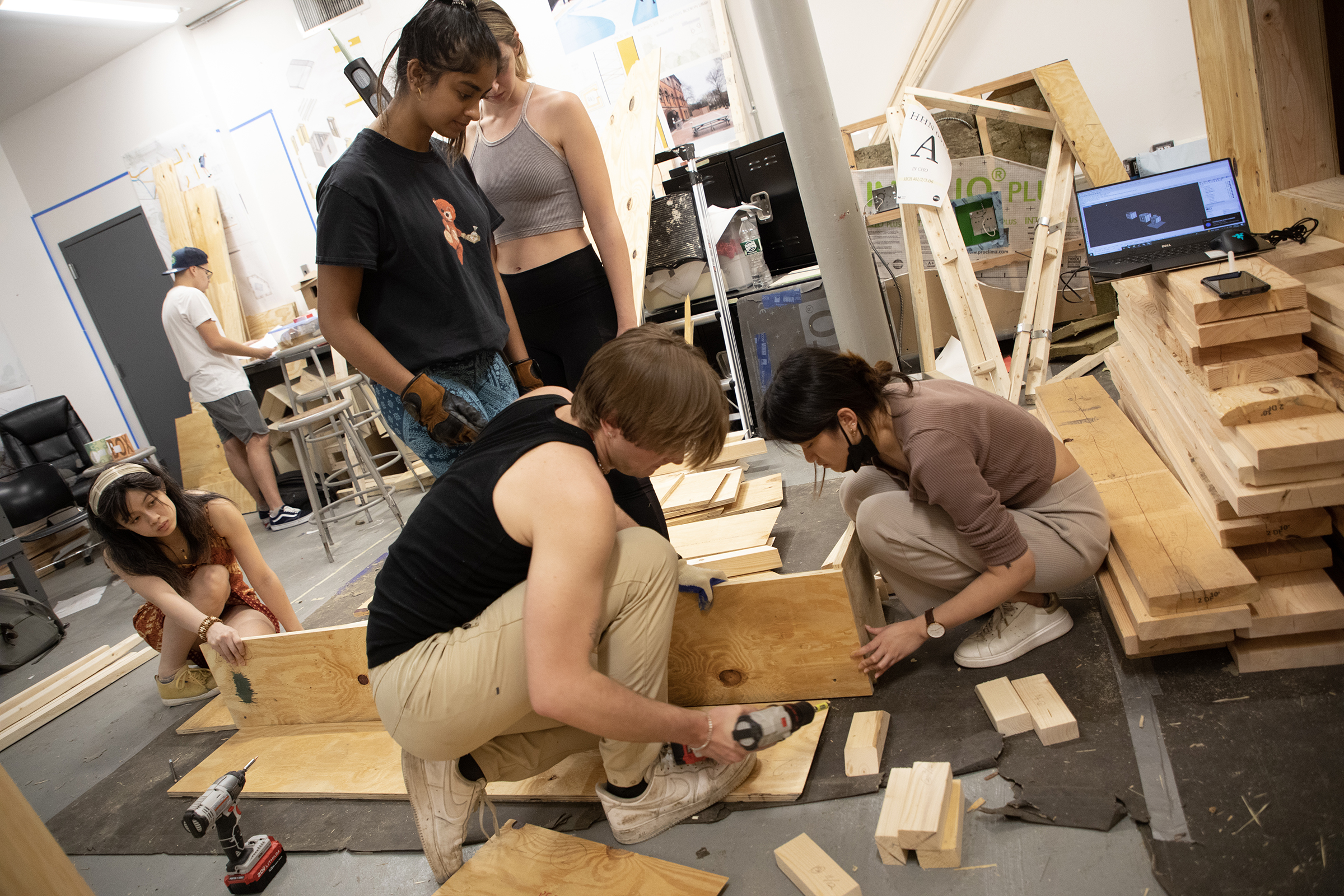 As students complied with rigorous building standards, they also had to think about modularity so the structures could be shipped to other schools throughout the US to support future Ice Box Challenges.
"It was very important to outline how the Passive House principles were going to work in a modular structure," Emestica said. "We had to think hard about the air sealing factor, and have multiple systems just to ensure that the Passive House was air tight. During construction we did a blower door test that revealed all the air leaks, cracks, and gaps we had. By using a system of gaskets, tape, and this very special type of paste from one of our sponsors, we were able to fully air seal the structure."
Leading up to the Ice Box challenge, students assembled the base, frame, walls, and roofs of each house in Pratt's Schutte Plaza. They installed windows, ensured the appropriate thickness of insulation, painted the exteriors, and glued on educational posters. When the structures were ready, ice blocks weighing 1,144 pounds, each engraved with "Pratt," were placed inside.
"Nothing really prepares you for real world construction than doing it yourself," said Tyler Haas, BArch '24.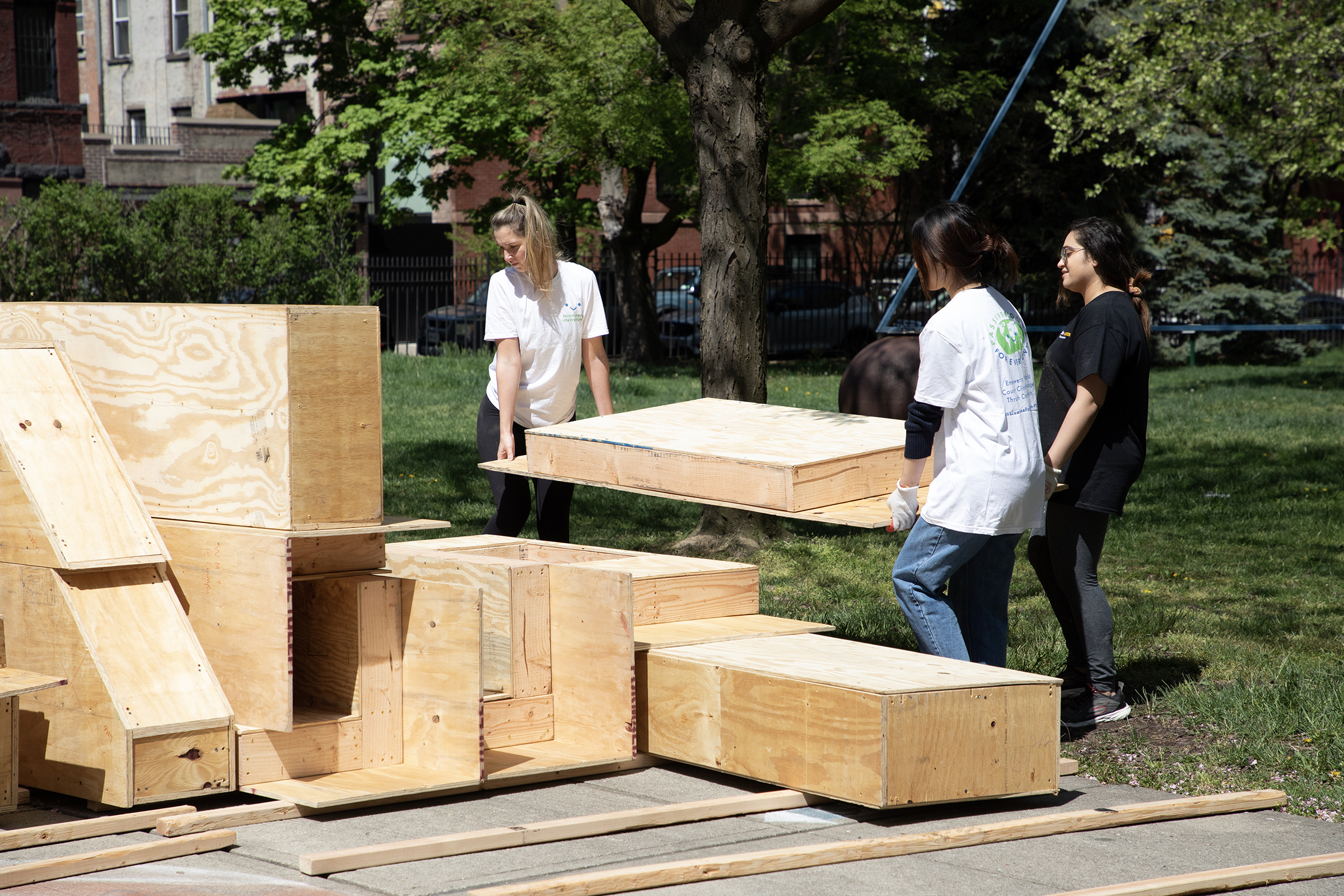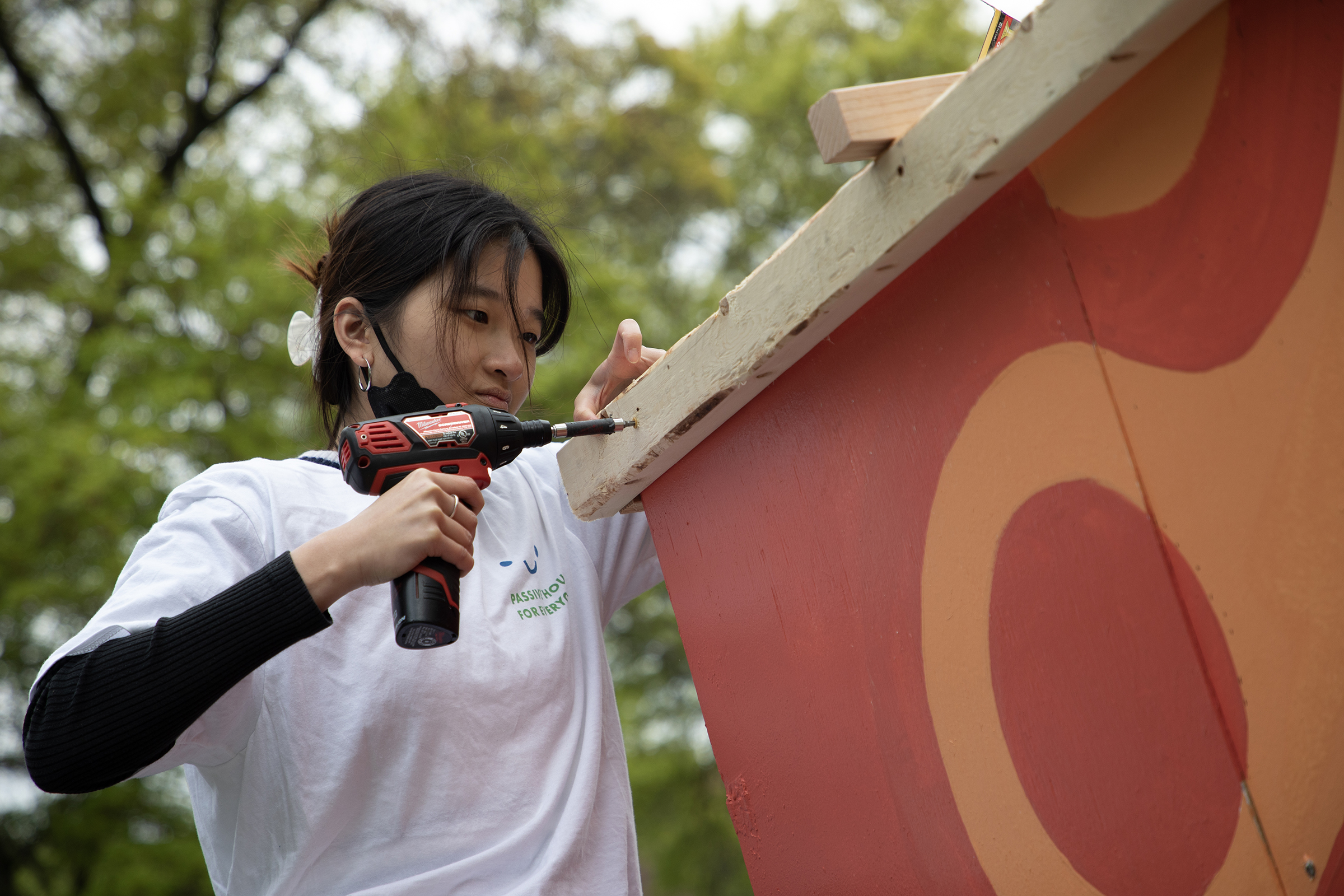 For the next week, visitors could look at the two structures, peek inside windows at the ice blocks within, and read about the Ice Box Challenge. In the final days of the exhibit, temperatures soared in Brooklyn and visitors could observe one of the "Pratt" engravings gradually melting.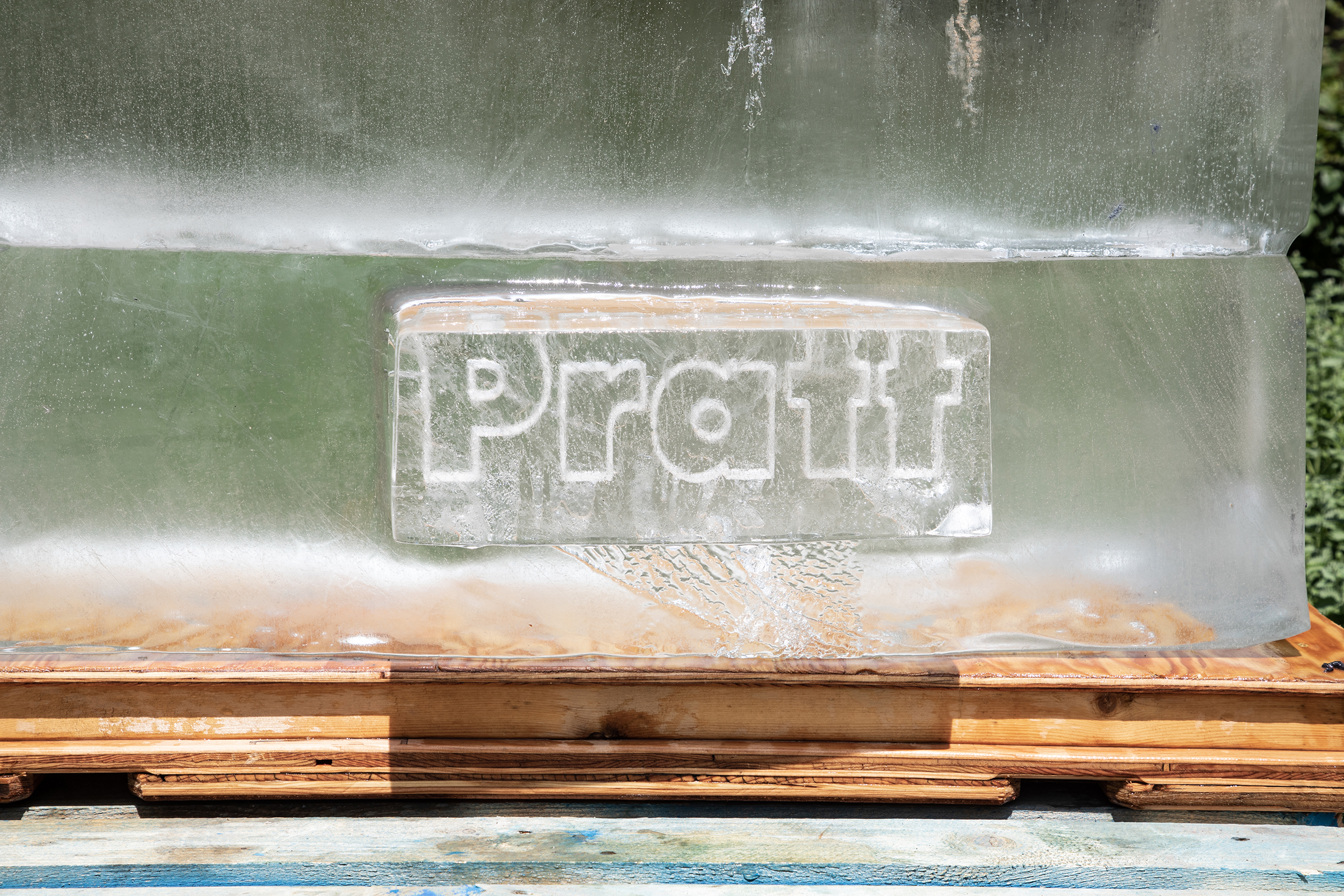 On May 8, hundreds of attendees gathered, including Pratt faculty, students, and staff, as well as local K-12 groups, city government employees, and industry insiders, to learn more about the historic event and witness the grand reveal at the culmination of the challenge. Cho welcomed attendees and explained the significance of the initiative and the students' work. Pratt speakers at the event included President Frances Bronet; Dean of the School of Architecture Quilian Riano; and Chair of Undergraduate Architecture Stephen Slaughter. Additional speakers included Senior Economic Advisor to the Belgium Embassy to the US Michel Wallemacq; Policy Advisor in the Mayor's Office of Climate and Environmental Justice Summer Sandoval; Former President of the Brooklyn Chapter of the American Institute of Architects Talisha Sainvil; and Executive Director of the Passive House Network Ken Levenson. The event was made possible by donations from Sto-Corp, Rockwool, 475 High-Performance Building Supply, Klearwall, Square Indigo, and Passive House For Everyone. The livestream is available on Youtube.
During her remarks, Cho conveyed the sense of urgency that existed alongside the festive atmosphere.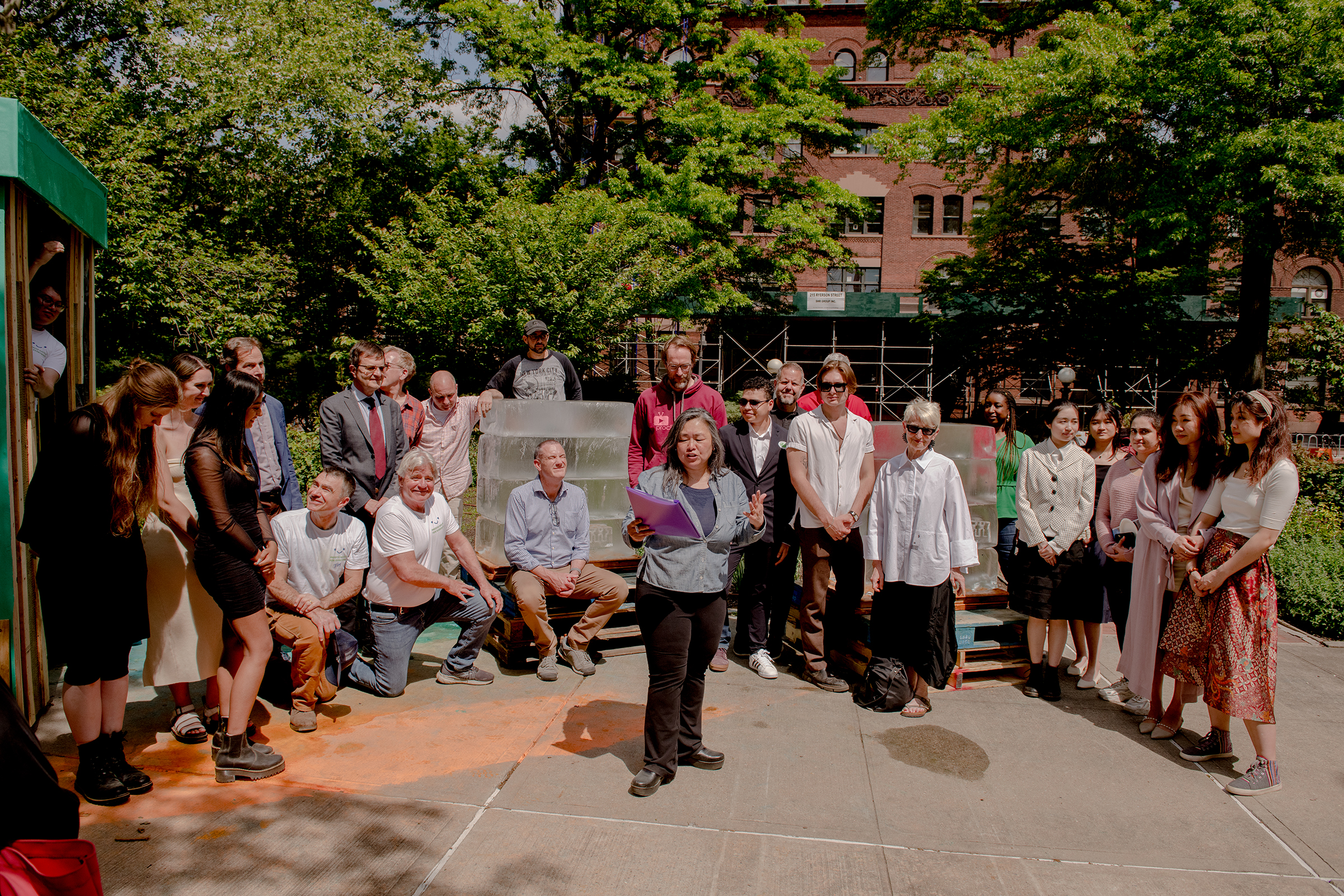 "As educators in the discipline of architecture, we ask ourselves, 'how can we empower architecture students to be environmental and social agents of change?" she said. "How can we expand their education to take on climate action while still in school? How can our youth participate actively in building environmental and social resilience?"
Soon, it was clear that the impact of the Ice Box Challenge on students and attendees alike would reverberate far beyond Pratt's campus. As staff members opened up the two houses, each ice block was put on a scale and weighed. The local building code house retained 737 pounds of ice, while the Passive House held 900 pounds, a level of efficiency that will be necessary in the years ahead as the next generation of architects, designers, and public planners transform our built environment and help countries transition away from fossil fuels.
In the days after the reveal, students took apart the structures and readied them for their next journey educating students and communities about Passive House principles.