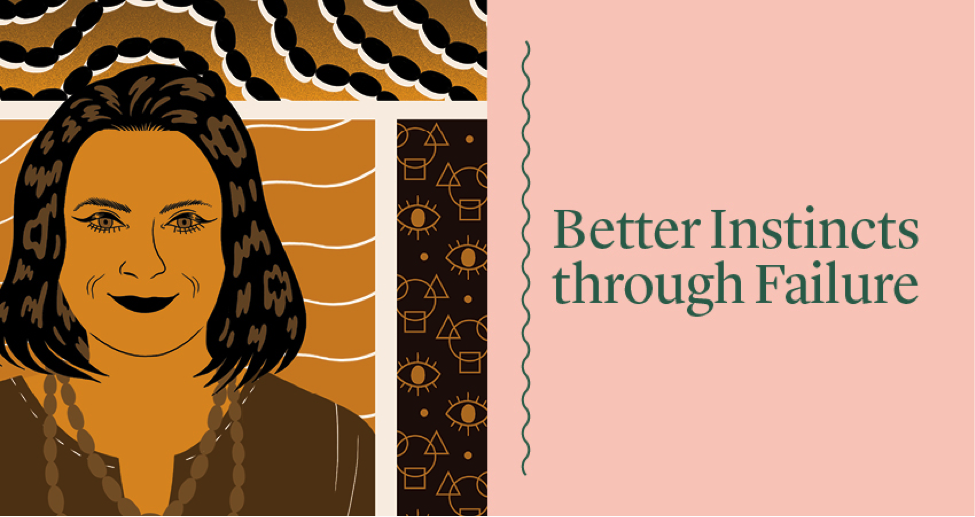 In the Spring/Summer 2018 issue, Prattfolio asked leaders from the Pratt alumni community to share their wisdom from the helm—how they inspire, improve, and ignite creativity. This is part two in a series of three web-exclusive interviews with alumni who lent their perspective to the feature.
Sara Ortloff Khoury, BFA Communications Design '90, is User Experience Design Director at Google, where her team recently launched the Hire app as part of Google Suite. Prior to Google, she served in a number of executive roles driving design, including leading a 100-person team as VP of user experience design at Walmart Labs and, later, shifting gears to head a 30-strong start-up developing an innovative productivity platform.
What prepared you for your current role directing the UX design team at Google?
My training at Pratt is where I first learned to form and communicate a strong point of view about my creative concept and design rationale. Throughout my career, I've taken on different roles across many domains. The range of experiences I chose to have by virtue of working at small start-ups early in my career—from getting comfortable taking calculated risks that drive innovation to building research and design practices that delivered impact at scale at large international companies— prepared me for my current role.
As a classically trained designer coming into the then-nascent field of user experience design, I had to immediately double-down and quickly learn on the job about technology capabilities, infrastructure, and business-model fundamentals. I had to learn how both quantitative and qualitative data is used to make decisions and set target metrics in order to speak the language of business. I had to learn how user research, empathy, and insights can and should influence product design direction and technology decisions. Then, 10 years into my career, I transitioned to be a design executive in large-matrixed international organizations.
It's often said that working at Google is like working at a huge start-up, but the scale of the organization and its impact is so much larger than any start-up out there. I think working at Google is more like working at a mash-up of a start-up and a large company. Having both start-up and large-company experience across many domains has helped me effectively navigate in this new hybrid fast-moving-but-large company environment.
What's the key ingredient for building a stellar design team?
Diversity is the key ingredient. What I mean is that I build teams that possess diverse strengths, that are not homogeneous, by design. When I am hiring, I look for diversity of thought and communication style, gender, education, and cultural background. It's true that when we work with people who are more similar to us it can feel more comfortable. And it's not easy as a leader to keep a highly diverse team in balance, to provide a trusting environment for taking risks— the latitude to experiment, fail fast, and learn and also nurture a culture of critical thinking— where there is healthy tension, the courage to question, or deeply consider the perspective of others.
But when we build diverse teams as leaders, we are ensuring that the perspectives of our team members reflect more authentically the diversity of the population of people we are designing for. We must also expose our teams to diverse experiences. This can be through watching customers, working with team members with varied perspectives, or even learning about how different machines, algorithms, or materials work. These insights are then used to inform creative thinking in a process that is a manifestation of "integrative complexity," which is the ability to consider and combine multiple perspectives and points of view. A growing body of data suggests that greater levels of integrative complexity result in more creative solutions and more effective collaboration, grounded in debating facts.
How do you ignite passion in your team?
We as design leaders must connect our teams to the purpose of the work they are doing. What problem does this product we are building solve for the people we are designing it for? How is a situation improved by the product we are building? I find that creative people, designers, and engineers are passionate about pursuing what seem like impossible goals when they feel that the work they do has purpose—that it solves an important problem.
Do you see the approach to leadership changing in UX design? What is spurring that change?
I'm fascinated by the future of how design best practices will evolve with voice and AI interfaces. Where designers need to not only solve for cognition ("I understand how to complete this task or access specific information") but also need to design for trust ("I trust that the chat bot will schedule the meeting for me with the correct people—on the correct date"). More and more, people and machines will be working together versus simply providing inputs and outputs.
With this evolution, UX design professionals have a duty to deepen their knowledge of how intelligent systems actually function to ensure they solve real problems for human needs.
With an ethical and moral line beginning to form around artificial intelligence—added to challenges such as designing for voice and messaging experiences—design leaders must remain grounded in human-centered design to ensure delivery of helpful versus intrusive products. To effectively design and build "smart" products, UX practitioners will have to rapidly understand and adjust to the growing impact of artificial intelligence and machine learning on product design. As technology evolves and gets "smarter," it's never been more important to be the end user's advocate.
What is your proudest achievement as a design leader?
Having the courage to leave a VP position at a Fortune 1 company to lead product management and design at a 30-person start-up. You may be wondering why I took this risk. I had been on the big-company design executive track for almost 10 years by that time. I was doing very well in my role leading a high-performance global team of 100 UX research and design professionals. Why would I walk away from a position as a successful design executive after working so hard to get there?
There were a number of factors that led to my decision to "disrupt myself" at this point in my career. First, the CEO of the start-up was a highly accomplished woman in technology; she had a strong and ambitious vision for her start-up that I just had to be part of. Second, we share a passion for tackling complex problems by making a positive difference in people's lives through good design. And third, the opportunity was different enough to make me uncomfortable.
After working in the consumer product space for almost 20 years, I would be switching to the enterprise product space. I would be shifting from leading research and design to leading product management, research, and design. Instead of leading a 100-person design team, I would lead a 30-person company—and that ultimately got me much closer to the product design work and out of back-to-back meetings week after week.
What is the best leadership advice you've received?
Courage is not letting fear drive your decisions.
Risk is inherent to gain. Lean in to taking risks, making mistakes, and getting out of your comfort zone. This advice has helped me see struggle and failure as growth, and as a result I've developed the growth mindset and grittiness I've needed to persevere when fear of failure starts to take hold.
A CEO I worked for once shared with me a T. S. Eliot quote that I'll never forget. Whenever I'm getting too far outside of my comfort zone, I remember this: "Only those who will risk going too far can possibly find out how far one can go."
What is your advice for tomorrow's design leaders?
First: Cultivate and trust your intuition.
Researchers say that what people think of as intuition is, at its heart, highly developed pattern recognition. Those who have never faced a negative outcome— those that have never failed— have a critical gap in the body of experience that intuition is based on.
We all know that intuition is needed to navigate new uncharted territory. That's why many venture capitalists won't even invest in a new enterprise if the founder has never undergone failure. Because it's only through experiencing doing things that don't work that the person is able to cultivate intuition—to recognize patterns, spot warning signs, and make smart course corrections. Taking risks, informed by intuition, is what I have learned to trust—above anything else. Pure logic would not have led me to make the kind of bold, life-changing decisions I have described in this interview.
Second: Challenge the perceived boundaries of design.
Design is a field that continues to expand the boundaries of its role and impact in business and society. I've learned through experience that no one is going to explicitly ask you to step outside the boundaries of your role, or ask you to create and propose a design strategy in order to build a differentiated product. You have to develop a strong sense of intuition in order to see and then seize these career-changing opportunities. To be successful in influencing strategy you must be able to form a strong point of view, based in research, and communicate effectively to challenge the status quo—sometimes even stepping into another team's territory. Don't ask permission. Do what design leaders do best: Begin.
For more guiding wisdom from Pratt alumni, read "How We Lead," published in Prattfolio (Spring/Summer 2018).