The photographs of lab-grown leather recently on view in the Pratt Photography Gallery ranged from delicate brown gradients to deep tawny tones, some with richly textural surfaces reminiscent of buffalo hide, others with the smoothness of cow skin. Each documented the ongoing work of Madison Wilds Burger, BFA Photography '20, to make an alternative to animal leather, the tanning of which uses highly toxic chemicals.
While at Pratt, Burger created a customized minor with the help of Amir Parsa, founding director of the Center for Interdisciplinary Studies. In it, she researched early biomaterial companies, leather supply chain issues, and pollution from the fashion industry. After graduating, she began investigating a substitute for leather that would be biodegradable and gentle on the environment as well as the people who manufacture it. By fermenting the infinitely renewable bacteria-nanocellulose (BNC)—a biomaterial derived from bacteria and yeast—Burger can grow leather within weeks while using little water and no hazardous chemicals. This leather can be grown to a variety of sizes and thicknesses, allowing for more sustainability in not just the process but in the material waste that pervades the fashion industry.
She recently founded the Chicago-based textile start-up Speculative Surfaces to develop this lab-grown leather and, drawing on her interests in both photography and fashion, has made documentation of the process. Speculative Surfaces which was on view at Pratt from November 22 to December 17, 2021, presented work from between 2020 and 2021, including photographs of the final material, its harvesting, and the imperfect attempts that happened along the way. Over the run of the exhibition, two containers of living solution in the gallery grew into one sheet, demonstrating the material's life cycle, with nearby photographs showing a chair prototype as a potential application of the final product.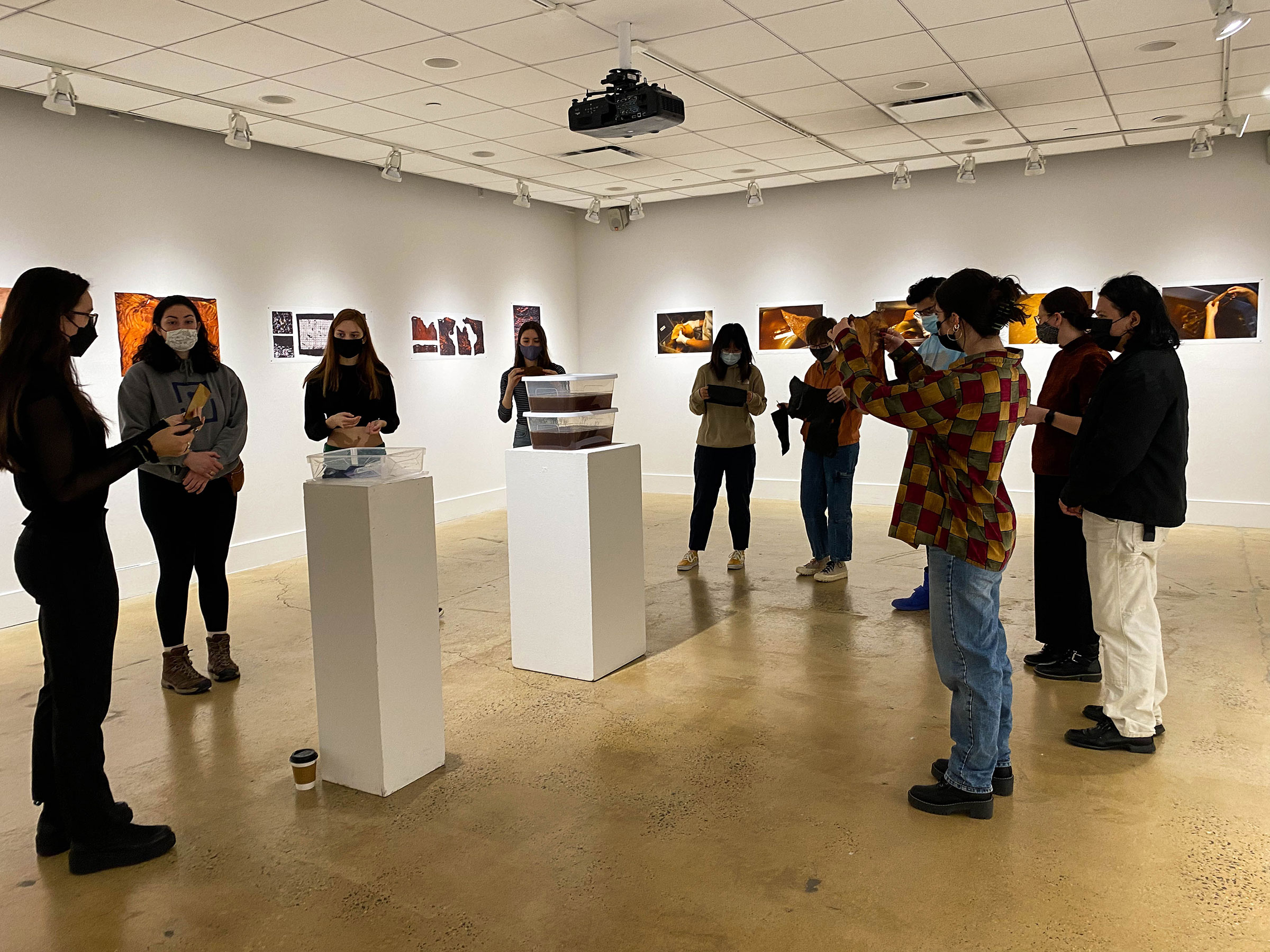 Burger answered a few questions about her practice and the need to address toxicity in the leather tanning industry:
Why were you interested in showing the entire process of creating lab-grown leather in this show?
The exhibition can be broken down into four sections: the growth cycle, the harvesting process, material swatches, and research and development. I wanted the viewer to see each part of the process because often in the textile industry the truths of manufacturing are hidden from consumers.
What led you to start Speculative Surfaces for developing lab-grown leather?
When I was younger, my mother worked as an import buyer for a personal protective equipment manufacturing company. She would often bring home leather swatches for us to look at together and give them to me when she was done with them. I was fascinated by the different grain patterns and qualities unique to each type of hide. As a kid, I used these scraps to create clothes and collages. Eventually, I used these early scraps to make my first pair of shoes during a shoe-making class at Pratt.
Studying photography introduced me to the traditional chemical methods used to create prints and images. By experimenting with printing techniques, both analog and digital, I became interested in transferring images onto textiles. As I worked with and learned more about different types of textiles, I became aware of the unsustainable manufacturing practices commonly accepted in the fashion industry. The information I learned continues to drive my explorations of eco-friendly material alternatives, including lab-grown leather.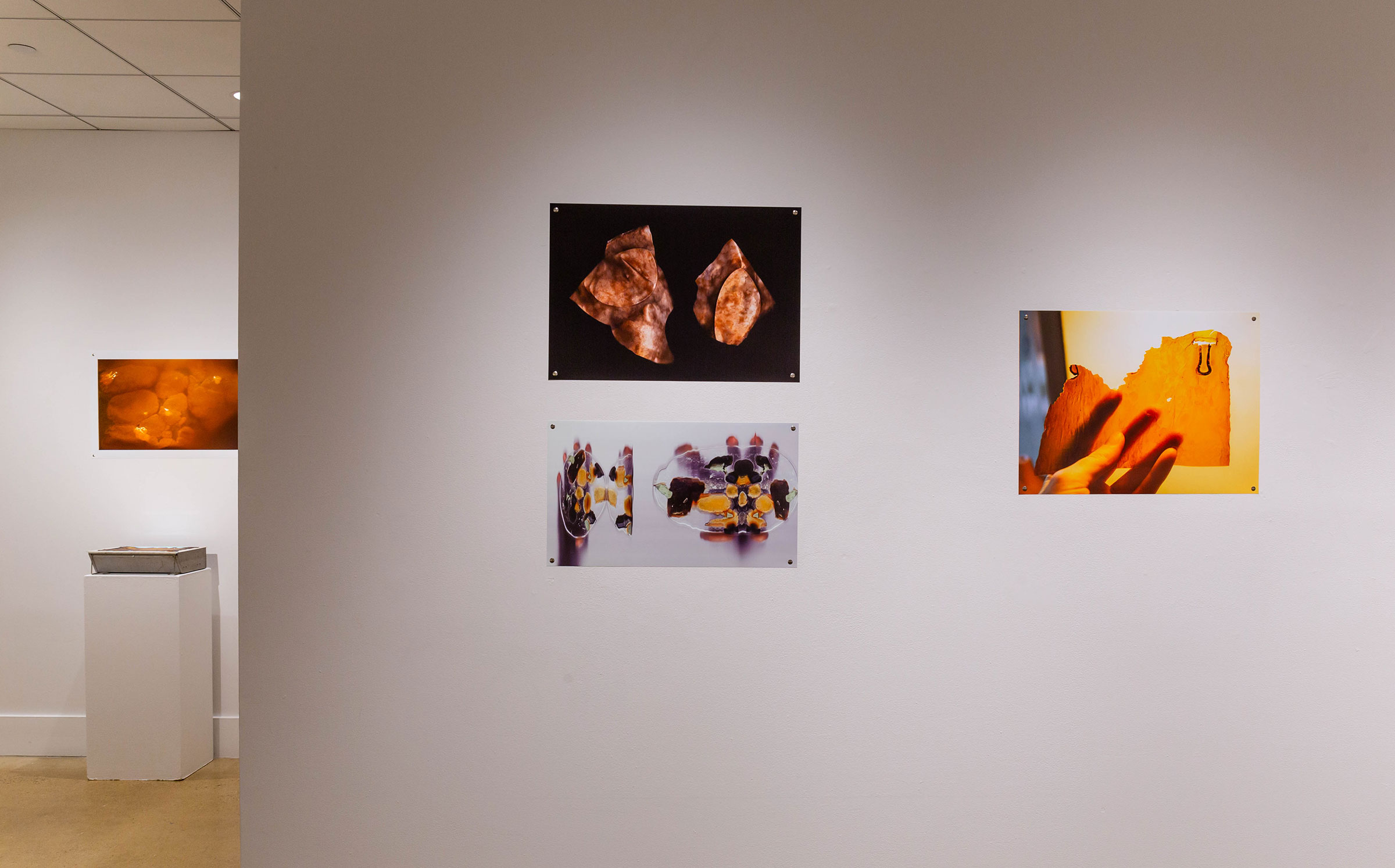 Did you start out at Pratt interested in biological systems or was this something inspired by a course or other experience you had?
In one of my textile classes, we learned about the cotton plant, which is used to make natural fibers, like muslin. My final project for this class repurposed muslin scraps from the Fashion Design Department studios. Combined with other nutrients, these scraps formed a "textile fertilizer" that was able to grow a variety of common herbs. With this, I was introduced to the biological system of decay and learned about its role in sustaining a healthy ecosystem.
In my later years at Pratt, I created a customized minor which focused on sustainable textile development. The class that was instrumental in my last semester was The Politics of Climate Change. My final paper addressed the toxicity of the leather tanning industry and its long-term environmental impacts.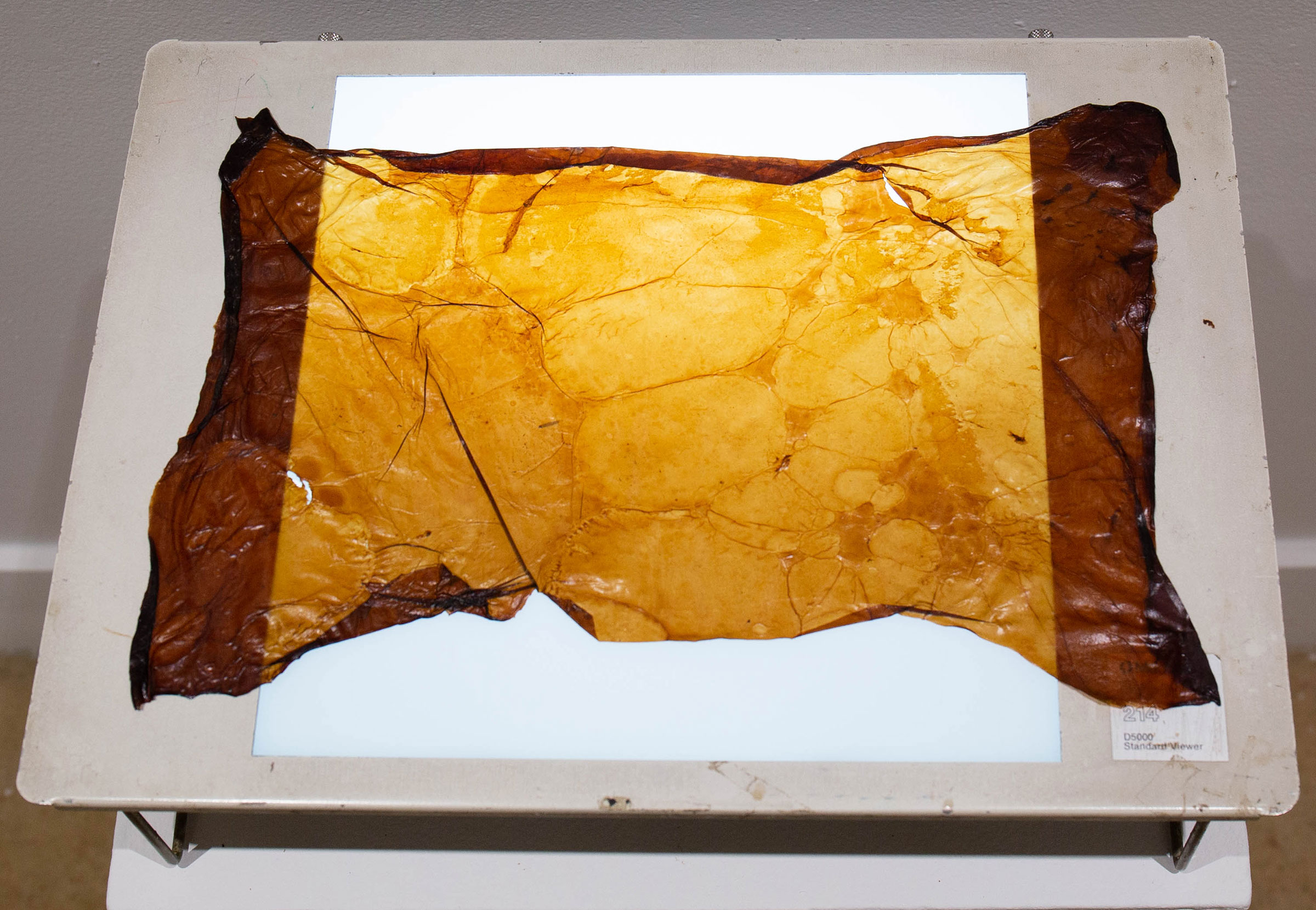 What are your next steps in exploring leather substitutes? Do you have other related projects you are planning to pursue?
My main focus right now is to address the material's water solubility by developing a hydrophobic finishing solution. In order to keep the material 100% biodegradable, I want to avoid using plastics and synthetic polymers in my process. I am also exploring different techniques to simulate artificial grain and imprint unique patterns into the material.
Currently, I am collaborating with a Chicago-based kombucha company—Komunity Kombucha—and developing a line of biodegradable tissue paper that they will incorporate into their gift boxes. Americans alone use around 4.6 million pounds of wrapping paper each year, so I'm looking forward to developing a compostable alternative.