As artist Mary Mattingly, the current Fine Arts Civic Engagement Fellow, describes it, the idea to create a temporary classroom in the form of a geodesic dome came up organically. She had been working with students in the Steuben Gallery on the Pratt Brooklyn campus to co-design a floating island for researching foods that could grow in areas prone to sea level rise. No one was interested in returning to a traditional classroom. "The geodesic dome is simple," she said. "We could set it up together as a class, and anybody could use it."
Called the Pratt Public Sphere (PPS), the 20-foot-tall dome was initially built in November 2022 outside Steuben Gallery in Dekalb Hall before being relocated to the Rose Garden. It is part of Mattingly's framing of her fellowship year through the general themes of "Water Time," "Earth Time," and "Plant Time," with the Pratt Public Sphere connecting with Earth and Plant Time. During its time on campus, it has hosted a range of community-based programming, including a bodega-style mutual-aid depot with a food pantry and free winter clothing, coffee hours, artist talks, and workshops.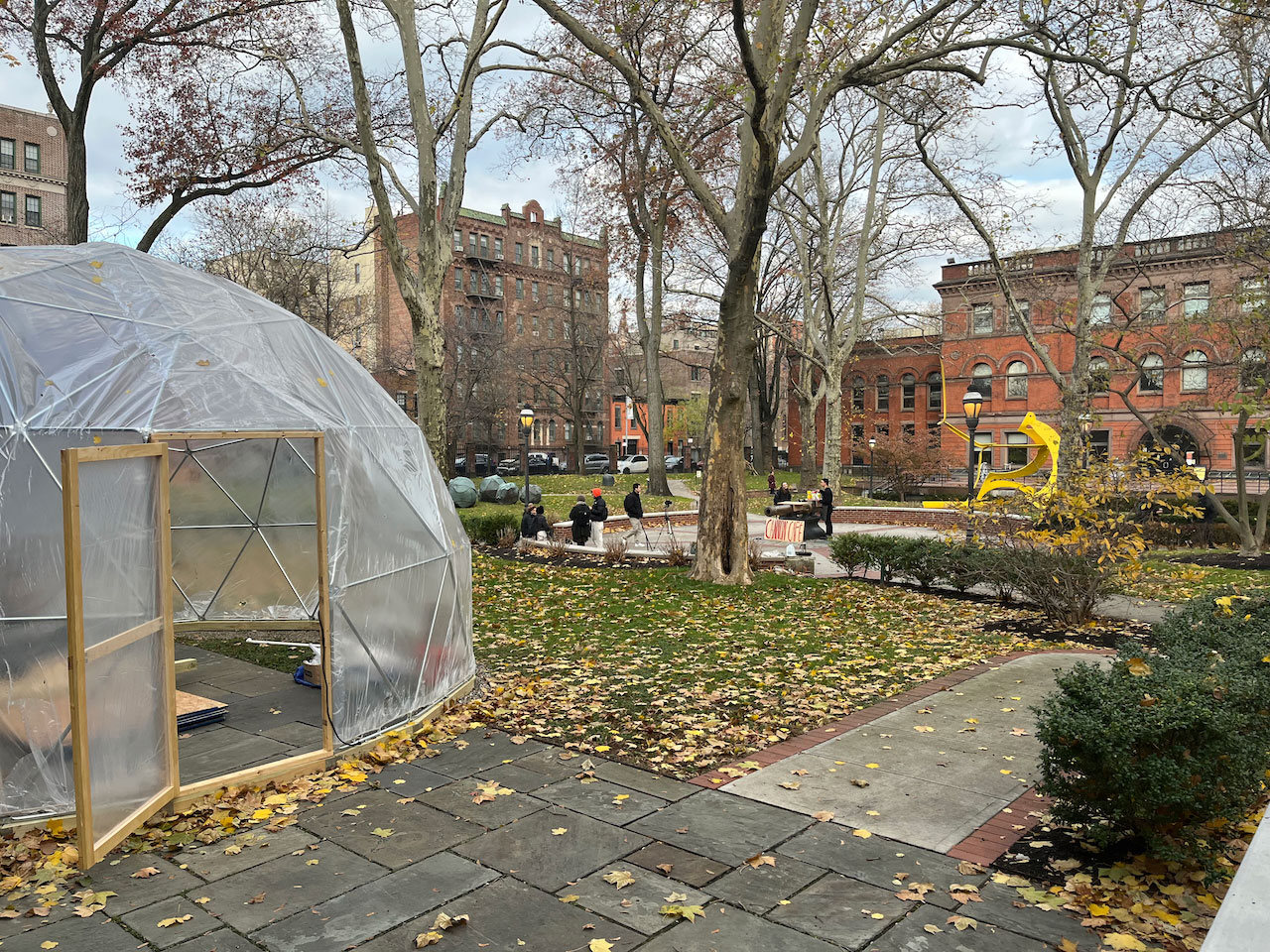 "The dome in urban space can be seen through the lens of its histories, present iterations, and futures," Mattingly said. "Indigenous cultures around the world have long worked with dome shapes as forms of housing and ceremonial spaces. In the United States in the 1950s and '60s, Buckminster Fuller captivated public imagination with what could be seen as his most successful prototype for a deployable housing model. At times, I've utilized the form in my artwork, as intentionally provocative urban event spaces that are simple for a small team to build and use, and easily recognizable as either utopic or dystopic nostalgic objects, all the while standing in opposition to the scale and formality of much of New York's built urban environment."
Mattingly, who recently received a Guggenheim Fellowship, has long made sculptural ecosystems in urban spaces parts of her art practice, such as the "Biosphere" for growing native plants in saltwater now on view in the Museum of the City of New York and the 65-foot living sculpture "Water Clock" that will debut this summer in Socrates Sculpture Park. One of her ongoing projects is the Swale "floating food forest," which initially was on a barge that navigated through the New York City waterways, inviting anyone to forage its edible plants for free. It has now developed into the Swale Lab on Governors Island, which encourages investigations around ecology and environmental justice.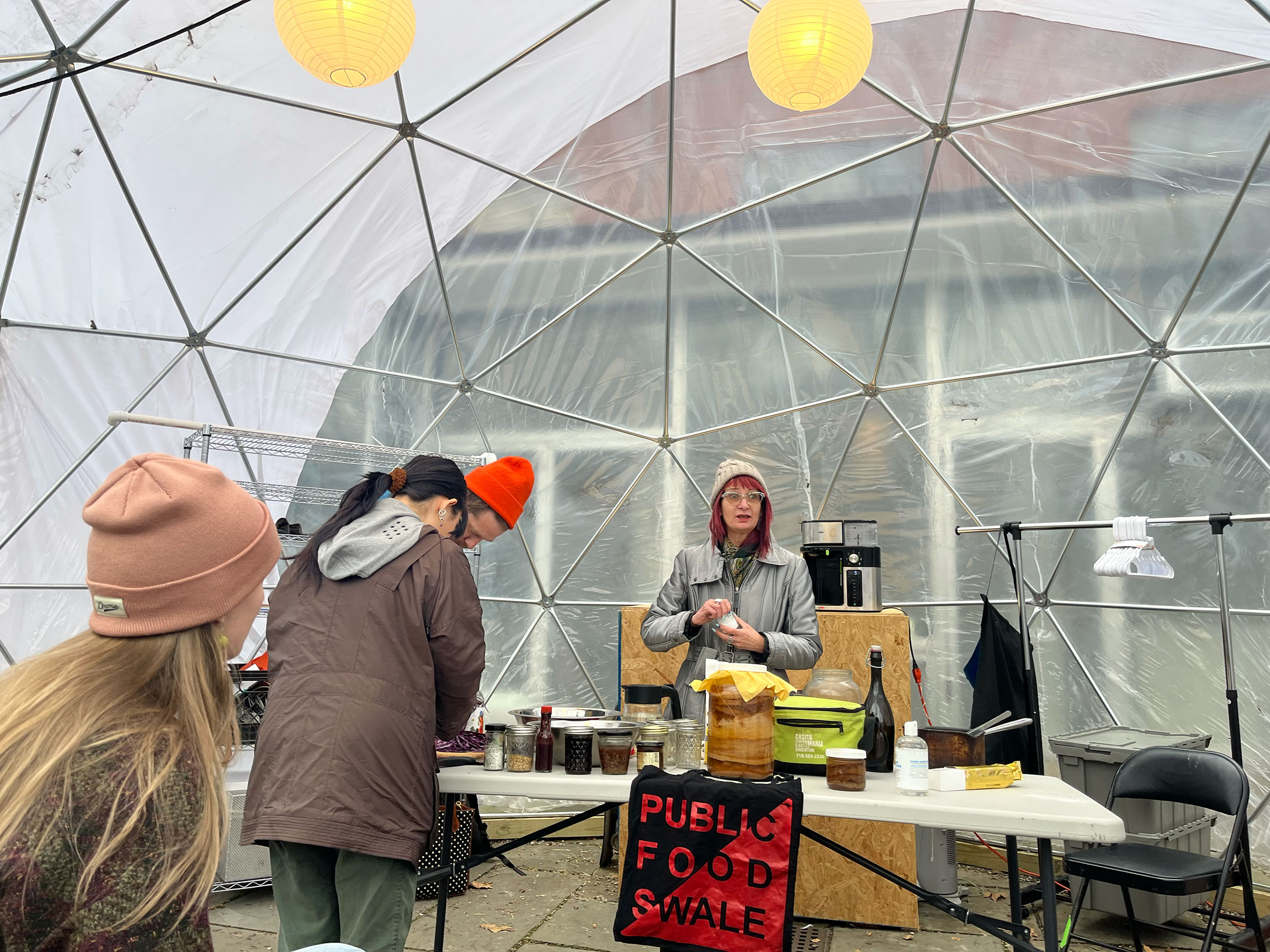 Amanda McDonald Crowley, who has worked on Swale with Mattingly, joined the Pratt Public Sphere for a workshop on pickling related to this engagement with food, social change, and community. In Mattingly's Ecological Turn class at Pratt, students have delved into these issues through the Public Kitchen, which uses the dome space to examine the potential for community and more affordable food around a kitchen outside of a private home.
Daniel Pravit Fethke, MFA Fine Arts (Integrated Practices) '23, has been working with the dome as part of his thesis project. This includes the Public Kitchen as well as the bodega-style mutual-aid depot that kicked off the Pratt Public Sphere's programming. Along with his decade-long filmmaking practice, he has been facilitating workshops, cooking classes, and creative gatherings that center food and recipes as ways to explore identity and culture.
"The Pratt Public Sphere has been an incredible opportunity for us to provide a platform for intentional, interdisciplinary workshops on campus during my thesis year," Fethke said. "Our goal was to create a space that people can use for all forms of making, and we have had a lot of excited engagement from students, neighbors, and our greater NYC community. For me personally, I was able to assemble a working public kitchen and host free food events that amplified my existing socially engaged art practice."
Other programming in the Pratt Public Sphere has included interdisciplinary collaboration with partners from across campus and New York City, such as a harm reduction workshop with Bluestockings Bookstore, where Merlin Sabal, MFA Fine Arts (Printmaking) '23, is a cooperative worker-owner; a composting workshop hosted by Build it Green Reuse; and a soil workshop with Queens farmer Anna Poaster of Hellgate Farm. An industrial design class examining "edible futures" led by Assistant Professor Amanda Huynh cooked hot rice congee in the space while Sonja Petermann, MFA 23, led a papermaking workshop using waste materials, and Obadah Aljefri, MFA Fine Arts (Integrated Practices) '24, led a mycelium workshop. Conversations in the space have included a talk with food designer Martin Hablesreiter and a roundtable discussion with artist Jeffery Gibson.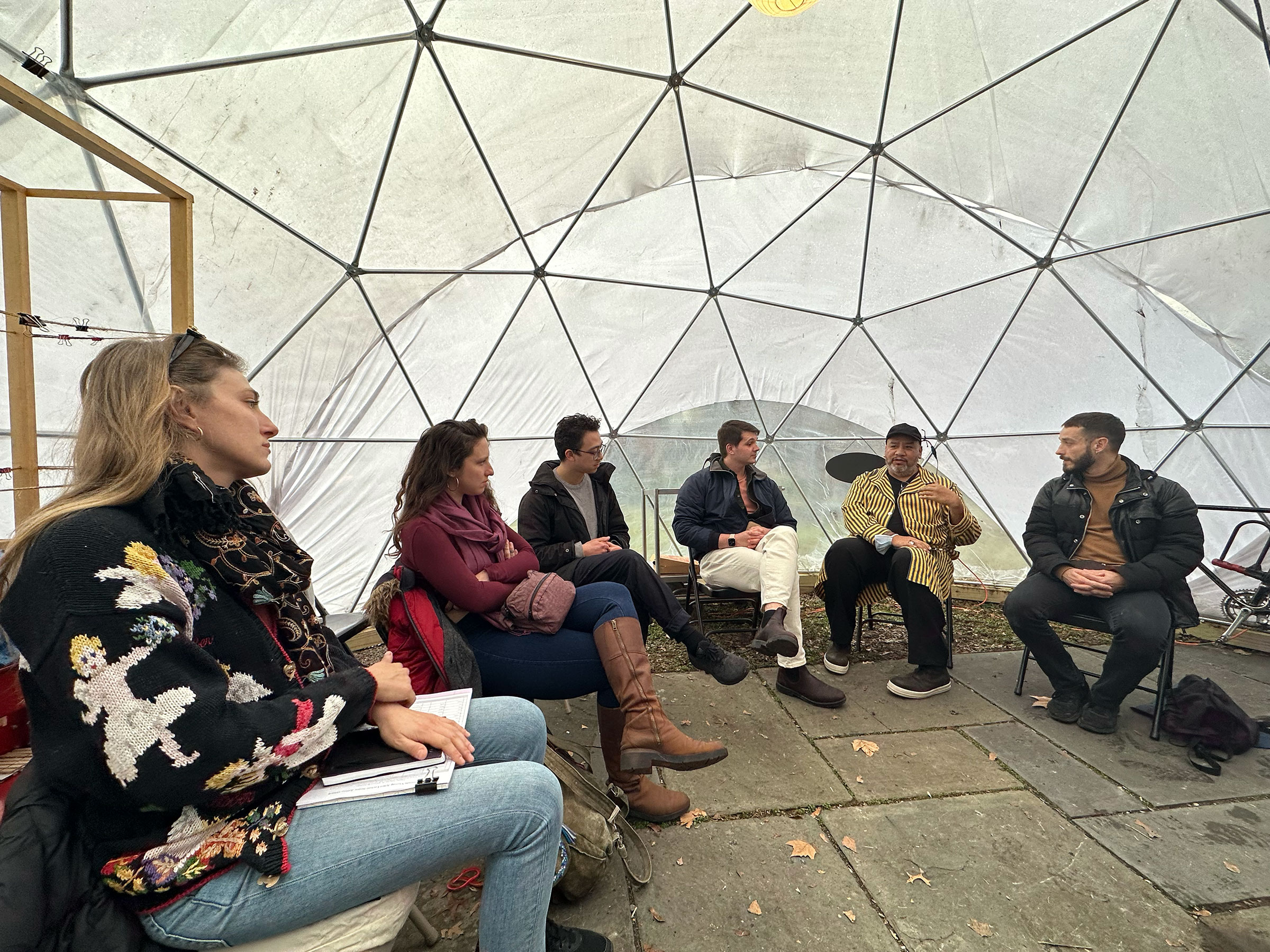 "I'm excited about the enthusiasm around art, climate justice, and ecology on campus, and that there are a lot of ways that the arts students can crossover with different disciplines," Mattingly said. "Students are really eager to bridge the boundaries between different disciplines, particularly with different ecological and sustainability initiatives happening in different ways in different majors."
After the Pratt Public Sphere hosts programming through the spring, Mattingly will be bringing its focus on collaboration and community to Governors Island this summer with a residency expanding on Water Time, Earth Time, and Plant Time in this ongoing consideration of the future of urban space.