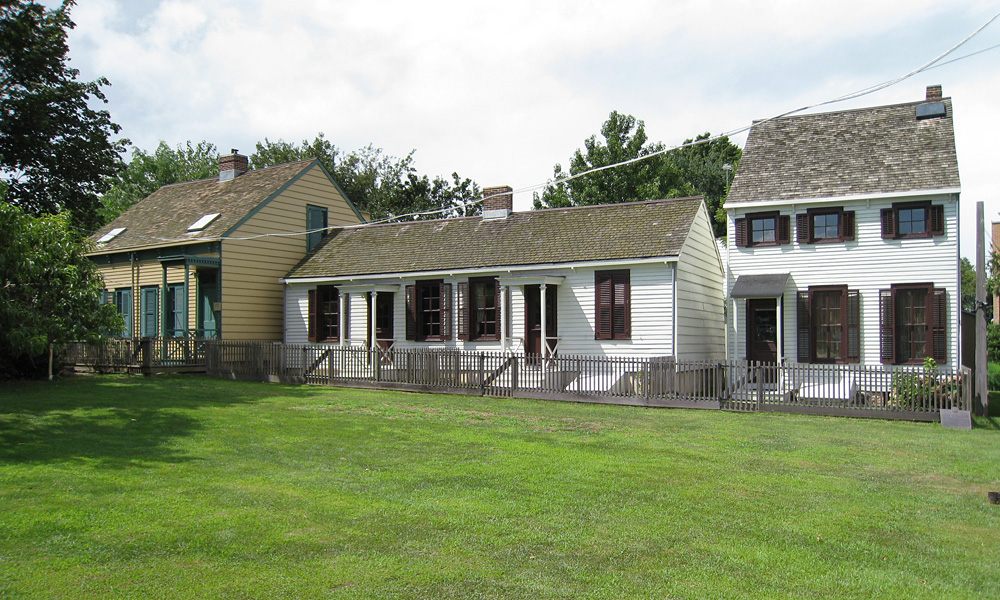 Throughout Black History Month this February, Pratt Institute's news page and social media have been highlighting the important initiatives and accomplishments of some of the Institute's alumni, faculty, and students in working to preserve and share Black history. From the fashion industry to national cultural institutions and monuments, discover just a few of Pratt's amazing community members and their achievements.
This story highlights Weeksville, and the Pratt connections to this historic Black community in Brooklyn, from its 1960s rediscovery to its present preservation. Check the pratt.edu news page for additional stories posted through the end of Black History Month, or follow on social media by searching the hashtag #BAPBlackHistory.
In 1968, local historian James Hurley organized a workshop exploring New York City with an emphasis on the Bedford-Stuyvesant neighborhood of Brooklyn. It was one of the class offerings in the Central Brooklyn Neighborhood College, spearheaded by the Pratt Center for Community Development and the Central Brooklyn Coordinating Council. Combing through historic records, and then surveying the current streets and architecture, Hurley and his students, including Dolores McCullough and Patricia Johnson, discovered something remarkable: the last remnants of one of the first free Black communities in the country.
Weeksville had only recently disappeared. The settlement was founded in 1838, just over a decade after slavery was ended in New York. Named for James Weeks, a free Black man who purchased land in this area of Brooklyn, it soon flourished into one of the city's largest Black communities, with around 500 people in the late 1880s. It was self-sufficient, with schools, numerous businesses, churches, a home for the elderly, an orphanage, a cemetery, and a newspaper, The Freedman's Torchlight. It was a bastion of abolitionist action before the Civil War, and later movements for Black empowerment. When the 1863 Draft Riots broke out in Manhattan, and Black residents were attacked, many found refuge from the violence in Weeksville.
It thrived into the 1930s. Yet urban renewal, economic decline, and New York City's expansion eroded and overtook Weeksville. Many of its old buildings were demolished and replaced with housing projects. Its cemetery was removed to make way for Eastern Parkway. What architecture remained was absorbed into Bedford-Stuyvesant, and its status as an independent Black financial and cultural hub was mostly forgotten.
Hurley and his class first noticed mentions of Weeksville in archives, old maps, and books such as Eugene Armbruster's 1912 The Eastern District of Brooklyn; a 1968 flight over Brooklyn confirmed that something of it survived. With Joseph Haynes, a subway engineer and airplane pilot, Hurley got a bird's-eye view of Weeksville's former location, and could see several structures still standing. (Hurley had served as an aerial photographer in the U.S. Navy.) Four wood-frame homes faced away from the modern street grid to a historic path that once wound through Weeksville. Called the Hunterfly Road Houses, these houses date from 1840 to 1880. (One was later lost to an early 1990s fire.)
A grassroots preservation campaign rallied to protect the Hunterfly Road Houses from demolition, and archaeological digs were conducted by community members. Artist Joan Maynard, with Johnson and McCullough, established the Society for the Preservation of Weeksville and Bedford-Stuyvesant History, aimed at turning the site into a museum. After the structures were all designated as New York City Landmarks in 1970, the Society acquired them in 1973. They would not be torn down, but they were in desperate need of conservation following the decades of neglect.
Finally, after the implementation of a restoration and interpretation master plan, the Weeksville Heritage Center opened to the public in 2013. This building by Caples Jefferson Architects, where Everardo Jefferson, BFA Industrial Design '68, is a principal, has subtle references to African motifs in its design, acting as a modern portal to the past. With space for programs, performances, and exhibitions, Weeksville again acts as a cultural center for Brooklyn. A number of Pratt alumni and faculty have shown work there, such as Xenobia Bailey, BFA Industrial Design '77. Keith and Mendi Obadike, Associate Professor in Humanities and Media Studies—the duo Mendi + Keith—are the first artists-in-residence at the Weeksville Heritage Center, where they are exhibiting a sound installation.
Now, 50 years since the rediscovery of Weeksville through Hurley's class, Pratt continues to have a close relationship with this fellow Brooklyn institution. At this January's MLK Week, at Pratt, Rob Fields, current President and Executive Director of Weeksville, was a keynote speaker. At the Breaking Bread event, he recognized the "community wide effort" that saved this important site of Black history.
"Weeksville, both historic and present-day, is an inspiring reminder of what can be accomplished when people, motivated by a powerful vision, come together to build community and institutions. These were regular people, not celebrities, who believed that they could collectively create a space for black people to live, thrive, and be full citizens in this American experiment," Fields says.
Read additional Black History Is Pratt History articles: Black History is Pratt History: African Burial Ground National Monument, The Studio Museum in Harlem, National Museum of African American History and Culture, and Black Dress: Salon.
There have been a number of events taking place across campus in celebration of Black History Month, including a panel discussion on Design as Social Practice; Graduate Center for Planning and the Environment lecture series events, 400 Years of Inequality and Forging a New Social Contract; a festive evening featuring a conversation with the fashion designer Byron Lars, Black Dress: Salon; and the first film screening of the Diverse Voices Film Series, The Hate U Give, curated by the Film/Video Department and sponsored by the Center for Equity & Inclusion.