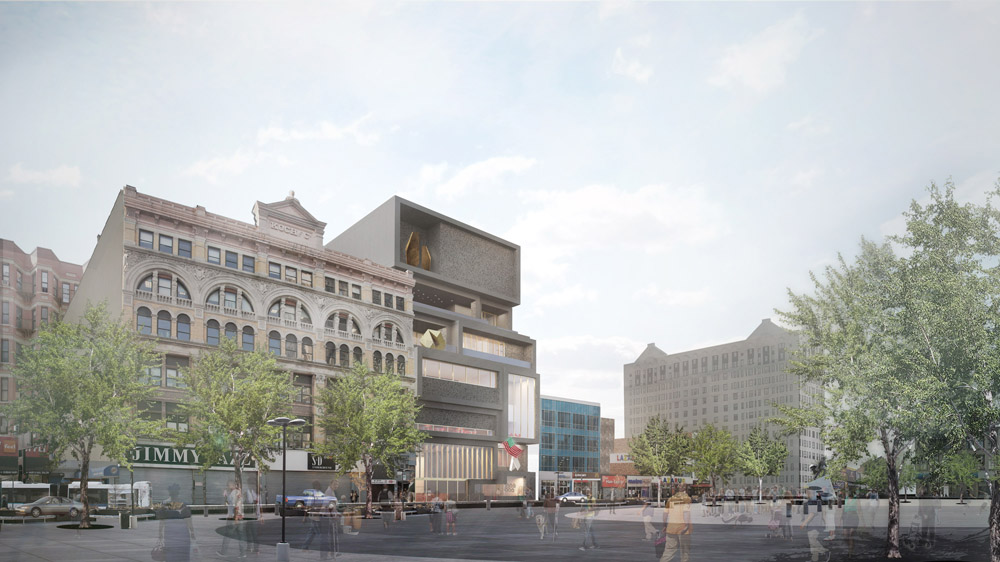 Throughout Black History Month this February, Pratt Institute's news page and social media are highlighting the important initiatives and accomplishments of some of the Institute's alumni, faculty, and students in working to preserve and share Black history. From the fashion industry to national cultural institutions and monuments, discover just a few of Pratt's amazing community members and their achievements.
This story highlights the Studio Museum in Harlem and the long history of Pratt alumni and student engagement with this pioneering arts institution. Check the pratt.edu news page for additional stories that will be posted through the end of Black History Month, or follow on social media by searching the hashtag #BAPBlackHistory.
The Studio Museum in Harlem was founded in 1968 by a group of artists, activists, and philanthropists with the mission to provide exhibition opportunities and support for Black artists. From its inception, the institution was envisioned as a space for community, and a place for the recognition of creative expression by established and emerging artists of African descent.
Pratt Institute alumni have long participated in the outreach and exhibitions at the Studio Museum, going back to its inaugural exhibition in 1968. Called Electronic Refractions II, it featured electronically programmed sculptures embedded with colored light bulbs by Tom Lloyd. Lloyd attended Pratt in the early 1950s, studying illustration under artists Adolph Gottlieb and Philip Guston.
Today, the museum has a permanent collection of more than 2,000 works in a variety of media dating from the 19th to the 21st century. It includes art by Pratt alumni such as Nanette Carter, MFA '78, who is also an Adjunct Associate Professor of Fine Arts at Pratt; and Derrick Adams, BFA Art and Design Education '96. Adams received the museum's Joyce Alexander Wein Artist Prize, one of the most significant individual artist awards in the United States, in 2016, and later had a 2017-18 solo show at the museum, Derrick Adams: Patrick Kelly, The Journey, which centered on Adams's investigations into the career of African American fashion designer Patrick Kelly.
One of the museum's founding initiatives was its residency program. Over the past five decades, more than 100 Black and Latino artists have been selected through a competitive application process to participate in the prestigious studio residency which concludes with an exhibition in the museum galleries. Artists-in-residence have included Pratt alumni Mickalene Thomas, BFA '00, Xenobia Bailey, BFA Industrial Design '77, and Marilyn Nance, BFA Communications Design '76.
Education and development are also important aspects of the museum's programming. Fatima Imran, MPS Arts and Cultural Management '17, served as a development intern at the museum during her final semester at Pratt, while Chanice Hughes-Greenberg, BFA '10, interned at the museum in the summer of 2009, and later served as the Membership and Direct Mail Coordinator from 2016 to 2018.
Chloe Hayward, BFA '05; MPS Art Therapy and Creativity Development '15, is currently the museum's manager of education programs. "History is happening now. Every moment that passes is another opportunity for black culture to shine," says Hayward. "The educational pedagogy and implementation of sharing incredible works of art, especially in a historically significant institution such as The Studio Museum in Harlem, only magnifies the importance of seeing oneself reflected and represented in all spaces."
Recently the museum celebrated its 50th anniversary. It's now undergoing a major transformation, with a new facility designed by Adjaye Associates in collaboration with Cooper Robertson that will increase its exhibition and artist-in-residence program space by 115 percent. Projected to be completed in 2021, the new building will provide the museum with an exciting new home in which to realize its vision for the future.
Read additional Black History Is Pratt History articles: National Museum of African American History and Culture and Black Dress: Salon.
There are a number of events taking place across campus in celebration of Black History Month, including a panel discussion on Design as Social Practice; Graduate Center for Planning and the Environment lecture series events, 400 Years of Inequality and Forging a New Social Contract; a festive evening featuring a conversation with the fashion designer Byron Lars, Black Dress: Salon; and the first film screening of the Diverse Voices Film Series, The Hate U Give, curated by the Film/Video Department and sponsored by the Center for Equity & Inclusion.