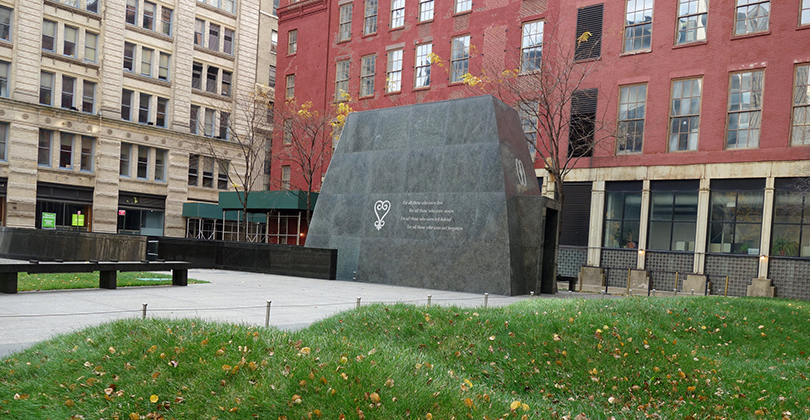 Throughout Black History Month this February, Pratt Institute's news page and social media are highlighting the important initiatives and accomplishments of some of the Institute's alumni, faculty, and students in working to preserve and share Black history. From the fashion industry to national cultural institutions and monuments, discover just a few of Pratt's amazing community members and their achievements.
This story highlights the work of Pratt alumni in the creation of the African Burial Ground National Monument in Manhattan. Check the pratt.edu news page for additional stories that will be posted through the end of Black History Month, or follow on social media by searching the hashtag #BAPBlackHistory.
The space that memorializes the African Burial Ground in Manhattan is a fragment of the largest and oldest cemetery for free and enslaved Africans and African Americans in North America. From the 17th to 18th centuries, between 10,000 to 20,000 people were interred in a seven-acre area of Lower Manhattan, located just north of today's City Hall Park. They were buried at a time when churchyards were segregated in New York, and non-white burials were only permitted outside the settlement limits. Even there, curfews and restrictions on the gathering of large groups were imposed, yet it was a place where people could mourn and give the deceased a respectful interment.
In 1991, during construction of a federal office tower at 290 Broadway, archaeological investigation revealed this long overlooked burial ground. After activists rallied for recognition of the site, a memorial was planned for the corner of Duane and Elk streets. The design selected in 2005 for the African Burial Ground National Monument was created by Rodney Leon, BArch '92, a Pratt alumnus and adjunct professor in the School of Architecture, in collaboration with Nicole Hollant-Denis while they were both partners at AARIS.
The AARIS African Burial Ground project team was mainly composed of Pratt alumni such as Monica Aliaga-Laud, Omarys Ynoa Vasquez, Edwin Rodriguez, and Pascale Sablan. Now a senior associate at S9Architecture, Sablan, BArch '06, was then an architecture student at Pratt, and interned on the memorial project from 2003 to 2006. As she told the Architectural Record: "When you're in school, you learn about making beautiful projects, architectural wonders. This kind of project makes a difference for a larger story […] providing justice to many, both alive and dead."
Completed in 2007, the African Burial Ground memorial takes visitors on a meditative journey of remembrance. Several raised mounds covered with grass mark the site of the crypts in which the disturbed remains were reburied. A path leads into a black granite "Ancestral Libation Chamber," which acts as a portal out to a "Circle of Diaspora" adorned with African symbols. At its center is the "Ancestral Libation Court," a sunken circle in which people gather on a map that shows the forced migration of slavery. On the main wall is this tribute: "For all those who were lost / For all those who were stolen / For all those who were left behind / For all those who were not forgotten."
Leon later designed a permanent memorial for the victims of slavery and the transatlantic slave trade at the United Nations Visitors Plaza in Manhattan. It was unveiled in 2015, and similarly transports visitors into a structure, this one sculpted from white marble. This "Ark of Return," evoking in its name the "door of no return" at the house on Senegal's Gorée Island through which many enslaved people were transported to the Americas, includes a human figure lying by one wall. Carved alongside this sculpture are images of a slave ship and the words "Acknowledge the Tragedy." Outside, a triangular reflecting pool encourages pause. Like the African Burial Ground National Monument, the United Nations memorial carves out a small moment of quiet in a busy part of Manhattan, offering time for reflection and remembrance.
Read additional Black History Is Pratt History articles: The Studio Museum in Harlem, National Museum of African American History and Culture, and Black Dress: Salon.
There have been a number of events taking place across campus in celebration of Black History Month, including a panel discussion on Design as Social Practice; Graduate Center for Planning and the Environment lecture series events, 400 Years of Inequality and Forging a New Social Contract; a festive evening featuring a conversation with the fashion designer Byron Lars, Black Dress: Salon; and the first film screening of the Diverse Voices Film Series, The Hate U Give, curated by the Film/Video Department and sponsored by the Center for Equity & Inclusion.
Photo: Allison Meier