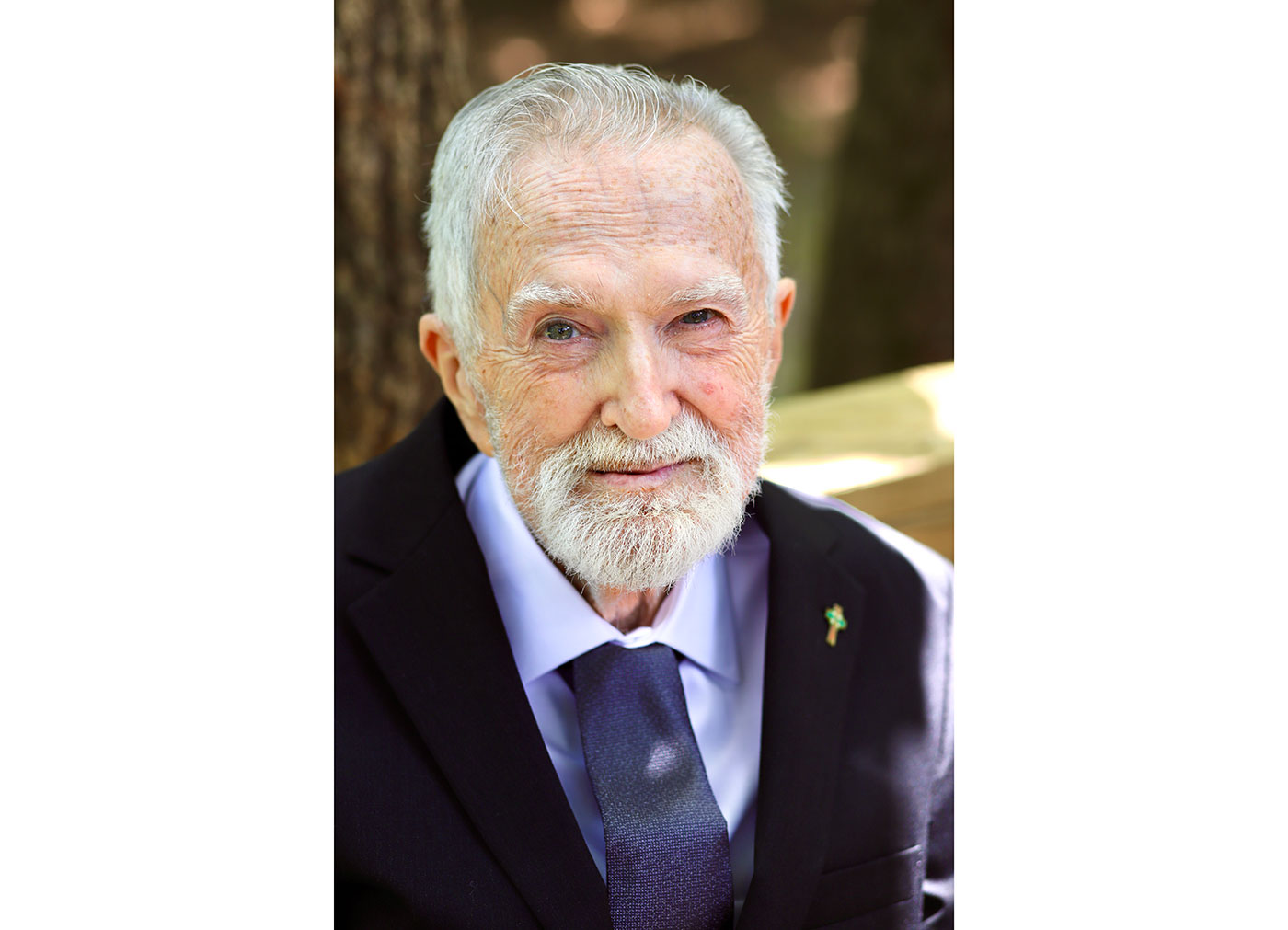 Gerard "Jerry" Ramon Case (photo by Clare Berlin)
In a special 2020 edition of Pratt Institute's annual Alumni Achievement Awards (AAA), Gerard "Jerry" Ramon Case is being honored for his six decades of work in paleontology where he has bridged art and science as a researcher, illustrator, and educator. A virtual ceremony on August 18 recognized his outstanding achievements that have enriched knowledge and appreciation of ancient life.
Although his academic background is not in science, he has brought an eye trained in art to notice things others have overlooked and has shared the excitement of fossils with everyday readers through books and articles. The Brooklyn-born Case served in the US Navy before studying for his BFA at Pratt from 1955 to 1959. His senior year was cut short when he left school to care for his father. Using what he had learned at Pratt, including in his Foundation and Advertising Design classes, he began a career in art and advertising. Case's passion for fossils was sparked when he was working for a Manhattan publishing company and happened to see a press sheet for The Fossil Book: A Record of Prehistoric Life (1958) by Carroll Lane Fenton and Mildred Adams Fenton. "I was enchanted," he said. "I soon went looking for fossils in my free time."
Even as he continued to have jobs in advertising and drafting, his paleontology hobby blossomed into a career in both scientific research and illustration. He traveled the world from Russia and Morocco to Borneo and France and worked as a research associate at the Carnegie Museum of Natural History in Pittsburgh, the Michigan State University Museum in East Lansing, and the American Museum of Natural History in New York.
"My paleontological work spans over 60 years, but the artistic design techniques are all the result of my training at Pratt Institute," he said.
His research has included the discovery of insects in amber, naming of new genera and species of fossil fish, authoring 13 taxon names, and defining a new order of fossil fishes: the Iniopterygians or "Nape Wing Forms" for the wing-like projections on their backs. While he has contributed to over 100 papers in peer-reviewed journals, one of his most influential accomplishments is the over 500-page A Pictorial Guide to Fossils (1982). As he wrote in the preface, it offers "an illustrated presentation of past life forms that inhabited the earth millions of years ago" in an easy to navigate book filled with photographs and Case's pen and ink drawings. Released in eleven editions, it has engaged countless readers with the incredible variety of fossil remains, from one-celled Protozoa to Mesozoic mammals, sparking the same curiosity in paleontology that Case experienced decades ago.
A Pictorial Guide to Fossils is one of the six books he has published. Whether writing on fossil sharks, fossil collecting, or compiling an atlas of invertebrate and vertebrate fossils, he has joined scientific research with his illustrations to make knowledge of extinct creatures accessible and informative for a wide range of readers, from his paleontologist colleagues to budding fossil aficionados. In 1992, the Paleontological Society honored Case with the Harrell L. Strimple Award which recognizes outstanding achievement in paleontology by amateurs.
"Jerry's contribution to science has been very important," said physicist Helio Takai, interim dean of the School of Liberal Arts and Sciences. "What is remarkable is that he used his artistic abilities in his science to cross disciplines and in many ways enhance the popularity of fossil collecting."
That interdisciplinary spirit is at the heart of Pratt as well as Case's artistic and paleontological legacy and his longtime involvement in science education and outreach. Whether studying fossil shark teeth from India or examining extinct sawfish from North Carolina, he has deepened our understanding of life in the world's distant past.
(Updated: August 26, 2020)