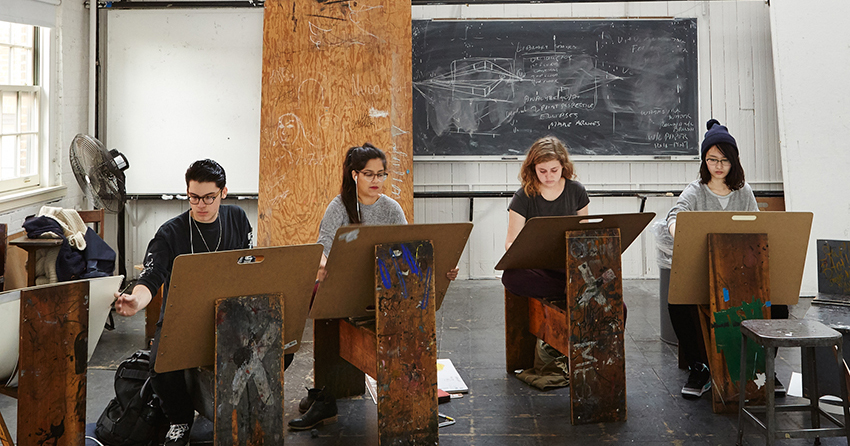 Scholarships Provide Students with Affordable Access to the Best Education and World-Class Faculty
Scholarships open a door to the future for the gifted and dedicated individuals who come to Pratt each year. Approximately 80 percent of the Institute's students rely on scholarships or financial aid to attend Pratt. Without this support, many of those with the vision, talent, and drive to create compelling work would not be able to benefit from the Institute's tremendous resources. In addition, by enabling the most promising students to come to Pratt, regardless of their means, scholarships help the school remain competitive and sustain a vibrant environment that thrives on diversity.
Named Scholarships
Donors who wish to establish a scholarship in their name, or in honor or memory of a loved one, may do so through an outright gift or by creating an endowed scholarship fund. Outright scholarship gifts provide the most immediate support for Pratt students and are awarded in accordance with the donor's wishes until the balance of the fund is fully utilized. Endowed funds ensure that Pratt will always be able to offer financial assistance to the most deserving students. Gifts are made to the fund's principal, and a portion of the earnings are used to award scholarships. In both cases, required gift levels may apply.
Scholarship Gifts
Pratt Institute offers a variety of ways for alumni and friends to make a meaningful investment in the education of tomorrow's creative leaders by providing financial support to our students. General Restricted Scholarships are awarded to students across Pratt Institute purely on the basis of need. Because admission is based on academic and creative promise, the scholarship helps ensure that no student is denied a Pratt education due to financial constraints. Donors to the General Restricted Scholarship Fund provide essential support that has a meaningful impact on the lives of Pratt students.
To learn more about creating a scholarship at Pratt, please contact Jessica Tallman at 718.687.5765 or jtallman@pratt.edu.