Pratt Institute Faculty Art & Design Slam (FADS)
April 7, 2022 6:00 PM – 8:00 PM
Online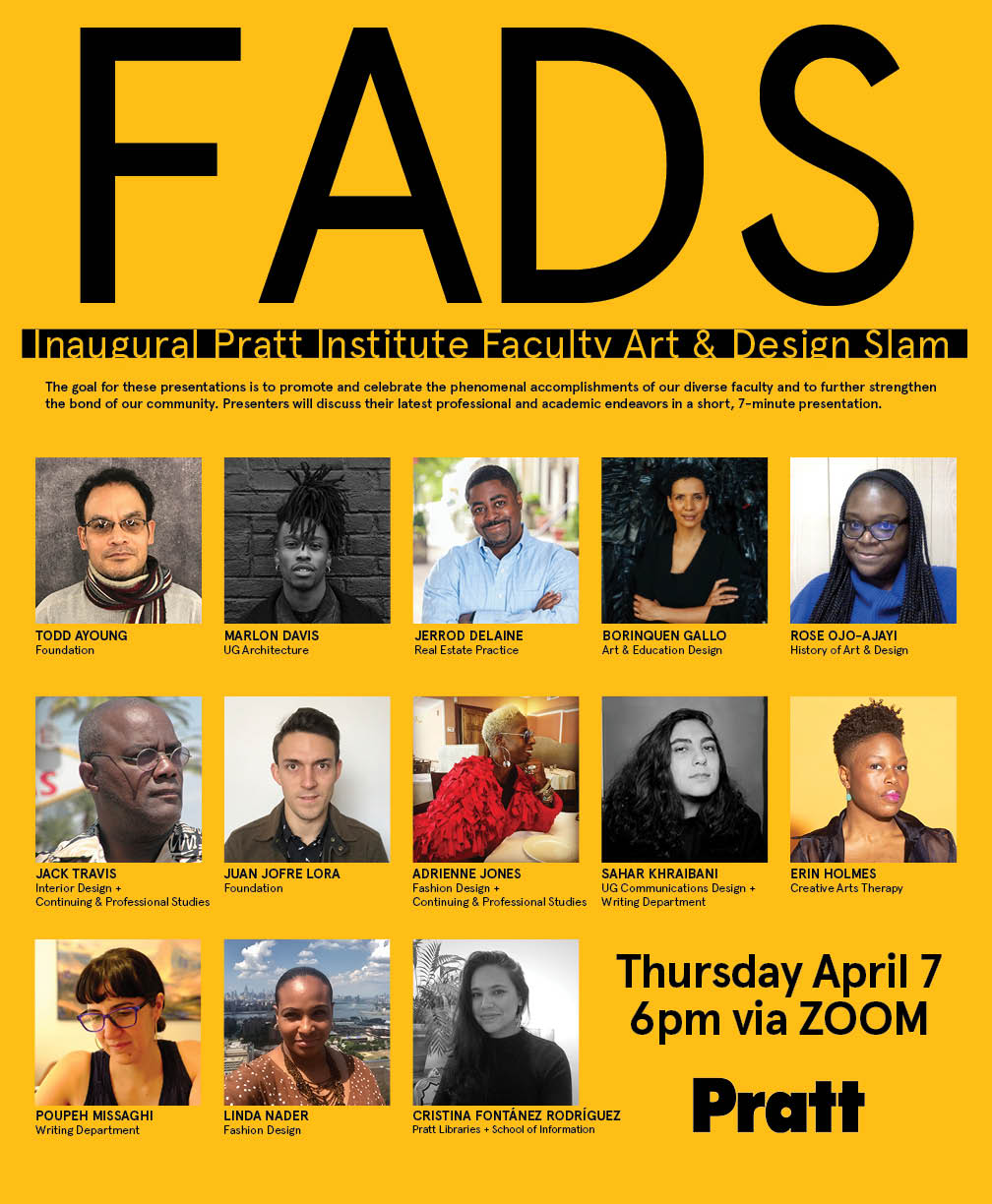 Dear members of the Pratt Institute Community.
We are excited to announce the Inaugural Pratt Institute Faculty Art & Design Slam (FADS) Presentations event on Thursday, April 7th at 6:00 PM EST via Zoom.
The goal for these presentations is to promote and celebrate the phenomenal accomplishments of our diverse faculty and to further strengthen the bond of our community.
Presenters will discuss their latest professional and academic endeavors in a short, 7-minute presentation.
Inaugural Presenters:
Todd Ayoung, Foundation
Marlon Davis, Undergraduate Architecture
Jerrod Delaine, Real Estate Practice
Cristina Fontánez Rodríguez, Pratt Libraries + School of Information
Borinquen Gallo, Art & Education Design
Erin Holmes, Creative Arts Therapy
Juan Jofre Lora, Foundation
Adrienne Jones, Fashion Design + Continuing & Professional Studies
Sahar Khraibani, Undergraduate Communications Design + Writing Department
Poupeh Missaghi, Writing Department
Linda Nader, Fashion Design
Rose Ojo-Ajayi, History of Art & Design
Jack Travis, Interior Design + Continuing & Professional Studies
Please register.
Organized by the Retaining Diverse Faculty and Staff Subcommittee,The Diversity, Equity, and Inclusion (DEI) Council